NOTE: We earn from qualifying purchases made via Amazon Associates and other affiliate programs. Learn more.
Hollywood regency bedrooms are popular for their bold and dramatic look. And if there is one color that adds drama and elegance at one time, that is teal.
Somewhere between green and blue, teal is the ultimate color scheme for a luxurious and glamorous bedroom.
Hollywood regency bedrooms are all about glitz and glamour with antique furniture, high gloss fabrics, metallic finishes, etc., and when designed in teal; the whole theme takes a new level.
Check out these ten bold, new Hollywood regency bedrooms in teal to visualize how teal can be the most versatile shade for your sleeping space.
1.) Make it an Accent
If you don't want your entire bedroom in teal, you can make it an accent! Check out this bedroom with teal accents on the night lamps, bedding, and pillows.
2.) Elegant Baroque Dream Bed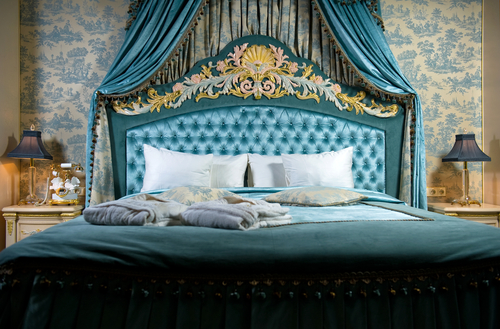 There is a glamorous bedroom in teal with a baroque style canopy bed against a decorative wall in teal – a royal setting!
3.) A Teal Coverlet
Again, a classic Provence style setting in white interiors with teal accents on the coverlet!
4.) Most Inexpensive Way
The most inexpensive way to incorporate a royal teal color is to make it through your bedding and pillows.
5.) Decorative Molded Walls
Hollywood regency bedrooms often feature heavily decorative and molded walls. So, if the decoration is your style, this would suit you.
6.) Seating Area of Your Bedroom
The seating area of your bedroom is a place where you lay down to relax while watching your favorite TV show or reading a book and sometimes, just for a chat. Hence it is also taken into special consideration.
Check out this classic setting with an antique and elegant sofa against a decorative wall with night lamps.
7.) A Classical Appeal
A lovely bedroom revealing a classic appeal with an upholstered bed and vintage bedside desk with lamp against a decorative wall in tea.
8.) Lambrequin Curtains
Curtains are one of the most functional as well as a decorative element of any bedroom.
For a Hollywood regency bedroom, classical style Lambrequin Curtains makes an elegant and popular choice.
9.) A Boudoir Area
Create a boudoir area into your Hollywood regency bedroom with this kind of boudoir and a classic armchair in teal.
10.) A Royal Setting in Teal
An elegant bedroom in teal revealing a royal setting with antique furniture sets and teal walls with night lamps.
Designing your space with darker shades makes perfect sense. Darker shades add elegance as well as more intimacy. That's why teal is the new choice for home interiors.
I hope you got some inspiration from our post! Happy Decorating!
---
Affiliate Disclosure
Affiliate Disclosure: I may earn a small commission (at no cost to you) if you purchase a mattress after clicking a referral link or using a coupon code on this site. That said, all content and opinions on this site are my own and are NOT affected by these payments.
This site participates in the Amazon Services LLC Associates Program, an affiliate advertising program designed to provide a means for sites to earn advertising fees by advertising and linking to Amazon.com.
*Amazon and the Amazon logo are trademarks of Amazon.com, Inc, or its affiliates.
---