Affiliate Disclosure: I may earn a small commission (at no cost to you) if you purchase a mattress after clicking a referral link or using a coupon code on this site. That said, all content and opinions on this site are my own and are NOT affected by these payments.
Both Purple and Helix are both technically "hybrid" mattresses. This means they use more than one technology in their construction.
Helix uses foam plus spring coils in their mattress.
Purple uses poly foam plus a top layer made of a unique material called Hyper-Elastic Polymer.
Reading customer reviews online for both mattresses, you may likely be confused about which one to buy.
Both are loved by their customers and rated very highly on most review sites.
I also think both mattresses are excellent – but for very different reasons, as I'll explain in this comparison.
What's In This Mattress Comparison
Choosing the right mattress is not a matter of popularity, nor which one uses the latest technology.
It's about selecting a bed that best meets your unique needs.
To help you do that, in this 5-minute comparison you will learn how Helix vs. Purple compare on the following features:
Mattress Construction
Comfort and Firmness
Sleeping Experience
Warranty and Returns
Shipping and Delivery Options
Price
Coupons/Discounts
If this comparison doesn't have enough detail for you, then check out my 10-minute deep-dive reviews of Helix and Purple.
If neither of these mattresses seems right for you, then check out my list of 30 leading mattresses sold online.
---
Helix vs Purple: Which One Should You Buy?
I gave the Helix mattress a 4.7 rating (out of 5.0).
Buy the Helix if:
You want a mattress that you can customize to your unique body style, weight and sleeping preferences.
You need a split mattress (couples w/ different preferences)
You prefer a bouncier mattress (better for lovemaking).
You need a softer or firmer comfort level than normal.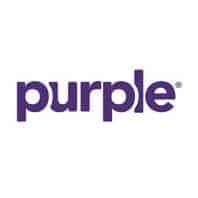 I also gave the Purple mattress a 4.7 overall rating (out of 5.0).
Buy the Purple Mattress if:
You sleep with a restless partner and don't want to feel their every move.
You want firm support and excellent pressure relief in one mattress.
You're willing to try something new.  (Trust me: it's worth trying.)
---
Mattress Construction
In terms of construction, these are very different mattresses.
They both are able to adapt to the needs of most types of sleeper.  But Helix does it by offering customization, and Purple does it by using a uniquely adaptive polymer in their topmost layer. 
Helix Mattress Construction
Helix custom-builds every mattress, one customer at a time.
Before you order on their website, you have take a quiz to establish your needs.
The quiz consists of questions about your physique, basic health issues and sleeping preferences. For example, which side you sleep on most, whether you are heat–sensitive and whether you have existing back problems.
Your answers to these questions help Helix design the best mattress for you and your partner. They also offer a split-configuration option.
Regardless of your requirements, however, Helix uses the same four layers in every mattress.
2 inches of Helix Dynamic foam – This is a proprietary Helix foam designed to provide more contouring than latex foam and to be more supportive than memory foam. It also stays cool regardless of the season.
2.5 inches of pocketed micro coils – A layer of individually pocketed coils provides additional body contouring. They shift along with your body and adapt to your shape of your joints and curves to enhance pressure relief. The coils also reduce motion transfer and improve airflow and cooling.
2 inches of transitional foam – A layer of foam provides a gentle transition between the top comfort layers and the foundation layer.
4 inches poly foam (base) – This is a standard high-density foam layer designed to boost compression support and keep the mattress in shape for years.
Helix alters the order of the layers and the density of the foams to meet your particular needs and preferences. The transition layer may be positioned above or below the top layer and the micro-coils layer.
Purple Mattress Construction
Purple uses a very unique and proprietary type of polymer to create a unique sleeping experience.
But they don't offer the level of customization you get with Helix. In fact, there are no choices at all – other than size.
Here is what is inside of every Purple mattress:
Top Comfort Layer: 2 inches Hyper-Elastic Polymer
This is a unique material with a unique science-backed design. It's made up of grids with the grid boundaries forming columns. These columns are the ones that hold you up when you sleep.
But they don't always stay up. When the pressure from your body reaches a certain point, they collapse, creating a bit of sinkage. This is by design.
The polymer is highly responsive and adaptive to your specific body shape and weight. Under areas like your lower back and legs, the columns stay upright and align your body naturally. If you sleep on your side, your shoulders and hips apply more pressure on the columns causing them to collapse. This provides pressure relief, ensuring that your bones don't press painfully into the mattress.
The same happens to sleepers of different body weight. A heavier person will sink in more as the columns collapse to provide better support and pressure relief.
So whatever your physique or sleeping position, this layer adapts correctly to meet your needs.
Middle Support Layer: 3.5 inches of poly foam
This layer provides additional support, ensuring that you lumbar is well aligned and you don't sink in too much. It also shields you from the firm base layer.
Bottom / Foundation Layer: 4 inches of poly foam
This layer keeps the mattress in shape, prevents sagging and boosts overall mattress support especially for couples and heavier-bodied users.
---
Comfort and Firmness
Helix and Purple differ greatly in terms of comfort choices:  Helix offers a wide range of choices based on your personal needs, whereas Purple offers just one comfort level, medium-firm.
This makes it a bit hard to compare them on anything other than the range of choices they offer.
Helix Comfort Choices: Custom-Fit To Your Needs
It's hard to describe the firmness of a Helix mattress in specific terms.
This is because it completely depends upon the custom mattress they make for you. Depending on the answers you give, they may design a firm, medium firm or soft mattress.
Regardless, I can tell you that a LOT of customers claim their Helix mattress is extremely comfortable.  They don't always get it right, but from what I can see they usually do.
Try the quiz yourself, and they will get you the best mattress for your comfort.
If you feel it's too firm or too soft, they have a very generous return policy.
Purple Comfort Choice:  Only One
Purple is a single medium-firm mattress although it falls on the firmer side of the scale.
If you prefer a soft plushy mattress, then I'd recommend getting the custom Helix.
But the comfort level of Purple is ideal for most people.
What Eric and I love most about our Purple mattress is how it responds differently to our very different weights and sleeping styles. If you sleep on your side like I do, the polymer columns in the comfort layer will collapse to create a nice pressure-relieving hug.
If you sleep on your back like Eric does, more of the columns remain upright, providing firmer all-over support.
This mattress is quite clever in its design.  It's kind of like having two mattresses in one.
---
Sleeping Experience
Helix Sleeping Experience
Most Helix customers we've found claim their sleeping experience is excellent.
The pocketed coil layer helps with cooling and provides a bouncier feel that makes the Helix mattress great for sex. You don't have to worry about the mattress feeling hot and smelling stuffy afterward.
The pocketed coils also help to reduce motion transfer. This is beneficial for couples sharing a bed. Any motion on one side of the bed, either from someone turning or waking up, remains on that side. Since the coils are individually wrapped, they do not transmit disturbance.
The mattress feels quite bouncy, again thanks to the coils.
Purple Sleeping Experience
I would choose the words 'soft and supportive' to describe this mattress. The top polymer layer is really unique from any other mattress we've tried. It has a provides plenty of pressure relief where you need it but also has a firm supportive feeling where it's necessary.
The only common issue you'll find in customer reviews is with heavier side sleepers, who find the mattress a bit too firm on their side. This mattress gives nicely around your hips and shoulders as designed, but with excessive weight it can sink too much and bottom-out against the firm poly foam foundation.
---
Warranty and Returns
Helix Warranty and Return Policies
I love how generous these online mattress companies are. Yes, you may be risking more by buying online without testing, but they let you test the mattress for three months.
So even if you are not sure the Helix customized approach will work for you, there is essentially no risk of trying it out. You get 100 days to test the mattress. Sleep on it for at least 30 days, and if you still don't like it, they will pick it up and give you a full refund.
If you decide to keep it, it will be covered by a 10-year non-prorated warranty. Check the full warranty statement for specifics on what it covers and what it doesn't.
Purple Warranty and Return Policies
Purple has a similar 100-day return policy. Give the mattress at least 30 days to allow your body to get used to it. If you still don't like it, tell them to come pick it up. You will get a full refund.
The warranty is also ten years long with a lot of the same specifics as Helix's warranty. Read the full warranty on their website – especially the part where they explain the claim process.
One thing to note about these generous return policies is that they apply only when you buy the mattress on their official websites. Both mattresses are also available on Amazon. But if you buy there, you are tied to Amazon's drastically reduced 30-day return policy.
---
Shipping and Delivery Options
Helix Shipping & Delivery
Helix delivers via UPS ground to all states, including Hawaii and Alaska. Shipping is free. They also make deliveries to Canada though at a fee to cover shipping and customs.
Since each mattress is made to order, it takes a bit longer to get to you. On average, shipping takes 6 to 10 days.
Helix does not provide any special shipping or delivery services. If you need to make special arrangements regarding delivery or setup, contact UPS directly.
Purple Shipping and Delivery
Purple only provides free shipping to the continental US. For customers in Alaska and Hawaii as well as Canada, a delivery fee will be applied at checkout.
You'll want to have a friend or family member around when the mattress is delivered. It's quite heavy and Purple does not offer any special delivery services.
---
Prices
This is one area where the Helix vs Purple mattresses are identical – queen sizes for both fall just below the $1,000 mark.
Listed below are the full (retail) price lists of both mattresses. These are before discounts/coupons, which are common.
Note: Purple does not sell a twin size.
| | | |
| --- | --- | --- |
| Size | Helix | Purple |
| Twin | $600 | – |
| Twin XL | $700 | $699 |
| Full | $850 | $899 |
| Queen | $995 | $999 |
| King | $1,245 | $1,299 |
| CA King | $1,245 | $1,299 |
---
Coupons
We currently offer a coupon for the Helix mattress:
We don't have any special coupons for Purple – but make sure you check their website for the latest and greatest deal.
---
Helix Is The Right Mattress For You If:
You have issues finding the right mattress for you and your partner. They are either too firm, too soft or not supportive enough.  Or, your partner likes a different kind of mattress than you prefer.
Because each Helix mattress is custom made for you, you get exactly what you need.
Hundreds of customers say they are very satisfied with their Helix mattress.
It's also an excellent choice if you have been looking for an affordable foam + pocket coil hybrid mattress.
---
Purple Is The Right Mattress For You If:
You are looking for a premium mattress that will not break the bank. Purple offers the comfort and support of luxurious mattresses but at the price of every day mattresses.
I recommend it strongly to anyone with back problems.
Purple's balance between soft and firm is great for keeping your back supported while also providing pressure relief for high-pressure areas like the hips, upper back, and shoulders.
---
Save BIG On Your Next Mattress Purchase
Join our mailing list and get my LATEST COUPONS delivered immediately!
Send Me The Coupons
---
Learn More
Compare Mattresses Side-by-Side
---
Affiliate Disclosure
Affiliate Disclosure: I may earn a small commission (at no cost to you) if you purchase a mattress after clicking a referral link or using a coupon code on this site. That said, all content and opinions on this site are my own and are NOT affected by these payments.
This site participates in the Amazon Services LLC Associates Program, an affiliate advertising program designed to provide a means for sites to earn advertising fees by advertising and linking to Amazon.com.
*Amazon and the Amazon logo are trademarks of Amazon.com, Inc, or its affiliates.
---
SHARE THIS PAGE