Level Sleep Mattress Review
Summary
Level Sleep is an all-foam mattress with a zoned support layer that provides targeted contouring and support.
Great choice for: Anyone looking for an affordable medium to a medium-firm foam mattress. The zoned design also makes it ideal for back pain sufferers.
Avoid if: You are a stomach sleeper. Most stomach sleepers – especially those of average and higher than average weight – report discomfort when sleeping on the mattress.
NOTE: We earn from qualifying purchases made via Amazon Associates and other affiliate programs. Learn more.
---
Level sleep is designed to contour to the human form. Instead of the typical flat and even profile most mattresses have, Level Sleep uses varying foam firmness at different sections of the mattress.
The bottom section is medium to contour to your hips, the middle section is firm for lumbar support, and the upper part is soft to relieve pressure on your shoulders. Level Sleep calls it a TriSupport design.
Read our full Level Sleep review below to learn how the mattress improves your sleeping experience and helps with back pain.
---
What's in this Mattress Review?
In this 10-minute review, we explain what's in the Level Sleep mattress, how the zoned design works, and how much the mattress costs.
Use this table of contents to skip to the features you care most about.
---
About Level Sleep
Level Sleep is a relatively recent startup. They were launched in 2015 intending to help everyone improve their sleep.
The Level Sleep mattress is based on sleep data and research-backed science the company has been working on for ten years. They have done multiple studies to make sure their TriSupport design works.
According to the company, their mattress improves sleep satisfaction by 60%, reduces tossing and turning by 34%, and results in 43% less daytime fatigue. You can read all their research and results on the official website.
---
Social Impact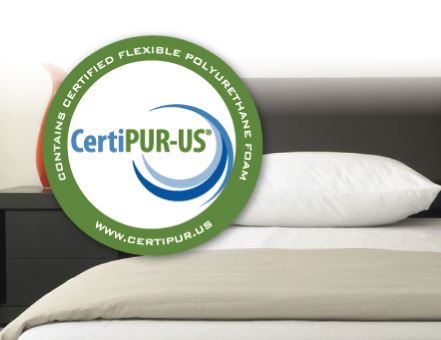 As of now, Level Sleep doesn't engage in any charity programs.
However, they've made efforts to ensure their products are safe for their customers as well as the environment.
The Level Sleep mattress is made with CertiPUR-US certified foams, which guarantees they don't have chemicals harmful to your health or the environment.
Also, the mattress is manufactured in the United States, which ensures not only high production standards but also provides high-quality jobs.
---
Purchase Process
The Level Sleep mattress is available only on the company's official website. It's not available at any brick and mortar store or online retailer.
Level Sleep runs a Chiropractor program where it partners with chiropractors. If your chiropractor has signed up for it, you may be able to test the mattress before you buy it.
Level Sleep is available in just one comfort option, so when you get to the main shop page, you just need to select your preferred size and check out.
If you need a new pillow or bed frame, you can add their platform bed and Restore pillow to your order.
Once you place your order, the mattress will ship within 2-3 days.
---
Price
Level Sleep is a bit more expensive than other popular all-foam mattresses like Casper and Leesa. Here is the current price list. Visit the official website for the latest prices and offers.
---
Financing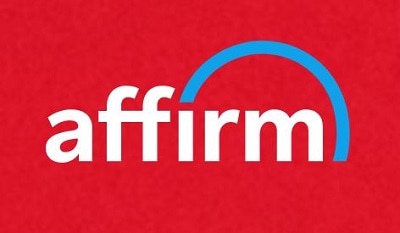 Level Sleep offers to finance through Affirm. Affirm financing makes it easier to own a Level Sleep mattress by allowing you to split the full cost into smaller monthly payments.
---
365-Night Trial
Level Sleep lets you test your new mattress for a full year. While we think the standard 100-night trial is long enough, 365 nights are even better.
It gives you plenty of time to test the mattress under different conditions and situations. You also get a chance to see how well the mattress holds up after several months.
There's no mandatory break-in period, so you can return the mattress at any time during the trial period. Also, returns are free. You don't even have to pay for return shipping.
---
Forever Warranty
Level Sleep wants this to be the last mattress you'll ever buy. They are so sure it will last you a lifetime, that they offer a non-prorated forever warranty.
The warranty covers impressions and other issues that are a result of workmanship or material defects.
---
Shipping
Your Level Sleep mattress will ship out in 2-3 days after ordering. Shipping is free for orders within the contiguous United States. Additional freight charges apply for deliveries to Alaska and Hawaii.
---
Delivery and Setup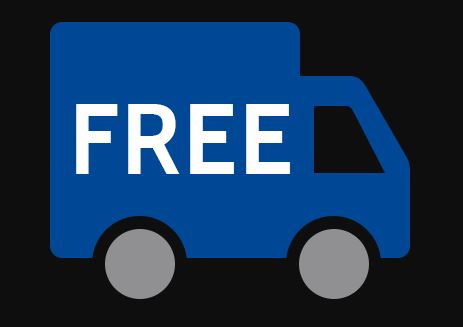 Level Sleep provides delivery only at your door. They don't offer an in-home set up service, so it's up to you to take the mattress inside and set it up on your bed.
But you shouldn't have much trouble doing that. The mattress is delivered compressed and rolled into a box that is easy to carry to your bedroom. The Queen size weighs 71lbs, so you might need some help carrying it.
Like all boxed mattresses, it will take some time for Level Sleep to expand once you've opened it fully. Give it a couple of hours to set and off-gas.
---
Foundation and Frame
What type of bed frame/support does Level Sleep require?
The manufacturer recommends a base or bed frame to ensure the mattress receives adequate airflow. This helps keep it cool and fresh.
You can also use it on a box spring or even place it directly on the floor.
If you need a new frame, you can order Level Sleep's platform bed or adjustable bed frame when you buy the mattress.
Does Level Sleep work on an adjustable bed?
Yes, it does.
---
Care and Cleaning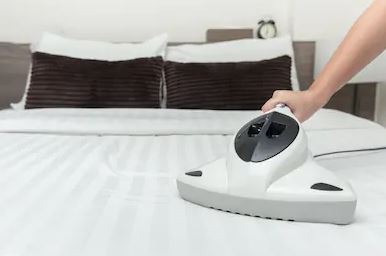 Is a mattress protector needed for Level Sleep?
Level Sleep recommends using a waterproof mattress protector on your new mattress. This extends the life of the mattress and cover.
Do you need to rotate the Level Sleep mattress?
No, you should never rotate the Level Sleep mattress. This will flip the TriSupport design, bringing the firm lower section to under your head and shoulders. This could cause discomfort.
The Level Sleep mattress is made with high-resilience foam that resists indentations and sagging. So there's no need to rotate it.
You should also not flip it; it's a one-sided mattress.
---
Aesthetics and Styling
The Level Sleep mattress has a slim profile with a height of 11". The cover design is simple, with different patterns on each section of the TriSupport design.
---
Construction
Level Sleep is a 3-layer all-foam mattress.
Here are the three layers in more detail.
1" Pressure relief foam
The mattress starts with a thin layer of soft foam to ensure sufficient pressure relief regardless of sleeping position and body weight.
The top layer provides instant pressure relief when you lie on the mattress. Because it's thin – just 1" – it doesn't make the bed overly plush nor does it interfere with the zoned support layer below.
3" Zoned performance layer
This is the most important layer of the Level Sleep mattress.
It provides contouring, pressure relief, and support, all in a single layer. It does this using a three-part zoned design. You can feel a difference between various sections when you press your hand into the mattress.
Hip and leg zone (Medium-firm): This is the lower section of the mattress stretching from your hips to the bottom of the mattress. It relieves pressure under your hips and aligns your lower body to your spine.
Torso zone (firm): The middle sections are firmer than both the top and lower sections. This ensures that when you lie on the bed, the middle sections remain slightly raised higher than the rest of the mattress to support your torso and lower back.
Head and shoulder zone (Soft): The plush foam used in the uppermost section relieves pressure under your shoulders.
Does the TriSupport design work in all sleeping positions?
Yes, the zoned layer is designed to support and contour to your body regardless of whether you are sleeping on your back, stomach, or side.
Does TriSupport design work for all body sizes?
Level Sleep has designed the mattress to feel comfortable for most people. The positioning of the three zones fits individuals between 4'2" and 7' tall.
Unless you are younger than eight years, have dwarfism, or are one of the few people on earth who are taller than 7', the Level Sleep mattress should fit you just fine.
Does TriSupport Design work for couples?
The Level Sleep mattress is designed to feel comfortable for individuals as well as couples.
Even if you have a significant height difference, you'll fit within the zoned design as long you are both within the 4'2"– 7' height requirement.
About Energex Foam
We've talked about the zoned design of the support layer. What we haven't mentioned is the type of foam used.
It is polyfoam but a special kind of polyfoam. It's called Energex™ foam, a proprietary type of polyurethane foam used in several mattresses.
Energex™ is a latex-like foam with some of the qualities of memory foam.
It's bouncy and has excellent cooling, like latex foam. It's also soft and contouring, like memory foam.
An interesting characteristic of Energex foam is that it gets more responsive as it becomes warm. This is the opposite of the behavior of memory foam, which sinks more as it absorbs heat.
Unlike memory foam, Energex foam doesn't feel swampy in the middle of the night. You can move and turn with ease. It's also great for sex, no matter how hot the bed gets. 😊
The use of Energex Foam combined with the zoned design makes the Level Sleep mattress one of the most comfortable foam mattresses.
7" High Resilience (HR) Foam Base
To hold up the mattress and provide deep compression support, the Level Sleep mattress has an extra-thick 7" base made with high-resilience foam.
The thick supportive is one of the reasons Level Sleep confidently provides a forever warranty. It guarantees the mattress will never sag.
---
Mattress Cover
The cover is made from stretch polyester. It's removable and washable.
---
Smell/Off-gassing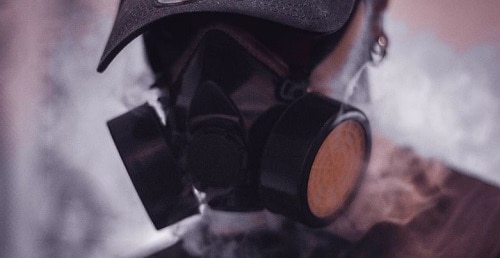 Like most polyurethane foam mattresses, Level Sleep emits a smell when it is new. This smell is most noticeable when you first unbox it and fades away gradually in a few days.
You can speed up the off-gassing process by leaving the mattress uncovered in a well-ventilated room.
Note that the smell is not harmful. The foam used in the Level Sleep mattress is CertiPUR-US certified. It doesn't contain formaldehyde, ozone depleters, or any potentially dangerous chemicals.
---
Sleeping Experience
The Level Sleep mattress fits your body like a glove. Thanks to the zoned design, each part of the mattress respond uniquely to the part of your body it is under.
You'll feel a soft hug around your shoulders, firm support under your torso or lower back and balanced support, and pressure relief on your hips and lower body.
The TriSupport design ensures your body is properly aligned from head to toe.
This is especially helpful for people with back pain. The mattress retains your body's natural curvature and ensures no single part of your spine is experiencing too much pressure.
---
Firmness
It's hard to provide a single firmness rating for the Level Sleep mattress since each section feels different.
But most people sleeping on the mattress describe it as medium firm (6-7/10). That's because most of the body is in contact with the middle firm and the lower medium-firm sections.
The Level Sleep mattress is ideal for most types of sleepers.
The only group of sleepers we hesitate to recommend it to are stomach sleepers, especially those who are in the average and higher than average weight groups.
Most stomach sleepers prefer an evenly firm mattress. The varied firmness of the Level Sleep mattress could misalign your spine.
Your head and shoulders will sink lower while your stomach and hips are raised higher.
You can go ahead and try the mattress even if you are a stomach sleeper. You might just like it. Level Sleep comes with a 1-year trial period, so there's no risk.
But we think it's ideal for side sleepers, back sleepers, combination sleepers (all sides), and lighter than average stomach sleepers.
We also don't recommend it for heavier sleepers weighing over 200lbs. They might sink too much in the softer sections of the mattress.
---
Sinkage
The Level Sleep mattress does not have uniform sinkage. Because of the zoned design, the top of the mattress sinks more to relieve pressure on your shoulders.
The lower section also has a bit of sinkage, which provides pressure relief for your hips. The middle firm section has the least sinkage.
Level Sleep has good edge support (thanks to the 7" high-resilience base), so the edges don't have excessive sinkage like in most foam mattresses. You can sleep near the edge without feeling like you'll roll off the bed.
---
Motion Transfer
Foam mattresses have very little motion transfer, and Level Sleep is no different. The three foam layers do a great job absorbing disturbances when your partner moves or turns.
---
Hot/Cold Issues
Level Sleep doesn't contain memory foam, the most common culprit in 'hot' mattresses. Instead, it contains Energex foam, a type of polyfoam with latex-like cooling capabilities.
Energex foam absorbs heat but not as much as memory foam. And once you move from that spot, it releases the heat quickly.
Memory foam mattresses tend to get mushy after a couple of hours of sleeping on them.
As they absorb heat, they get softer and hug your body more. While this helps with pressure relief, it can compromise support for heavier sleepers and make the mattress heat up even more.
Level Sleep does the opposite when it absorbs heat – it becomes bouncier while still retaining its contouring ability.
This keeps it comfortable and ensures it doesn't absorb too much heat.
---
Pros and Cons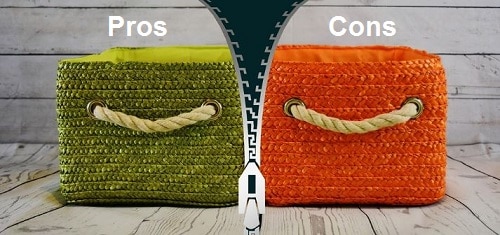 Pros
TriSupport design provides targeted pressure relief and support.
Universal comfort – ideal for most types of sleepers.
Sleeps cool.
Long trial period.
Forever warranty.
Cons
Not ideal for some stomach sleepers.
Not ideal for heavier sleepers.
---
This Mattress is Perfect for You If…
You are looking for an affordable foam mattress with good support and pressure relief.
You are a back, side, or lighter than average stomach sleeper.
You prefer sleeping on a bouncy mattress but don't want to get a latex or innerspring mattress.
---
How the Level Sleep Mattress Compares
Casper and Leesa are two highly popular all-foam mattresses. How does Level Sleep compare to them?
Level Sleep vs. Casper
Level Sleep and Casper have a major similarity, in addition to their all-foam construction.
Like Casper Wave and Casper Original, Level Sleep uses a zoned support layer to customize support and pressure relief for different areas of the body.
They also have several differences. Casper is 1" thicker, has four layers of foam, and contains memory foam.
In terms of comfort, Casper has a softer medium feel while Level Sleep is medium firm.
Price-wise, Level Sleep is a couple of hundred dollars more expensive than Casper.
Level Sleep vs. Leesa
Level Sleep and Leesa are both all-foam mattresses. But Leesa uses memory foam and is an inch shorter than Level Sleep.
Compared with Leesa, Level Sleep has a firmer feel. Leesa has softer medium comfort while Level Sleep is medium-firm. 
As for pricing, Level Sleep is the more expensive option. It currently costs about $350 more than Leesa.
---
Conclusion
While a zoned design is not unique, Level Sleep takes it to the next, well, level.
Their TriSupport Energex foam layer provides highly targeted support and pressure relief that greatly improves your sleeping experience.
Level Sleep is one of the most comfortable foam mattresses you can buy.
---
Affiliate Disclosure
Affiliate Disclosure: I may earn a small commission (at no cost to you) if you purchase a mattress after clicking a referral link or using a coupon code on this site. That said, all content and opinions on this site are my own and are NOT affected by these payments.
This site participates in the Amazon Services LLC Associates Program, an affiliate advertising program designed to provide a means for sites to earn advertising fees by advertising and linking to Amazon.com.
*Amazon and the Amazon logo are trademarks of Amazon.com, Inc, or its affiliates.
---