Casper was one of the first online-only mattress sellers and remains the largest. They are often credited with creating the revolution, and has gained a reputation as a maker of a simple but affordable, high quality foam mattress.
Purple had its origin on Kickstarter, where they raised more than a $100,000 to launch their brand. They created a uniquely designed mattress that quickly became one of the most popular foam mattresses sold online.
After launching in 2015, Purple has attracted thousands of rave reviews with users praising its truly unique top layer for its unmatched level of support and comfort.
But can Purple out-perform a brand that is practically synonymous with online mattresses?
What's In This Comparison
In this new mattress showdown, you will learn how the Casper and a newer rival, the Purple mattress, compare in a number of areas including price, warranty, comfort, construction and sleeping experience.
My goal here is not to tell you which mattress is the best, but instead to give you the details you need to make a confident choice between these two mattresses.
So, let's get to it.
---
Casper vs. Purple: Which One Should You Buy?
Here's my bottom line on which mattress you should buy, based upon your preferences and budget – keep reading this page, to learn more:
I gave the Casper mattress a 4.2 overall rating (out of 5.0).
Buy the Casper if:
You need a Full or Twin size (Purple doesn't offer those, yet)
You want a softer mattress.
You want to save a little more money.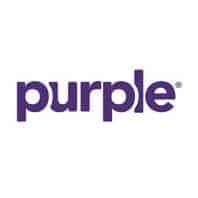 I gave the Purple mattress a 4.7 overall rating (out of 5.0).
Buy the Purple Mattress if:
You need more support and pressure relief (back pain, etc.).
You and your partner have different sleeping preferences.
You're willing to try a new type of mattress: the feel is truly unique – and very nice.
Keep reading to learn more about these differences.