Affiliate Disclosure: I may earn a small commission (at no cost to you) if you purchase a mattress after clicking a referral link or using a coupon code on this site. That said, all content and opinions on this site are my own and are NOT affected by these payments.
Buying a new mattress isn't something you do every day.
Before you spend that much money, you want to know that the bed you are buying is the best you can afford.
So far, Eric and I have reviewed over 30 mattresses on this site.
In this article, I cover what we believe are the best mattresses sold online in five categories.
Click a category below to see my top pick, now:
Every mattress reviewed on this page is sold online and comes with a 100+ night in-home review.
Before I get to my recommendations, though, let's talk briefly about what defines a "great mattress", to me.
---
The Qualities of a Great Mattress
In order for a mattress to be considered "great", it first and foremost needs to provide me with the proper support.
For example, the mattress cannot sag under my 130 lbs, nor my husband's 210 lbs. It also doesn't develop permanent impressions that force us together.
A great mattress can't be too soft, either – it has to allow for enough movement to let me & my fidgety husband move around through the night.
Proper edge support is important, too. This ensures that the edges of my mattress keeps me planted during the night, and not falling out of bed.
While each person prefers a different comfort level on top, it is always important that there is a strong and firm foundation layer.
Additionally, a great mattress will provide a nice bounce, allowing it to return to its original shape quickly when compressed.
Finally, a great mattress will breathe.
Proper ventilation, whether from ventilated foam, gel-infused foam or pocketed coils, keeps synthetic materials from reflecting too much heat, a common issue with memory foam mattresses.
Proper ventilation also prevents the buildup of unnecessary moisture, which traps heat and can feed mildew and other bugs you don't want in your mattress.
Finally, a great mattress doesn't cost too much. I'm always looking for the lowest price within a certain category.
---
There are a LOT of memory foam mattresses sold online today. This was no easy decision for me.
I really like the quality and comfort of the Loom and Leaf mattress, for example. And, Leesa is arguably the best bargain choice for a one-size-fits-all foam mattress. Dromma is a great choice, too, if you need a softer or firmer mattress.
But of all of the foam mattresses we've reviewed, the Alexander Hybrid by Nest includes a variety of cutting edge features that push it ahead of the rest.
The use of copper infused gel foam provides superb comfort and cooling, while its pocketed coils supply outstanding overall body support.
The Alexander Hybrid's ventilated foam layers dissipate heat and moisture for a more comfortable night's sleep.
The Alexander Hybrid's price is very reasonable – far lower than most brick and mortar stores sell comparable models for. It's not that much more than bargain brands like Leesa and Casper.
One potential downside: the Alexander Hybrid is only available in one level of firmness, suitable for the majority of sleepers. With that comes a simplified buying process, though, as you only have to choose a size to complete the purchase.
Overall, the Alexander Hybrid is one of the best-sleeping mattresses we've tried so far. Highly recommended!
---
Best Latex Mattress: the Nest Love Bed
The very affordable Love Bed, also by Nest, is available in two firmness levels, Medium Plush and Luxury Firm. It is available in all standard mattress sizes and carries a really low price.
Nest's Love Bed is constructed with four foam layers, each lending features to the overall feel and comfort level.
The latex foam used in the latest Love bed allows the mattress to remain cool instead of storing excess body heat. This latex is breathable, which prevents moisture buildup and offers a high level of support.
As its name suggests, the Love Bed is also a nice, bouncy mattress that's great for amorous couples.
It's only offered in one comfort level, however.
---
Best Innerspring Mattress:  Saatva
For those looking for a premium luxury innerspring mattress, Saatva provides exceptional materials, comfort and solid construction for an amazingly affordable price.
The Saatva mattress also comes with an extra-long 15 year warranty, well beyond the industry standard of 10 years.
Saatva uses a unique coil-on-coil construction, which makes the upper layer particularly supportive, bouncy and durable. It's very comfy – and fun to roll around in 😉
Saatva's mattress is available in three levels of comfort and two mattress thicknesses, providing a level of customization not available with most other online mattress companies.
Price-wise, Saatva isn't the cheapest mattress.
But it's still far less expensive than a comparable store-bought luxury mattress. If you're in the market for a high-end mattress, definitely check the Saatva out – remember, you can try it in your home and return it if it doesn't work out.
---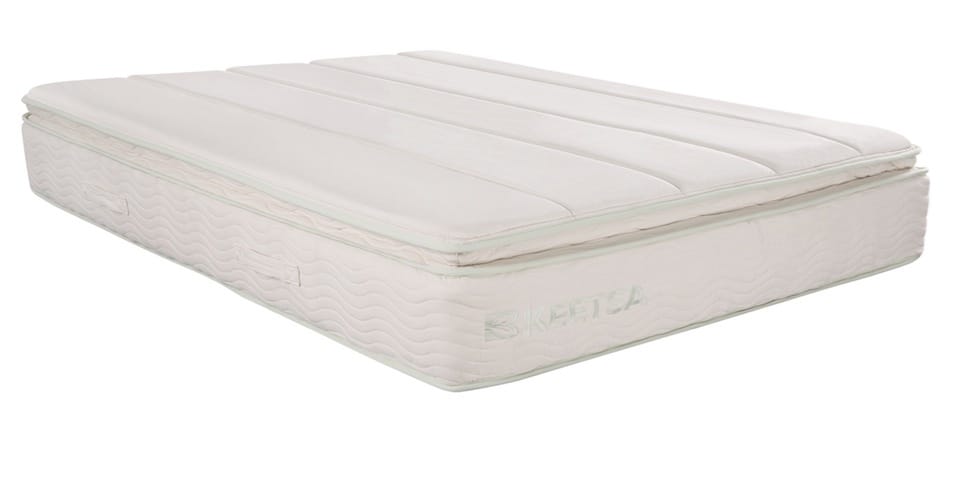 The Pillow Plus by Keetsa offers true eco-friendly construction at an affordable price.
The organic cotton cover is 100% organic, limiting your exposure to unnecessary chemicals, and it is not bleached or dyed.
Unfortunately, the memory foam used in this mattress is not 100% organic.
That said, the Pillow Plus' affordable price (under $1000 for a California King at the time this article was written) brings you the benefits of eco-friendly construction for far less money than other totally organic options.
Additionally, Keetsa offers a 12 year warranty, which is better than the industry standard.
The Pillow Plus utilizes iCoil technology, a Keetsa exclusive, which makes it possible to enjoy the mattress without a box spring as long as the mattress is placed on a firm foundation, like a platform frame.
---
Best Custom/Split Mattress:  Helix
Helix offers a unique made-to-order mattress service at an affordable price (not much more than Leesa or Casper).
Using a unique online interview process, each Helix mattress is tailored to you and your partner's needs – even if your needs are not the same.
The purchase process begins with an online questionnaire, in which you identify your ideal mattress size, your body type(s) and your sleep preferences. Then, you choose if you would prefer a split or blended mattress.
Split mattresses allows each half of the bed to be personalized for the person who will be sleeping there, while a blended mattress uses your information together to find the ideal middle ground between each of your needs.
We loved our Helix, because my husband is taller and heavier than I am, and we sleep quite differently. Definitely give this one a try if your partner needs something special.
---
The Future of Mattress Shopping is Online
It appears that a lot of people are figuring out that taking advantage of a fully-refundable 100-night trial to sleep on a mattress in your home… is a heck of a lot better way to test a mattress, than sitting on it in a busy store.
In response to increasing demand, the number of quality affordable mattresses sold online is growing quickly.
Today, even older store-bought brands like TempurPedic (expensive!) and Sealy are selling mattresses online. We plan to review their new online mattresses, soon.
---
Save BIG On Your Next Mattress Purchase
Join our mailing list and get our LATEST COUPONS delivered immediately!
Send Me The Coupons
---
Learn More
Compare Mattresses Side-by-Side
---
Affiliate Disclosure
Affiliate Disclosure: I may earn a small commission (at no cost to you) if you purchase a mattress after clicking a referral link or using a coupon code on this site. That said, all content and opinions on this site are my own and are NOT affected by these payments.
This site participates in the Amazon Services LLC Associates Program, an affiliate advertising program designed to provide a means for sites to earn advertising fees by advertising and linking to Amazon.com.
*Amazon and the Amazon logo are trademarks of Amazon.com, Inc, or its affiliates.
---
SHARE THIS PAGE