NOTE: We earn from qualifying purchases made via Amazon Associates and other affiliate programs. Learn more.
---
Shopping for a buckwheat pillow? 
You have come to the right place!
Originating from Japan, buckwheat pillows are also known as sobakawa. These pillows have gained quite a strong following around the world in recent years because of their durability and comfort. 
Filled with buckwheat hulls, these pillows are firm yet flexible. They conform closely to the head and come with organic cotton or breathable cotton covers, which makes them an eco-friendly option for users. 
Below you will find some of our top choices for the best buckwheat pillows available today.  
---
What's in This Buying Guide 
After intensive product research and analysis, we have chosen some of the best products available and reviewed them in this guide. We have discussed their construction, how well they perform, and how they benefit users.
If you are in the market for this type of pillow, check out these reviews first so that you can find the best option. 
---
What is Buckwheat/Buckwheat Hull? 
Buckwheat is a grain-like seed that comes from a flowering fruit that belongs to the family of sorrel and rhubarb. It is also known as a pseudo-cereal and is commonly mistaken for a grain. However, it is not related to wheat or any of the grasses in the wheat family. 
Buckwheat was commonly cultivated in ancient Asia, where it was used as food, fodder grain, and to make traditional Sobakawa pillows. These pillows are highly popular in Asian countries because of their stress-reduction, durability, and cooling properties. 
The seeds of buckwheat are first passed through a dehulling process. The outer hulls are then cleaned and dried thoroughly. Buckwheat pillows are filled with processed hulls, which are durable and hard, They are resistant to allergens and heat. They are a great natural alternative to latex filling and feather.  
Most of these pillows come with organic certifications and are passed through a triple washing process to ensure that all the debris and dust are removed.   
---
Who Should Buy a Buckwheat Pillow? 
Although everyone can benefit from sobakawa pillows, some people may find these pillows highly advantageous.
People who sleep on their side or back will find these pillows comfortable. They provide adequate neck and back support, and you can adjust the thickness of these pillows to align your spine in a neutral position to avoid strain. 
Buckwheat pillows retain minimal body heat and allow the air to pass through. As a result, people with heat-intolerance find that it is easier to fall asleep if they use it.
These pillows are ideal for individuals who suffer from snoring problems or Obstructive Sleep Apnea. Conforming in nature, these pillows keep nasal airways open by aligning the head and neck.
Similarly, those allergic to latex, down, and feather pillows will find relief with sobakawa pillow. It is one of the best hypoallergenic products available.   
However, these pillows are not recommended to people who sleep lightly, cannot carry heavyweights, or like to sink into their pillows. 
---
Best Buckwheat Pillows
Disclaimer: All links below go to Amazon.com
---
The Hullo buckwheat pillow offers the right balance of sturdiness lightness, firmness and softness. It is designed with thoughtfully sourced materials, making it one of the most comfortable pillows available. 
Pros
No bird feathers or chemical-based foams

High-quality zipper for an adjustable loft

Promotes air flow to stay cool at night

Hull filling is grown and milled in the USA

Provides perfect support to remove stress from the spine

100% organic cotton twill case
Cons 
Some people find it too hard to sleep.
Our review
If you want a buckwheat pillow that delivers exceptional comfort, then check out the Hullo buckwheat pillow. This pillow is an all-American-made product that features the finest materials. It is filled with premium buckwheat hulls, and the 100% organic cotton twill case is breathable and soft.  
The buckwheat hulls used in these pillows are highly malleable and offer the ideal level of firmness to support your neck and head. The convenient zippered casing makes it easier to adjust the loft by adding or removing some of the hulls. 
This Hullo pillow keeps you comfortable all night long as it allows for airflow and prevents heat build-up. It is the perfect product for people who prefer the vegan lifestyle as it is made with all plant-based materials. 
---
Filled with 100% organic buckwheat hulls, the Zen Chi pillow delivers natural cooling and comfort. Its premium design and support relieves muscle pain, tension, headaches, and stiff neck organically.  
Pros
Made with 100% organically grown buckwheat hulls

It helps relieve certain types of neck and back pain

Adjusts naturally to the ideal position of your spine, neck, and head

Facilitates airflow for natural cooling comfort

The refillable feature allows you to adjust the amount of hulls according to your liking 
Cons
Can develop grain beetles
Our review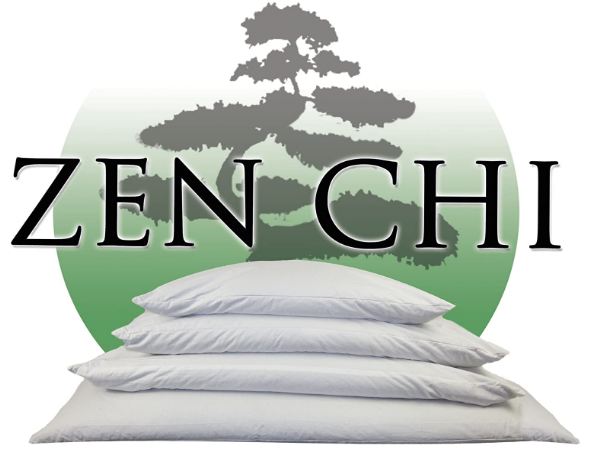 The Zen Chi pillows are filled with organically grown buckwheat hulls that provide comfort through close contouring and promote cool air circulation. You can mold them to match your sleeping style by adding or removing the fill.
These highly adaptable pillows have been compared to memory foam pillows because of their confirm-ability and pressure-relieving abilities. Moreover, they are durable, thus providing great value for the money.
---
The ComfyComfy buckwheat pillow is a solid, well-put-together pillow that contours nicely to your back and neck. These pillows are produced by a family-run business that uses 100% organic materials.
Pros
Filled with buckwheat hulls that do not contain any chemicals or fumigants

The 3D structure allows air to flow, ensuring cool, comfortable sleep

Cotton twill cover certified organic by the Texas Department of Agriculture

The convenient zippered opening makes addition or removal of hulls easy

Has no odor

No dust created as the filling deteriorates
Cons 
Not recommended for stomach sleepers
Our review
These pillows are made from 100% USA-grown buckwheat that is cleaned without using any fumigants or chemicals. They come with an organic cotton cover and offer a healthy alternative to people looking for superior support while they sleep.
The buckwheat hulls mold to the correct position of your body, thus keeping the head and neck in an ergonomic position. The invisible zipper makes it easy to remove or add the hull so that you can customize the firmness level according to your preference. 
This environmentally-friendly cover is made from organically grown cotton and is soft yet durable. The Hullo buckwheat pillow is designed to allow better airflow that helps to keep the head cool on warm nights and dispels moisture from the head and pillow. 
---
The Beans72 buckwheat pillow is a firm and ultra-supportive pillow filled with triple air cleaned and hypo-allergenic organic hulls. This ensures that the buckwheat hulls are free from any debris, dust, or buckwheat flour.    
Pros
Filled with 100% organic buckwheat hulls

Natural unbleached 100% cotton casing

Allows air circulation to keep cool

Adjusts and conforms to your head perfectly
Cons
Not recommended for people with chronic migraines
Our review
Beans72 has been creating authentic and durable sobakawa pillows since 1999. They are filled with 100% organic buckwheat hulls, while the unbleached cotton casing provides a soft surface to rest your head. 
These pillows have exceptional cooling properties as they allow air to flow freely. A zipper is provided so that you can remove or add hulls to adjust the level of firmness according to your needs. 
Another great thing about Beans72 is that the pillows are filled with a generous amount of hulls. You can remove some of the hulls and store them in an airtight bag and use them later when you need to replenish the filling. This saves you money as you do not have to order extra hulls.
---
High-quality organic buckwheat hulls together with a soft, breathable pillow cover make the PineTales buckwheat pillows an environmentally-friendly option.
Pros
Designed with high-quality zippers that allow for adjustable loft

Provides premium support

It helps eliminate posture induced headaches

Reduces leg, neck, and back pain

Premium, washable bamboo cover
Cons
Our review
The PineTales buckwheat pillow is a high-quality handmade model. It is filled with hulls grown organically without using any pesticides. Moreover, these hulls are heat-treated during production, which keeps them insect-free.
The PineTales designer covers are not only soft, but they also allow air to pass through, which gives them great cooling properties. Made from bamboo and blended cotton, these covers are thick enough to prevent foreign particles like allergens from entering the pillow. 
The zipper in the cover makes the pillow adjustable. Moreover, these covers are hypoallergenic; therefore, they do not irritate the skin or cause any rash.
---
If you prefer a cylindrical-shaped pillow, then this one from Sachi is for you. Ideal for people suffering from aches and pains, these pillows are known as bolsters. You can place them under the back, neck, or between the knees to provide exceptional support and pressure relief. 
Pros
Unique cylindrical shape

100% cotton canvas made from organic fibers

Provides firm support

Organic American-grown buckwheat hulls

Best for traveling or use around the house
Cons 
Our review
A high-quality option, the Sachi Organics Pillow provides consistent head and neck support that alleviates aches and pains. Its supportive, cylindrical shape offers extra pressure relief. This pillow is ideal for people who experience chronic discomfort by elevating the head and cradling the neck. Moreover, people can place it under the leg or knee to help with lower body pain.
It has a breathable and smooth organic cotton canvas cover that allows sleepers to stay cool during the night. It is very easy to adjust the loft by All you need to do is to simply add or remove the hulls. The zippered opening allows users to make easy customizations. 
---
Buying Guide: How to Choose a Buckwheat Pillow
The ideal buckwheat pillow will fit your budget and offer your desired level of comfort . In addition, there are a few other things you should consider before choosing one:
Loft
One of the main features of buckwheat pillows is their adjustable loft. They are designed with a lined pouch for the hulls and a zippered outer cover that makes it easier to access the interior. 
This level of customization allows people to sleep comfortably in different positions as back sleeping requires less loft than side sleeping. Make sure that you can replenish or adjust the hulls according to your preference.
Moldability
Buckwheat pillows mold quite close to the body. Many users have found the feel of these pillows similar to a beanbag. Since the hulls used in these pillows are very small, the pillow contours close to the neck and head, thus ensuring enhanced pressure relief and support.
It is better to make sure that the buckwheat hulls are 100% organic so that you sleep healthy. The cover material of the buckwheat pillow should also be organic, like bamboo or certified organic cotton. 
Price
Buckwheat pillows cost a little more than an average pillow. Find out the price of your chosen size to make sure that it fits into your budget. You can also save some money by choosing a smaller size.  
In order to protect your investment, make sure that your pillow comes with a good warranty and a trial period. In case you do not find your pillow comfortable after trying it out, you can always return it and get a refund. 
Sizes and Shape
It is vital to pick the right size in order to benefit from buckwheat pillows. These pillows, just like normal ones, come in different sizes, namely standard, queen, king, and a smaller size called the Japanese pillow.  
You will also need to take your sleep position into account. For example, you will need a bigger pillow if you are a side sleeper. Moreover, if you toss and turn a lot, choosing a longer pillow like the king or queen will provide you with more support. 
It is also important to keep in mind that the larger the pillow, the heavier it will be. If you find it difficult to move heavy objects, you should choose a smaller size.  
These pillows also come in various shapes, such as cylindrical and rectangular. Cylindrical-shaped pillows are best for side sleepers, for people who toss and turn at night and traveling. On the other hand, rectangular pillows support the normal shape of the pillow and are ideal for stomach and back sleepers.   
Check online reviews
Buckwheat pillows are not very common and are not typically available in bedding stores. However, you can find them easily online. Thus, it becomes difficult to ascertain the manufacturer's claim about the performance of the pillow. 
However, you can find hundreds of online reviews that will tell you if the pillow works as advertised. Read as many reviews as possible before choosing a pillow to make sure that you buy a quality product.   
Reasonable Return Policy and Warranty
Buying a buckwheat pillow is a considerable investment,  A reasonable return period of at least 30 days is preferable. You should also make sure that manufacturer offers  a full refund in case you are not satisfied. 
Quality materials
Most buckwheat pillows have a long life of up to 10 years or more. Moreover, they are typically made with a strong outer cover which ensures the durability of these products. 
Make sure that you choose a good-quality pillow made by a reputable company. Also, check the cover composition to make sure that you are buying a safe and healthy option.    
---
FAQs
What are the benefits of buckwheat pillows?
The exceptional qualities of the buckwheat pillows have made them quite popular. The following is the list of its benefits:
Superior support:

These pillows offer better spine support as they contour closely to the neck and head.

Cooling

: The 3D structure of these pillows makes them highly breathable. They promote airflow and discourage compacting, thus keeping your head cool throughout the night while keeping your pillow free from moisture build-up.

Adjustable:

The greatest benefit of these pillows is that you can customize them according to your

preferred loft

. The invisible zipper makes it very easy to add or take out the hulls to achieve your desired loft.

Organic

: Most buckwheat is environmentally friendly and grown organically. That is why they make a great option for people who want to avoid chemicals like pesticides and herbicides.

Hypoallergenic properties

: Most bedding is made up of artificial chemicals and materials that can cause allergies. Buckwheat, on the other hand, is hypoallergenic and even resistant to dust mites.

Lifespan:

Typically, you need to replace the bedding after a few months as it can lose shape and become unsupportive. Buckwheat is considered one of the most durable fillings and, with proper care, it can last up to 10 years.

Ensures pain relief

: If your head and neck are not in

proper alignment

while you sleep, then you can experience pain the following morning. Buckwheat pillows ensure optimal alignment, thus ensuring a deep and comfortable sleep.

May reduce snoring

: People snore when their nasal passage is blocked. Having a supportive and firm surface to sleep can help reduce snoring by promoting an open airway. Also, the ability to adjust the loft makes it easier for sleepers to find the best height for the body.   
Are there any Side effects of buckwheat pillows?
Although there aren't many side effects of buckwheat pillows, you should consider a few things when choosing these types of pillows because they are different from a conventional design. 
It takes time to get used to

: Buckwheat hulls are very different from stuffings such as feathers, foams, and soft fibers that are commonly used in pillows. Although they provide better contouring and cushioning, they do not shift with the body and are too stable to feel. Therefore, it may take some time to get used to these pillows. 

Rustling noise

: The hulls of buckwheat create a slight crunching and rustling noise when laid upon or moved. However, it is fairly muted, and you will get used to it in no time. 

Natural odor:

These pillows have a natural, earthy smell that is aromatic and calming. This smell is particularly strong when you first use the pillow due to storage techniques. Some people do not find this smell pleasant with However, it airs out and dissipates easily.  

Not washable:

You cannot wash buckwheat as it can weaken the hulls and become less durable. Their casings, however, are washable and should be washed in accordance with the manufacturer's directions. 

Heavy:

These pillows can weigh up to 12 pounds, which can be quite heavy for some people to move. Also, you cannot prop them up and watch television while leaning against them, nor can you use them in pillow fights.  
How a buckwheat pillow is compared to a memory foam pillow?
Although both these pillows ensure comfort and better support for the user, they have some differences:
A buckwheat pillow is totally organic, while a memory foam pillow is synthetic. 

In buckwheat pillows, you have to adjust their shape manually, while memory foam pillows adjust automatically to the shape of your head.

Memory foam pillows

sometimes administer too much heat, which can make you sweat excessively. Buckwheat pillows allow air to pass, thus keeping you cool while you sleep. 
---
Final Verdict: Best Buckwheat Pillow
Buckwheat pillows are perfect for people who are looking for a natural and supportive option to rest their heads. In our opinion, the Hullo buckwheat pillows are the best pillows available. They are eco-friendly, conform to the shape of the head, and are a healthy option that ensures a comfortable sleep. 
---
Affiliate Disclosure
Affiliate Disclosure: I may earn a small commission (at no cost to you) if you purchase a mattress after clicking a referral link or using a coupon code on this site. That said, all content and opinions on this site are my own and are NOT affected by these payments.
This site participates in the Amazon Services LLC Associates Program, an affiliate advertising program designed to provide a means for sites to earn advertising fees by advertising and linking to Amazon.com.
*Amazon and the Amazon logo are trademarks of Amazon.com, Inc, or its affiliates.
---