Summary
Zinus sells low-budget mid-quality memory foam, innerspring and hybrid mattresses. Each mattress comes with multiple height options ranging between 6" and 14".
Great choice for: Anyone looking for a low-budget mattress that is guaranteed to last for at least 6-7 years.
Avoid if: You are looking for a premium quality mattress with a longer lifespan.
Price:$169-$1149
NOTE: We earn from qualifying purchases made via Amazon Associates and other affiliate programs. Learn more.
---
Zinus sells some of the cheapest bed-in-a-box mattresses online. Their memory foam, hybrid and innerspring mattresses start at $112 and rarely cost more than $500.
If you are looking for a budget mattress, Zinus is a good choice.
The main trade-off is durability. The mattresses use lower quality materials, which may not hold up well to years of use.
In this review, we take a look at their memory foam mattresses and whether the ultra-low prices is a reflection of their quality.
If you don't mind paying more for a premium quality mattress, I recommend proven brands like Casper, Leesa, and Nest Bedding.
See my top ten mattress picks from these and other highly rated brands.
---
What's In This Mattress Review?
Use this table of contents to skip to the features you care most about.
To return to this outline, touch ↑.
---
About Zinus
Zinus is not a newcomer to the bedding industry, unlike most of the startups dominating the bed-in-a-box market today.
The China-based company was founded in 1979, but they started manufacturing and selling bedding products in 2004.
By 2006, Zinus had already discovered compression packing that made it easier, faster, and cheaper to ship mattresses.
Other developments made by Zinus include BioFoam containing components like green tea and natural seed oil, gel foam to improve cooling and Eco Foam consisting of natural plant oils.
While the company is still based in China and does all their manufacturing there, they have expanded their operations to the United States. They currently operate three large distribution centers in the US that provide fast shipping.
---
Social Impact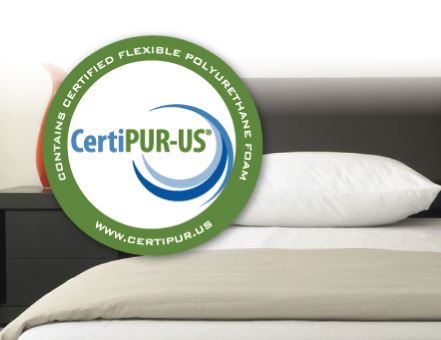 Zinus has made many efforts to make their products healthier and more eco-friendly.
Notable efforts include the development of BioFoam and Eco Foam used in some of their mattresses.
Most of their mattresses are also CertiPUR certified. This guarantees they carry no harmful chemicals and do not produce harmful emissions.
---
Purchase Process
Visit the official Zinus website to order one of their mattresses.
You can select from four memory foam mattresses.
Green Tea memory foam mattress
Cooling gel memory foam mattress
Pressure relief memory foam cloud mattress
Gel-infused Green Tea ActiveFRESH memory foam mattress
If you prefer an innerspring/hybrid mattress, there are four options as well.
Cooling Hybrid Gel foam mattress
Euro Top Pocketed iCoil hybrid mattress
Mint Green foam hybrid spring mattress
Pocketed iCoil hybrid mattress
Each mattress comes with several height options including 6", 8", 10", 12" and 14". Prices go up as the mattress gets thicker.
Size options are fewer than usual with the only sizes available being Twin, Fill, Queen, and King.
---
Price
The cheapest Zinus memory foam mattress costs $112 while the most you'll pay for a King size 14" memory foam mattress is $467.
Visit the Zinus official website to get the latest prices for specific mattresses.
100-Night Trial
All Zinus mattresses come with a 100-night trial period. If you don't like the mattress, you can make a free return within that period.
---
10-Year Warranty
Each Zinus mattress comes with a 10-year warranty that assuages some of our longevity concerns.
The warranty is not as strong as that of a Casper or Leesa mattress. For one, they only cover indentations deeper than 1.5" (most mattress companies guarantee no sagging beyond 1").
They also have a lot more conditions for maintaining the warranty validity. For example, you'll void the warranty if you use one of their memory foam mattress with a heating pad or electric blanket.
They also require that you use a waterproof mattress protector.
You can read the full warranty yourself here.
---
Shipping
Zinus provides free shipping.  You'll get a tracking number once your order has been processed, which takes 2-3 business days.
---
Delivery and Setup
Zinus provides standard curbside delivery. Once the mattress arrives, it's up to you to take it inside and set it up.
But setup is easy. The mattress comes compressed in a small box that is easy to carry inside and open.
Once you unbox the mattress, leave it for two hours to puff up to size and off-gas.
---
Foundation & Frame
What type of bed frame/support does Zinus mattress require?
Zinus mattresses work great with all types of frames including a foundation, platform bed, box spring, or a slatted base.
You can even put the mattress directly on the floor.
Does Zinus work on an adjustable bed?
Zinus recommends selecting the 8" or 10" options if you plan to use the mattress with an adjustable base.
But all their mattresses work on an adjustable bed.
---
Care and Cleaning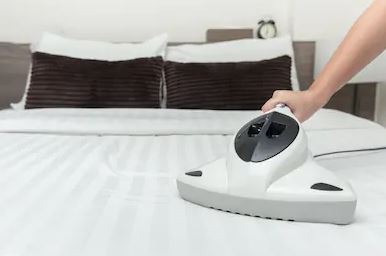 Is a mattress protector needed for Zinus?
Zinus strongly warns against removing the mattress cover. The main reason for this is that there is fiberglass fire retardant underneath.
If you remove the cover, it will release fiberglass, which is dangerous to breathe.
A waterproof mattress protector is the best way to protect the cover and mattress.
Do you need to rotate the Zinus mattress?
The company recommends rotating the mattress every few months to prolong its lifespan.
---
Aesthetics and Styling
All Zinus mattresses have a simple minimalist style.
If you want a mattress that resembles those 5-star hotel mattresses, select 12 or 14 inches. They look upscale and luxurious, whether placed on a base or the floor.
---
Construction
Construction varies from mattress to mattress. Even similar mattresses with different heights will have a different number of layers.
The cheapest 6" Green Tea memory foam mattress has only two layers while the 12" version has four layers.
Here are some of the important materials used in Zinus memory foam mattresses.
Green tea extract: Adds a refreshing quality to the mattress.
Activated charcoal: Also helps keep the mattress feeling and smelling fresh.
Pressure-relieving memory foam: The memory foam contours to your body to relieve pressure and distribute weight evenly. 10"-14" Zinus mattresses have a thicker memory foam layer and tend to feel softer and more luxurious.
Airflow high-density foam: This is used as a transition layer in some of the mattresses. It provides compression support, preventing you from sinking too deep. It's also designed to improve ventilation within the mattress, which helps with cooling.
High-density base support foam: All the memory foam mattresses have a thick high-density foam base that provides overall support and prevents sagging.
Cooling gel: A couple of the mattresses have gel-infused foam that dissipates heat.
Microfiber quilting: The memory foam Cloud Mattress has a microfiber layer quilted to the mattress cover. The microfiber creates a soft plush surface that instantly relieves pressure when you lie on the bed.
---
Mattress Cover
All the memory foam mattresses come with a knitted jacquard cool fabric that feels soft and is highly breathable.
The covers have a zipper but do not remove the cover. As I mentioned, this could release fiberglass into the air and compromise air quality.
Use a mattress protector to keep stains from the mattress and mattress cover.
---
Smell/Off-gassing
One of the biggest complaints from users is the reasonably strong chemical smell the mattress produces when new.
Some people found it so bad they couldn't sleep on the mattress the first night.
It dissipates after a couple of days, but you can still smell it for several days or even weeks.
Airing the mattress for a day or two should help reduce the smell. If it's too strong, use Febreze or any other air freshener to cover the smell.
---
Sleeping Experience
The sleeping experience will greatly depend on the mattress you've chosen.
Generally, the cheaper and thinner mattresses are not very comfortable with some being quite firm. That's because they have a thinner comfort section.
For the best sleeping experience, choose a 10", 12" or 14" mattress.
This being memory foam, do not expect much in terms of responsiveness. For couples or anyone looking for a bouncy mattress, consider one of the innerspring/hybrid options.
---
Firmness
All the mattresses have that classic soft feel of memory foam.
But the thinner ones – 6" and 8" – can be quite firm. The 10"-14" mattresses are medium firm with the thicker ones (12" and 14") feeling a bit plusher.
---
Sinkage
Sinkage depends on the firmness of the mattress.
Thinner mattresses have less give, making them more ideal for stomach sleepers.
10"-14" mattresses have a bit more give, making them ideal for side, back and combo sleepers.
---
Motion Transfer
Foam mattresses barely have any motion transfer. Zinus memory foam mattresses are no different.
If your partner gets particularly mobile at night, the mattress absorbs the disturbance, ensuring you sleep like a baby.
---
Hot/Cold Issues
While most of the mattresses have a cooling technique – whether it's gel or special airflow foam –they can still get a bit warm in summer.
If you sleep hot, go for the hybrid mattresses or look for a latex foam mattress.
---
Pros and Cons
Pros
Very affordable.
Comfortable.
Free shipping and free returns.
Several thickness options.
Cons
Lower than average lifespan.
Cover not washable.
The chemical smell when new.
---
This Mattress is Perfect for You If…
You are looking for a cheap but decent-quality memory foam mattress.
---
Conclusion
For their price, Zinus memory foam mattresses are surprisingly comfortable. You won't get better value at this price range.
---
Where to Buy
Visit the Zinus official website to order a memory foam mattress.
---
Affiliate Disclosure
Affiliate Disclosure: I may earn a small commission (at no cost to you) if you purchase a mattress after clicking a referral link or using a coupon code on this site. That said, all content and opinions on this site are my own and are NOT affected by these payments.
This site participates in the Amazon Services LLC Associates Program, an affiliate advertising program designed to provide a means for sites to earn advertising fees by advertising and linking to Amazon.com.
*Amazon and the Amazon logo are trademarks of Amazon.com, Inc, or its affiliates.
---