NOTE: We earn from qualifying purchases made via Amazon Associates and other affiliate programs. Learn more.
Having trouble choosing between the BedJet and Chilipad bed cooling systems?
You've come to the right place.
Both BedJet and Chilipad are excellent choices for hot sleepers who require an active cooling system. These two systems are also the best solutions for people struggling with night sweats and hot flashes.
Unlike cooling mattresses and mattress toppers that cool sleepers passively, these bed climate control systems can cool you much more effectively by maintaining a specific temperature. They can also warm you up efficiently, which is, again, great for sleepers who experience cold feet or legs in bed.
BedJet uses air to keep you comfortable. Itblows cool or warm air under the covers via a hose.
Chilipad, on the other hand, uses water. A control unit – called the Cube – pumps cool or warm water through tiny tubes in the Chilipad. The pad itself goes on top of your mattress, under the sheet.
Both systems are impressive. But they each have their pros and cons.
---
What's In This Comparison?
In this comparison, we compare BedJet vs. Chilipad, so it's practically like a battle between air vs. water.
We compare the cooling/warming performance of these two systems, noise level, and ease of setup and use.
If neither of these is what you are looking for, we'd recommend you read our reviews of other bed cooling systems.
---
Bedjet Vs. Chilipad: Which One Should You Buy?
BedJet is the best choice for you if: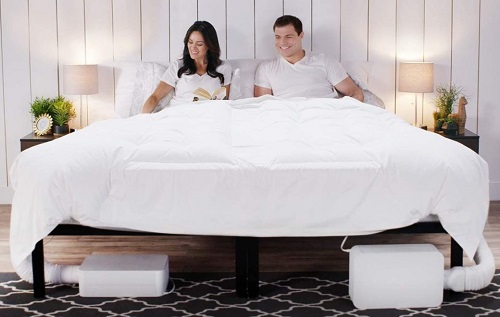 You like the feel of a cool or warm breeze blowing on you.
You want instant heating or cooling.
You don't want to change the feel of your mattress.
You experience severe night sweats – air cooling dries you faster.
You want a cooling system with advanced temperature control (e.g., hour by hour settings)
You have a low bed – BedJet's control unit is smaller and requires less clearance.
Chilipad is best for you if:
You prefer sleeping colder or warmer than average – Chilipad has a broader temperature range.
You don't want air blowing on you.
You prefer a simple, easy-to-use bed cooling system.
You suffer from back or joint pain, and warmth brings you some relief – the direct transfer of heat from the water to your body is more soothing compared to BedJet's air cooling.
---
How Do Bedjet and Chilipad Compare?
Now let's look at how BedJet and Chilipad compare on cooling, warming, and other features.
To start with, here's a quick breakdown of the key differences and similarities between the two.
| | |
| --- | --- |
| Bedjet | Chilipad Cube |
| Cools and warms with air | Cools and warms with water |
| 66-104F temperature range | 55-115F temperature range |
| Wireless remote control | Wireless remote control |
| Single & dual control options | Single & dual control options |
| Advanced temperature control with a silent alarm | Basic temperature controls |
| App control via Bluetooth | No app |
| 2yr warranty | 2yr warranty |
1. Cooling Performance
BedJet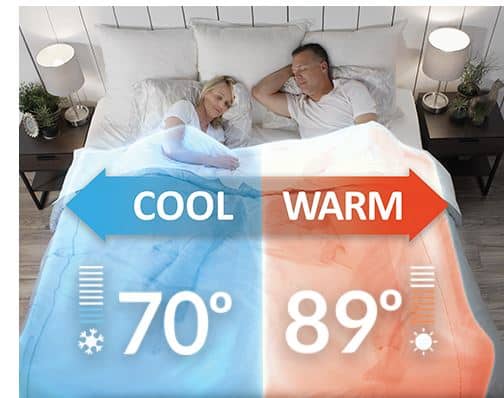 BedJet works by forcing cool air through a hose into your bed, and because it doesn't have compressor cooling, it, therefore, does not blow chilled air under the covers.
Instead, it takes room temperature air and uses it to cool you down. By moving the air around your body, it also dries out sweat, further helping with cooling.
So, it basically operates like a fan. And that's where its biggest limitation lies. In most cases, BedJet does an impressive job at keeping the sleeper cool, and you might even wake up freezing if you set the temperature too low (you can set the temperature as low as 66F).
However, the higher the room temperature gets, the less effective BedJet becomes. Above 75 degrees, BedJet may not cool you as effectively.
That's why BedJet (even Chilipad, as we'll discuss shortly) is not a replacement for your AC. But it's still an energy-saver.
What most users find is that they don't have to turn their AC down as much, which reduces their power bills.
Instead of turning the AC all the way down to 68 or 69, you can keep it at between 73 and 74 degrees, and you'll still sleep cool.
One of the great things about air cooling is that it's instant. Once you adjust the temperature on the remote control, you feel the change immediately. Unlike Chilipad, you don't need to pre-cool the bed before you get in it.
Air cooling is also great for drying sweat, making BedJet the best choice for people with serious night sweats.
Chilipad Cube
The Chilipad Cube system uses water to cool you down. Similar to BedJet, Chilipad doesn't have compressor cooling.
It uses ambient air to cool down water using a fan. Then it pumps that water through tubes set within a pad.
Water cooling is more efficient than air cooling. It allows the Chilipad system to cool you down further than BedJet can. You can set the temperature as low as 55F, 11 degrees cooler than BedJet's minimum temperature.
This makes Chilipad great for extra-hot sleepers and people who live in hot climates.
While it does take a few minutes to cool you down, once it's up and going, Chilipad keeps you cool all night long.
Chilipad is also great for night sweats. By keeping your body temperature down, it keeps you from sweating in the first place.
The main limitation of Chilipad is similar to that of BedJet – ambient temperature. Without compressor cooling, Chilipad is dependent on your bedroom being cool enough to cool the water.
So, while you don't need to turn off your AC completely, you can still leave it at a higher setting than usual. The sweet spot for most homes is 73-75 degrees. You save on power bills while enjoying a cool night's sleep.
Keeping your AC on also keeps the warm air being blown out by the control unit (the Cube) from heating up the room too much and defeating the purpose of using Chilipad.
2. Heating Performance
BedJet
Because it has a heating element, BedJet easily and quickly heats up your bed regardless of ambient temperature.
You can set the temperature as high as 104F. If you are getting into bed on a particularly chilly night, use the handy Turbo mode setting to blast your bed with hot air for 10 minutes.
Chilipad
Chilipad also does not have any problems keeping you warm. The water-based system is not instant like BedJet, but it can warm the bed to a cozy 115 degrees.
One advantage of Chilipad over BedJet when it comes to heating is that Chilipad works better for soothing pains and aches.
If you find heat therapy helpful and beneficial for your back or joint pain, you might find Chilipad gives you more relief compared to warm air blowing over your body.
3. Setup
BedJet
BedJet has made the main control unit smaller with every new version. The new BedJet V3 is thinner, allowing it to slide easily under low beds.
It also needs less clearance and can work well under beds with as little as 6 inches of space underneath.
Setting up BedJet is easy. You can either install the main unit under your bed or next to it. The hose goes under your top sheet.
For the best cooling/warming performance, we recommend buying the Cloud Sheet. This is a sheet BedJet makes specifically to deliver air efficiently right into your bed. It connects to the hose nozzle, which provides the best air distribution.
BedJet has single and dual control options. When you opt for the Dual temp zone Bedjet, you'll receive two units and two remote controls. We highly recommend also getting the dual-zone Cloud Sheet.
Chilipad
The Chilipad system includes the Cube, which is the main control unit, a washable mattress pad, and a remote control.
The Cube is taller than BedJet's control unit, so it may not fit under low-profile beds. It also needs more clearance space – 18 inches on all sides. So, you'll need plenty of room under your bed.
In most bedrooms, the best place for the Chilipad cube is next to the bed. It ensures the Cube has plenty of cool air to draw in and enough space to dissipate warm air.
The pad goes on top of your mattress (ideally on top of a mattress protector), then you cover it with a sheet and the rest of the bedding.
You can order Chilipad for one or two people. When you order the dual-zone option, it'll come with one two-zone pad, two Cubes, and two remote controls.
While a few people say they can feel the small tubes when they sleep, most users of Chilipad say it doesn't change the feel of their mattress.
By the way, the Chilipad is also reversible. One side consists of a polyester mesh that provides extra cooling for hot sleepers, whereas the other is a softer poly-cotton fabric for those who want a softer touch.
Once you set up and secure the pad (the pad has straps to keep it secure on the mattress), hook it up to the control unit. Add distilled water to the Cube and follow the startup instructions.
How often you top up the water depends on the temperature you set. Higher temperatures result in faster evaporation. Most users say they top up the reservoir every 1-4 weeks. A low water indicator will come on to alert you when it's time to add water.
4. Remote Control
BedJet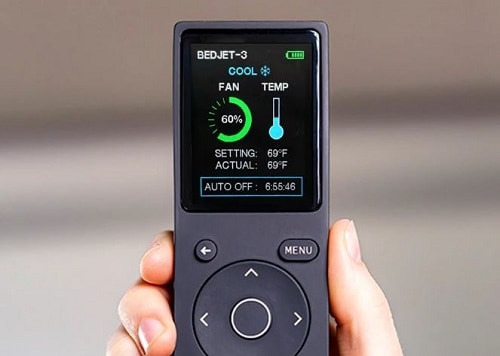 We love BedJet's remote control. It can be a bit intimidating at first with so many buttons and even a color screen, but you'll get used to it in no time.
The main aim of BedJet when creating the remote control was to provide access to all the features without requiring a smartphone app. If you prefer leaving your phone out of the bedroom, you can still control all settings from the remote.
The BedJet remote control has the usual controls for fan speed and temperature. In addition, you can set a timer, save settings using dedicated memory buttons, and select handy presets like turbo heat, cool, heat, extended heat, and dry.
Another feature it has that we love is the biorhythm. It lets you set hour-by-hour temperatures for the night, so you don't wake up freezing or profusely sweating. You can also set a silent temperature wake-up alarm.
BedJet also offers app control via Bluetooth, but most customers usually prefer to stick to the remote control.
Chilipad
In contrast to BedJet, Chilipad's remote control is basic. It only has three buttons for power and temperature up & down.
While you do miss out on advanced temperature control features, it's great for those who want a basic remote control that's easy to use.
Chilipad doesn't offer app control.
5. Noise Level
You'd the BedJet air cooling system would be noisier. After all, it's a fan blowing air into your mattress.
However, Chilipad also uses a fan in the Cube to draw in air to cool the water. And since the Cube is right next to or under your bed, you can hear the fan.
So, both BedJet and Chilipad produce some noise. It's a low hum similar to white noise.
With the BedJet system, you can adjust the fan speed to reduce noise to barely audible. But that reduces cooling performance.
Chilipad doesn't have fan settings. But the lower you set the temperature, the louder the fan gets.
If you prefer sleeping in as much silence as possible, we recommend you go with BedJet so you can set the noise level as low as you want.
6. Price
Compared to passive cooling systems such as mattress toppers and cooling sheets, BedJet and Chilipad are both quite expensive.
But for most people, the improvement in sleep quality is worth it.
In comparison, however, BedJet is slightly cheaper than Chilipad. But when you add the price of the Cloud Sheet, the two systems cost roughly the same.
---
BedJet Pros and Cons
Pros
Good cooling and warming performance.
Adjustable fan speed.
Single and dual temperature zone options.
Instant heating/cooling.
Great for drying sweat.
Cons
Pricey.
Not suitable for homes without AC, especially in hot climates.
---
Chilipad Pros and Cons
Pros
Good cooling and warming performance.
Wide temperature range.
Single and dual temperature control zones,
Prevents night sweats.
Easy to use remote control.
Cons
It takes time to heat or cool.
You cannot adjust the fan speed.
Pricey.
---
Warranty and Returns
Both Chilipad and BedJet come with a 2-year warranty.
ChiliSleep (the makers of Chilipad) gives you 30 nights to try the Chilipad at home. If you buy it from Amazon, you get a standard 30-day return period.
BedJet offers a 60-day return period if you order from the official website and a standard 30-day return period if you order on Amazon.
---
Shipping and Delivery
Both ChiliSleep and BedJet offer free shipping within the United States. BedJet also offers free shipping to Canada.
---
Care and Maintenance
Chilipad and BedJet are both easy to maintain, but out of the two, BedJet is much easier. Every three months, check and clean the air filter in the main control unit.
As for Chilipad, you can wash the pad in the washing machine. You'll also need to sanitize the whole system Every month, using the ChiliSleep cleaner to ensure that it does not become a breeding ground for bacteria and viruses.
---
Where to Buy
BedJet
Chilipad
---
See My Favorite Products of 2021!
Select a list >
Mattresses
Toppers & Pads
Cooling/Heating
Pillows
Sheets
Touch a tab above to reveal my top picks for that category.
---
Learn More
Compare Mattresses Side-by-Side
---
Affiliate Disclosure
Affiliate Disclosure: I may earn a small commission (at no cost to you) if you purchase a mattress after clicking a referral link or using a coupon code on this site. That said, all content and opinions on this site are my own and are NOT affected by these payments.
This site participates in the Amazon Services LLC Associates Program, an affiliate advertising program designed to provide a means for sites to earn advertising fees by advertising and linking to Amazon.com.
*Amazon and the Amazon logo are trademarks of Amazon.com, Inc, or its affiliates.
---