NOTE: We earn from qualifying purchases made via Amazon Associates and other affiliate programs. Learn more.
Having trouble choosing between BedJet and Sleepme products?
You've come to the right place.
The BedJet and Sleepme's Cube, OOLER and Dock Pro products are excellent choices for hot sleepers who require an active cooling system – especially folks struggling with night sweats and hot flashes.
Unlike cooling mattresses and mattress toppers that cool sleepers passively, these bed climate control systems use water or forced air to cool your bed far more effectively and to maintain a set temperature all night long.
Passive cooling products like gel-infused foam mattresses, cooling pillows and heated mattress pads cannot compete with these two systems when it comes to keeping you warm or cool all night long.
The BedJet and Sleepme systems work very differently, however.
BedJet blows cool or warm air under your sheets to keep you comfortable.
Sleepme's products, on the other hand, pump cool or warm water through a mattress pad under your fitted sheet.
This means it technically heats and cools your backside or whatever side you sleep on. But that's enough to cool/warm  your entire body.
We tested the dual-zone versions of the BedJet V3 and the Sleepme Cube in our king-sized master bed for a few weeks each.
They both work as claimed, but they are very different products with unique pros and cons.
Let's take a look at these differences so you can make your own decision.
---
What's In This Comparison
In this article, we compare the BedJet vs. Sleepme's Cube/Ooler/Dock Pro systems.
Quite literally, this is a battle between air and water.
In this guide, we'll compare these cooling/warming systems on temperature regulation, efficiency, noise level, ease of setup, programmability, remote controls, cleaning and maintenance – and more.
NOTE: If this isn't the kind of bed climate control you are looking for, check out our recently-updated roundups of the best bed climate control systems (heating + cooling), the best heated mattress pads, and the best bed cooling systems.
---
Bedjet Vs. Sleepme: Which One Should You Buy?
BedJet is the best choice for you if: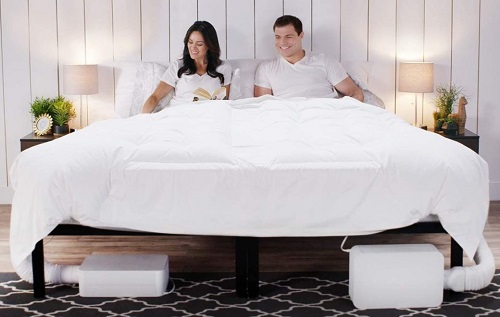 You like the feel of a cool or warm air blowing over your body.
You want instant heating or cooling.
You don't want to change the feel of your mattress.
You experience night sweats – air cooling dries your body, water cooling doesn't.
You want advanced temperature control during the night (e.g., hour by hour settings)
You have a low bed – BedJet's control unit requires less clearance.
---
Sleepme's Cube, OOLER or Dock Pro are the best choice for you if: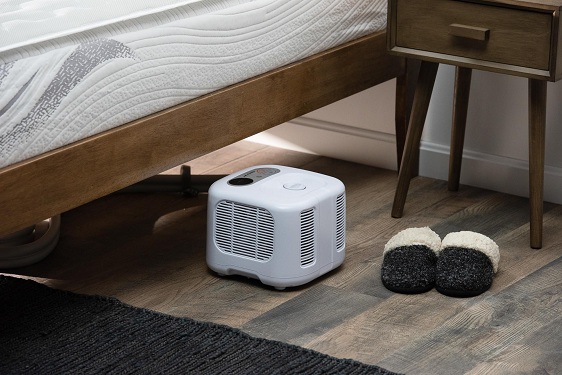 You don't like air blowing on you.
You would like the widest possible temperature range offered in a product of this class.
You prefer a simple, easy-to-use bed cooling system.
You suffer from back, muscle, or joint pain – the direct transfer of heat from the water pad to your body is more therapeutic than BedJet's air cooling.
---
How Do Bedjet and Sleepme Compare?
Now let's look at how the BedJet and Sleepme compare on cooling, warming, and other features.
To start with, here's a quick breakdown of the key differences and similarities between the two.
| | | |
| --- | --- | --- |
| Bedjet V3 (Save 30%) | Sleepme Cube | Sleepme Dock Pro |
| Cools and warms with air | Cools and warms with water | Cools and warms with water |
| 66-104F temperature range | 55-115F temperature range | 55-115F temperature range |
| Wireless remote control | Wireless remote control | Wireless app control via WiFi |
| Single & dual-zone options | Single & dual-zone options | Single & dual-zone options |
| Advanced temperature control with a silent alarm | Basic temperature controls | Advanced temperature control with a silent alarm |
| Smartphone App via Bluetooth | No app (Cube) or Smartphone app (OOLER) | Smartphone app via WiFi |
| 2-year warranty | 2-year warranty | 3-year warranty |
1. Cooling Performance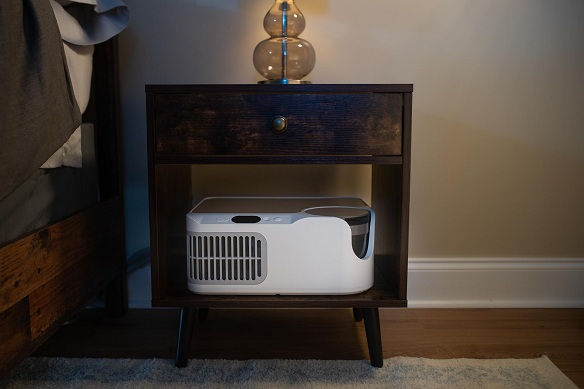 The Sleepme Dock Pro also uses water to cool and warm you. 
The main difference between Dock Pro Sleep System and other Sleepme systems is that it's more powerful. Sleepme has increased cooling power from the 52W of the OOLER system to 95W in the Dock Pro system. 
The Dock Pro has the same temperature range as OOLER and Cube (55F to 115F), but it can cool you much faster and it can get much colder.  
It's a great choice for extra-hot sleepers and anyone who lives in a hot climate and wants to save money on AC. 
Another reason the Dock Pro is better at cooling than OOLER and Cube is the new ChiliPad Pro mattress pad it comes with. 
Instead of tubes inside the pad, the ChiliPad Pro has a membrane that distributes cooled or heated water over the bed. 
This makes the mattress pad more comfortable (you don't feel any tubes) and increases the cooling surface area 5X. 
BedJet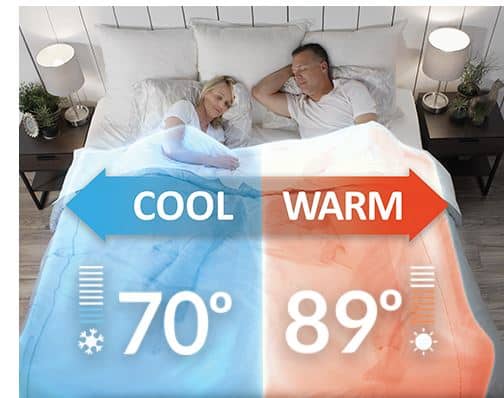 The BedJet works by forcing cool air through a hose into your bed.
It doesn't have compressor-based cooling; instead, the BedJet takes room temperature air and blows it over you it to cool you down using convection and evaporation of sweat.
So it basically operates like a fan. And that's where its biggest limitation lies.
In most cases, BedJet does an impressive job at keeping the sleeper cool, and you might even wake up freezing if you set the temperature too low (you can set the temperature as low as 66F).
However, the higher the room temperature gets, the less effective BedJet becomes in cooling you. Above 75 degrees, BedJet may not cool you as effectively.
That's why BedJet (and Sleepme, as we'll discuss shortly) is not a replacement for your AC. But it's still an energy-saver.
We found we did not have to turn our AC down nearly as much in the summer, which saved a bit on utility bills.
Instead of turning the AC all the way down to 68 or 69, we kept it between 73 and 74 degrees but slept just as cool.
One of the great things about a forced-air bed climate system is that the effect is instant. Once you adjust the temperature on the remote control, you feel the change immediately.
Unlike Sleepme, you won't need to pre-cool the bed before you get in it.
Air cooling is also far better for drying sweat, making BedJet the best choice for people with night sweats.
Sleepme Cube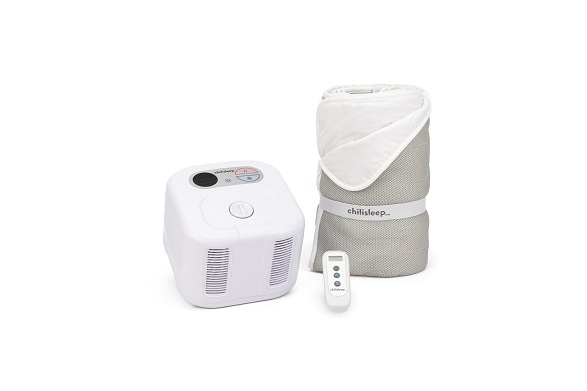 The Sleepme Cube & OOLER systems use water to cool you down.
Similar to BedJet, Sleepme units don't use compressors to cool. Instead, they rely on ambient air to cool the unit's water using a fan. Then it pumps the cooler water through tubes within the Chilipad mattress pad.
Water cooling is far more efficient than air cooling, which means that once it's reached your set temperature, the Sleepme system will cool your body faster than BedJet can. You can set the temperature as low as 55F, too – which is 11 degrees cooler than BedJet's minimum.
This makes Sleepme great for extra-hot sleepers and people who live in hot climates.
While it does take a few minutes to cool you down, once it's up and going Sleepme Cube / OOLER will keep you cool all night long.
Sleepme products are also great for hot flashes. By keeping your body temperature down, it keeps you from sweating in the first place.
The main limitation of Sleepme's Cube and OOLER products is similar to that of BedJet – reliance on your bedroom's ambient temperature. Without compressor cooling, Sleepme is dependent on your bedroom being cool enough to cool the water.
So, while you cannot turn your AC off completely, you can leave it on a higher setting than usual. The sweet spot for most homes is 73-75 degrees. You save on power bills while enjoying a cool night's sleep.
Keeping your AC on also keeps the warm air being blown out by the control unit (the Cube) from heating up the room too much.
2. Heating Performance
BedJet
Because it uses a heating element, the BedJet easily and quickly heats your bed regardless of your room's ambient temperature. You can set the temperature as high as 104F.
If you are getting into bed on a chilly night, use the handy Turbo mode setting to blast your bed with hot air for 10 minutes.  It feels incredible.  My husband LOVES this feature and falls asleep much faster because of it.
Sleepme
Sleepme products also do not have problems keeping you warm. The water-based system is not as instantly warm as the BedJet, but it will warm your bed up to a cozy 115 degrees.
One advantage of Sleepme products over the BedJet is that Sleepme Cube, OOLER and Dock Pro are better for soothing pains and aches. If you find heat therapy helpful and beneficial for back or joint pain, you'll find Sleepme products give you more relief.
3. Setup
Sleepme Dock Pro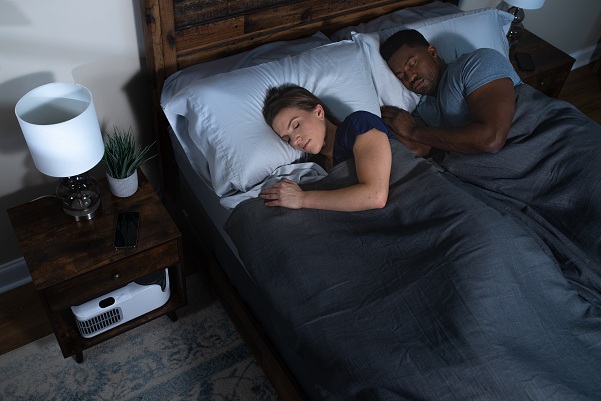 The Dock Pro control unit is about the same height as the OOLER control unit (6.25 inches). So it should fit easily under most beds. 
You can also place the Dock Pro next to your bed or even on the nightstand. 
The Dock Pro comes with a removable water reservoir, which makes it easy to refill and clean. 
The ChiliPad Pro mattress pad secures to your mattress using an elastic skirt that can fit mattresses 8 to 18 inches thick. 
The skirt attaches the pad more securely compared to the corner straps used in the ChiliPad Cool Mesh that comes with OOLER and Cube systems. 
Note that the ChiliPad Pro is not reversible. It has just one side that feels soft (remember there are no tubes inside). 
Similar to ChiliPad Cool Mesh, the ChiliPad Pro is available in a single zone or dual zone option. The dual-zone version comes with two control units. 
The Sleepme Dock Pro doesn't come with remote control. Instead, you download the sleepme app and use it to link the system to your home network (2.4GHz only). 
You can then control temperature and other settings wherever you are.
By the way, Sleepme recently introduced the sleepme+ subscription membership program.
When you pay for it, you'll receive a non-wearable sleep tracker that monitors your health metrics and sleep performance. You can then see your sleep reports on the app.
Based on your real time sleep data, the tracker also automatically adjusts the Dock Pro to keep your bed at the perfect temperature.
BedJet
The new BedJet V3 is a low-profile unit, allowing it to slide easily under low beds with as little as 6 inches of space underneath.
Setting the BedJet up is easy. You can install the main unit under your bed or next to it. The hose goes under your top sheet or connects to Sleepme's special Cloud Sheet (which is what we tested).
For the best cooling/warming performance, we definitely recommend buying the Cloud Sheet. This is a sheet BedJet makes specifically to deliver air efficiently right into your bed. It connects to the hose nozzle, which provides the best air distribution.
The Cloud sheet is made of two layers and the cooled/warmed air is blown into the gap and exits through small perforations on the bottom layer touching your skin.   The overall effect is one of an extremely gentle, soft air cushion under your comforter. Very nice.
BedJet has single and dual zone options. When you opt for a Dual-zone Bedjet, you'll receive two units and two remote controls, although either remote can be used to control both sides of the bed (so you don't have to remember which one to grab.
Sleepme Cube & OOLER
Both Sleepme systems includes the Cube, which is the main control unit, a washable mattress pad (the Chilipad Cool Mesh), and a remote control.
The Cube/OOLER is taller than BedJet's control unit, so it may not fit under low-profile beds. It needs more clearance space – 18 inches on all sides.
In most bedrooms, the best place for the Sleepme cube is next to the bed. This ensures the Cube has plenty of cool air to draw in and enough space to dissipate warm air.
The mattress pad goes on top of your mattress (ideally on top of a mattress protector), then you cover it with a sheet and the rest of the bedding.
You can order Sleepme models for one or two people. When you order the dual-zone option, it'll come with one two-zone pad, two Cubes, and two remote controls.
While a few people say they can feel the small tubes when they sleep, we didn't notice them at all.  I'm a side-sleeper, too, so that says a lot about how unobtrusive the pad is.  That said, other owners of Sleepme pads claim they can feel the pad and tubes against their backs.
By the way, the Cool Mesh pad is reversible. One side consists of a polyester mesh that provides extra cooling for hot sleepers, whereas the other is a softer poly-cotton fabric for those who want a softer touch.
Once you set up and secure the pad to your mattress (the pad has straps to secure it), hook it up to the control unit. Add distilled water to the Cube and follow the startup instructions.
How often you top up the water depends on the temperature you set. Higher temperatures result in faster evaporation. Most users say they top up the reservoir every 1-4 weeks. A low water indicator will come on to alert you when it's time to add water.
4. Remote Control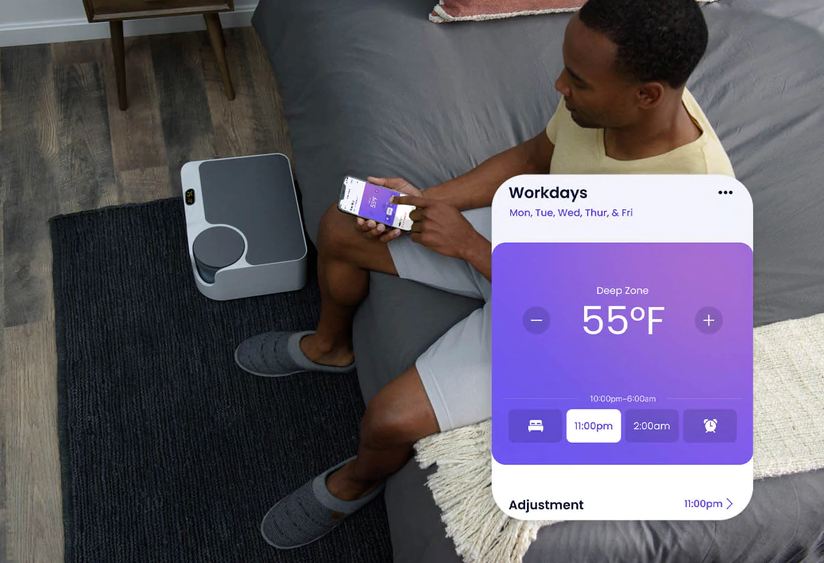 The Dock Pro is the first Sleepme bed cooling system to come with WiFi connectivity. 
Once you set it up, you can adjust temperature, set sleep schedules (different sleep temperatures at various times of the night), and activate the warm awake alarm feature. 
There are also touch buttons on the control unit. 
BedJet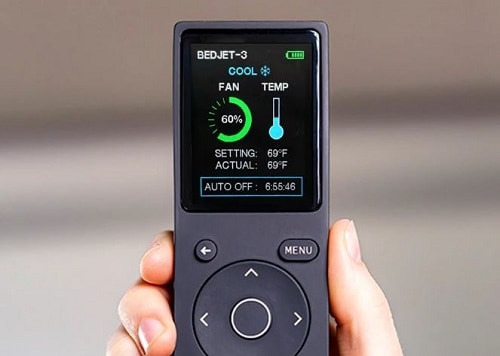 We love BedJet's remote control. It can be a bit intimidating at first with so many buttons and a color screen, but you'll get used to it in no time.
The main aim of BedJet when creating the remote control was to provide access to all the features without requiring a smartphone app. If you prefer leaving your phone out of the bedroom, you can still control all settings from the remote.
The BedJet remote control has the usual controls for fan speed and temperature. In addition, you can set a timer, save settings using dedicated memory buttons, and select handy presets like turbo heat, cool, heat, extended heat, and dry.
Another feature it has that we love is the Biorhythm mode. It lets you set hour-by-hour temperatures for the night, so you don't wake up freezing or profusely sweating. You can also set a silent temperature wake-up alarm.
BedJet also offers app control via Bluetooth, but we didn't like the limited functionality.  The wireless remote is definitely the best option.
Sleepme
In contrast to BedJet, the Sleepme Cube's remote control is basic. It has three buttons for power and a set of dual buttons to move temperature up & down.
While you do miss out on advanced temperature control features, it's great for those who want a basic remote control that's easy to use.
If you want to add more advanced features, upgrade to the OOLER.  This slightly more expensive model is controlled via an app on your smartphone, and integrates with voice control systems in your home.
5. Noise Level
You'd think the BedJet air cooling system would be noisier. After all, it's a fan blowing air into your mattress.
However, Sleepme also uses a fan in the Cube & OOLER systems to draw in air to cool the water. And because the Cube is right next to or under your bed, you can hear the fan.
So, both BedJet and Sleepme produce some noise. It's a low hum similar to white noise.
With the BedJet system, you can adjust the fan speed to reduce noise to barely audible. But that reduces cooling performance.
With the exception of the OOLER sleep system, Sleepme doesn't have fan settings. But the more extreme you set the temperature, the louder the fan gets.
If you prefer sleeping in as much silence as possible, we recommend buying the BedJet or OOLER so you can set the noise level as low as you want.
The new Dock Pro is also pretty quiet. Sleepme has managed to bring noise level down to between 41 and 46 decibels. 
Most people say they don't hear the fan at all. 
6. Price
Compared with passive cooling systems such as mattress toppers and cooling sheets, the BedJet and Sleepme are both expensive at several hundred dollars per zone (side of bed).
But for most people, the improvement in sleep quality is worth it.
That said, the base BedJet model is slightly less expensive than Sleepme products. But after you add the price of the Cloud Sheet, the two systems cost roughly the same.
---
BedJet Pros and Cons
Pros
Good cooling and warming performance.
Adjustable fan speed.
Single and dual temperature zone options.
Instant heating/cooling.
Great for drying sweat.
Cons
Pricey.
Not suitable for homes without AC, especially in hot climates.
---
Sleepme Pros and Cons
Pros
Good cooling and warming performance.
Wide temperature range.
Single and dual temperature control zones,
Prevents night sweats.
Easy to use remote control.
Cons
It takes time to heat or cool.
You cannot adjust the fan speed (except OOLER).
Pricey.
---
Warranty and Returns
Sleepme gives you 30 nights to try their Cube and OOLER products in your home. If you buy one from Amazon, you get a standard 30-day return period.
As for the new Dock Pro, Sleepme offers the same 30-night sleep trial, but a longer 3-year warranty. 
BedJet offers a 60-day return period if you order from the official website and a 30-day return if you order on Amazon. The BedJet system comes with a 2-year warranty. 
---
Shipping and Delivery
Both Sleepme and BedJet offer free shipping within the United States.
BedJet also offers free shipping to Canada.
---
Care and Maintenance
Sleepme and BedJet are both pretty easy to maintain, but of the two the BedJet is easier.
Every three months, you just need to check and clean the BedJet's air filter in the main control unit.  That, and wash the Cloud sheet on gentle cycle.
As for Sleepme's products, you can wash the pad in the washing machine and air dry it. In addition, you'll need to sanitize the system monthly using Sleepme's system cleaner to ensure that it does not become a breeding ground for bacteria and viruses.
---
Where to Buy
We recommend buying both products on the manufacturer website to ensure you get the full warranty and best deal.  That said, both products are also available on major retail site including Amazon.com.
Buy a BedJet:
Buy a Sleepme Cube:
OOLER
---
Affiliate Disclosure
Affiliate Disclosure: I may earn a small commission (at no cost to you) if you purchase a mattress after clicking a referral link or using a coupon code on this site. That said, all content and opinions on this site are my own and are NOT affected by these payments.
This site participates in the Amazon Services LLC Associates Program, an affiliate advertising program designed to provide a means for sites to earn advertising fees by advertising and linking to Amazon.com.
*Amazon and the Amazon logo are trademarks of Amazon.com, Inc, or its affiliates.
---