Leesa Mattress Review
Summary
The best one-size-fits-all memory foam mattress sold online. Sleeps noticeably better than Casper Original, for less money.
Great Choice for: bargain hunters looking for a simple high-quality memory foam mattress. Side-sleepers will love it.
Avoid if: you prefer an extra-soft or extra-firm feel. There's only one option (medium-firm).
Price: $749- $1399
NOTE: We earn from qualifying purchases made via Amazon Associates and other affiliate programs. Learn more.
---
Leesa has upped the game in the one-size-fits-all budget foam mattress category. 
The Leesa mattress provides a level of comfort I've never seen before in a one-size-fits-all mattress.
In my opinion, it's equal to mattresses that cost as much as 3 times more… including some of the latest offerings from Tempurpedic, Optimum, iComfort and Comforpedic.  Due to its softer/deeper feel, Leesa is also one of the best side-sleeper foam mattresses sold today.
Leesa is built with premium materials, features three layers of high quality foam and is made with pride in the USA.
Like its #1 competitor, Casper, Leesa customers enjoy free shipping, a 100 night free trial and easy returns. But Leesa costs $100 less.
So how well does Leesa compare with other one-size-fits-all beds in a box like Casper, Tuft and Needle, Ghostbed and Bear?
What's In This Mattress Review
This mattress review will take about 10 minutes to read everything. You may not want to spend that much time, so I've added a table of contents to make it easier to access exactly what you want to know.
To return to this table of contents, click ↑ Table of Contents .
---
About Leesa
Like Casper and Bear, Leesa is a startup manufacturer and a direct-to-consumer retailer based in Virginia Beach, VA.
Leesa was founded by David Wolfe with a really simple mission:
to help people sleep better
After a year of developing their "perfect product" – or as they say, "stripping out all the stuff no one wants, but mattress companies charge for" – Leesa launched their website and mattress in 2015.
So far, it's been a clear hit.
How do I know this?
Because Leesa is extraordinarily transparent about sharing what their customers think, right on their website.
In contrast with older brands, Leesa has more than 12,000 customer 5-star reviews posted on their website!
Most other mattress companies have maybe a few dozen reviews – if they allow them at all.
I can't think of another brand with so many vocal and active customers promoting their products with pride. Especially one so new.
A quick peek around the other mattress review sites, and the story becomes clear:  this is one great-sleeping mattress. And a bargain.
The fact that they offer just one mattress and are thriving in a crowded and competitive niche says a lot about their product.
---
Social Impact
Leesa is not just focused on selling an awesome mattress. They also invest a good portion of their profits towards helping the homeless.
Their generosity is extraordinary in the cut-throat mattress industry.
For every 10 mattresses sold, they donate 1 to the Make-a-Wish Foundation in Phoenix.
In addition, they give returned mattresses to other charities, instead of disposing of them.
So far, they've donated over 30,000 mattresses to charity!
This generous policy has earned them the only B-corp status awarded in the online mattress industry, a status shared with the likes of Patagonia and Ben & Jerry's.
---
Purchase Process
Like other online mattress companies that offer a single product, Leesa's buying process couldn't be simpler or more straightforward. All you have to do is pick a size, and pay.
The best place to buy their mattress is on the Leesa website.
Leesa accepts all credit cards and Paypal. They also offer financing through Affirm, in case you want to spread the expense out a bit.
After you place an order, the company needs 3-5 business days to pack the product and send it to you. In total, it should take less than 10 days for your mattress to arrive.
International customers will have to wait, though – Leesa only ships in the United States at the moment.
The buying process took maybe 2 minutes for me. Just pick the right size, enter your address, fill in your credit card info and voila – a fresh new mattress gets delivered to your doorsteps in up to 10 days.
As soon as your Leesa is ready to ship, you will receive an email with your tracking order.
---
Leesa Mattress Cost and Size Options
Here are the prices currently posted on Leesa's site, by size.
Note: the prices below include the latest discount – just click a price to claim it.  From time to time, there are even better deals on their site.
---
100-Night Trial
After you receive your Leesa mattress, you can try it for free for up to 100 nights.
If for some reason you are not pleased with it, contact their customer care team and they'll will refund your purchase in full, including shipping costs both ways.
Only Alaska and Hawaii customers need to pay for returns (a $100 fee).
The company gives the returned mattresses to various charities across the US.
How Do You Return a Leesa Mattress
According to Leesa's return policy, you can contact their customer support team within the 100-night return period to initiate a return.
But there's a mandatory 30-night break-in period during which you cannot return the mattress. This is to give your body time to adjust to the new mattress.
Leesa will arrange for the mattress to be picked up from your home. You don't have to ship it back or try to put it back into the box; you can't anyway.
Once Leesa receives the mattress, they'll give you a full refund less any discounts you'd received when purchasing the mattress. But the return itself is free – Leesa doesn't charge any return or restocking fees.
Instead of taking them to a Landfill, Leesa donates returned mattresses to a child or family in need of a bed.
---
10-Year Warranty
Leesa customers get a 10 Year Full Replacement Limited Warranty, which covers product workmanship and defects only. The warranty is non-transferrable to subsequent owners.
---
Shipping
This mattress is shipped in a roll to your home address using several different delivery services, including but not limited to FedEx and UPS.
The company covers all shipping costs.
---
Delivery & Setup
Your mattress is shipped in a box that varies in size based on which size you ordered:
Twin, Twin XL, Full and Queen are shipped in a standard 15" x "15" x 45" rectangular box.
King and Cal King are shipped in a larger, 18" x 18" x 45" box.
The boxes have handles, so maneuvering them around your home is a bit easier. They aren't light.
Once your mattress arrives, unboxing takes a couple of minutes, max.
This mattress won't reach its fully-decompressed state for at least one hour after unpacking. It will take several more days for it to become fully firm.
Setting up the Leesa on a bed frame is entirely up to you.
Normally, people place a new mattress on a box spring foundation because it provides more stability.
But you do NOT need a boxspring for this type of mattress.
I recommend using a slat or platform bed, instead. You can also place it on the floor – it's plenty comfortable without any further support.
---
Aesthetics & Styling
Honestly there's nothing special about the look of this mattress. It's got stripes. It's grey.
The cover feels nice to the touch and has a great, taut fit. The polyester-lycra cover is really soft.
But when it comes to exterior design, the Leesa mattress isn't the belle of the ball.
But so what?
You're gonna cover it with sheets, anyway.
---
Leesa Mattress Construction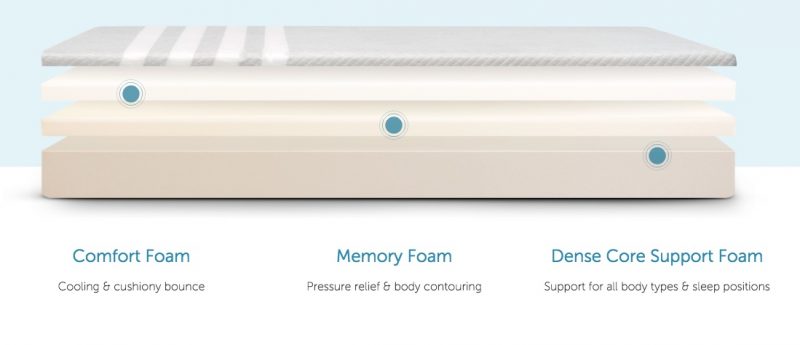 Three foam layers are used to build each Leesa mattress:
Top Layer: 2″ of LSA200 Cooling Responsive Comfort Foam  (IFD:13   PCF: 3)
For its top layer, Leesa uses its unique LSA200 foam that mimics the cooling and comfort of latex foam but is more durable.
This is what gives the Leesa mattress its soft and slightly bouncy feel that can't be found anywhere else.
The top layer is also breathable like latex and gel foams, which eliminates hot spots and cold zones. This is due to its microcell structure.
The top layer is exceptionally good at containing motion transfer, too – something that most foam mattresses struggle with. So if you sleep with a partner (or a really big dog) who constantly shifts around at night, you'll really appreciate this choice of foam.
Middle layer:  2" of Memory Foam  (IFD: 9   PCF: 3)
Memory foam provides deep compression support, support and pressure relief.
Bottom layer:  6″ of High Density Support Foam  (IFD: 32  PCF: 1.8)
The foundation of the Leesa mattress is made of a 6" layer of high density support foam.
The base is also highly breathable, so it does not absorb or reflect heat during the summer.
This mattress is durable, too. Based on extensive testing, Leesa claims its mattress will not lose more than 2% of its height over 10 years – which is 5X better than the CertiPUR-US standard of 10% loss.
---
The Leesa Mattress Cover
The cover of the Leesa mattress is made from a single piece of high-quality fabric that wraps the entire mattress.
The cover is made of a quilted poly-lycra blend fabric, the same durable material used in performance sports clothing.
It's not exactly ground-breaking technology, like the Celliant cover used in the Bear mattress, which converts your body heat into infrared energy (!).
The design of the cover is nice enough, but like the product itself, you can't order the cover any other way.
---
Smell  / Off-Gassing
Once opened and installed, the Leesa smells like the interior of a new car (more economy than luxury). I didn't really notice it after a couple of days.
However, some people are more sensitive than others to its smell. While I might notice it for a few days, others will notice it for weeks.
---
Sleeping Experience
Of all the lower-priced online foam mattresses I've bought and tried, I like sleeping on the Leesa best.
I am a back- and side- sleeper, and the Leesa just feels more stable and sleeps more naturally in both positions than any other foam mattress I've slept on (which is a few!).
My first impression with the Leesa was excellent. I immediately noticed the soft top layer and its unique, firm bounce.
After sleeping on this mattress for a few weeks, I noticed that it did an exceptional job supporting and distributing my body weight (I'm 5″9, 130 pounds, fairly fit).
As a back and side sleeper, I have a high standard for pressure points, and the Leesa mattress exceeded my expectations.
Most nights, my entire body weight seemed to disappear (especially on my back) because there just weren't any pressure points to worry about. I can't say that about 90% of the foam mattresses I've tried.
The Leesa does a great job hugging your body, too, while also bouncing back to its original shape as I move around in bed.
It's also plenty firm and stable enough to spend some quality blogging on my laptop.
Awesome mattress.
---
Leesa Mattress Firmness and Feel
According to a study performed by the University of Michigan in 2003, a medium-firm mattress is ideal for reducing back pain and improving sleep for most people.
On a scale from 1 to 10, with 10 being the firmest, Leesa is a 6 or a 7.  Or, medium-firm.  Slightly softer and deeper-hugging than most.
---
Leesa Sinkage
In my non-scientific test, the Leesa is slightly more resistant to sinkage than the Casper, Bear and other online foam mattresses.
To remind: sinkage is  how far a mattress will deform, or sink into itself, when weight is applied to it.
Here's what I measured during my Leesa sinkage test, performed about 2 weeks after I received it:
In my normal back-sleeping position, the mattress sank about 1.25".
When sitting on the edge, I got about 2.25" of deformation, which is pretty good.
Standing in the center of the mattress, the Leesa sank almost 4".
The moderate sinkage is what gives Leesa its medium-firm feel. You'll sink a bit into the top layers, but the base keeps you from bottoming out. So you actually feel like you are 'on', not 'in', the mattress.
This is great for back support for back and stomach sleepers.
---
Motion Transfer
If you sleep with a partner, then you care about motion transfer.
And if you sleep with someone like my husband, then you definitely do NOT want a mattress that can't contain his incessant fidgeting around.
For a one-size-fits-all foam mattress, Leesa is surprisingly good at insulating partners from each other's motion.
I don't do formal / quantitative tests on motion transfer, but I really noticed a difference vs. the Bear and Casper, which both transfer motion more easily.
---
Hot/Cold Issues
The Leesa mattress is designed for excellent ventilation, so it should keep you hot during the cold winter months and cool in the summer.
After trying this mattress during the hot, humid summers we get down here in New Orleans, I can testify that it sleeps cool – no matter what the conditions.
---
Pros and Cons

Praises
Best-sleeping foam mattress sold online for anywhere near the price (in my opinion)
100-day free trial and 10 year warranty (on par w/ others)
Limited motion transfer = great for couples
Awesome social give-back program. Makes you feel good about buying from them.
Leesa Mattress Complaints
No firmness choices. If medium-firm doesn't work for you, you are out of luck.
Not the best choice for side sleepers. The firmer feel of the Leesa mattress can cause pressure and aches on hips and shoulders.
The Leesa mattress is bouncier, and thus has more motion transfer, compared to other foam mattresses. This is a problem if your partner turns and tosses a lot at night.
---
The Leesa Mattress is perfect for you if…
That said, the Leesa mattress is not for everyone.
People weighing over 300 pounds may find it difficult to sleep on any foam mattress. For them, I recommend the Weightless Supreme mattress from Tempurpedic.
If you like ultra-firm, Japanese-style mattresses, then you'll definitely want something else.
Finally, if you want to customize your mattress in any way, then you'll need to look at slightly higher-priced options from Loom and Leaf and Saatva.
---
Conclusion
Compared with luxury foam mattresses like Comforpedic and Tempurpedic, Leesa provides far better value for your money. It's not even close.
Compared with Casper and Bear, the Leesa is my favorite one-size-fits-all foam mattress: it excels at keeping you cool, minimizes pressure points and is surprisingly good at insulating you from your partner's movements.
But I think the most telling thing about Leesa is what their customers say. Like me, tons of Leesa owners are promoting this mattress to their relatives and closest friends, online, right now.
You just might want to listen to us 😉
---
Where To Get The Best Deal
Although Leesa can be found in some retail outlets today (like West Elm), I recommend buying direct from Leesa's website because it's the only guaranteed way you can get their excellent warranty, return policy and always get their latest discount.
Leesa Mattress Comparisons:
Leesa Mattress FAQs
Is Leesa good for side sleepers?
No, Leesa is not the best choice for side sleepers as it is too firm to offer adequate pressure relief under the hip and shoulder.
Leesa is medium firm. Side sleepers need a medium or soft mattress (depending on body weight).
Does the Leesa mattress need a box spring?
You can use a box spring if you want, but it is not necessary. The Leesa mattress also works fine with a slat or platform bed. An adjustable base will also work great.
Can you flip the Leesa mattress? 
No, you cannot because Leesa is a one-sided mattress.
Do Leesa mattresses soften over time?
Almost all foam mattresses, Leesa included, soften over time and can develop a sag in the middle. But it'll take 8-10 years before this happens. This is the average lifespan of premium foam mattresses like Leesa.
---
Affiliate Disclosure
Affiliate Disclosure: I may earn a small commission (at no cost to you) if you purchase a mattress after clicking a referral link or using a coupon code on this site. That said, all content and opinions on this site are my own and are NOT affected by these payments.
This site participates in the Amazon Services LLC Associates Program, an affiliate advertising program designed to provide a means for sites to earn advertising fees by advertising and linking to Amazon.com.
*Amazon and the Amazon logo are trademarks of Amazon.com, Inc, or its affiliates.
---