Bear Mattress Review
Summary
Designed for active people and athletes. The coolest-sleeping memory foam mattress sold online.
Great Choice for: athletes and others who want a memory foam mattress that sleeps exceptionally dry and cool.
Avoid if: you prefer a comfort level other than medium-firm.  This mattress is one-size-fits-all.
Price: $511 – $848
NOTE: We earn from qualifying purchases made via Amazon Associates and other affiliate programs. Learn more.
---
Bear mattress is a truly unique one-size-fits-all bed that addresses the unique needs of active people and competitive athletes.
If you have an active lifestyle and you are looking for a simple foam mattress that delivers a superior sleep experience, increases your energy levels and improves your performance, then the Bear mattress is a great choice.
It is a cooling, responsive memory foam mattress that runs slightly on the firm side.
It's also one of the best foam beds for sex due to its extra bounce 😉
Bear has incorporated two new technologies, Celiant fabric and Graphite-Gel Infused Memory Foam, to wick heat away from the body faster than other mattresses. This is something that physically active people need more than the rest of us, due to their more active metabolisms.
The result is a really comfortable mattress that sleeps exceptionally cool – even in my New Orleans home.
---
What's In This Mattress Review
I put together a table of contents (expandable "Contents" box) so you can jump to the features you care most about.
To return to the table of contents, click ↑ Table of Contents .
---
The Bear Mattress Company
Most mattress brands have decades of experience in the industry.
But a few younger brands are breaking new ground in the market by offering niche products that target a segment of the population or a specific need.
For example, Helix targets couples who share a mattress and have different sleeping needs and people who need to configure their mattress to order.
Bear Mattress has taken a different path: they have developed a one-size-fits-all mattress focused on the needs of athletes and others whose active lifestyle is dependent on getting a proper night's sleep.
Bear Mattress was founded in 2014 by a group of business enthusiasts who have a great deal of experience in the bedding industry. They realized that their old company was just not effective in a market where everything revolves around the Internet, so they created the Bear Company.
---
Social Impact
Like other new mattress brands on the market, Bear has tried to make a name for themselves by having a strong presence in their target market's communities and by donating mattresses to various charities and housing facilities across the country.
All of the mattresses returned during the first 100 days of ownership plus a few returned under the 10 year warranty (which are still functional) are donated to charities, mainly in New Jersey and South Carolina.
Bear also takes advantage of the latest trends in green manufacturing to create an all-natural mattress that protects the environment and does not negatively impact the health of users.
Bear mattresses are 100% American-made using state-of-the-art technology and the best materials possible.
---
Purchase Process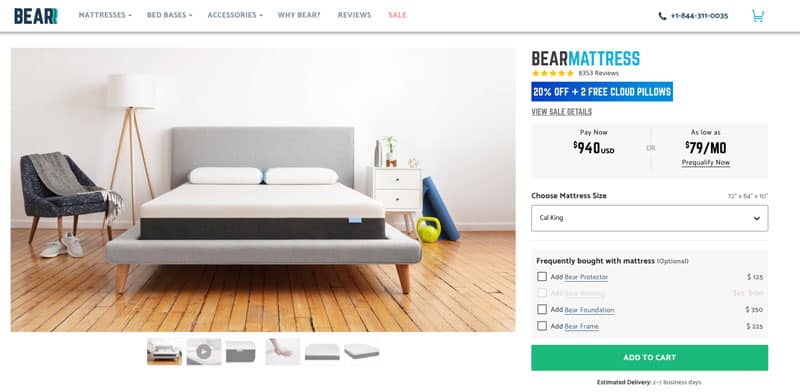 Most customers buy a Bear mattress on the company's official site.
Bear's website is easy to navigate. It provides live reviews from real customers, along with reviews from popular websites and magazines.
The ordering process is handled completely online and is super-simple.
If you live near New Jersey, you can also visit their showroom in Hoboken (phone number: (201)216-0165) to try the mattress out in person.
Not from Jersey? Don't fret – you'll get 100 days to try your Bear plus another 10 years of warranty, after you keep it.
To shop online, just visit their website and select your desired size. You can choose from 6 sizes: Twin, Twin XL, Full, Queen, King and California King.
Bear accepts PayPal in addition to credit cards, something many others do not.
---
Price
Bear offers 6 mattress sizes to choose from, all priced less than $1,000:
| | | |
| --- | --- | --- |
| Twin size | 39" x 75" | $511 |
| Twin XL | 39" x 80" | $552 |
| Full size | 54" x 75" | $593 |
| Queen size | 60" x 80" | $649 |
| King size | 76" x 90" | $848 |
| California King | 72" x 84" | $848 |
---
Shipping & Delivery Options
Shipping is completely free of charge.
Once you place an order, your Bear mattress will be packed in New Jersey and sent via UPS Ground to your home.
It usually takes between 4-7 days for the order to arrive at your door.
The company does not yet ship to Hawaii and Alaska. In the near future, they may ship to these two states for an extra fee.
Because UPS packages do not require signature, you don't necessarily need to be home when your new Bear mattress arrives.
To schedule a specific delivery date, just call the company at 201.216.0165 and let them know that you need the mattress to be delivered in a certain day or days when someone is home.
The Bear mattress is shipped in an oversized black cardboard box that is much nicer looking than the box used by Casper.
After you receive the package, just remove the mattress out of the box, cut the plastic off and enjoy. I let it expand for 30 minutes before adding sheets.
The Bear mattress is designed for placement on any flat surface. Slats will work fine, you don't need a box spring or a rigid frame.
---
100-Night Return Policy
When you order a Bear mattress, you'll get 100 nights to try the mattress in your home.
If for any reason you are not satisfied, and you notice that your sleeping experience has not improved, you can return the product for free.
All shipment and return costs are paid by the manufacturer.
---
10-Year Warranty
In addition to the 100 nights, if you choose to buy the product you have an extended 10 years warranty.
What's unique about the Bear warranty is that if the mattress sinks for more than 1 inch during this period of time, you get a full refund or your mattress will be replaced for free.
---
Style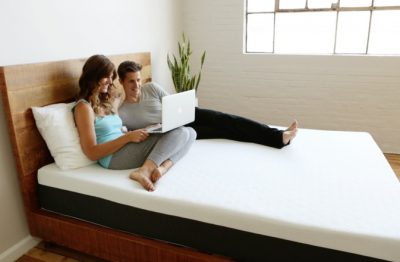 As far as design is concerned, you'll be impressed by the Bear's elegant simplicity.
The cover is a nice white quilted material that's super-soft to the touch.
The bottom half is nothing special, but the dark gray really highlights the top cover.
This mattress will work in any type of home and looks really nice (for a foam mattress especially).
---
Technology
To design their mattress, the guys from Bear worked with experts from all around the world to design a mattress system that keeps the sleeping surface cool by dissipating heat through air circulation.
To do that, the Bear mattress is constructed of 3 layers of memory foam that complement each other to give provide outstanding sleeping experience.
Each Bear mattress is manufactured using two really unique state-of-the-art technologies, Celliant and Graphite-Gel Infused Memory Foam.
Celliant Cover
Bear uses a new type of patented fabric technology, called Celliant, which is designed by leading experts in science and health medicine.
Celliant embeds thermo-reactive minerals into a proprietary fiber that absorbs heat and helps you enjoy a perfect night's sleep.
Celliant was designed with three goals in mind:
Durability: the Celliant cover is embedded with 9 minerals so its beneficial effects won't wear down over time. Unlike coated textiles, this material lasts.
Temperature regulation: your body acts as a thermostat, dictating the temperature of the mattress. Thanks to its unique ability to optimize blood flow, Celliant technology can keep your body temperature at an ideal level.
Restful, healing sleep: the materials used to create the Bear mattress have been clinically proven to enhance your sleep and help you make the most out of each second spent in bed. Clinical studies show that subjects are falling asleep an average of 15 minutes faster.
Powered by your own body metabolism, Bear's Celliant fabric converts your body heat into infrared light, which penetrates your muscles to increase blood flow and oxygen circulation.
The result is an increase in oxygen levels and better air circulation during the night, which leads to faster recovery and healing – important for athletes and sports enthusiasts.
So far, Bear's Celliant technology has passed through 9 clinical tests which have all proven its effectiveness. These trials were conducted at University of Calgary, University of California Irvine, Texas A&M University and Loyola University in Chicago.
Graphite-Gel Infused Memory Foam
Graphite-gel infused memory foam combines high-air flow foam with superconducting graphite particles to enable a superior thermal conductivity – up to 7 times better than any other memory foam on the market.
This hybrid foam also acts like a visco with a bounce, offering excellent pressure mapping and relief for a good night's sleep.
Bear's gel foam technology provides the following benefits for the active sleeper:
Pressure relief: the quick-response foam designed by Bear engineers protects your spine and offers the best pressure relief you can find.
Individual support: the advanced formula of graphite-gel infused foam provides increased durability, stability and comfort.
Superior heat transfer: body heat absorbed from high-temperature areas of your body such as your torso is transferred to cooler extremities such as your feet. This unique gel offers 7 times more cooling power than the standard foam used in other mattresses on the market. The outcome is nearly perfect heat distribution throughout the mattress.
Bear's gel foam is also Certi-Pur certified and emits very low VOC emissions.
---
Mattress Construction
The Bear mattress is a 10" thick all foam mattress comprised of 4 layers plus a Celiant cover (which we will discuss separately).Breathable Celliant® Cover helps improve your performance
Comfort & Cooling Layer:  1″ of Graphite Gel Infused Memory Foam
The topmost layer is made of 4 pound density graphite gel infused memory foam which provides excellent heat transfer and coolness.
Support Layer: 2.5″ of Response Memory Foam
The second layer consists of two, 3-pound density foams of two different IFD ratings that are joined together, designed to respond to your body's movements.
This layer provided an outstanding degree of support and bounce during our test period.
Transitional Layer:  Performance Foam
With just the right amount of bounce, the performance foams used in the transition layer improve pressure mapping & spinal support.
Foundation Layer: 6.5″ of High Density Foam
The bottom layer of high density foam provides stability, support and shape to the mattress. This layer has a density of 1.8 lbs.
Every foam used to create the Bear mattress is Certi-Pur certified, which means it has the following characteristics:
Created without formaldehyde.
No ozone depleters
Zero lead or mercury
No PBDE flame retardants
Low VOC emissions
Free of phthalates
Regulated by the Consumer Product Safety Commission.
---
Celiant Woven Cover
The cover of the Bear mattress is totally unique and made of a blend of Celliant and polyester.
While polyester is responsible for the soft and durable surface, the Celliant technology is completely unique in the mattress industry, as it converts your body heat into infrared light.
Bear's unique cover provides several key benefits:
It lowers and evens the temperature of the sleeping surface
It increases blood oxygenation
It regulates internal temperature levels
It improves cellular regeneration and
It reduces muscle pain.
All of the above are exactly what any athlete or bodybuilder would want from a top mattress.  The cover is why the Bear mattress is the #1 mattress for athletes and active people.
No other innovation in the mattress industry has impressed me as much as this cover.
---
Smell/Off-Gassing
Because the foam in this mattress is Certi-Pur certified, it does not give off VOC gases.
The little smell that exists dissipates in less than 7 days.
However, for some people who are sensitive to smell, it might linger for weeks.
For me, the smell was not at all unpleasant and only lasted 2 days.
---
Sleeping Experience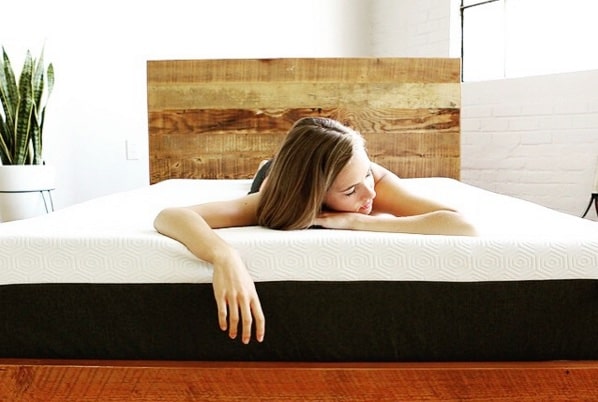 I love sleeping on the Bear. Or just resting.
It is a responsive, cool mattress at all times. Even in my home town of New Orleans. In August.
Unlike a lot of other memory foam mattresses on the market today, the Bear never got hot for me nor my husband.
When I slept on the Bear, I almost always awoke refreshed and ready for the new day.
That said, I must admit: I am "fit", but I would not call myself an "athlete".
---
Firmness / Comfort Level
Like the Casper, the Bear mattress is designed with a single universal comfort feel, offering a medium firmness.
On a firmness scale from 1 to 10, with 10 being the most firm, the Bear mattress is about a 6.
Thanks to the combination of rapid response memory foam and soft cooling foam, the Bear adjusts instantaneously to your movements and has a nice bounce to it.
It's definitely unlike regular foam mattresses, which typically take a few seconds to adjust to body movements. There is no sinking feeling, at all, with this one.
The Bear also provides an "above average" bounce, which means the Bear mattress is great for exercising – and for having sex!
---
Sinkage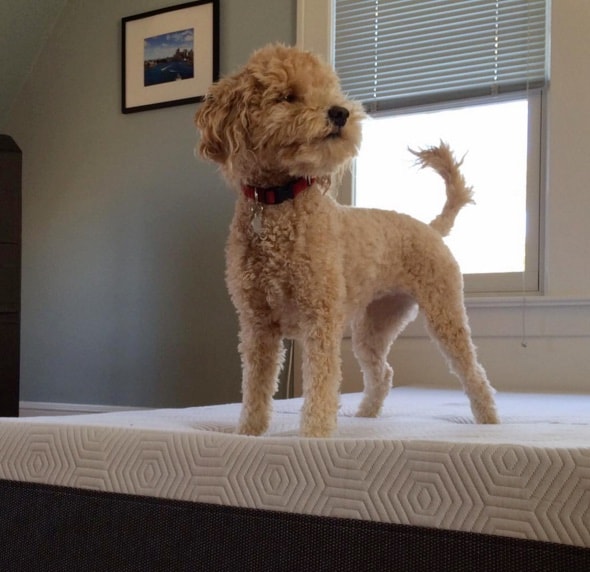 Sinkage is about average for memory foam mattresses. The sides aren't the most firm, but nothing to worry about.
This is how the Bear mattress performs under various sinkage tests conditions.
when I am on my back with my weight evenly distributed across the mattress, I notice about 1" of sinkage.
when I sit on the edge with my feet on the floor, I get about 2" of sinkage.
sitting directly on the edge, the sinkage grew to 3-4".
standing in the middle of the mattress with my whole body weight focused on one point, I got almost 5" of sinkage.
---
Hot/Cold Spots
None noted!
Unlike most other foam mattresses that often "sleep hot", the Bear mattress never got hot for me or my husband.
---
Pros and Cons
Pros
Celliant technology absorbs heat, improves coolness, increases blood flow, improve oxygen circulation and enhances recovery time.
Made in the USA from high-quality materials.
10 year extended warranty: get your mattress replaced if it sinks more than 1 inch.
Certi-Pur certified
Cons
No ability to personalize firmness (or anything else): the Bear mattress comes with just one firmness level.
---
Bear Mattress is Perfect for you if…
You are an athlete or an active person.
You relish a cool-sleeping, slightly-firm mattress.
---
Conclusion
Due to its unique Celiant technology, there is no better home-delivered mattress for physically active people than the Bear Mattress.
If you go to gym regularly, jog or are a competitive athlete, then I wouldn't hesitate to buy the Bear.
For everyone else, the Bear mattress will keep you cool at night while offering excellent pressure relief, oxygen circulation and body healing.
---
Affiliate Disclosure
Affiliate Disclosure: I may earn a small commission (at no cost to you) if you purchase a mattress after clicking a referral link or using a coupon code on this site. That said, all content and opinions on this site are my own and are NOT affected by these payments.
This site participates in the Amazon Services LLC Associates Program, an affiliate advertising program designed to provide a means for sites to earn advertising fees by advertising and linking to Amazon.com.
*Amazon and the Amazon logo are trademarks of Amazon.com, Inc, or its affiliates.
---