PlushBeds Botanical Bliss Review
Summary
The best-sleeping, highest-quality 100% latex mattress sold online. All-natural materials, lots of options, and a super-long warranty.
Great Choice for: no-compromise & environmentally-sensitive shoppers. This one has it all.
Avoid if: you're bargain-shopping. Not cheap. Still, it costs far less than a comparable store-bought brand.
Price: $1,199 – $2,198
NOTE: We earn from qualifying purchases made via Amazon Associates and other affiliate programs. Learn more.
---
If you have ever shopped for an all-natural latex mattress, then you know how hard they can be to find – especially for a reasonable price!
PlushBeds now has an affordable option for you.
You usually find either synthetic (artificial) latex mattresses or latex blend mattresses (mixed with other materials).
Genuinely all-natural latex mattresses are hard to find, and when you do, the price is often way too high.
Fortunately, the PlushBeds Botanical Bliss all-natural organic latex mattress is here – and you can buy it online.
Memory foam has dominated the scene when it comes to luxury mattresses sold online. But wouldn't you rather sleep on natural latex?
In this comprehensive review, we are going to see whether the Botanical Bliss lives up to the hype.
---
What's In This Mattress Review
This page is about a 10-minute read.
Use this table of contents to skip to the features you care most about.
To return to this outline, touch ↑ Table of Contents.
---
About PlushBeds
Founded in 2007, PlushBeds specializes in manufacturing and selling eco-friendly luxury mattresses.
Their catalog includes natural latex mattresses, memory foam mattresses, RV mattresses and sofa bed mattresses.
They also deal in other sleeping products including toppers, adjustable beds, sheets, pillows, foundations and bed frames.
What sets PlushBeds apart is their almost obsessive focus on creating healthy, comfortable and eco-friendly products for their customers.
They subscribe to safety and quality standards established by GreenGuard (a very rigorous chemical emissions standard), GOLS (Global Organic – Latex Standard), and USDA (United States Department of Agriculture).
The Botanical Bliss retains these high standards in its materials and construction, ensuring that customers enjoy a mattress that is healthy, ultra-comfortable, and safe for the environment.
---
Social Impact
In keeping with its environmental sustainability policies and standards, since 2014, PlushBeds has been providing $1,000 scholarships to students taking a program or major in various eco degrees. The program benefits one student each semester.
Their aim is to encourage the up-and-coming generation to take up eco-sustainability as a personal and career goal and hopefully influence the world to join in on the efforts to save the environment.
Another way PlushBeds is pushing positive environmental change is by manufacturing its products to extremely high standards.
With the Botanical Bliss, they've gone to the extreme step of making a product out of 100 percent natural materials.
---
Purchase Process
Right now, the only place you can buy the Botanical Bliss mattress is on the company's website.
The first step in the purchase process is to choose your mattress thickness. There are three thicknesses offered: 9, 10 or 12 inches.
Next, select the mattress size. The Botanical Bliss comes in six different sizes:
• Twin size
• Twin XL
• Full size
• Queen size
• King size
• California King
For the queen, king and California king sizes, PlushBeds also offers a split variation. Split mattresses are great for couples who have different firmness requirements, for eliminating motion transfer, and for a home where the entryway is too small for a king or queen mattress to pass through.
After you choose your size, the next step is to select the level of firmness you want.
For this, the options are soft, medium, medium-firm, and extra firm. The firmness levels are indicated by an ILD (indentation load deflection) range. The lower the ILD, the softer the mattress.
Next, select your foundation for the mattress.
When you check out, you'll get 2 latex pillows completely free of charge.
You can also choose to make monthly payments rather than one bulk payment (pending credit approval).  Just choose Financing with Affirm when you checkout.
---
Price
After reading all the great things I've mentioned so far, you might guess this mattress is in another league.  You would be right, especially regarding price.
Compared with most other direct-to-consumer mattresses, the PlushBeds Botanical Bliss is expensive. But compared w/ store-bought natural latex beds, it's a downright steal.
Here are the current prices on their site for a 9″ Botanical Bliss (includes the latest discount):
One reason for the high prices is the obvious high-quality materials and construction that goes into this all-natural mattress.  You definitely get what you pay for here.
Because all materials are completely natural, they are not easy to extract and process.
But when you compare prices to what you would pay in a local store for an all-natural latex mattress, PlushBeds offers a damn good deal.
A genuine all-natural latex mattress of the same high quality as Botanical Bliss will easily cost you $5,000 or more.
If you're having trouble swallowing this big of a purchase, then don't forget that you can also get financing through their Affirm option (if approved), so you can pay in small monthly installments.
---
Shipping
Plushbeds make your mattress to order after you place your order online. For this reason, shipping tends to take 7 to 9 business days.
For more customized orders, a longer shipping time may apply.
The company will give you a tracking number so that you know exactly when to expect delivery.
Shipping is free for those who live within the contiguous United States. If this does not apply to you, shipping fees will be shown at checkout.
---
Delivery & Setup
PlushBeds delivers their mattress through a third-party carrier, so they are unable to provide setup services.
Instead, the company recommends a number of local craftsmen who can help you set up the mattress or even get rid of your old one.
But you won't find it difficult to set up the mattress by yourself.
Make sure to inspect the package carefully upon delivery. If it is damaged in any way, do not accept it. It will be shipped back to the company and a replacement sent to you.
That said, you can still get a replacement even after you have accepted the delivery and found a problem with the mattress.
---
Styling
The Botanical Bliss does not stand out for its styling.
While elegant, the off-white exterior is fairly standard, with the only thing giving it a bit of aesthetic character being the wavy patterns at the top and on the sides.
---
Technology
The biggest technological achievement PlushBeds has achieved with the Botanical Bliss is the ability to combine only all-natural materials into a mattress that is super comfortable, healthy, and durable.
In fact, the Botanical Bliss is one of the very few mattresses available for sale online that meet the extremely rigorous GreenGuard Certification standard, which ensures that no dangerous volatile organic compounds make it into your home.
Creating an all-natural latex mattress that performs like this one is no small feat.
PlushBeds' choice of natural materials provides a lot of benefits, including sweat absorption, fire resistance, hypoallergenic, mildew-proof, mold-proof, and more.
In terms of comfort, the company offers four different comfort levels to fit almost any type of sleepers.  I
n addition, they offer the Botanical Bliss in three thicknesses: 9″, 10″ and 12″.
They have also achieved natural and effective temperature control, ensuring that the mattress stays cool throughout the evening.
---
Mattress Construction
The construction and make of the Botanical Bliss mattress is unique.
For starters, every material used in this mattress is natural and guaranteed non-toxic. More specifically, the Botanical Bliss contains no harmful chemicals such as PBDE flame-retardants, regulated phthalates, CFCs or chlorofluorocarbons, or heavy metals.
Here are the layers that make up the Botanical Bliss' mattress:
1. Organic cotton cover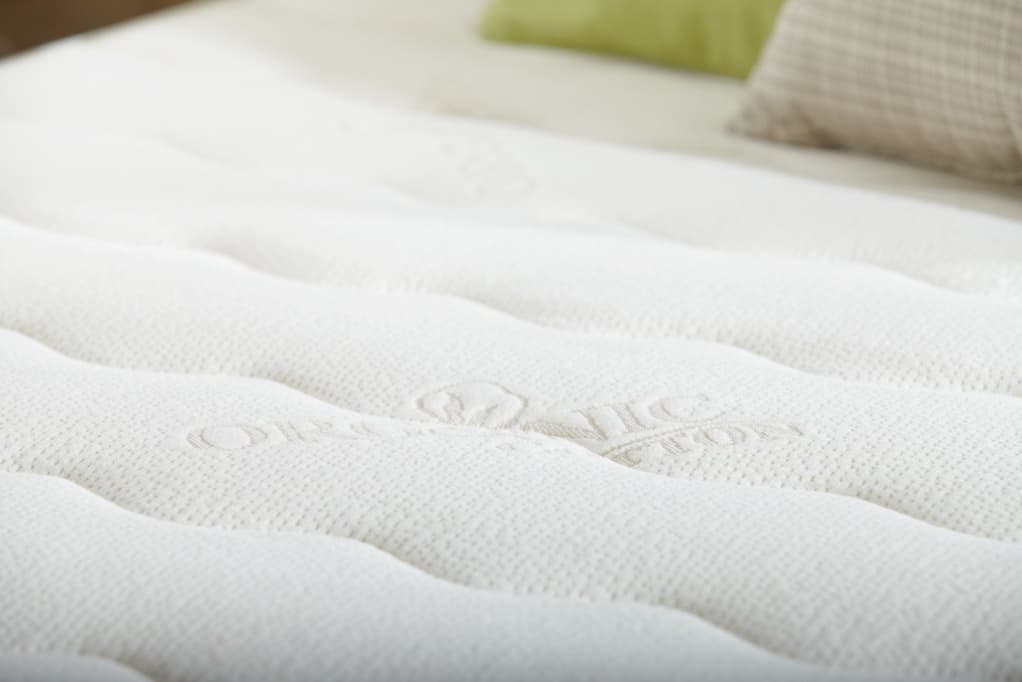 The cover consists of a 100 percent certified organic cotton top with non-allergic Joma wool beneath it.
The ultra-soft organic cotton top helps add to the comfort of the mattress.
Being organic means that the entire process from growth to processing was done without pesticides, herbicides or any other dangerous chemicals.
It is also important to note that the cover is knit, not woven.
Does this make a difference? Yes.
Knitted covers tend to be softer to the touch, more breathable, more elastic, better at relieving pressure and great at moisture control.
In addition, the circular knit of the cotton cover makes it wrinkle-free.
Just below the cotton top is fully natural Joma New Zealand wool.
This wool is perfect for those who suffer from allergies to feathers or other synthetic bedding products.
Joma wool is also excellent at regulating temperature and moisture. It can absorb up to 30 percent of its weight in moisture without feeling wet.
This means that any sweat you emit at night is quickly wicked away, leaving your skin surface cool and dry.
Some other awesome characteristics of Joma wool include:
• It is antimicrobial
• It's resistant to dust mites
• It's resistant to fire due to its high moisture and keratin content. This eliminates the necessity to resort to potentially harmful chemical fire retardants.
2. Talalay comfort layer
This is the layer where most of the mattress' comfort comes from.
It is made of a hundred percent natural talalay latex.
Talalay latex is infused with air to make it fluffy and soft. The result is a comfort layer that relieves pressure and cradles your body in a perfect contour.
One other thing I love about the Botanical Bliss is the bouncy feel, when you lie on it. It almost feels as if you are sleeping on an innerspring mattress.
This effect is due to the comfort layer.
Couples will appreciate the extra bounce during those "extra fun" times.
Finally, Talalay latex is efficient at cooling. The air infused into it forms an open cell structure in the latex foam, this enabling air to circulate in and out with ease. This helps keep temperatures and moisture under control.
Finally, note that Talalay latex is mildew-proof, mold-proof, and dust mite resistant. This makes it especially good for people prone to allergies.
3. ARPICO latex foundational/support layer
While the comfort layer specializes in creating a soft comfortable haven, the base layer is mostly for support.
It is made from a hundred percent organic ARPICO latex, a Singapore-manufactured latex that is derived from the sap of rubber trees.
The type of latex made by ARPICO (one of the oldest organic latex manufacturers in the world) is referred to as Dunlop latex.
Dunlop differs from Talalay latex in the way the sap from rubber trees is processed. Dunlop latex tends to be heavier and denser, making it perfect as a support layer for the Botanical Bliss. This type of latex has a denser cell structure, which allows it to absorb the weight above while still providing adequate support. The foundational layer also contributes to the bouncy feel of the mattress.
Just like Talalay latex, ARPICO natural latex is mold-proof, mildew-proof, and hypoallergenic.
The combination of these materials and layers result in a truly unique mattress. It performs very well in terms of support, comfort, and durability.
Please note that the size of individual layers will vary depending on the mattress size you have picked.
---
Smell/Off-gassing
One of the most impressive features of natural latex foam is its complete lack of off-gassing.
The main reason is that there are no chemicals in the mattress that can break down into volatile emissions.
So, the Botanical Bliss mattress does not need time to stabilize or rid itself of gasses. It is ready to sleep, immediately upon delivery.
This is something smell-sensitive sleepers like my husband definitely appreciate.
---
Sleeping Experience
The sleeping experience will differ based upon the firmness level you choose; to help you make the right choice, I am going to rank the firmness on a scale of 1 to 10, with 1 being very soft and 10 very firm.
PlushBeds uses the standard industry technical ranking, referred to as ILD.
Here are the 4 comfort choices available for the Plush Botanical Bliss mattress:
Soft (ILD 19-21)
The soft Botanical Bliss contains a larger layer of soft Talalay latex. It ranks 3.5/10, or pretty soft.
It is ideal for side or back sleepers who love to sink in a mattress. It can also help with back or joint pains.
Medium (ILD 24-26)
This is the most popular option sold. It allows a sleeper to experience the soft feeling without sinking in too much. It ranks 5/10.
The medium ideal for most kinds of sleepers.
Medium-firm (ILD 29-31)
This comfort level uses a firmer type of Talalay latex and is ideal for back and stomach sleepers. It ranks a 6.5/10.
Extra-firm (ILD 34-36)
The firmest Botanical Bliss is best for people who love really firm sleeping surfaces.
Be careful with this choice. It may be great at support, but not so good at molding softly around your body, especially potential pain points like shoulders and hips. Ranks 8.5/10.
If you are not sure of what option to go with, remember that PlushBeds has a 100-night trial period.
So if you find that your mattress is too soft or overly firm, you can exchange it for another one free of charge and with no shipping costs.
---
Sinkage
Sinkage will also vary with the type of firmness selected, but generally, the Botanical Bliss performs very well in sinkage tests.
The medium-firm mattress displays 1 to 1.5 inches of sinkage in a standard lying position. What this means is that you can sleep comfortably without feeling like you are being pulled down into a swamp.
---
Motion Transfer
One general characteristic of natural latex is that it has very little motion transfer. This means that motion on one point of the mattress is contained within that area, thus ensuring couples can sleep peacefully even when one of them tends to move around a lot.
As expected, the all-natural Botanical Bliss has negligible motion transfer.
But if this is not enough body insulation, you can opt for a split size queen, king or California king which should completely eliminate motion transfer.
---
Hot/Cold Issues
One of the areas where the Botanical Bliss performs beyond expectations is in temperature control.
PlushBeds has gone to great lengths to ensure that customers have the best and most comfortable nights. There are several technologies working together to keep this mattress so cool.
It starts with the soft cotton cover. The organic cotton itself is highly breathable and good at dispersing heat away from the skin.
Inside the cover is a layer of Joma wool, which is exceptionally good at wicking away moisture, keeping your skin cool and dry.
Below the cover is the Talalay latex layer. Its open-cell structure ensures that any heat generated at the top is quickly dissipated away and that air is free to circulate in and out of the mattress.
Overall, you will probably not find another mattress as good as the Botanical Bliss at keeping your nights cool, cozy, and comfortable.
---
Warranty
PlushBeds has an exceptional, market-leading 25-year warranty.
This warranty covers the repair or replacement of a defective mattress free of charge during the first ten years.
If the failure occurs during the last 15 years of the warranty, the repair or replacement will be at a prorated cost to you.
Considering that standard mattress warranties are 10-15 years, this is a sign of the exceptional quality of the Botanical Bliss mattress.
---
Return Policy
The return policy is really friendly.
PlushBeds gives buyers 100 nights to test the mattress and decide whether it is right for them.
If the product is damaged in any way, you can return it for a full refund.
If you discover that the firmness is not right for you, you can do a comfort exchange. Rather than having you send back the entire mattress, the company will send you a new top layer that is firmer or softer. You will then replace your existing top layer and send it back to the company.
---
Pros/Cons
Pros
Top Quality. There are almost no negative things to say regarding this mattress. It is one of the highest-quality direct-to-consumer luxury mattresses you will find.
Totally Natural. A lot of companies today say they use "natural" materials. But PlushBeds really mean it. They are very strict about "all-natural" materials. This ensures that all their products, not just the Botanical Bliss mattress, are good for your health and the environment.
Outstanding Warranty. Their 25-year warranty is unusually friendly.
Lots of Customization Options. There are different firmness levels and split-comfort options to suit different types of sleepers.
No Motion Control Issues.  This mattress is perfect for couples.
Cons
Price. Some buyers will definitely see the Botanical Bliss as too expensive. But compared to comparable all-natural products, this mattress is a great deal.  Especially with their latest discount:
---
This Mattress is Perfect For You If
You love all-natural products that are safe for your body and good for the environment. You will be pleased with the standards PlushBeds maintains when manufacturing its products. It is comforting to know you are sleeping on a mattress that is all-natural and devoid of any harmful products.
You only want the best. The Botanical Bliss is great at everything, and the price reflects that.
You need an extra soft or an extra firm mattress. When it comes to softness, the Talalay latex passes with high marks.
Temperature and moisture control are important to you. The latex, wool, and organic cotton coverall work well together to keep the night cool and dry.
---
Conclusion
If you want to buy a 100% natural latex mattress online and have it delivered to your home, risk-free, then this is the one to buy.
For an online/home-delivered mattress, the Botanical Bliss organic latex mattress is in a class of its own, in terms of quality and performance.
Despite its high price tag, the Botanical Bliss is a relative bargain, when compared to other all-natural latex options currently on the market.
---
Where To Buy
The best place to purchase a PlushBeds Botanical Bliss mattress is on the company's online site, where you are assured of getting the latest discount as well as the warranty and return policies mentioned above.  Sometimes, shopping on retail sites like Amazon will void or reduce the warranty.
---
Affiliate Disclosure
Affiliate Disclosure: I may earn a small commission (at no cost to you) if you purchase a mattress after clicking a referral link or using a coupon code on this site. That said, all content and opinions on this site are my own and are NOT affected by these payments.
This site participates in the Amazon Services LLC Associates Program, an affiliate advertising program designed to provide a means for sites to earn advertising fees by advertising and linking to Amazon.com.
*Amazon and the Amazon logo are trademarks of Amazon.com, Inc, or its affiliates.
---