Affiliate Disclosure: I may earn a small commission (at no cost to you) if you purchase a mattress after clicking a referral link or using a coupon code on this site. That said, all content and opinions on this site are my own and are NOT affected by these payments.
---
Are you looking for a comfortable mattress for pregnancy for yourself, your partner, or someone else in your life?
You've come to the right place.
Pregnancy puts a lot of stress on the body. As the pregnancy gets bigger and heavier, it strains various parts of your body, including your back, hips, and feet.
Difficulty falling asleep during pregnancy is inevitable because of nausea, heartburn, and other physical effects.
An uncomfortable mattress can make the problem worse, making it impossible to sleep through the night.
It leads to more tossing and turning as one tries to find a comfortable position. Back pain, sometimes severe, is also possible.
Sleep deprivation is bad for anyone. It's worse for expectant women.
Studies have shown an association between poor sleep and a heightened risk of preterm labor and delivery.
Women who sleep poorly, especially towards the end of the pregnancy, are also at an increased risk of long and painful labor.
A comfortable mattress is not just good for sleep; it also affects the well being of the mother and the baby.
---
What's In This Buying Guide
This 15-minute buying guide reviews what we believe are the best mattresses for pregnancy.
Use this table of contents to jump to a specific mattress or section.
---
Best Pregnancy Mattresses: Comparison Table
Mattress
Rating
Price
Description
Our take
Comfort choices
Warranty
In-Home Trial
Delivery
Avoid If
Great Choice If
Saatva

4.9
$599-$1399
Luxury innerspring mattress
Best Innerspring
Firm
Med. Firm
Soft
15 years
120 nights
7-15 days
you don't like the feel of a spring mattress
you're considering a Simmons Beautyrest, Kingsdown Ashley, Sterns & Foster Ashley or Serta iSeries
Plushbeds

4.8
$1,099-$2,898
Luxury organic latex mattress
Best Organic Latex
Firm,
Med. Firm
Soft
25 years
100 nights
2 weeks
you're bargain-shopper. Not cheap! Still costs far less than a comparable store-bought brand, though.
you are a no-compromise, environmentally-sensitive shopper. This one has it all.
Puffy Lux

4.8
$1,145-$1,695
Luxury memory foam
Best Luxury Foam
Medium Firm
Lifetime Warranty
101 nights
2-5 days
you weigh more than 250 lbs
you loves the conforming feel of a softer memory foam mattress. Side sleepers will love this one.
DreamCloud

4.7
$499-$1,199
Luxury hybrid foam + pocket coil mattress
Best Luxury Pillowtop
Medium Firm
Lifetime Warranty
365 nights
1-5 days
you prefer your mattress plush
you want a truly luxurious, slightly firmer mattress; or if you are heavier than avg.
Helix

4.7
$600-$1,195
High-quality hybrid mattress
Best for Couples With Different Needs
Custom-fit
10 years
100 nights
6-13 days
a cheap foam mattress will do
you want or need a custom-fit mattress; and couples who need different comfort levels
Leesa

4.6
$505 - $1,015
High-quality foam mattress
Best Budget Foam
Medium Firm
10 years
100 nights
7-10 days
you prefer a softer or firmer feel than normal.
you want the best high quality memory foam mattress you can buy, at a bargain price
Nectar

4.6
$500-$900
High-quality foam mattress
Best Value
Medium Firm
Lifetime Warranty
365 nights
3-5 days
you prefer a softer or firmer feel than normal.
you want to protect your investment.
Big Fig

4.5
$1,299-$1,999
High-quality hybrid foam + coils
Best for Heavy Sleepers
Medium Firm
20 years
101 nights
7-14 days
you aren't a plus-sized person
you or your partner weighs >220 lbs & needs better support
Layla

4.5
$499-$999
Quality 2-in-1 memory foam mattress
Editor's Pick
Medium Soft
Medium Firm
Unlimited, non-prorated
120 nights
3-5 days
you need extra-soft, extra-firm or a split/custom mattress.
you are looking for a high quality memory foam mattress, but you're not sure what firmness you need
---
Best Mattresses for Pregnancy: In-Depth Reviews
Editor's Pick: Layla
Layla is one of those all-around mattresses that are comfortable for most people, pregnant or not.
It is a 2-in-1 mattress with each side providing a different feel.
Whether you are looking for a plush mattress that will hug your belly and hips or a firmer mattress with extra support, the Layla mattress is a good choice.
Construction
Layla is an all-foam mattress.
The most important part of the mattress is its flippable design. Two-sided mattresses were popular a decades ago but are not making a comeback.
But the Layla mattress is not just flippable; each side provides a different level of firmness. One side is soft, and the other is medium firm.
You can flip the mattress to get more support or enjoy more pressure relief.
Another notable feature is the copper and gel-infused top layer. The copper and gel do two things.
They enhance heat dissipation away from the foam, ensuring you sleep cool and sweat-free.
Anti-microbial protection from copper. This is an especially major benefit for expectant women.
Below the top layer is yet another cooling-focused foam layer. It's made with convoluted foam that increases ventilation, which helps carry heat away from the mattress.
A 4.5" dense foam core provides deep support and reduces motion transfer for couples sharing the bed.
At the bottom is another copper-gel infused foam layer, though thinner than the softer 3" layer on top. This becomes the top layer when you are sleeping on the firm side.
The mattress cover is also infused with a cooling gel that activates when your body gets too warm.
Shipping, Warranty and In-Home Trial
Shipping is free to the lower 48 states. Shipping to Alaska and Hawaii costs $125 per mattress. If you are ordering from Canada, shipping will cost you $225 per mattress.
The in-home trial lasts for 120 days. You can return the mattress at any time within this period for a full refund (you must sleep on it for two weeks before returning).
Layla mattress provides a lifetime warranty cover for any deterioration including sagging of more than 1". They'll also compensate you if the foam splits or cracks.
Bottom Line
The excellent support and pressure relief provided by the Layla mattress combined with its impressive cooling performance, guaranteed durability (lifetime warranty) and affordable price tag makes it the best mattress for most pregnant women.
---
Best Value: Nectar
The Nectar mattress provides the best value for your money.
It provides a luxurious sleeping experience for way less money than you'd spend on a high-end mattress like Tempur-Pedic.
Using high premium materials, the mattress reduces pressure on your back, hips, and belly while also providing enough support to keep your spine properly aligned.
Construction
The Nectar mattress has four layers, all foam.
Like most memory foam mattresses, the top layers are infused with cooling gel to reduce heat retention.
A quilted gel memory foam layer provides instant pressure relief when you lie on the mattress, taking the strain away from your back, hips, and lower body.
Beneath it, gel memory foam provides further pressure relief and contouring as well as compression support. This layer distributes your weight evenly, ensuring no single part of your body is taking too much pressure.
A denser layer of memory foam underneath holds up your weight and makes the mattress a bit more responsive than standard foam mattresses.
A breathable base layer provides overall support and boosts ventilation throughout the entire mattress.
These foam layers are wrapped in a custom-milled Tencel cooling cover that draws away heat from your body and the mattress and allows air to carry it away.
Shipping, Warranty and In-Home Trial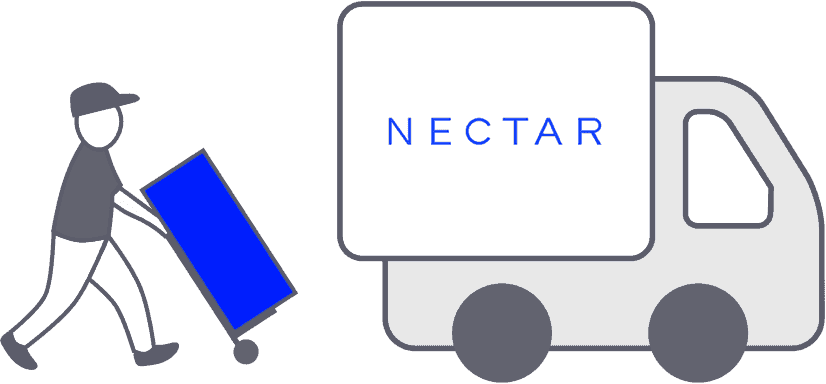 Shipping is free within the continental United States. There are additional costs for delivery to Alaska and Hawaii.
After the mattress is delivered, you have an entire year to try it from the comfort of your home.
Nectar's 365-night trial period is one of the longest in the industry.
If you decide to keep the mattress after the trial period, you'll still enjoy protection under Nectar's lifetime warranty.
Bottom Line
Just because you are saving money on a new mattress doesn't mean you have to compromise on quality.
The Nectar mattress is affordable but provides just the same great support and comfort as pricier mattresses, if not better.
---
Best Innerspring: Saatva
If you'd prefer a bouncier mattress that makes it easier to move on the bed, an innerspring mattress is the best choice.
In particular, we recommend Saatva mattress.
It is a bit more expensive than an all-foam mattress, but the luxury and support is unmatched.
Construction
Which firmness do you find most comfortable?
Saatva gives you three options: luxury firm (medium firm), plush soft and firm. You can even upgrade from an 11.5" to a 14.5" mattress at no extra cost.
Each mattress, regardless of comfort level and height, has a 5-section hybrid design.
At the top is a Euro Pillow top with an organic cotton cover wrapping around it and the rest of the mattress.
The pillow top provides a plush sleeping surface to relieves pressure on your belly and back and helps you fall asleep faster.
A lumbar support layer made from foam helps align your spine and shields you from feeling the coils at the core of the mattress.
The coils are individually wrapped (pocketed) to better respond to your body's changing shape and movements. They contour to your body, distributing weight and preventing pressure points.
For the best support and maximum longevity, the base also contains coils, tempered steel coils. They prevent sagging even after years of use.
A dual perimeter edge support system protects the edges from collapsing when you sleep near the edge.
Shipping, Warranty and In-Home Trial
Saatva normally charges $99 for delivery and set up within the United States. But they are currently providing free white glove delivery at no cost.
I'm not sure whether this is a permanent change in their policy, so take advantage while it lasts.
The trial period is 120 days, and returns are free.
Your mattress will be covered by a 15-year non-prorated warranty.
You can also opt for Saatva's Fair Replacement Option (prorated) where you are guaranteed a new mattress at a certain percentage of the original price depending on how long you've had the mattress.
Bottom Line
Saatva's hybrid (springs + foam) design provides the best of everything. You get excellent support, pressure-relieving contouring, good ventilation and cooling, a bouncy bed, and guaranteed longevity.
---
Best Luxury Pillowtop: DreamCloud
Do you sometimes wish you could sleep on a fluffy cloud to ease some of the pressure on your back and belly?
Well, you can sort of.
The DreamCloud mattress comes closest to that experience.
The cashmere blend Euro top provides a soft plush sleeping experience that relieves pressure, reduces turning and tossing at night and helps you sleep through the night.
It is surprisingly affordable for a 15" mattress made with premium memory foam and pocket coils.
And with the Affirm financing option, you can split your payments to make the purchase easier on your budget.
Construction
DreamCloud is a 15" 8-layer luxury mattress.
Eight layers may seem a bit gimmicky, but each layer serves a purpose.
The first two layers are memory foam: gel-infused foam for cooling and pressure relief and soft quilted foam for extra plushness.
A latex foam layer comes in next to provide support and responsiveness. Even though the mattress is plush, it still feels pleasantly bouncy.
The added responsiveness also makes it easier to move around and get up from the bed.
High-density memory foam complements the support from the latex layer, ensuring you don't sink in too deep.
A contouring memory foam layer that helps with weight distribution and spinal alignment follows it.
At the core of the mattress is a five-zone micro coil layer that provides overall support and contouring. The coils also enhance ventilation, which prevents heat retention within the mattress.
At the very bottom is a high-density memory foam layer that holds up the entire mattress and prevents sagging.
The final layer is at the very top –a cashmere-covered Euro pillow top that provides a five-star hotel-like luxury sleeping experience.
Shipping, Warranty and In-Home Trial
Shipping is free for customers in the continental US.
For those ordering from Alaska or Hawaii and extra freight charge will be added at checkout.
DreamCloud, like Nectar, offers a yearlong warranty, giving you plenty of time to decide whether the mattress is right for you.
If you decide to keep the warranty, you'll enjoy a lifetime warranty.
Bottom Line
Normally, you'd pay well over $2,000 or double that for a mattress like this at a bedding store. DreamCloud cost is just a bit more than the all-foam mattresses I have reviewed.
If you love plush pillow top mattresses, the DreamCloud mattress is a great bargain.
---
Best Organic Latex: PlushBeds Botanical Bliss
Latex foam provides excellent support and body contouring. Unlike memory foam, it doesn't retain heat, and it's bouncy.
If you can get an organic latex foam mattress like PlushBeds Botanical Bliss, even better.
Organic latex foam is more comfortable, has no chemical smells, sleeps even cooler than synthetic latex, and is hypoallergenic.
The PlushBeds Botanical Bliss mattress uses all-natural latex foam. It's available in two firmness levels and three thickness options.
Construction
The updated PlushBeds Botanical Bliss mattress consists of four layers wrapped in an organic cotton cover.
Just below the cover is a layer of organic New Zealand wool.
The wool helps in temperature regulation and moisture wicking. It also provides instant pressure relief when you lie on the mattress. It feels almost like a plush pillow top.
The core of the mattress consists of three layers of Arpico organic Dunlop latex. Each layer has a different feel.
In the medium mattress, the layers are arranged from the medium at the top, medium firm in the middle and firm at the bottom.
In the firm mattress, the layers are arranged from medium to firm to extra-firm.
Like most people, you'll find the medium mattress to be the best choice. However, you can make it a bit firmer if you find it to be a bit too soft after you've ordered it.
Just unzip the cover and bring the 'medium-firm' layer to the top.
You can also make the firm mattress even firmer by bringing the 'firm' layer to the top.
This adjustability gives you the flexibility to adjust the comfort and support of the mattress even after the baby comes.
Shipping, Warranty and In-Home Trial
Shipping is free within the contiguous United States. If you are ordering from Hawaii or Alaska, applicable shipping fees will be shown at checkout.
The in-home trial runs for 100 nights, more than enough time to decide if you like the mattress.
PlushBeds offers an extra-long 25-year prorated warranty. For the first ten years, they guarantee to cover all costs related to replacing or repairing a defective mattress.
Bottom Line
While the PlushBeds Botanical Bliss is more expensive than most memory foam mattresses, it's still a bargain compared to luxury organic latex mattresses in brick and mortar stores.
It's a great choice if you want the responsiveness, support, and body contouring of latex foam without worrying about harmful chemicals.
---
Best Budget Foam: Leesa
You probably have a long list of stuff to buy before the baby arrives. If your budget is stretched, we recommend the Leesa mattress.
It's one of the most affordable premium foam mattresses. It is also one of the highest rated when it comes to comfort and overall sleeping experience.
Construction
Leesa updated their flagship mattress recently to improve contouring, pressure relief, and cooling.
The new mattress features a premium cooling foam layer on top that also provides some bounce and contours around your body.
A memory foam recovery layer in the middle provides deep contouring, which relieves pressure on your back, hips, and lower body.
At the bottom, a dense base provides deep compression support that keeps your spine properly aligned and prevents the mattress from sagging over time.
A soft and breathable polyester-lycra cover boosts the mattress' cooling capability and helps wick away sweat.
Shipping, Warranty and In-Home Trial
Leesa is one of the few online mattress companies that provide free shipping to all 50 states. There are no extra charges for delivery to Hawaii and Alaska.
You can request for help setting up the mattress and taking away the old one, though that will cost you extra.
Once you receive your mattress, you have 100 nights to test it and decide whether you want to keep it.
If you keep it, you'll be covered by a 10-year warranty.
Bottom Line
A common sentiment among the thousands of online Leesa mattress reviews is that it feels just right.
It holds you up and hugs you in all the right places. Even better, it quickly adapts to your sleeping position and changing body physique.
---
Best Luxury Foam: Puffy Lux
Foam mattresses are not exactly known for being luxurious. They are usually affordable alternatives to high-end latex and hybrid mattresses.
If you want a luxury mattress but don't want latex or innerspring mattress, we recommend the Puffy Lux.
It is more expensive compared to standard foam mattresses, but that's because it uses premium materials that provide a plush, luxurious sleeping experience.
Construction
The Puffy Lux mattress consists of three layers.
A cloud cooling foam layer on top uses gel-infused memory foam to dissipate heat away from the mattress and keep you cool at night.
The memory foam also does a great job hugging your body, relieving the strain of pregnancy on your back and abdomen.
A ClimateComfort™ layer in the middle provides further temperature control. It consists of a special type of foam that prevents sudden temperature swings that you get with most foam mattresses.
That means it stays comfortably warm in winter and keeps the mattress cool in summer.
A 6" core support layer at the bottom provides overall support and prevents sagging.
The stain resistant mattress cover is super easy to maintain. Stains and spots wipe away easily, and you can also unzip it for deep cleaning in the washer.
Shipping, Warranty and In-Home Trial
Shipping is free but only within the continental United States. The company charges shipping fees for delivery to Alaska, Hawaii, and Canada.
Puffy provides a 101-night in-home trial and a lifetime warranty.
Bottom Line
Puffy Lux is one of the most comfortable luxury foam mattresses sold today, and the price can't be beat. It is also one of the most durable beds with a lifetime warranty to guarantee its longevity.
---
Best for Heavy Sleepers: Big Fig
If the pregnancy has made you add quite a bit of weight, you need a mattress that can provide extra support without sagging and messing up your spinal alignment.
The Big Fig mattress is designed specifically for heavier sleepers.
It comes with a heavy-duty foundation (at no extra cost) that provides extra support and guaranteed durability.
Construction
The Big Fig mattress uses a combination of coils and high-density foam to provide strong support.
It consists of five layers that combine to a height of 13". The added thickness allows you to sink further into the mattress without bottoming out.
The first layer is perforated gel-Infused latex foam.
Latex foam is already cool. It doesn't retain heat like memory foam. The perforations and cooling gel make it even cooler.
If one of the effects of pregnancy you are experiencing is night sweats or hot flashes, this layer keeps you cool and dry.
Below the latex foam are three layers of high-density poly foam.
These provide deep body contouring, compression support, and weight distribution. They also ensure the mattress doesn't sag, which could cause back pain.
A core layer of pocketed premium quality coils adds robust support. It's especially helpful if your partner is also heavy.
The pocketed coils also help with breathability and responsiveness (makes it easier to move and get up from the bed).
To prevent the edge-collapse phenomena that is all too common with many mattresses, the Big Fig mattress has a dedicated edge support system consisting of high-density foam.
The cover also plays a role in cooling and comfort. It's made from ThermoGel treated fabric that actively absorbs body heat to keep you cool.
Shipping, Warranty and In-Home Trial

Big Fig only ships to the continental US.
Shipping is free. You can pay $99 for white glove delivery or $159 for white glove delivery plus old mattress removal.
The in-home trial lasts for 120 nights, and the non-prorated warranty is 20 years long.
Bottom Line
Big Fig has been tested with a weight of 350lbs.
So no matter your body weight, you can be sure the mattress will provide adequate support.
The extra-long warranty guarantees the mattress won't sag within a few months, as most mattresses do.
---
Best for Couples with Different Needs: Helix
With pregnancy, your comfort needs change. You need more support, deeper contouring, and better cooling.
But your partner's sleep comfort needs haven't changed.
This can be a problem when you are shopping for a new mattress. It's hard to find a mattress that's designed to work well for couples with different needs.
But it's not impossible.
Helix is a custom-fit mattress that lets you specify you and your partner's comfort needs and preferences using a sleep quiz.
Once you finish the sleep quiz, you'll get a personalized recommendation that meets both of your needs.
It can be a soft, medium, or firm mattress, or it can be a split mattress with each half customized for each person.
Construction
Your mattress will be constructed based on your quiz answers. You'll be asked about both your height and weight, what kind of mattress you prefer, whether you sleep hot or cold and so on.
When customizing your mattress, Helix considers the amount of body support you need, how much contouring you need, how you like your mattress (soft, medium or firm) and temperature regulation.
Once you fill in the answers, Helix will recommend a pre-configured bed.
For most couples with different sleep preferences, Helix will likely recommend one of their Dual mattresses that are softer on one side and firmer on the other.
All Helix mattresses have a hybrid design, meaning they consist of foam and pocket coils.
For the foam, they use Helix Dynamic Foam and Memory Plus Foam.
These two types of foam are good at relieving pressure and contouring around your body no matter your sleeping position.
A core layer of wrapped coils provides responsiveness, body contouring, and support.
In the base layer, each mattress contains DuraDense Foam that provides sturdy support and keeps the mattress from sagging for years.
Shipping, Warranty and In-Home Trial
Shipping is free within the continental US. Additional charges apply for shipping to Alaska and Hawaii.
You have 100 nights to return the mattress. If you decide to keep it, the manufacturer warranty covers the mattress for ten years.
Bottom Line
Finding the right mattress when you both prefer different things can be frustrating. Many couples end up having to buy a half topper to get the firmness they want.
Instead of spending more money to make the mattress comfortable for both of you, buy the Helix custom-fit mattress.
---
How Pregnancy Changes Your Sleeping Routine
One of the first things to be affected during pregnancy is sleep.
Even before the pregnancy becomes too big that you can't sleep on your stomach, you'll experience other symptoms that make it harder to sleep well.
In the first trimester, many women experience nausea that can keep them awake at night.
As the pregnancy progresses, heartburn, leg cramps, back pain, constipation, and many other issues can make it difficult to fall and stay asleep.
As the third trimester comes around, frequent bathroom visits disrupt sleep.
Hormonal imbalances can also affect sleep in many ways at any time of the pregnancy. Some women experience hot flashes and night sweats that keep them from sleeping soundly.
Other women tend to feel drowsier than usual during the day, leading to frequent daytime naps. This causes insomnia at night.
There's also the mental aspect of pregnancy.
Many women report feeling anxious and stressed about the baby and their health. This affects sleep quality and can worsen insomnia.
There are also the more obvious ways pregnancy changes your sleep habits.
In a few months, sleeping on your stomach starts feeling uncomfortable. In no time, you no longer have the luxury of choosing whichever sleeping position you want.
You become a side sleeper, whether you like it or not.
That's why it is important to sleep on the right mattress.
It will not completely prevent back pain, but it can reduce it greatly as well as other aches and discomforts caused by pressure and strain of the growing baby.
Accessories such as a full body pregnancy pillow can also help a great deal.
---
Mattress Buying Guide for Pregnant Women
What To Look For In a Maternity Mattress
1. A Soft and Comfortable Material – Memory Foam, Latex or Hybrid
A soft mattress relieves pressure from your back, abdomen, hips, and lower body. It contours around your body, preventing uncomfortable pressure points and ensuring your spine is aligned properly.
Memory foam is the best material for pressure relief.
Most pregnant women will find memory foam mattresses to be the most comfortable.
Latex foam mattresses are good too but make sure the foam is soft enough to hug your body. Even better, look for a mattress with both latex foam and memory foam.
The main advantage of latex foam is that it's more responsive.
This makes it easier to move around on the bed and get up in the morning. This is especially helpful in the later stages of pregnancy when moving becomes difficult.
Traditional innerspring mattresses have great support, but they can be a bit too firm.
If you want a mattress with springs, get a hybrid mattress that combines springs in the core layer and soft memory or latex foam in the top layer.
2. A Cool Mattress
Because of hormonal changes and an increase in body size and weight, pregnant women often sleep hot.
Getting a cool mattress is essential for sleep quality.
Hybrid and latex foam mattresses are the best at cooling. They have good ventilation that carries heat and sweat away.
New memory foam mattresses are pretty good too.
They use techniques such as gel-infused foam, Phase Change Materials, and cooling covers made from materials like bamboo to keep you cool.
Others use perforated or convoluted foam to increase the airflow within the mattress and reduce heat retention.
3. Medium to Medium-Firm Firmness
There are two things a mattress is supposed to do to keep you comfortable.
One, support your weight. It shouldn't sink in too far or sag when you lie on it.
Two, relieve pressure, especially on your shoulders, hips, and lower back. These areas take most of your body's weight when you sleep.
A medium or medium-firm mattress does these two things very well.
The mattress is soft enough to hug your body and relieve pressure but also firm enough to provide the support you need.
A medium mattress falls in the median between soft and firm. In numbers, you can rate its firmness at 5/10.
Get a medium mattress if you have a lower than average or average weight. It's also the best choice if you have large hips or particularly bony shoulders that require extra-deep contouring.
A medium firm mattress is a bit firmer but still within the sweet 'firm yet soft' point that most people find comfortable.
Most mattresses are medium firm.
Get a medium firm mattress if you've gained some weight during pregnancy and you need the extra support.
A medium firm mattress is also great for bed-sharing partners. It can take your combined weight without sagging.
4. Motion Isolation
If you sleep with your partner, get a mattress that won't wake them up every time you turn or wake up.
You'll be using the bathroom more frequently, and on some nights, you'll find yourself tossing and turning as you try to find sleep.
A good quality foam or hybrid mattress will ensure your partner sleeps peacefully without getting jostled every time you move.
---
Maternity Mattress Decision Factors
Consider these factors when you are shopping for a maternity mattress.
Support: Get a mattress that keeps your spine properly aligned in all sleeping positions but especially when you are sleeping on your side, which is the dominant sleeping position during pregnancy.
Sinkage: Sinkage affects pressure relief. A mattress that has more sinkage hugs your body more deeply and provides better pressure relief. Memory and latex foam mattresses provide the best sinkage – enough to contour around your body but not too much that it compromises support.
Firmness: As I've explained above, a medium or medium firm mattress is the best. Do get a mattress that is too soft; it won't support your weight properly. But don't get a rock hard mattress either; it will cause uncomfortable pressure points and can worsen back pain.
Temperature regulation: To avoid hot and sweaty nights, get a latex mattress or a memory foam mattress that contains gel, perforated foam, or some other temperature regulation technique. Hybrid mattresses are also great at cooling.
Thickness: You'll be putting more pressure on the mattress as your pregnancy gets bigger. Make sure the mattress can take the weight without bottoming out or sagging. When you are choosing a mattress, only consider those that are at least 10" thick. A 10"-15" mattress provides more support and is likely to last longer.
Edge support: This is one is important if you sleep with your partner or prefer sleeping near the edge of the mattress. Most foam mattresses can't take much weight at the edges before they collapse. Look for a hybrid mattress with coils. The coils hold up the edges. Some mattresses have a dedicated edge support system, and these are the best.
Off-gassing: If you are particularly sensitive to chemical smells, you might want to avoid most foam mattresses. They off-gas when new, though it's nothing that can harm you or your baby. If you want to avoid the smell, buy an organic latex mattress.
Allergies: If you are sensitive to latex products, avoid buying a natural or organic latex foam mattress. Get a memory foam mattress or a synthetic latex mattress.
---
Sleeping Accessories for Expecting Mothers
In addition to a mattress, here are a few other additions to your bed that can help you sleep better.
A comfortable pillow: Look for a supportive pillow that keeps your neck and spine aligned. Focus mostly on side sleeper pillows. Shredded memory foam pillows are the best. You can even adjust the pillow's loft to your comfort.
Pregnancy pillow: This is essential, especially for the second and third trimester. A pregnancy pillow supports your back, belly, and hips to reduce pressure and help you sleep more comfortably.
Cool sheets: If night sweats and hot flashes bother you, a cooling mattress may not be enough to keep away the heat and sweat. Consider buying bamboo, percale, linen, or organic cotton sheets. These fabrics are very breathable and are great at wicking away sweat.
Mattress pad or topper: If you can't manage to buy a new mattress or the one you bought doesn't turn out as you expected, a mattress pad can help. You can use a mattress pad to make your mattress softer or firmer. You can also make your bed cooler using a cooling topper.
Adjustable base: With an adjustable base, you can adjust the bed to different positions to relieve pressure on various areas of the body. You can sleep with your upper body reclined or raise your feet when they feel tired.
---
Frequently Asked Questions
Is a firm mattress good for pregnancy?
Avoid a mattress that is too firm as it can cause back pain and exert pressure on your hips and shoulders. A medium or medium firm mattress is best.
Is a memory foam mattress good during pregnancy?
A memory foam mattress is the best for most pregnant women. It provides good support and pressure relief that reduces back pain.
Is off-gassing dangerous for pregnancy?
The mild chemical smell mattresses produce when new is harmless. But if you are sensitive to smells, consider buying an organic latex mattress instead.
Is airbed good for pregnancy?
Some air mattresses provide the same level of support and contouring as a foam mattress. But be careful when buying an airbed for pregnancy. Look for those designed specifically for maternity use.
---
Conclusion
Anything that helps you sleep better is a worthy investment. In any case, you only have a few more months to enjoy a good night's sleep before the baby comes.
So take advantage of it and invest in a good quality mattress.
As the baby grows and delivery comes nearer, good sleep is essential for your health and that of the baby.
---
Save BIG On Your Next Mattress Purchase
Join our mailing list and get my LATEST COUPONS delivered immediately!
Send Me The Coupons
---
Learn More
Compare Mattresses Side-by-Side
---
Affiliate Disclosure
Affiliate Disclosure: I may earn a small commission (at no cost to you) if you purchase a mattress after clicking a referral link or using a coupon code on this site. That said, all content and opinions on this site are my own and are NOT affected by these payments.
This site participates in the Amazon Services LLC Associates Program, an affiliate advertising program designed to provide a means for sites to earn advertising fees by advertising and linking to Amazon.com.
*Amazon and the Amazon logo are trademarks of Amazon.com, Inc, or its affiliates.
---
SHARE THIS PAGE