My Rating
Summary
The cheapest memory foam mattress sold online that doesn't sacrifice on quality or comfort. Excellent customer service, too.
Great Choice for: anyone looking for a bargain memory foam mattress.
Avoid if: you need a firmer or softer mattress; everyone gets the same (medium firm).
Price:
 –
on Amazon
NOTE: We earn from qualifying purchases made via Amazon Associates and other affiliate programs. Learn more.
---
What is it about Tuft and Needle that make it so beloved by their customers?
As I was looking around at what other experts and customers had to say about the Tuft and Needle mattress, one thing surprised me.
Normally, when I dig deep enough into the bowels of the internet, I can find plenty of good & bad reviews for every mattress.
But when it comes to finding a negative Tuft and Needle review, it's not that easy.
On Amazon, Google, Yelp and Facebook, the mattress has almost exclusively super-high ratings.
Unlike other mattress-in-a-box companies, Tuft and Needle really seems to have struck a nerve with customers.
What's In This Mattress Review
This page will take about 10 minutes to read everything.
Use this table of contents to skip to the features you care most about.
To return to this outline, touch ↑ Table of Contents.
---
About Tuft and Needle
As the company's founders tell it, Tuft and Needle was inspired by the headaches involved in the process of buying a mattress from a store. The gimmicks used by salespeople coupled with the overly priced products, left a lot of people feeling cheated.
So, the founders set their the aim to create a mattress that is high quality, comfortable for most types of sleepers and most importantly, affordable.  And they focused their marketing on telling the ugly truth about the traditional mattress industry.
Since the company's launch in 2012, T&N has become one of the largest and highest-rated direct-to-consumer mattress company.
Today, not only are they known for their high quality mattress, their commitment to a hassle-free customer experience has led to the exceptionally high ratings from customers.
On the product level, Tuft and Needle are also committed to continuous improvement. The company has incorporated a ton of customer feedback to make a lot of improvements. For example, in 2015, they released a new mattress that is much softer and more forgiving to the shoulders, back and hips.
Today, T&N is based in California and Arizona. They have showrooms in Phoenix, Arizona and a newly opened store along King Street in San Francisco.
---
Social Impact
Tuft and Needle takes pride in the fact that their products are made in America. The entire process – from designing to sourcing of raw materials to crafting – takes place in the US.
For example, the fabric used in the mattress is from a family owned, decades-old textile mill in the Carolinas. The unique foam used in the mattress is designed and cut in the United States.
Sewing and any final finishing touches are done in Southern California, where the mattresses are also compressed in preparation for shipping.
---
Price
I suspect that the price of the Tuft and Needle is one of the biggest factors behind its rapid rise in popularity.
Where else can you get such a high quality mattress starting at only $350?
By getting rid of frustrating middle men and using innovative manufacturing, the company has been able to offer quality mattresses to customers at incredibly affordable prices.
Before I go any further, here is the full price list of all mattress sizes.
In an effort to be as straight as possible with buyers and to keep the prices low, Tuft and Needle does not offer discounts.
Additionally, the company is not yet in a position to provide financing for mattress purchases.
---
Purchase Process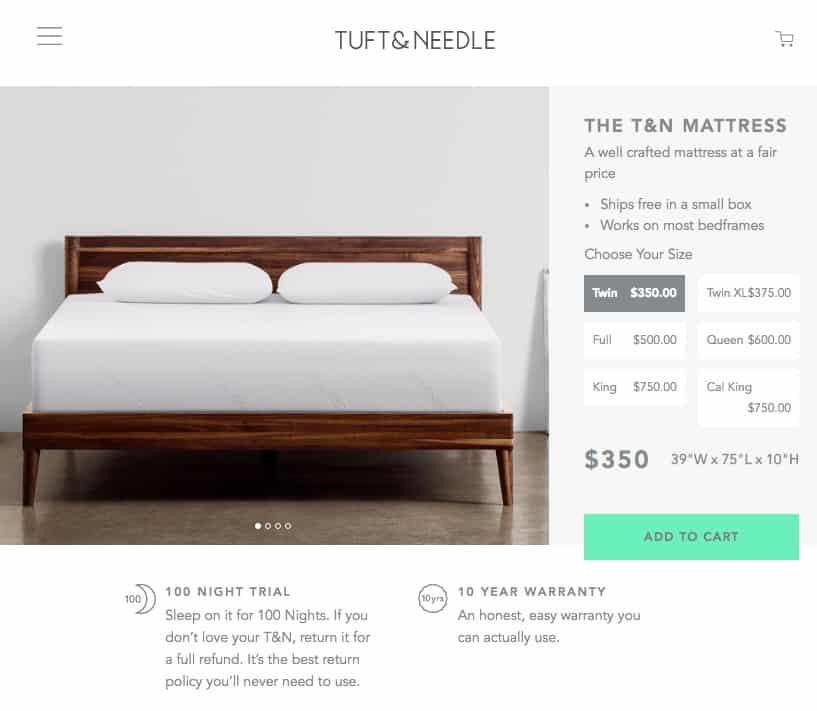 One of the essential foundations of Tuft and Needle is the need for a fast and convenient customer experience. This means eliminating frustrations and headaches so common with the traditional mattress industry.
T&N have streamlined the purchase process to be simple, convenient and honest.
The purchase process is made all the more simpler by the fact that Tuft and Needle only sell one type of mattress.
This may seem like a disadvantage to buyers who prefer variety, but in the end it makes thing much easier. By focusing on one product and comfort level, the company is able to make it the best in their niche and improve it faster than anyone else.
Unlike other mattresses, you do not have to choose a mattress type, thickness or firmness level. The only thing to choose when purchasing is  size.
Tuft and Needle sells six different sizes including:
Twin size
Twin XL
Full size
Queen size
King size
California King
Once you've picked your size, a few more clicks and you are done.
Pricing is excellent, too, ranging from $350 to $750. This makes Tuft and Needle one of the lowest-priced luxury mattresses you can find.
The best place to buy the mattress is on the company's website. This way, you can take advantage of the company's convenient services and friendly policies.
You can also buy the mattress at Amazon. You should, however, understand that the purchase will be under Amazon's warranty and return policy.
For example, while Tuft and Needle offers a generous trial period of 100 days, Amazon's trial period is much shorter at only 30 days.
Also, any post-sale questions or support about the product will be directed to either Amazon or Tuft and Needle, depending on where you purchased it.
---
Shipping
In keeping with their "whole business" model, T&N sticks to a convenient and budget-friendly (free) shipping policy.
Shipping is free to the contiguous United States. Customers living in Alaska and Hawaii will pay a small shipping charge upon checkout.
Once you place an order, it is processed as quickly and your mattress starts its journey to you, often after only two business days. You can track the mattress through a tracking number provided by the company.
Shipping takes around 7 business days and is done through FedEx.
However, depending on the time and day you placed an order and where you live, the delivery period will vary. For example, it takes 1 to 2 business days to deliver to most places in California while it takes 6 to 7 business days to get an order delivered to Alaska and Hawaii.
For quickest delivery, place your order during the workweek (Monday to Friday) and work hours (9am to 5pm). Deliveries may experience a delay during holidays.
It is also important to note that Tuft and Needle doesn't offer expedited shipping.
---
Delivery and Setup

The mattress is delivered by FedEx in a small box that's about the size of a mini fridge. The mattress is compressed at the factory to fit into a small box for easier/cheaper shipping.
Once the mattress is delivered, it is easy to set it up yourself.
Tuft and Needle do not offer setup services. If for any reason you cannot manage to set it up, you'll have to ask a friend or family member to help.
Once you unbox the mattress, just roll it out on the bed or floor surface and then give it two to three hours to expand to its normal shape and size.
The company advises that the mattress should be placed on a proper support such as a slatted frame (maximum 4 inches apart), an adjustable bed frame, a platform or on a solid floor surface.
---
Styling/Aesthetics
So the styling of the Tuft and Needle is pretty basic.
The cover of the mattress is all-white, with a few Tuft and Needle logos stitched onto it. The logo stitching in a way helps counter the bland styling of the mattress.
If you can't love the style, just remember that this mattress will be covered up most of the time.
---
Technology
Tuft and Needle is designed to be super-affordable, and for this reason, the design and technology is basic.
So do not expect any complicated cooling systems or one of those advanced systems found on more expensive mattresses.
But one area where I feel Tuft and Needle have truly outdone themselves is the type of foam they use in construction.
They could have gone for latex foam and taken advantage of its features such as great support, little motion transfer and a bouncy feel.
Or they could have gone with memory foam which tends to be softer and better for sleepers who like to sink in.
Instead, they decided to innovate and come up with a foam formulation of their own. They dub it, Tuft and Needle Adaptive Foam.
This is a proprietary type of foam that is neither latex nor memory foam. It captures the best of both types of foam to create a new one that is better and suits a wide range of sleepers.
The foam is also excellent at temperature control, comfort and support.
Since creating the first mattress, the company has collected tons of customer feedback and made hundreds of alterations that continually improve their product.
Today, the Tuft and Needle mattress is one of the highest regarded in the United States.
---
Mattress Construction
The first thing thing you will notice is that the 10″ thick Tuft and Needle mattress has only two layers. It previously had three, but this was changed to improve cooling and to further reduce cost.
1. Fabric cover
Tuft and needle uses a special type of fabric referred to as Tactel Fabric. It has several advantageous features: it's very lightweight, highly breathable, super soft and smooth.
The fabric is also incredibly strong, ensuring that it lasts long even with considerable punishment.
One very interesting characteristic of Tactel fabric is that it dries 8 times as faster than cotton. This helps in regulating moisture content when you're asleep. Any sweat produced is quickly absorbed by the fabric and dries almost immediately, leaving the mattress cool and dry.
2. Top: 3 inches of Adaptive Foam
The top layer is made of 3 inches of proprietary Tuft and Needle Adaptive Foam, which takes the best qualities from latex and memory foam and combines them into one product.
For example, latex is pretty good at temperature control and support but performs poorly when it comes to comfort and pressure relief.
Memory foam, on the other hand, tends to be good at relieving pressure and reducing contouring comfortably around the body. But it has problems with temperature regulation, tending to get a bit too hot at night.
Additionally, T&N's foam is cheaper to produce and work with, which keeps the price low.
3. Base: 7-inch support layer
Before Tuft and Needle got down to two layers, it had three. The first layer was for comfort, the second for both comfort and support and the third for support. But this meant the use of more glue to stick these layers together, an action that restricts optimal air flow and affects temperature regulation.
The new structure consists of two layers that combine both support and comfort into the top layer.
The base layer, made of 7 inches of support foam is made from a denser type of foam that can hold up the body's weight and keep the mattress in good shape for years.
As mentioned before, it is important to place this mattress on the right surface. This is the only way to ensure that the base layer functions as it was designed to.
---
Smell/Off-Gassing
Like any other foam mattress that comes packaged tightly in a box, there will be a smell for the first few days.
Some mattress sellers combat this problem by letting the mattress stabilize in their warehouses before shipping. Tuft and Needle do not seem to do that.
Having been certified by CertiPUR-US, the company assures that the smells are not emissions from dangerous chemicals. T&N advises buyers to let the mattresses air during the day for a few days until the smell completely disappears.
Those who are very sensitive to smell may suffer the discomfort a few days longer than usual.
---
Sleeping Experience
Sleeping on a Tuft and Needle mattress is really nice for such an inexpensive mattress.
Apparently, the recent alterations to their design have paid off. When the mattress first came out, the reviews were very positive but there was one common complaint; the mattresses were a bit too much on the firm side.
In order to suite as many kinds of sleepers as possible, the new Tuft and Needle has been designed with a firmness that falls in the middle of the firmness spectrum. With 1 being very soft and 10 very firm, the Tuft and Needle falls at around 5.
You will find it just soft enough to cuddle your body and reduce pressure points and also firm enough to provide the necessary support.
---
Sinkage
A sinkage test helps determine how much the mattress depresses under weight.
This helps you understand whether a mattress sinks too much and might feel like a swamp when you sleep, whether it sinks too little and might feel like a rock or whether it sinks to just the perfect level.
With the Tuft and Needle, you can expect a sinkage range between 0.5 inches and 1 inch.
The sinkage is more pronounced at the edge though the support there is unexpectedly good.
The level of sinkage gives just the right amount of hug combined with a feeling of buoyancy.
---
Motion Transfer
If you sleep two in the same bed, then you understand how frustrating it is to have a partner who wakes up a lot at night or keeps tossing around. The technical term for the disturbance you feel is motion transfer.
When one person wakes up or tosses around in an especially bad dream in a low-motion-transfer bed, the other person remains peacefully asleep. In a high motion transfer bed, they wake up.
So, a mattress with minimal motion transfer is big plus for couples.
The proprietary foam used by Tuft and Needle is quite good at localizing motion, ensuring that forces don't travel from one side to the other. Couples shouldn't shy away from this one.
---
Hot/Cold Issues
Heat transfer is another area where the Tuft and Needle mattress impressed me.
In explaining the design of their mattress, Tuft and Needle describes the way the top foam layer manages to keep cool and dry. Once you get into bed, your body immediately begins conducting heat to things in contact with it including the mattress.
The top foams acts to quickly take away this heat, directing it towards the edges and out of the mattress. This keeps you feeling cool and cozy.
The company also designs the mattress with a special type of fabric at the bottom called a spacer cloth. This fabric helps to optimize the flow of fresh air within the mattress, joining the top foam layer in keeping things cool.
Tuft and Needle's adaptive foam does a fine job keeping the mattress cool, provide good pressure relief and providing support. Basically, the best aspects of both types of foams are covered in this mattress.
But Tuft and Needle's design only works best when the mattress is lifted up onto a platform or bed frame. So, if you place your mattress on the floor, it is important to air it out frequently to let any trapped moisture and air flow out.
---
Warranty
Tuft and Needle provides an industry-standard 10 year warranty for its mattress.
The warranty covers defects in workmanship and various other damages. Defects resulting from normal wear and unintended use of the mattress are not covered.
Additionally, the warranty is only applicable to the original purchaser and not any other subsequent owner.
One thing I like about this mattress is that it has a non-prorated warranty. This means you get a full refund if a problem arises within the warranty period. Most mattress companies pro-rate their warranty, reducing the refund amount over time.
You almost never see a 10-year non-prorated warranty on mattresses in this price range.
---
Return Policy
After purchase, the company allows you 100 nights to test the mattress and acclimate to it.
If during the trial period you feel the mattress it is not right for you, then you can return it free of charge and for a full refund.
The returned mattress is either recycled (if your local authorities require it), or it is donated to charity.
---
Pros/Cons
Pros
Incredible value! Considering the quality of this mattress and how it compares to other mattresses of similar quality, the Tuft and Needle is not only affordable, it is downright cheap. This is good news for those looking for a great foam mattress but have no budget for expensive options like Botanical Bliss by PlushBeds or a Saatva.
Quality. The mattress may be cheap but quality is not compromised.
Great customer experience. The company strives to provide the best customer experience right from ordering to delivery and returns.
Cons
Limited choice. There is only one firmness available. So if you are not in the same sleeping category as most other people, you may not like the Tuft and Needle mattress.
---
Tuft and Needle is Perfect For You If…
You like things simple, you are on a tight budget and you want a high quality foam mattress that has proper support, is comfortable and is well-built.
And, you appreciate that non-prorated 10-year warranty.
---
Conclusion
As Tuft and Needle keep improving their product, it continues to grow in popularity.
The company has done an excellent job entering and competing in Casper's niche of customers looking for a simple, quality foam mattress at an affordable price.
If you are new to buying mattresses online, you can't go wrong by starting with a Tuft and Needle.
It will be interesting to see where they go next!
---
Where To Buy
See the Latest Prices and Reviews on Amazon.com
Tuft and Needle Mattress Comparisons:
---
Affiliate Disclosure
Affiliate Disclosure: I may earn a small commission (at no cost to you) if you purchase a mattress after clicking a referral link or using a coupon code on this site. That said, all content and opinions on this site are my own and are NOT affected by these payments.
This site participates in the Amazon Services LLC Associates Program, an affiliate advertising program designed to provide a means for sites to earn advertising fees by advertising and linking to Amazon.com.
*Amazon and the Amazon logo are trademarks of Amazon.com, Inc, or its affiliates.
---