NOTE: We earn from qualifying purchases made via Amazon Associates and other affiliate programs. Learn more.
---
The Leesa adjustable base is a great choice if looking for a simple, no-frills adjustable base for your mattress.
The Leesa adjustable base offers only the basics when it comes to features. No massage, no USB ports, and no pre-programmed buttons. The only extra feature you get is under-bed lighting.
But build quality is good. The Leesa Adjustable base can support a lot of weight, and it looks like it'll last a long time.
We think the Leesa Adjustable base is a bit too pricey for what it offers, but if you want an adjustable base that's well made and reliable, go for it. It makes up for the lack of features with solid construction and a beautiful minimalist design.
Read on for our full review.
---
What's In This Adjustable Base Review?
This Leesa Adjustable Base is a 10-minute read.
If you'd instead not go through it all, use this table of contents to skip to the features that are most important for you.
---
About Leesa Adjustable Base
Key Features
1. Basic Wireless Remote Control
We are used to seeing adjustable base remote controls filled with buttons for different functions, so the wireless remote for the Leesa adjustable base looks very basic.
It only has four buttons for adjusting the head and foot independently and two other controllers for moving the two sections simultaneously. The only other button is for under-bed lighting.
There isn't even a 'Flat' button, which even the cheapest adjustable bases have. For the Leesa adjustable base price, a couple of presets for zero gravity and TV or anti-snoring would have been lovely. The memory button to program your own presets would have also been convenient.
In keeping with the basic design of the remote control, the buttons are not backlit, making it hard to see which button you are pressing in the dark. But seeing as how few buttons there are, you'll likely memorize their position after a couple of nights. So don't let the lack of backlighting be a deal-breaker.
2. Under-bed Lighting
It's not essential to the operation of the adjustable base, but it's the night to have soft under-bed lighting and is as handy as a nightlight when you wake up in the middle of the night or have to look for something under the bed.
It's bright enough to light the bed area but not too bright that it'll disturb your sleeping partner.
3. Split Options for Couples
Couples who'd like to control their half of the bed independently should order the split King or Cal King. The split adjustable base comes with two remote controls for each bedside.
If you find that you both relax in the same positions most of the time, you can sync the two split bases and operate them with a single remote control.
Construction and Design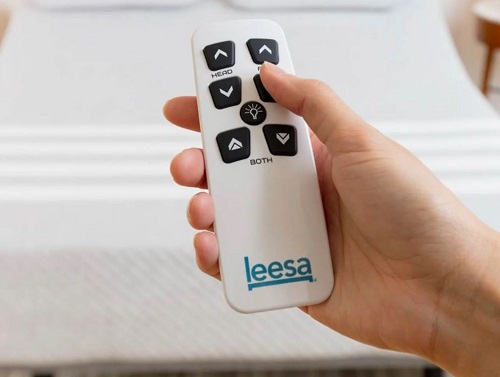 Where you'll get your money's worth is in construction quality. The Leesa adjustable base is made with powder-coated steel, birch wood, and polypropylene. It can support up to 850lbs, which is 100lbs more than the most adjustable bases.
With the 25-year limited warranty, you can be sure the base will last a long time.
Design-wise, the Leesa adjustable base adopts a minimalist style. As a result, it doesn't have the bulky appearance of the most adjustable bases.
The top platform is thinner than usual, with the gray upholstery completing the neutral contemporary look.
Of course, you can use the Leesa adjustable base with an open bed frame if you'd like a different aesthetic.
Mattress Compatibility
The Leesa adjustable base works perfectly with Leesa mattresses and any mattress that is compatible with adjustable bases.
Memory foam and latex mattresses are generally the best for adjustable bases because they flex easily. Still, you can also use the Leesa adjustable base with a spring or hybrid mattress.
We don't recommend using a mattress that's thicker than 14″. A too-thick bed will be stiff and won't flex properly as you adjust the base.
Don't worry about the weight of your mattress. Remember, the Leesa adjustable base can support up to 850lbs. That's enough capacity for a heavy bed and a sleeping couple.
Price
As we mentioned initially, we think the Leesa adjustable base is slightly overpriced. You can certainly get a cheaper adjustable base elsewhere with more features.
Here are the current sizes and prices on Leesa's official website.
Sleeping Experience and Customer Feedback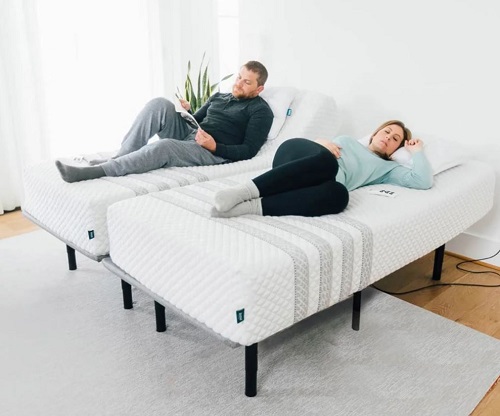 Despite the lack of features, the Leesa adjustable base works, and it works well. The motors are relatively quiet, and they move smoothly. The floor is not squeaky at all.
That's one advantage of having a no-frills adjustable base like Leesa's. There are fewer components that can break, meaning more reliability and durability.
Most customers love their Leesa adjustable base though a few wish it had more features.
Warranty
Leesa offers a 25-year warranty on the adjustable base. That's longer than most adjustable bases and indications of better build quality.
Note that this is a limited tiered warranty. It varies in coverage after one and three years.
Return Policy
A surprising number of bedding companies don't accept returns for adjustable bases. But Leesa does.
After the adjustable warranty has been delivered, you have 30 nights to test it out. If you don't like it, contact Leesa and ask them to pick it up. You'll get a full refund.
For Alaska and Hawaii customers, there's a $100 return fee.
Delivery & Setup
Leesa offers free shipping to all 50 states. For $150, you can also enjoy white glove delivery, where the base will be delivered and set up for you.
But you don't need to pay for setup. With two pairs of hands, it takes about 10-20 minutes to set up the Leesa adjustable base.
Pros & Cons
Pros
Reliable and durable.
Multiple adjustments for the head and foot.
Under-bed lighting.
Free shipping and free returns.
Cons
Not the best bargain around.
Plenty of missing features: no massage, no memory buttons, no USB ports, and no position presets.
---
Final Verdict: The Leesa Adjustable Base is Perfect For You…
If you are looking for good quality and durable, adjustable base.
You want a basic no-frills base that just works. If you don't care about features like massage and USB ports, Leesa is perfect for you.
Or you love Leesa products,
---
FAQs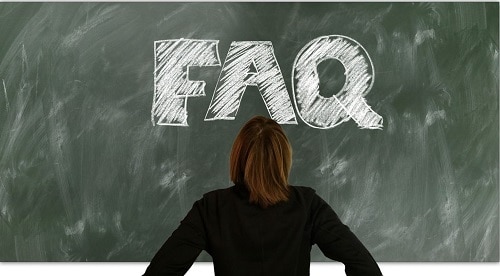 Does Leesa offer a split adjustable base?
Yes, you can order a split king or cal king base with two remote controls. If you no longer need the split functionality later, you can sync the two bases and operate them with one remote control.
What's the warranty on the Leesa Adjustable Base?
The Leesa adjustable base comes with a 25-year limited warranty split into 1, 3, and 25-year tiers.
Can I use the Leesa adjustable base with my current mattress?
Any mattress that's compatible with adjustable bases will work with the Leesa adjustable base.
---
How the Leesa Adjustable Base Compares
Read our reviews of other adjustable bases to see how Leesa compares to other popular adjustable bases in the market.
---
Where To Buy & Save
---
Affiliate Disclosure
Affiliate Disclosure: I may earn a small commission (at no cost to you) if you purchase a mattress after clicking a referral link or using a coupon code on this site. That said, all content and opinions on this site are my own and are NOT affected by these payments.
This site participates in the Amazon Services LLC Associates Program, an affiliate advertising program designed to provide a means for sites to earn advertising fees by advertising and linking to Amazon.com.
*Amazon and the Amazon logo are trademarks of Amazon.com, Inc, or its affiliates.
---