NOTE: We earn from qualifying purchases made via Amazon Associates and other affiliate programs. Learn more.
---
When purchasing a new bed or bed frame, it can be overwhelming to confront HUGE range of styles and bed types sold today.
So many choices in materials, designs, fabrics and bed types can leave you bewildered.
Do you want something cool or retro to go with your modern home?  We've got you covered.
Looking for a more traditional or classic frame? we've got you covered there, too.
Regardless of the style of your bedroom, there is a type of bed on this list that will meet your needs.
After you narrow-down the style you want, check out one of our bed frame buying guides to create a short list of beds sold online & shipped to your home.
---
Whats On This Page
This page is a list & explanation of the 50 basic types of beds and bed frames you can buy.
Take the time to scan this list and explore the products shown in the images to get a better feel for each style and price range – there's a link below each image to learn more about that bed.
All of the beds in the images are sold online, most on Amazon.  But that doesn't mean you should purchase from there – as always, do your homework.
If you know of a bed type we haven't covered here, please let us know and we'll add it!
Happy shopping 🙂
---
Types of Beds
These are the major types of beds sold in the US and Canada today.
1. Folding
Folding beds are unique. All have a hinged frame that allows the bed to fold up into a closet or an enclosure. These are best for smaller spaces or rooms which have dual purposes like studio apartments or guest rooms.
You can fold it out when you're ready for sleep and fold it back up when company comes over. A number of these beds can be placed into cupboards, fold on a wheeled frame, and into different enclosures for display. They make perfect dorm beds.
2. Platform Bed
Platform beds fully eliminate the need for bulky box springs. They're made out of a lattice structure/rows of flexible wooden slats that can support the heaviest of mattresses.   Platform beds are a perfect choice for most memory foam and latex mattresses, which require sturdy flat surfaces.
A platform bed also provides your mattress with the proper ventilation to prevent mildew and mold buildup.
3. Panel Bed
Panel beds are made out of decorated, tall, and flat panels of wood for the headboard and footboard. These are split into segments with molding, just similar to wall paneling. These are much like platform beds, only they have side rails that allow for using a box spring and mattress.
4. Sleigh Bed
Sleigh beds look almost the same as how they sound, like a sleigh. These have scrolled footboards and head made from heavy wood. They can be made from a wide range of materials, which include steel, iron, and aluminum, though not as curved as timber. These are an exquisite piece of furniture which was initially found in the early 19th century American and French Empire period.
5. Murphy Bed
The Murphy bed folds into walls to make space when not being used, much like the folding bed. They are stored vertically into a wall or in closed storage. You can get these with storage units, nightstands, and shelves.
6. Trundle Bed
Trundle beds are highly popular in children and teen bedrooms. The reason for that is they are two beds in one. The idea behind this is to save space. You can keep the bottom bed tucked till a guest needs it. All you've got to do is pull the bottom bed out, and it is ready for use. It is not as bulky as a bunk bed, and it's appropriate for even the smallest spaces.
7. Day Bed
Day beds serve several functions. You sit on them, lounge, recline and may sleep. These are popular in guest rooms due to their multipurpose use. They can be built from a range of materials, and they're formed like a cross between a bed, chaise lounge, and a sofa.
8. Poster Bed
This sort of bed is constructed with four vertical columns, one being in every corner. They may be curved, square, pointed, or whatever form. You can get them with canopy and other sizes.
9. Pencil Poster Bed
These were created in the 1700s all over New England. They comprise the four posts with a point on top of each one. They can be single or have a frame fixed on top for the addition of a canopy.
10. Low Poster Bed
Low posters are present in lots of households. These have the four posts on all the four corners, but they are small in height and can have a variety of tops. They can be round, pointed, square, etc.
11. Half Poster Bed
The half-poster mattress comprises the four posts on each corner, but the headboard posts are larger than the footboard posts. This helps in easier placing in smaller rooms and adjustability when walking around the bed.
12. Canopy Bed
Canopy beds look much like the poster bed, except all posts are connected for the use of the canopy. You may either drape the canopy or leave it open. There are two different styles of canopy beds.
13. Modern Canopy Bed
Contemporary canopy beds are fragile when it comes to the frame. They do not feature the decorative pieces that the standard beds do. This makes it much easier for such beds to fit in with your room's decor. These are usually made from wood or metal.
14. Traditional Canopy Bed
Traditional canopy beds are attractive and very decorative. They usually feature quite bulky posts and are made from a sturdy wood connected to a much-decorated foot and headboard.
15. Divan Bed
Divan beds are the perfect solution for those people who have limited space. Versions of these beds have built-in drawers for storage that you are lacking in your bedroom. If you want a unit without the drawers, you can choose the standard Divan, which can be custom-made for those smaller rooms. Their soft headboards are also comfortable for sitting while reading or watching television.
16. Futon
The futon is a perfect solution to small space issues. These beds are a bed and a sofa in one. When you don't like it as a bed, you can change it into a couch by folding it. They come in a variety of frames, such as wood and metal, and you can interchange the mattress to suit your specific comfort needs.
17. Bunk Bed
Dual Decker, or bunk beds, are excellent for bedrooms that are shared by multiple kids. Basically, it's one twin-bed heaped on top of another with a ladder leading to the top bunk. Over time, other variations have been made.
18. Loft Bunk Bed
Attic bunks are actually just the top part of a bunk bed with an open space at the bottom for a table or a small couch. These are excellent for rooms with limited space, and you can get them with desks built-in as well. You could also attach a smaller twin bed beneath the loft bunk if you want more sleeping space.
19. L-Shaped Bunk Bed
These bunks are similar to the traditional type, except instead of the beds being aligned with one another, the bottom bed sticks out, which makes an "L" shape. These may include a futon on the bottom or a regular bed.
20. Twin-Over-Full Bunk Bed
This sort of bunk bed accommodates one sleeper on the top and multiple sleepers on the bottom bunk. The bottom bunk comes in full size and has a double-sided top, which makes the lower bunk more spacious than the top.
21. Futon Bunk Bed
Futon bunk beds are excellent for bedrooms that need sleeping and sitting space with a small room to do so. The bottom is a futon, and the top bunk is a twin. You can unfold it at night to sleep and fold it back up during the day for sitting.
22. Bunk Bed With Trundle
This bunk type comes with the traditional bunk style, and a bottom bunk also has a trundle. Instead of being able to sleep two people comfortably, it can sleep 3, and nobody has to compromise.
23. Cabin Bed
Cabin beds are a member of the bunk bed family, but they include all types of bongs and whistles to help manage the mess in your kid's bedroom. They can come in various colors, styles, and sizes. They could feature shelves, drawers, roll-away desks, and much more.
24. Cot
Cots are really handy when you have unexpected overnight guests. These kinds of beds are portable and can be stored when not in use. Simply fold it open, and it is all set to use when you want it.
25. Half Tester Bed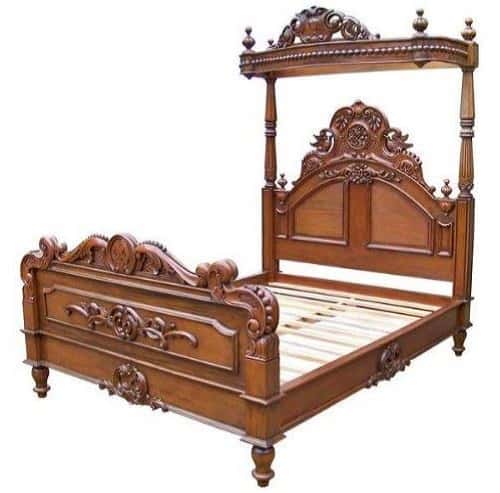 These are similar to the poster bed; the only difference is that they have low feet. These beds were highly popular in ancient times, but are not today. Although, they are exquisite since they have a half canopy covering and the headboard instead of the entire bed. They are also available with lighting built inside.
26. Storage Bed
Storage beds are normally encased in faux or real leather with ample space beneath for storing your personal items. Just lift up the bed portion when you need to store something. You can get these with drawers on both sides of the framework for storing clothing, sheets, or whatever you need in an organized manner.
27. Air Bed
Do not get these mixed up with air mattresses. However, those are also perfect for special sleeping requirements. Air beds are more permanent types of air mattresses, and they're for in-home use. These may be seen in pull out couches or as regular beds. They are amazing for curing certain aches and pains due to their ability to be molded from hard to soft or vice versa.
28. Waterbed
Believe it or not, waterbeds are still used by some people. These beds are filled with water, originally produced for medical therapies, but are being used more domestically. They offer excellent support your body needs to help reduce tossing and turning. Some might consider it like an orthopedic bed. You can get these in all kinds of sizes, and they can come in a variety of different frames.
29. Adjustable Bed
These beds can be adjusted into a different position to provide your body with the comfort and support you require. It is possible to raise the head or the bed's feet like that of a hospital bed, and it may help alleviate stress and pains when in the ideal position.
Adjustable beds and hospital beds are two different pieces of furniture which share one common characteristic.
30. Sofa Bed
Sofa beds are very similar to futons. They're constructed inside of a couch, and once it's ready for use, you simply pull it out and fold it down. They arrive in queen size beds, but you could be able to find it in a king-size bed too, although the size is dependent upon the size of the sofa. The best part is that if it's in sofa mode, it looks like a sofa instead of a folding bed.
Queen-size is the most common sized bed for adults. It's easy to find various frames to fit your decorating needs and mattress.
31. Hanging Bed
These beds are incredibly unique. They are beds which are attached to the ceiling or connected to the floor by a ladder. They are best for small rooms and allow optimal space beneath for a desk or bookshelf if you build it high enough. They may be hung lower to the floor if you don't need to get them suspended high.
32. Deluxe Couch Bed
This is much more than a sofa that transforms into a bed when needed. This unique piece of furniture can genuinely turn itself into bunk beds or simply bed. It unfolds and turns into the bed that you want to use. These are fantastic for smaller spaces.
33. Hammock
The hammock bed is not commonly found in most homes, and it is definitely a very different sort of bed design. These need a bit of imagination and ingenuity. They're made with a stretchy net material and can be attached to a makeshift frame. It suspends over the open area. It is like sleeping on a giant hammock in your bedroom.
34. Ottoman Bed
The Ottoman mattress is a really distinctive design. During the day, it's just an ordinary footrest, but at night, it converts into a handy twin or single bed for a company or your child's sleepover. They may be made from a range of materials such as leather and microfiber.
---
Bed Styles
In this section, we'll go through the various bed styles available today.
35. Modern Style Bed
Modern design beds are exceptionally very simple and latest in style. They are often flat and thin and have little to no ribbon. They can have plenty of modern crossovers, but it is definitely not classic or traditional. These are the styles that suit any home today.
36. Cottage Style Bed
Cottage styles are extremely old fashioned. They can include very fancy headboards with carvings, but they're traditionally known for their painted decorations. They can be quite simple and elegant with a white finish over the wood and a carved headboard and footboard.
37. Mission Style Bed
The design of these is quite unique. It features designs that center on vertical and horizontal lines and flat panels that make the grains of wood stand out. These can fit in with any décor and are very up to date in appearance.
38. Traditional Style Bed
The traditional style features have been designed in all the older eras. These can consist of half tester, poster, canopy, or a variation of each. With these styles, you'll find that classic look with the elegance of modern-day touches.
39. Country Style Bed
Country style beds have a very rustic appearance in them. They are made from wood with a tall, flat headboard. They may be made to seem like paneling and can feature posts. They may be made from wooden logs to give it a woodsy feel.
40. Retro Style Bed
The retro design beds are a mix of many things. It includes old-fashioned details and vintage designs, all while remaining somewhat modern. They are very different and match with almost any decor you throw at it. Antique beds are always a crowd-pleaser.
41. Rustic Style Bed
If you prefer the outdoors look, you will love the rustic design. It's very similar to the modern look, but it doesn't really have any advanced features to it. These are vintage looking and are highly well known in older homes or houses that need to look vintage.
42. French Style Bed
French-style beds are exquisite. They come with very romance-inspired headboards and seldom footboards. They're much like upholstered beds, and they are another excellent option for sitting up as on bed because it's comfortable.
43. Mid-Century Style Bed
These styles include features from the mid-1900s with a traditional design. They are made from wood and give your bedroom a classic feel. They can also include greatly retro-like upholstered head and footboards.
---
Frame Styles
The last part of this list is all about different styles of frames.
44. Metal Frame
Metal frames are prevalent and very cheap. They are lightweight and more comfortable to move around, although they do have the pizzazz of wooden bed frames. Mostly, they are adjustable, making it easier to change bed sizes, unless you have the head and footboard model rather than only the support base. These are used with box springs unless they're used for a bunk bed. If that's the case, they have bars that support the mattress without having to use a box spring.
45. Wood Frame
This is one of the most used building materials for furniture. It can be carved, painted, cut, etc., to create beautiful pieces. They may be classic, rustic, country, cottage, etc. These are much simpler to buy with shelves inside them. They produce a very homey feeling and greets guests warmly. You may have wood designs in several styles and finishes.
46. Woven Frame
Woven furniture is also referred to as "wicker." Wicker furniture is traditional, but being used more and more in homes and for outdoor recreation. These frames to give your bedroom a very country-like look, and they are known for being lightweight and sturdy. They are made from plant-based materials or plastic.
47. Brass Frame
Brass is an exquisite and old-fashioned look. These frames can be available in various styles, with or without head and footboards. These frames typically have a vertical bar appearance or a rounded head or footboard. They are usually lightweight and sturdy.
48. Upholstered Frame
These headboards are absolutely magnificent. They are generally soft, making sitting up in bed more comfortable. They feature the buttoned look and offer a luxurious and decorative touch to the bedroom.
49. Ornate Frame
Ornate bed frames are beyond beautiful. They are incredibly detailed and add a bit of elegance and luxury to any bedroom. These frames may come in different sizes and can be made to look like anything. These are the sorts of frames that you would find on Victorian beds.
50. Wrought Iron Frame
If you would like something more classic yet durable, you'll like wrought iron frames. These are simple, but with a bit of flare. They can feature scrollwork in the headboards and footboards. As they are created with this material, the final product is quite heavy but sturdy.
---
Conclusion
Well, there you have it!
These are the 50 types of beds, styles, and frames available for your bedroom.
Having this many options is an issue if you're unsure about how you want to decorate your bedroom.
However, if you've already decorated and just need a new bed to match, chances are you can find the perfect style quickly.
When you're ready to shop, check our our bed frame buying guides to create your short list.
---
Affiliate Disclosure
Affiliate Disclosure: I may earn a small commission (at no cost to you) if you purchase a mattress after clicking a referral link or using a coupon code on this site. That said, all content and opinions on this site are my own and are NOT affected by these payments.
This site participates in the Amazon Services LLC Associates Program, an affiliate advertising program designed to provide a means for sites to earn advertising fees by advertising and linking to Amazon.com.
*Amazon and the Amazon logo are trademarks of Amazon.com, Inc, or its affiliates.
---