Nolah Mattress Review
Summary
A medium-firm mattress that uses a unique air-filled foam that eliminates most of the downsides of latex & memory foam. More durable and better at pressure-relief than leading memory foam & latex foam mattresses in the same price range.
Great Choice for: Side sleepers, back sleepers and people with back problems.
Avoid if: You prefer an extra-firm mattress.
Price: $649- $1,137
NOTE: We earn from qualifying purchases made via Amazon Associates and other affiliate programs. Learn more.
---
According to Nolah's test lab, their new high-resilience (latex-like) foam AirFoam provides four times the pressure relief of memory foam.
Nolah has proven it to be more durable than memory foam and older types of latex foam – and, it's better at cooling.
The result is an extra-durable mattress that provides good support, exceptionally good pressure relief and minimal motion transfer. 
The Nolah Original foam mattress one of the best mattresses for heavier side sleepers due to its great pressure relief properties. Our only quibble is with Nolah's edge support (keep reading to learn more).
If the Nolah Original is not the kind of mattress you are looking for, then check out these other great leading online mattresses.
But if it sounds like Nolah might be the kind of mattress for you, then keep reading for my in-depth 10 minute mattress review.
---
What's In This Mattress Review
This in-depth Nolah mattress review will take about 10 minutes to read.
Use this table of contents to skip to the features you care most about.
To return to this outline, touch ↑ Table of Contents.
---
About Nolah Sleep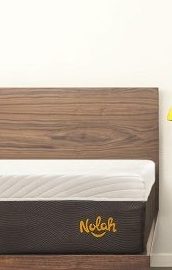 Nolah Sleep was founded by Anna Hjoellund and Daniel Galle. The two already had decades worth of experience in designing premium sleep products.
In designing a new mattress, they wanted a new type foam that had none of the downsides of existing foams.
Memory foam is comfortable, but it traps too much heat, creating an uncomfortable sleeping experience.
Latex foam is bouncy and cool, but it doesn't last long and is not as pressure-relieving as memory foam.
So they formulated a new type of foam – Nolah AirFoam–that offers more pressure relief than memory foam, better durability than latex and does not trap heat.
Nolah Sleep sells the mattress on their official website. They are headquartered in Colorado, Denver.
---
Social Impact
Nolah does all their manufacturing in the United States, providing hundreds of much-needed local jobs.
Furthermore, they use safe and environmentally-sustainable materials in manufacturing the Nolah mattress. For example, the foam they use is CertiPUR-US certified.
Nolah Sleep also donates up to 7% of their profits to an ongoing wildlife conservation program in collaboration with Defenders of Wildlife, a non-profit conservation organization. For every mattress sold, Nolah adopts one wildlife animal.
When you buy a mattress on their site, you get to choose which animal to adopt. Popular choices include bald eagles, sea otters, and dolphins. You will be sent an official certificate of the adoption, too.   Tres cool!
---
Purchase Process
The mattress is available at their official website, nolahmattress.com.
You won't find the mattress anywhere else, not on Amazon and not in any retail stores.
I recommend reading up a bit on the science and research behind their mattress on the website and especially about the new foam. Also, go through the warranty statement as well as the return policy. We have detailed both in brief further below.
When you are ready to buy the mattress, the first step is to choose your preferred size. All the standard sizes from twin to California King are available.
After selecting your size, choose the animal you want to adopt. That's right – there are 20 animals to choose from including dolphin, wolf, blue whale, penguin and polar bear. By selecting an animal to sponsor, you will be helping conserve endangered American wildlife.
Once you choose your wildlife animal, complete your payment and wait for your mattress to arrive.
You can pay using your credit card or opt for an easy-pay installment option.
Nolah Sleep works with Klarna to let their customers pay in easy monthly installments from as low as $71 a month for a Queen size.
Here are the available sizes – no surprises here:
Twin size
Twin XL
Full size
Queen size
King size
California King
Latest Coupons & Discounts
---
Delivery Options
Nolah Sleep delivers mattresses free of charge to the continental USA. They don't ship to Alaska and Hawaii or any country outside the US.
Delivery takes 5 to 10 days since each mattress is made to order, which takes between 3 and five days.
You will receive a tracking number as soon as your mattress has left the warehouse.
The company does not offer special delivery options. They will not setup the mattress for you nor take away your old one.
So you might want to have someone around to help you get the mattress inside and unpack it.
---
Aesthetics and Styling
The Nolah mattress uses a warm, comfortable color palette.
The white cover contains beautiful arch patterns that extend one-quarter of the way down the sides of the mattress.
The other part of the mattress consists of a warm brown fabric with the same arch patterns and a golden Nolah logo on one end.
---
Technology
The flagship component of Nolah's mattress is their Nolah AirFoam material. This foam lacks the weaknesses of latex and memory foam mattresses and comes with new capabilities.
For example, Nolah AirFoam is contours around your body better than memory foam without trapping heat. This is because it lacks the viscoelastic components that make memory foam terrible at cooling.
AirFoam also relieves pressure points better than memory foam. Vulnerable areas like your neck, hips, shoulders and lower back are better-cradled by this soft foam, making the mattress great for side sleepers.
Another notable feature of AirFoam is its durability.
As shown in the video below, Nolah tests their mattress using a pounding test in which a heavy robotic arm pounds on the mattress 70 times per minute, simulating your body's pressure on the mattress over years of use.
By testing AirFoam this way, Nolah learned was AirFoam is more durable than even the best high-end memory foam.
After 100,000 cycles, it only lost 0.03 inches of thickness – while conventional memory foam loses 0.78 inches and premium memory foam loses 0.09 inches.
What this means to you: Nolah mattress will not sag or deform after a couple of years of use.
It's no wonder the company confidently provides a 15-year warranty on their mattress.
---
Construction

The Nolah Original mattress uses 3 foam layers to deliver a good balance between firm support and soft comfort.
The mattress is 10-inches thick and is made of three layers, as follows:
Comfort Layer (top): 2 inches of Nolah AirFoam–unlike memory foam, AirFoam does not trap as much heat. So as it contours around your body curves, it feels cool and comfortable. Its enhanced pressure relief capability gives it a nice plush feeling.
Support Layer (middle): 1 inch of High-Relilience foam – this is the same type of foam used in the popular Leesa mattress. It has latex-like capabilities regarding cooling and support. Because the top AirFoam layer is quite soft, this layer boosts support. It ensures you don't sink in too much and that your spine is properly aligned to avoid back problems. This layer also provides a nice latex-like bounce for a more pleasurable sleep experience.
Foundation Layer (bottom): 7 inches of high-density foam – the base layer provides compression support and holds up the entire mattress.
---
Cover
The Nolah Original's Tencel cover feels just as luxurious as the bed.
It consists of natural viscose fibers that are good at dissipating heat and wicking moisture away from the mattress.
The cover provides a cool and ever-fresh sleeping surface.
If you are sensitive to heat, this mattress is great. You won't need to use a cooling pad. I recommend it if you tend to sweat a lot at night. The moisture dries quickly without leaving any stale smells.
---
Smell/Off-gassing
Because the Nolah is compressed into a box for delivery, it will have a mild fresh foam smell. It the same way a new car's upholstery smells. But the smell will dissipate in a couple of nights.
The foams are CertiPUR-US certified so you can be sure they will not emit any dangerous gases or chemicals.
If the smell makes you uncomfortable, leave the mattress to air in an airy room for two days or so.
---
Sleeping Experience
This is what one customer had to say about the Nolah mattress.
"…my back pain has been reduced by probably 80% – I no longer stagger out of bed in the morning, and I can't wait to come home after traveling."
Many Nolah mattress owners have given the same kind of feedback re. how comfortable and supportive this mattress is.
---
Firmness
Because of the soft top / firm base combination, the Nolah mattress feels medium firm.
It feels soft enough to be plush and comfortable but still firm enough to provide adequate back support.  Good for the vast majority of people, in other words.
But everyone experiences different levels of firmness differently.
What you might feel as soft someone else might say is too firm.
That's why Noah offers a 120-night trial period.
---
Sinkage and Motion Transfer
Another advantage of the NolahAirFoam is its ability to minimize the transfer of disturbances / motion from one part of the mattress to the other.
So if you or your partner wakes up earlier or turns a lot at night, this mattress is a great choice.
Regarding sinkage, the mattress sinks just enough to provide contouring and pressure relief but not too much that it locks you in place like some memory foam mattresses do.
The only thing that would make this mattress better is a firmer edge support system to keep the edges from collapsing when you sit or lie down.
---
Hot / Cold Issues
With its soft, breathable cover, a cooling Nolah AirFoam layer and an Avena foam layer with latex-like cooling ability, the Nolah mattress sleeps cool.
Regardless of the weather outside or the amount of heat your body is generating, it maintains the same comfortable temperature.
Cooler temps help you fall asleep faster and stay asleep throughout the night.
---
Price
The Nolah mattress has an affordable price range with none of their mattress sizes going past the $1,000 mark.
The prices are comparable to those of other popular online mattresses like Leesa, Casper original, and Purple.
Nolah's latest coupon-discounted prices are shown below:
Installment Payment Option
As I mentioned before, there is the option of paying through installments via Klarna.
You can check whether you qualify on Nolah Sleep's website. You don't need to fill in any paperwork. Just provide some personal details, and you will get an instant response.
Coupons / Latest Deals
---
Warranty
The Nolah Original mattress is covered by a 15-year warranty.
This is significantly longer than the standard ten years offered by most online mattress companies.
Nolah will replace or repair the mattress at no cost to you if there is a defect that is not as a result of normal wear and tear.
---
Return Policy
You have 120 days, around four months, to test the mattress and decide whether it's right for your sleep and comfort needs.
Give the mattress at least one month to allow your body to get used to it.
If you still don't like it, then contact Nolah, and they will send someone to pick it up free of charge. You will get a full refund.
---
Shipping
Your Nolah mattress will be shipped FREE OF CHARGE to your address in 5 to 10 days.
Note that they don't ship to Alaska or Hawaii, nor to foreign countries.
---
Pros and Cons
Compared with other market-leading foam mattresses in the same price range such as Casper (original), Leesa, Ghostbed and Purple, Nolah offers the following advantages and disadvantages:
Pros
Superior pressure relief.
More durable than other foam mattresses.
Extra-long warranty and trial period.
Complaints
Only one comfort level.
Poor edge support.
---
You are looking for an affordable foam mattress that is comfortable, cool and supportive.
You or your partner are side sleepers. Nolah AirFoam is exceptionally good at providing pressure relief and is frequently listed on "Best Side Sleeper" guides on the internet.
You are a heavy/plus-sized sleeper: Nolah's unique AirFoam is more durable and less prone to permanent indentation.
You don't have special comfort/firmness preferences.
---
Save 35% + 2 Free Pillows On Nolah
Nolah has graciously provided a special saving up to $300 Off Mattresses + 2x Free AirFiber™ Pillows!
Just click the button below:
---
Affiliate Disclosure
Affiliate Disclosure: I may earn a small commission (at no cost to you) if you purchase a mattress after clicking a referral link or using a coupon code on this site. That said, all content and opinions on this site are my own and are NOT affected by these payments.
This site participates in the Amazon Services LLC Associates Program, an affiliate advertising program designed to provide a means for sites to earn advertising fees by advertising and linking to Amazon.com.
*Amazon and the Amazon logo are trademarks of Amazon.com, Inc, or its affiliates.
---