BedJet V3 Review
Summary
The BedJet V3 provides instant cooling and heating that surrounds your body using forced air and a ventilated sheet.  By far the best bed cooling/heating system we've tried.
Great choice for:  Anyone that experience hot flashes, night sweats – or hates cold feet 😉
Avoid if:  You don't like white noise machines; this system emits a soft fan sound that we find pleasant.
Price: $969 Queen Size Dual Zone
NOTE: We earn from qualifying purchases made via Amazon Associates and other affiliate programs. Learn more.
---
Does your sleeping partner prefer the bed warmer or cooler than you?
Problem solved.
In our opinion, the BedJet v3 wireless climate control system is the best mattress climate control system you can buy today.
The BedJet V3 provides a powerful flow of cool or hot air under your sheets that provides instant cooling or heating relief all over your body.
Using the dual-zone option, your partner can adjust their sleeping temperature and fan speed separately – ensuring you both get exactly the right level of comfort.
And you won't need to use a bedside lamp or your phone to adjust the temperature. You control the BedJet V3 using the included wireless remote with big backlit buttons and a bright color LCD display (a smartphone app is also available).
The BedJet v3 is the perfect solution for anyone suffering from hot flashes, night sweats or cold feet because you can adjust the temperature at any time – and relief is instantaneous.
That said, it's not perfect.
In this review we'll cover every aspect of the BedJet – including the things we don't like.
But if you don't want to waste time learning more here – check out the BedJet now (affiliate link):
---
How the BedJet Cools and Heats Your Bed
The BedJet functions kind of like an air conditioner/heating unit for your bed: it blows cool or warm air through your sheets and all over your body to keep it comfy.
The unit has three major components:
The base (fan) unit, the muscles, and the brain of the system. This is where room air is heated or cooled and forced into your bed with a fan. The air also passes through a filter to make sure you are not breathing in dust and germs.
The hose which carries heated/cooled air from the base unit into your sheets. It is attached to a nozzle that goes under your comforter and distributes air evenly.
The hose is connected to the AirComforter sheet, a two-layer ventilated sheet that disperses the air evenly across your body, keeping you cool or toasty.
The BedJet comes with wireless remote control you can use to set your climate preferences, control the degree of airflow and set the automatic timer.
You can also use a tablet or smartphone to control the airflow, temperature, and timer.
---
Best Features
The main advantage that a forced-air system like BedJet has over heating pads and electric blankets is that it warms and cools your body instantly – and all over.
There's no waiting for relief, which means that you don't need to pre-heat your bed before you sleep.
Just jump into bed, turn your BedJet on and choose your preset favorite setting.  BedJet warms or cools you in about 30 seconds.
In comparison, heating pads and blankets often take several minutes to warm up.
BedJet is also great if you sweat a lot in bed. It does a much better job keeping you dry compared to a water-cooled mattress pad.
The air blown from the BedJet instantly dries any sweat on your skin.
Another significant advantage is that the BedJet does not change the way your mattress feels like water-based cooling/heating systems do. There are no cables or tubes that poke into your back.
But our favorite feature, which we will discuss in more detail later, is the dual-zone option that lets couples control the temperature of their side of the bed individually. If you enjoy sleeping cool, but your spouse keeps cranking up the thermostat to compensate (like I do), then this feature is a lifesaver.  And it saves on energy bills, too.
You can further enhance your sleeping experience using BedJet's aromatherapy diffuser kit.
Another feature we appreciate is the Biorhythm function included with BedJet V2 and V3 that automatically selects a personalized comfort level for each hour of the night – to make sure you sleep soundly.
You can also activate the included temperature-change wake-up alarm in the morning, which is a more peaceful way to get your day started than an alarm clock.  You will wake up better-rested and more energized.
In short, the BedJet system is a very well-thought-out climate control system that offers many features that that improve your overall sleep experience. 
It works REALLY well.  Especially for quickly warming a cold bed.
Seriously: Eric and I haven't been able to find a fault with this system, so far.
Wireless Remote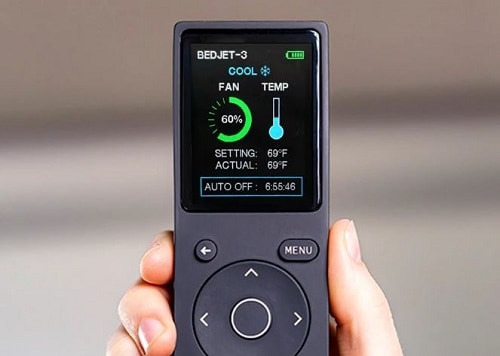 This is one area where BedJet blows every other heating/cooling system away:  their remote control is the bomb!
It is just so easy to use, with a bright colorful display and backlit buttons that make it super easy to dial your comfort in – even without your glasses.
Unlike heating pads that have an attached remote, BedJet includes a dedicated wireless remote, so you can place it anywhere you like.
The control is super-easy to use. There are just a few buttons, and they are clearly labeled and backlit.
The buttons control cooling/heating toggle, temperature settings, a timer, and fan speed. It also contains an option to mute the noise made by the remote each time you change any setting.
BedJet v3 comes with an updated remote control with a color display screen showing current settings such as temperature and fan speed.
The BedJet v3 also comes with a mobile app, but you probably won't want to use it.  The dedicated remote is much better.
Another major improvement in the BedJet v3 remote control is that you use one to remote control to adjust both sides of the bed.
So if you order a dual-zone BedJet, you'll receive just one remote control.  My husband and I sleep with ours between us on top of the comforter, so we can both reach it if needed.
Aromatherapy Kit
Calling this an aromatherapy a kit is a stretch. It's really just a clamp with some foam strips.
You add a few drops of essential oil (not included) onto a strip and secure it to the interior of the nozzle opening with the clamp.
It diffuses the oil scent as air flows from the nozzle.
Mobile App
To control your BedJet, you can use a tablet, your phone or the dedicated remote control.
To use a tablet or phone, you'll have to download the BedJet 3 smart remote app and connect it with the unit.  Both iOS and Android devices are supported.
The app duplicates all the features available on the wireless remote control. So you can stick with the remote control if you don't want to use your phone in bed – you won't miss out on any advanced settings or options.
You can select heating or cooling mode, set an auto-off timer, adjust Biorhythm settings, change bed temperature and more.
Note that the app works via Bluetooth. There's an option to set up WiFi connectivity, but this is used only for firmware updates. You can skip WiFi setup if you want.
Dual Zone Option for Couples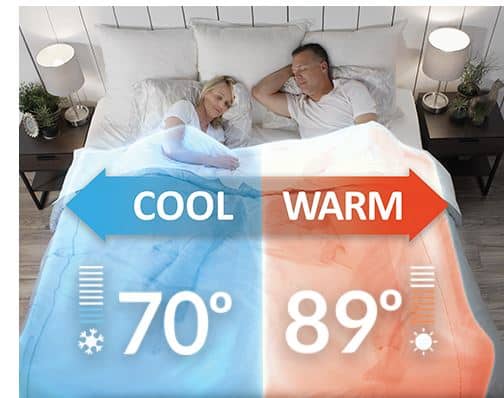 When sleeping, most couples have different comfort choices. One spouse will favor sleeping more relaxed or warmer than the other.
The BedJet DualZone option ensures you both sleep comfortably. You each can make your side of the mattress as cold or hot as you wish.
The Dual Zone option is only available for Queen and King sizes beds.
To use the dual-zone feature; you have to use the special dual-zone AirComforter sheet which comes with the system when you purchase the Dual Zone option. The sheet is physically separated into two air flow regions, one for each side of the mattress.
The kit includes two remote controls, two hoses and nozzles, and two fan units that fit under your bed.
Installation is really easy and only takes 5 minutes.  Just connect the hose to your sheet, plug in the fan unit, and connect it to your remote control.
Sleeping Experience
The BedJet is designed so you are always in control of your sleeping comfort.
I seriously love the feel of warm air circulating over my body at night. I now wear thinner PJs because of it.  The feeling of your feet warming on a cold night is seriously drowse-inducing.
That said, the options and settings make this system flexible for anyone.  If you don't like the sensation of air passing over your body, you can lower the fan speed to decrease airflow to a trickle.
The ability to adjust the temperature at night from my bed is also really nice. No more getting up to adjust the thermostat!
Note: BedJet advises that your room temperature should be lower than 79 degrees for the ultimate cooling experience. You are still going to cool when the room is hotter than that, just not as efficiently or quickly.
Optional Comforter
If you get the dual-zone system, then buy the optional comforter because it lets you set separate climate control zones on each side of the bed.
BedJet also recommends buying the comforter if you need extra cooling performance. The comforter circulates the cool air more efficiently and evenly than the sheet.
A slot is on each side of the comforter to secure an air nozzle.
If your spouse doesn't need heating and cooling, it is possible to leave their side as it is and hook up only your side of the mattress.
BedJet also sells comforters for full-size or twin beds.
---
Benefits
Easy to install and operate
Excellent cooling and heating performance — better than an electric blanket or a cooling/heating pad.
Perfect for anyone who gets hot flashes or night sweats.
Safe for pets
Lots of options and configurations.
Updated remote control with more functions – and easier to use.
Concerns
The sheet clips onto the nozzle aren't that useful.
You may need to tuck in your top sheet under the mattress to keep it from shifting.
The power cord is short.
The noise can be a nuisance when set on high or Turbo mode – unless you like white noise, in which case you might like it.  It never bothers me.
Reduced cooling performance in hot and humid conditions. A water-cooled system like Sleepme Dock Pro or OOLER is better suited to such conditions.
More on the Sound Level…
One of BedJet's competitors uses sound level when marketing against them.  We think that's unfair, to be honest.
Yes, it's true that when you set the unit on high or on Turbo mode, the BedJet emits a moderate low-pitched hum.
On most nights, however, you won't need to set it on high; and in that case, the sound level is almost imperceptible when the unit is stored under your bed.
At about 38 dB, the normal cooling level is just a little louder than a whisper. It is just as quiet when heating at 50%.
Even better, this system emits a pleasant soft white noise sound, not an annoying whine.
The highest heating and cooling settings are louder – about the same as a white sound machine.
You may find the sound relaxing if you love white noise, as we do.
---
Installation & Setup
Preparing the Base Unit
The base unit is the fan unit that goes under your bed. It's the one that heats/cools the air.
You'll need 6″ of vertical space under your bed for it to fit there. However, your side railing can be lower than that. You need only 3.5″ of clearance to the hose to get fitted.
Based on how low your side rail is, you may need to lift your bed to push the base unit beneath.
Note that BedJet 3 also works with adjustable beds.
Have a platform bed with no space underneath?
No problem, you can still use a BedJet. You just need to place the base unit adjacent to your bed.
Make sure that you place the base unit close to a power socket, though, because the power cord is a bit short (6ft).
If you can't get an outlet, you can plug it into any 15 amp appliance-rated extension cord – but do not plug anything else into the extension cord because this unit uses a lot of power when it heats.
If you'd rather not use an extension cord, BedJet sells an air hose extension. This lets you place the control unit closer to the power outlet, while making sure the hose reaches your bed.
A washable air filter comes with the base unit. Check the manual for directions regarding how to remove and wash it. It is a lifetime filter, so you won't need to buy a replacement.
Installing the Adaptive Mattress Mount
So the trickiest part of setting up the BedJet system is installing and securing the mattress hose mount, which holds the nozzle and the hose in place at night. The mount is especially helpful if you or your spouse shift or kick at night.
The mount is designed to operate with all sorts of mattresses. It has sections that let you make it low or as high as you wish to depend on how thick your mattress is.
Don't be concerned if the mount seems too low for your extra-tall mattress. The hose is stretchy and will easily make it.
You'll use a few clamps to hold the top sheet to your bed & to keep it from shifting at night.
You may set the mount on any side of the mattress. For even whole-body cooling or heating, the best place to position it is on the foot side right or the left corners depending on which side of the bed you sleep on.
Connecting the Air Hose and Nozzle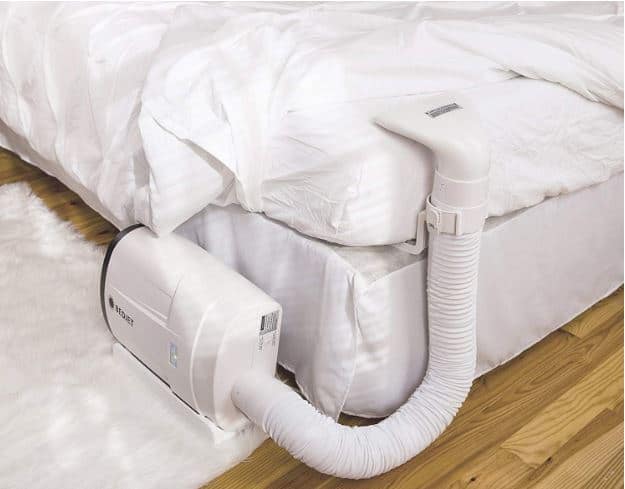 With the mount in place and the base unit under the bed, the rest of the setup is trouble-free.
Slide the air nozzle into the hose top end and position in properly. The nozzle is where the air will come out, so it needs to be flush with the top of your mattress.
Secure the hose onto the ring grip and place the nozzle flush in front of the mattress top.
Insert the opposite end of the hose into the bottom unit's air output.
And voila – you can use your BedJet.
Just plug it into an outlet and switch it on. If you're using the dual-zone system, make sure that the low-power dual-zone switch is ON.
---
Customer Feedback
BedJet V3 enjoys an average of 4-5 stars on all of the retail sites and review sites we could find, averaging a 4.5 out of 5.
A clear majority of reviewers gave it a 5-star score (85 percent of reports).
Most mention its excellent cooling and heating performance, the easy to use remote control, the flexible settings, and the excellent customer support.
Most of the complaints have to do with the noise on highest setting.
Almost zero complaints about the unit not working or failing.
---
Warranty and Maintenance
BedJet comes with a 2-year warranty. They guarantee to replace or repair it free of cost if components malfunction.
They also offer a 60-day trial period with free returns if you are not satisfied with the product.
Maintenance is a breeze. You only need to wash and remove the filter every three months.
And wash your sheets, of course 😉
---
BedJet v3 vs. Bedjet v2
The BedJet v3 comes with a few upgrades from the v2, which we reviewed here earlier. They include:
A full-function remote control with a color display screen.
You can now adjust temperature and fan speed on both sides of the bed using a single remote.
A smaller base/fan unit that fits under most beds. The BedJet v3 needs just 6" clearance compared to 7" of the v2.
A wider temperature range between 66°F and 104°F (compared to 72°F and 104°F in v2).
Optional Wi-Fi connectivity for firmware updates.
Other than that, BedJet v3 has the same great warming/cooling performance of v2.
Recent prices and deals on the BedJet site have made this system a lot more affordable, too.
---
Our Rating: 4.8 out of 5 stars
The BedJet v3 is a great addition to my bedroom that solved a long-standing quarrel with my husband, Eric.
We don't always use it – but when the summer heat comes on strong, or I'm hot flashing – our BedJet saves the day.
All versions of the BedJet will do a far better job cooling or heating you at night than mattress pads or electric blankets can.
We love the dual-zone cooling/heating for couples and the instant cooling and heating.  We also like the overall body effect – more so than water-based systems or pads that only heat or cool one side of your body.
The remote control and app are also very well-done and easy to use.
The only downside is that when you need maximum heating or cooling, the unit can get a bit loud.
At $300-$400 per sleeping zone, the BedJet V3 is not cheap, but if you have been struggling with an overly hot or cold bed or your partner likes a very different temperature than you do, then I highly recommend making the investment.
We can't imagine sleeping without ours, now.
---
Affiliate Disclosure
Affiliate Disclosure: I may earn a small commission (at no cost to you) if you purchase a mattress after clicking a referral link or using a coupon code on this site. That said, all content and opinions on this site are my own and are NOT affected by these payments.
This site participates in the Amazon Services LLC Associates Program, an affiliate advertising program designed to provide a means for sites to earn advertising fees by advertising and linking to Amazon.com.
*Amazon and the Amazon logo are trademarks of Amazon.com, Inc, or its affiliates.
---