NOTE: We earn from qualifying purchases made via Amazon Associates and other affiliate programs. Learn more.
---
Do you weigh 250 lbs or more & need a new mattress? 
You've come to the right place!
It can be challenging for bigger-bodied sleepers to find the right mattress.
Most you come across don't offer enough support, leaving you with restless nights and persistent back pain. They also don't last very long before they start sagging, bottoming-out and become impossible to sleep on.
If you are tired of buying a new mattress every 3-5 years and are looking for a bed that's more supportive and longer lasting, then this in-depth buying guide is for you.
Note: There are a lot of different views as to who is overweight, plus size or heavy. In this buying guide, we are referring to adults who are 250 lbs or heavier.
If you are not looking specifically for this kind of mattress, then take a look at my complete online mattress buying guide with all mattresses rated and ranked.
---
What's In This Buying Guide
This 15-minute buying guide reviews the best mattresses sold online designed to accommodate heavier/plus-sized individuals.
Use this table of contents to jump to the mattress or information you care most about.
---
Best 9 Mattresses for Heavier People
When it comes to getting a good night's sleep, everyone has different preferences and needs regardless of size.  That said, the larger you are the more difficult it is to find exactly what you need.
We've spent the better part of the past 4 years reviewing over 60 mattresses… and my 6'3″ big-bodied husband, Eric, has had to endure it all with me.
Based on our research and experience, these are our top mattress picks for large & plus-sized folks (all sold online):
Keep reading to learn more about these excellent products.
Mattress
Rating
Price
Description
Our Take
Comfort Choices
Warranty
In-Home Trial
Delivery
Avoid If
Great Choice If
Shop Now
Plushbeds Botanical Bliss

4.8
$1,199 – $2,198
Luxury organic latex mattress
The best-sleeping, highest-quality 100% latex mattress sold online. All-natural materials, lots of options, and a super-long warranty.
Med. Firm,
Medium
25 years
100 nights
2 weeks
you're bargain-shopping. Not cheap! Still costs far less than a comparable store-bought brand, though.
you are a no-compromise, environmentally-sensitive shopper. This one has it all.
Plushbeds
DreamCloud

4.7
$499 -$999
Luxury hybrid foam + pocket coil mattress
A 14-inch luxury hotel-quality mattress that costs half of store-bought equivalents.
Med Firm
Lifetime
365 nights
1-5 days
you need a Twin size (n/a) or prefer your mattress plush
you want a truly luxurious, slightly firmer mattress; or if you are heavier than avg.
Dreamcloud
Helix Plus

4.7
$608.40 - $1,358.40
A high-quality hybrid mattress. Custom-fit to sleep style & body.
A excellent memory foam hybrid mattress that is custom-fit to your unique sleeping habits, body and preferences.
Firm
10 years
100 nights
6-13 days
a cheap foam mattress will do
You are a heavy sleeper with back problems
HelixSleep
Purple Hybrid Premier

4.7
$2,199-$6,098
Luxury hybrid elastic polymer + foam + coil mattress
The new Purple adds comfort choices + a more supportive, thicker hybrid design.
Purple 2 - Firm
Purple 3 - Med. Firm
Purple 4 - Soft
10 years
100 nights
7-14 days
You are shopping on a budget
you're OK trying something new - their technology is truly unique
PurpleNew
Loom and Leaf

4.7
$1,095 - $2,595
Luxury memory foam mattress
A luxury organic memory foam mattress that easily matches the sleep experience of premium store brands, for far less money.
Firm
Med. Firm
15 years
120 nights
7-15 days
you need a soft mattress - this one's a bit firm
you want a luxurious organic foam mattress - without the high price
LoomAndLeaf
Leesa

4.6
$749-$1,399
High-quality foam mattress
The best one-size-fits-all memory foam mattress sold online. Sleeps noticeably better than Casper, for the same price.
Medium
10 years
100 nights
7-10 days
you prefer a softer or firmer feel than normal.
you want the best high quality memory foam mattress you can buy, at a bargain price
Leesa
Nectar

4.6
$359 - $899
High-quality foam mattress
Great mattress; best warranty in the biz.
Med. Firm
Lifetime
365 nights
3-5 days
you prefer a softer or firmer feel than normal.
you want to protect your investment.
Nectar
Big Fig

4.5
$1,099-$1,699
High-quality hybrid foam + coils
A durable, super-supportive mattress design for plus-sized sleepers.
Med. Firm
20 years
120 nights
7-14 days
you aren't a plus-sized person
you or your partner weighs >220 lbs & needs better support
BigFig
Winkbed

4.5
$849 - $1,749
luxury foam + spring hybrid mattress
Winkbeds is a luxury hybrid mattress available in 3 comfort levels and a Plus version for heavier sleepers.
Soft,
Luxury Firm,
Firm
Lifetime
120 nights
7-14 days
you are looking for a budget mattress.
you want a premium luxury mattress at half the price of store-bought equivalents
Winkbed
---
Best Innerspring Mattress for Heavy People: WinkBed PLUS
Innerspring mattresses are designed to take on extra weight without collapsing or sagging. The coils provide excellent support for heavier sleepers and ensure the mattress lasts long.
The WinkBed Plus is one of the best innerspring mattresses for larger sleepers. In fact, it was specially designed for them.
The Plus option is $200 more expensive than their standard beds.
But that's because it uses higher-density materials and has extra features to enhance support and contouring.
The PLUS upgrade is available as an additional comfort option to the three standard ones: soft, luxury firm and firm.
Construction
The WinkBed Plus uses a hybrid construction. That is, it contains both foam and innerspring.
It's fourteen and a half inches thick with 3 foam layers and a breathable cover.
The cover is made from Tencel – a cool and moisture-wicking plant-based material – and quilted with soft foam. This gives the mattress a nice plush feel at the top which is great for pressure relief and also prevents impressions.
Next is a 2.5" layer of latex foam. It makes a lot of sense to use latex foam. Latex can take more weight without bottoming out and is more responsive, which prevents a stuck-in-the-bed feeling and makes turning easier.
Latex foam is also great at cooling.
But WinkBeds went even further to ensure it stays cool by integrating an open-cell design.
They incorporated a zoned support design in the latex foam layer with seven distinct support zones that correspond to specific areas of the body. Each zone is designed to provide just the right amount of support and contouring to a specific area.
Below the latex foam, there is the mattress core consisting of a 3-zone wrapped coil layer surrounded by a high-density foam edge support system.
The wrapped coils reduce motion control, boost airflow for cooling and enhance overall support.
A poly foam base rounds out the main support section. It complements the spring layer in providing deep compression support.
Shipping, Warranty and In-home Trial
WinkBeds ships the Plus free of charge to the continental US. Unfortunately, they currently don't ship to Hawaii and Alaska.
From the time the mattress is delivered, you have 120 nights to test it out and decide if you want to keep it. Returns are free.
WinkBeds stands behind their mattress with a lifetime non-prorated warranty.
They say that the mattress sags less than 2% in 20 years (based on third-party simulation tests). So you can be sure the mattress will last for years.
Bottom Line
Designed specifically for heavier sleepers, the WinkBed Plus doesn't spare anything to provide the best sleeping experience for many, many years.
While more expensive than standard online mattresses, it's actually a serious bargain when you compare it to similar quality mattresses in stores.
---
Best Warranty: Nectar
One of the most important factors when shopping for a mattress for a heavier person is longevity. You need to be sure that the mattress will last for 8-10 years at the very least.
And a great indicator of longevity is the warranty coverage period.
Standard mattresses usually come with a 10-year warranty. The best mattresses for heavier people have longer warranties of at least 15-20 years.
A few like Nectar and Nest Bedding go even further, though, and offer lifetime guarantees.
For as long as you own the Wind  beds Plus mattress, you can get your money back if the mattress sags deeper than 1.5" or you notice any other manufacturing defect.
That's a pretty bold move for a memory foam mattress with no innersprings. But Winkbeds says the premium foams they use are designed to take on a lot of weight without sagging or losing support.
The recommended maximum weight limit for the Winkbeds Plus is 650 lbs (combined).
So despite being an all-foam mattress, it's perfect for heavier sleepers.
Construction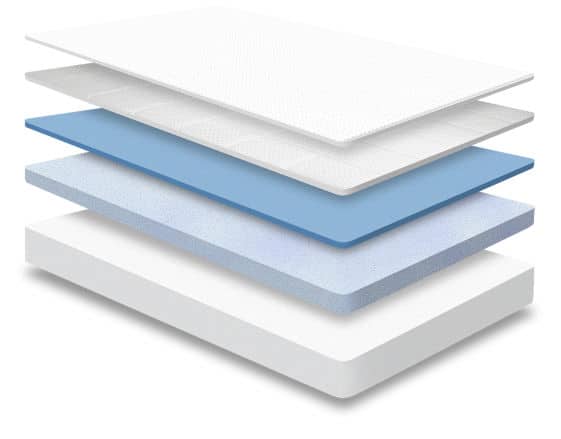 The Nectar mattress has four layers of high-density foam.
The first three are memory foam: quilted gel memory foam at the top for pressure relief and cooling, more gel memory foam underneath for even more cooling and a denser memory foam third layer for lumbar support.
The poly foam base is denser than in most other mattresses, allowing the Nectar mattress to provide more compression support and last longer.
All these layers are wrapped in a Tencel cover that promotes better air circulation and wicks away excess moisture.
Shipping, Warranty and In-home Trial
Shipping is free but only for the 48 states in the continental US. You can also pay extra to have the mattress brought inside the house and set up for you.
As for the in-home trial, you have 365 nights to test the mattress. That's way longer than almost any other mattress.
With a whole year to spare, you'll be able to see just how well the mattress holds up.
If you are impressed by the mattress and decide to keep it, you'll be covered against any manufacturer or material defects for as long as you own the mattress.
Bottom Line
If most of the memory foam mattresses you've tried last only a short time before they bottom out, I recommend Nectar. It is a memory foam mattress that's guaranteed to last as long as a spring mattress or even longer.
---
Best Value: Leesa
Mattresses for heavy people are typically not cheap.
Because of the higher quality of the materials that have to be used to provide extra support and the fact that most tend to be thicker than usual, many cost well over $1,200 for a queen size.
But you still have a few good options if you are on a budget.  Like the Leesa mattress, our favorite budget foam mattress sold online.
The Leesa mattress is affordable (costs less than $1,000) and can support an individual weight of up to 300 lbs. That's a 600 lb combined weight for couples.
Of course, it won't last as long as a heavy-duty innerspring mattress like a DreamCloud or a Big Fig.
But you can expect it to last around 8-10 years, which is how long most mattresses in this price range tend to last even when used by people of average weight.
Construction
Leesa uses a simple 3-layer foam construction.
At the top is a proprietary type of foam called LSA200 foam. It has many of the qualities of latex including minimal heat retention and responsiveness.
The top layer keeps the mattress cool and provides a nice bouncy feel you don't get in most non-latex foam mattresses.
LSA200 foam is also firmer than memory foam which is great for heavier sleepers. The mattress doesn't feel overly soft, and you get good lumbar support.
For contouring and pressure relief, they used memory foam in the second layer.
The base consists of 6" of high-density poly foam. It boosts overall support and keeps the mattress from cratering even after years of use.
The cover is made from a polyester blend. It's soft, durable and most importantly, breathable.
Shipping, Warranty and In-home Trial
Leesa ships the mattress free of charge to all 50 states via UPS Ground. If you want white glove delivery, you'll have to pay an extra $150, which includes removal of your old mattress or box spring.
The trial period and warranty are fairly standard at 100 nights and ten years respectively.
Bottom Line
If you are looking to save money on a good quality and long lasting mattress that will support your weight, the Leesa mattress is a great bargain.
---
When the original Purple mattress came out, it immediately stood out thanks to a unique material the company calls Hyper-Elastic Polymer.
The material is formed into a grid-like layer (Purple calls it their Smart Comfort Grid) that conforms to your body physique, weight and sleeping position.
They replicated that design in the new Purple mattress and added a pocket coil layer to boost support and longevity.
The new mattress is thicker, sturdier and definitely longer lasting.
It's perfect for heavier people who are looking for a mattress that will contour well to their body.
Construction
The main layer of the mattress is the Smart Comfort Grid which is made from the Hyper-Elastic Polymer materials.
The individual grids respond to the amount of pressure exerted on them.
Under areas like your shoulders the grids collapse and contour around your body. This prevents pressure points. Under areas like your back and lower body, the grids stay upright and provide support.
Whether you sleep on your back, stomach or side, the mattress feels comfortable. It hugs you in all the right places.
The core of the mattress consists of pocket coils that provide dynamic support and pressure relief. They also improve air flow in and out of the mattress which helps with cooling.
The coil layer is sandwiched at the top and bottom by thin layers of poly foam. They boost edge support and ensure you don't feel the coils digging into your body.
Breathable Plexus side panels add edge support while also maintaining good ventilation.
The mattress is wrapped in a stretchy and breathable cover made from polyester and spandex.
The Purple Hybrid Premier mattress comes in two comfort options:
Medium firm with a 3" Smart Comfort Grid
Plush soft with a 4" Smart Comfort Grid (most expensive)
Shipping, Warranty and In-home Trial
Shipping is free but only to the continental US. Alaska and Hawaii customers pay extra for freight.
The in-home trial and warranty are standard at 100 days and ten years respectively.
Bottom Line
When you have a larger figure, pressure relief is really important.
You are exerting more pressure on the mattress. Without a good quality mattress that contours well around your pressure points, aches and soreness are going to be an everyday thing.
The new Purple mattress is one of the best when it comes to pressure relief. It contours around your body while still providing excellent support.
---
One of the biggest challenges for plus-sized sleepers is finding a mattress that provides enough support.
Poor back support leads to restless nights, back pain and uncomfortable permanent impressions on the mattress.
The problem is worse for couples who are both plus size.
One way to tell whether a mattress has enough support is to check the thickness. Generally, the thicker it is, the more supportive it is.
10"-13" mattresses are great.
But 14-inch plus mattresses like the DreamCloud are better.
This mattress is especially good at providing all the support you need to sleep comfortably whether you sleep alone or with your partner.
In fact, according to the manufacturer, the Dreamcloud has no weight limit.
Construction
DreamCloud's construction begins with a luxury tufted cashmere/polyester cover that provides a soft and cool sleeping surface.
Next is a gel memory foam layer that creates the DreamCloud's signature plush feel that relieves pressure on your hips, shoulders, lower back and other pressure points.
A transition foam layer provides support, ensuring you sink just the right amount into the mattress.
The core of the mattress consists of an encased coil layer that moves with your body as you turn and provides anti-sag support.
A heavy duty gauge edge support system maximizes sleeping space for couples.
Shipping, Warranty and In-home Trial
Shipping is free within the continental US. They also ship to Alaska and Hawaii, but at a cost.
Like Nectar, Dreamcloud are very generous with their in-home trial and warranty.
You can test the mattress at home for a whole year and return it for free if you don't like it.
If you decide to keep it, they provide a lifetime warranty.
Bottom Line
Despite measuring 14 inches in thickness, the DreamCloud mattress is surprisingly inexpensive, priced from $599 to $1,099 for a Cal King.
It's definitely a bargain when you compare it to other tall mattresses in the market.
If you are looking for a thick luxurious mattress with outstanding support, I highly recommend DreamCloud.
---
Best For People Over 200lbs (But Under 300lbs): Loom & Leaf
With the exception of some heavy-duty mattresses like Nectar, foam mattresses are usually not recommended for plus size people.
They don't offer as much support as hybrid or innerspring mattresses and also don't last as long.
But some all-foam mattresses are actually pretty good for plus size sleepers. A good example is the Loom & Leaf.
Like the Leesa, the Loom & Leaf mattress has a max weight limit of 300 lbs per person, meaning it can take up to 600 lbs combined weight. The premium foams last for years without losing much height.
The mattress contours well around your body and have no trouble keeping you cool at night.
Construction
The Loom & Leaf mattress is 12" thick so don't worry that it will sink too much or sag quickly.
Beneath the quilted organic cotton cover is 4 layers that provide support, pressure relief, motion control and cooling.
The first layer consists of memory foam. Being memory foam, it is naturally good at pressure relief and contouring.
It also naturally sucks at cooling. To counter this problem, they added cooling gel and designed the layer with a convoluted design.
The convoluted design improves ventilation while the gel quickens heat dissipation out of the mattress.
A denser second layer of memory foam provides lumbar support and deep contouring.
It ensures that the mattress adapts to your body weight and sleeping position while also making sure you don't sink in too deep.
A 2" transition pad and a 6" base enhance overall support and ensure the mattress lasts long.
The mattress comes in two comfort levels: firm and relaxed firm. I recommend the latter for plus-sized buyers. Support is more robust, and it is more likely to last through the full warranty period.
Shipping, Warranty and In-home Trial
Loom & Leaf charges a $99 flat fee for delivery. But they offer complimentary white glove delivery and old mattress removal, which most other companies charge $150+ for.
The in-home trial is 180 days long, certainly long enough to decide if you like the mattress or not.
The warranty is 15 years long, which reflects the estimated amount of time that Loom & Leaf says the mattress will last.
Bottom Line
If you are looking for a luxury memory foam mattress that is ideal for your weight range, the Loom & Leaf is a good choice.
To get the most out of it, make sure you pair it with a strong foundation or platform.
---
Best For People Over 300lbs: Big Fig
Hybrid beds are a great choice for plus sized individuals, because they combine the pressure relief of foam with the support and longevity of coils.
Big Fig is one of the best hybrid mattresses designed specifically for heavier people.
It was designed specifically for plus size and overweight sleepers by a Father-Daughter team who noticed that most online mattresses are no good for anyone above average weight.
This mattress has everything you would want in a heavy-duty mattress.
The Big Fig is designed to deliver plenty of support (up to 500 lbs per person), provide premium contouring, stay cool no matter the weather and last up to 20 years.
Construction
The mattress is 13" thick, which is plenty enough even for plus size couples.
The cover is made from polyurethane, viscose and Lycra. It feels soft and stretchy.
It also contains ThermoGel technology, a moisture-activated cooling system that creates an always-cool sleeping surface.
The first layer of gel-infused, open-cell latex foam also helps dissipate heat away from the mattress.
The next three layers are polyurethane foam which provides lumbar support and ensures the mattress doesn't have too much give.
Then comes the core support layer consisting of tempered coils. They provide contouring and anti-sag support.
The number of coils depends on mattress size. The Queen has 1200 coils while the King sizes have 1600 coils. That's more than in standard inner coil mattresses.
The Big Fig mattress also comes with a dedicated edge support system to ensure you are comfortable whether you sleep at the center or near the edge.
The mattress is, of course, pricier than most other online mattresses. But considering the quality of materials, it's a bargain.
It comes with a free heavy-duty foundation that ensures you get the best out of the mattress.
Shipping, Warranty and In-Home Trial
You can have the mattress shipped free to your doorway, pay $199 for shipping and white glove delivery or pay $249 to have the mattress set up for you and the old one taken away.
They offer a 120-night in-home trial with absolutely free no-questions-asked returns. They'll even pick up the mattress themselves rather than have you send it back.
But if you like the mattress and decide to keep it, you'll enjoy warranty coverage for a long 20 years.
Bottom Line
If you are not sure which mattress is best for your needs, you can't go wrong with Big Fig. It's the first online mattress designed specifically for heavy people.
---
Best For Heavy People With Back Pain: Helix Plus
If you have back pain, you need a mattress that balances between robust support to keep your spine aligned and some contouring to relieve pressure off your back.
A memory foam mattress does this best. That's why we recommend the Helix Plus for heavy people with back pain.
It combines pressure-relieving memory foam with supportive pocket coils to provide a pain-free sleeping experience.
Construction
The 13" tall Helix Plus mattress is designed specifically for tall and heavy sleepers. It uses high density foams to boost support and prevent sagging.
The first layer is a 4lb memory foam that contours around your body and cushions pressure points.
Next is a layer of Helix Dynamic foam, a special type of foam with the best qualities of latex and foam.It contours to your body while providing support to keep you from sinking too deep into the mattress.
A transition layer of firm memory foam provides further compression support.
The core of the mattress consists of heavy duty wrapped coils with a reinforced perimeter to boost edge support.
Finally, a base layer of high-density foam provides overall support and durability.
These layers are wrapped in a breathable Tencel cover.
The feel of the Helix Plus mattress ranges between medium-firm and firm. Heavier sleepers over 300lbs will experience a medium-firm feel while those under 300lbs will experience a firm feel.
Shipping, Warranty and In-home Trial
The Helix Plus mattress is shipped free of charge to all US states. They also ship to Canada but at a $250 fee per mattress.
When you receive the mattress, you have 100 nights to make a return if you don't like it. Returns are free.
If you keep the mattress, you'll be covered by a 10-year non-prorated warranty.
Bottom Line
The Helix Plus mattress is the best choice for overweight and big-bodied sleepers with back problems.
---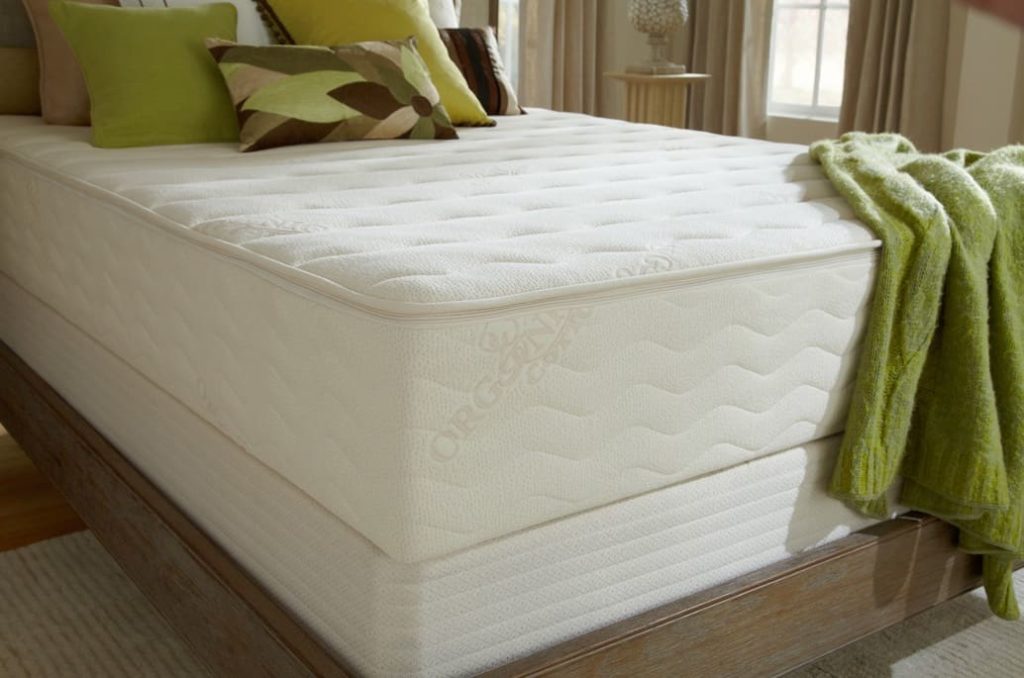 Latex foam is firmer, more responsive and cooler than memory foam. That's why many premium mattresses for heavier sleepers usually incorporate a layer of latex foam.
But what if you could have all the unspoiled goodness of latex, organic latex for that matter, without all the other foams mixed in?
That's what you get with the PlushBeds Botanical Bliss.
It is an eco-friendly organic latex mattress that can support your individual or combined (for couples) weight without a problem and is guaranteed to last for more than 20 years.
Construction
If you prefer organic or eco-friendly products, you are going to love the Botanical Bliss mattress. Every layer and material is 100% natural.
At the top is the organic cotton cover with a filling of natural Joma New Zealand wool underneath it. The two materials do a great job keeping the mattress cool and wicking away moisture.
Joma wool is naturally fire-retardant (hence no need for chemical retardants), resistant to dust mites and has anti-bacterial properties.
The core of the mattress consists of two sections: a Talalay latex layer and double layers of Dunlop latex. Both sections use 100% natural latex.
Talalay latex is the softer, cooler and more responsive type of latex. They've placed it at the top for pressure relief and responsiveness.
Dunlop latex is heavier and denser, which makes it the perfect choice for the support base.
There are several size and comfort options available. For plus size buyers, I recommend the 12" size option and the medium firm comfort option.
Shipping, Warranty and In-home Trial
Shipping is free within the contiguous US. Extra shipping fees will be added at checkout if you are buying from Hawaii or Alaska.
The trial period is for 100 nights, but you have to sleep on the mattress for at least 30 nights before returning it. Otherwise, you'll be charged a $99 return fee (returns are free between 30 and 100 days).
Instead of returning the mattress, you can also request a comfort exchange. They will ask you to remove the top latex layer and replace it with a new one they'll send you (involves a $145 refundable deposit).
The warranty is 25 years long so you can expect the mattress to last for at least two decades.
Bottom Line
The PlushBeds Botanical Bliss is perfect for those who are looking for an organic mattress with enough support for a plus size person.
It's a bit pricier than most online mattresses, but I think it's worth it. Buying an organic latex mattress at a store would most likely cost you double what you'll pay for the Botanical Bliss.
---
Features to Consider: Mattresses for Plus-Sized People
Thickness
Heavier sleepers put more pressure on the mattress. If the mattress is too thin, there will be too much sinkage and less support.
The mattress will also not last very long before it sags and becomes unusable. Generally, the thicker the mattress, the more supportive it is.
While average weight sleepers can get away with sleeping on 9" and even 7" mattresses, heavy individuals will find 12"+ mattresses to be more comfortable.
These mattresses can provide enough pressure relief without compromising support. They are also more durable with some able to last up to 20 years or more.
Firmness
A firmer mattress provides more support. It's better able to withstand the added pressure without developing permanent impressions.
When shopping for a new mattress, the firmest option available is usually the best. If you are a side sleeper or prefer a plusher mattress, go for the medium firm.
The best firmness range for heavy sleepers is 6-8 where ten is the firmest.
Foam Density
Foam density refers to the weight of the foam per cubic foot (PCF). Higher density means that the mattress contains more foam within the same area as a lower-density mattress.
As a result, high-density mattresses feel denser and more solid. They are heavier too. They provide better support for plus size persons, and they are more durable as well.
Generally, you want medium to high-density foams, especially in the support layers.
For poly foam, that's around 1.7 to 2.5 PCF. For memory foam, the ideal density is 5-6 or higher. For latex foam anywhere between 4.3-5.3 or higher is good.
Coil Gauge   
For innerspring mattresses, the coil gauge refers to the thickness of coils inside the mattress. The measurement is counterintuitive.
A higher gauge measurement, 14 and above, means the coils are thinner and softer. Thus the mattress feels plusher, and there's more sinkage.
A lower gauge measurement, 13 and lower, means the coils are thicker and harder. Thus the mattress feels firmer and provides more support.
When buying an innerspring mattress for a heavy sleeper, look for those with low coil gauges (at most 13). They not only provide more support, but they also last longer.
Note: You'll usually not see the coil gauge and foam density specifications on most manufacturers' websites. You have to call customer support to get the specific figures.
Edge Support
A mattress with good edge support maximizes the usable mattress surface. You can sleep comfortably near the edge. This is especially helpful for couples.
Edge support is also important when you sit on the side of the bed. It prevents the mattress from collapsing and wearing out too soon.
Latex, hybrid and innerspring mattresses naturally have robust edges.
Certain mattresses such as the WinkBed Plus have dedicated edge support systems. This is usually a piece of high-density foam inserted along the edges of the mattress.
Cooling
Overheating and sweating are major issues for heavy sleepers. They have more body mass and thus produce more body heat.
Memory foam and cheap poly foam mattresses trap a lot of this heat inside the mattress, causing overheating and sweating.
So if you opt for a memory foam mattress, make sure it has additional cooling techniques such as gel, perforated foam, phase change materials (PCMs) and a breathable cover.
But if you are very heat-sensitive and tend to overheat easily, I recommend a hybrid, latex or innerspring mattress.
These mattresses have better ventilation and don't retain as much body heat.
Durability
The longevity of a mattress depends on the type of foams used, foam density, thickness and the quality of the foundation it is used on.
Typical foam mattresses (memory foam + poly foam) last around 8-10 years. Latex mattresses last about 10-15 years. Hybrid mattresses (foam + pocket coils) can last up to 20 years.
Innerspring mattresses last about 5-10 years depending on the coil gauge.
To make sure the mattress lasts as long as possible, make sure you use it on a good quality platform or foundation.
Weight Limit
Always check the weight limit of a mattress before you buy it. It's usually found in the FAQs section. You can also contact customer support to get an accurate figure.
Most mattresses today can support individual weights of up to 300lbs. Queen and King size mattresses can support a combined weight of 600lbs. Some innerspring and latex mattresses have an individual weight limit of 350lbs and a combined limit of 700lbs.
Note that exceeding the weight limit of a mattress can void the warranty and wear out the mattress faster.
Warranty
The warranty coverage period is an important indicator of the quality and expected longevity of the mattress.
Ten years is the standard for most online mattresses, especially memory foam mattresses.
If you want a longer lasting mattress, look for those with 15 years, 20 years, 25 years or lifetime warranties.
It's important to check the specifics of what exactly the warranty covers.
Most companies cover sagging beyond 1"-1.5" as well as other defects like a ripped seam or a damaged zipper.
Also, check whether the warranty is non-prorated or prorated.
Non-prorated means the company covers all costs associated with repairing or replacing the mattress. You usually only have to cover transportations costs (some companies will refund you the shipping costs if they determine there is a defect).
Prorated means you pay a percentage of the original purchase price on top of transportation costs. The percentage you pay is determined by how long you've had the mattress.
For instance, if you've had it for five years, you might pay 20% of the original price. If it's ten years, you might pay 50%. In some cases, you can pay as much as 90% of the original price if you've had the mattress for many years.
Prorated warranties often involve replacing the mattress with a new one rather than repairing it.
---
What Type of Mattress Should a Heavy Person Buy?
This depends on several factors including your sleeping position, comfort preferences and whether you sleep solo or as a couple.
The Five Main Types of Mattress Compared (for Plus-Sized Sleepers)
Innerspring
These are mattresses that consist mainly of coils, usually pocket coils. A single layer of foam provides a cushion against the coils. They usually have a poly foam base.
Innerspring mattresses are great for heavy people. They provide more support and feel more responsive.
They also have good ventilation which allows dissipation of excess body heat and perspiration.
On the downside, they tend to be more expensive than foam mattresses with an average price range of $800-$1,200 (for online mattresses, not store-bought ones which are much more expensive).
They also don't last as long as hybrid mattresses with an average lifespan of 6-10 years.
Hybrid
Hybrid mattresses have a coil layer like innerspring mattresses, but they contain more foam (2 layers or more). Essentially, they are a mix of innerspring and foam mattresses.
They are usually the best for heavy people since they provide good pressure relief thanks to the foam layers as well as adequate support thanks to the coils.
They also last longer than either innerspring or foam mattresses (15-20 years or longer).
They are good at staying cool, reducing motion transfer and responsiveness.
But they are usually more expensive than even innerspring mattresses. A good Queen size hybrid mattress will cost you $1,400-$2,000.
Memory Foam
Memory foam mattresses are known for their plush feel and great pressure relief, making them ideal for side sleepers.
They usually contain a layer of dense poly foam to boost support for back and stomach sleepers.
The main issue with memory foam mattresses is heating. Companies use cooling methods like open-cell (perforated) foam and gel to improve heat dissipation.
Memory foam mattresses are quite affordable with most online brands going for $900-$1,500 for a Queen size.
They last about 8-10 years.
Latex Foam
Latex foam mattresses use either the soft Talalay latex or the denser Dunlop latex. Some incorporate both for a balanced feel between soft pressure relief and firm support.
Latex foam mattresses don't retain as much heat compared to memory foam. They are also more responsive and tend to last longer.
They are however more expensive than memory foam mattresses with prices ranging between $1,200 and $2,000 for a Queen size.
Airbed
An airbed consists of air chambers plus a layer of memory foam or poly foam. They are good for heavy sleepers since you can adjust the firmness to your liking and them last longer.
But they are expensive with the best quality brands starting at $2,000.
What's Your Sleep Position?
Your sleeping position determines how comfortable you feel on a certain mattress.
For back sleepers, you need a mattress that provides excellent lumbar support to keep your spine well aligned. Firmer mattresses (7-8 out of 10) are the best.
Stomach sleepers also need extra support to stay properly aligned. They'll feel more comfortable in a firm mattress (7-8 out of 10).
Side sleepers need extra contouring to avoid pressure points under their hips and shoulders. A medium-firm mattress (5-7 out of 10) is best.
Side sleepers tend to be more sensitive to even a little bit of sagging so make sure you get a durable mattress.
If you sleep in all positions, a medium-firm to firm mattress (6-8 out of 10) is ideal.
Couple or Solo?
If you sleep alone, just get a mattress that best meets your comfort needs and preferences.
For couples, the best type of mattress will depend on your individual weights.
If both of you weigh more than 230lbs, get a thick, firm and durable mattress. If only one of you weighs more than 230lbs, get a dual comfort or split mattress where one side is firmer than the other.
---
Mattress-Buying Checklist for Heavy/Plus-Sized People
To make things easier when you go shopping for a new mattress, here's a quick checklist you can use to compare among different mattresses.
Mattress thickness – thicker is better (12"-15")
Mattress firmness – medium-firm to the firm (6-8 out of 10)
Foam density – higher density mattresses provide more support and last longer
Strong edge support
Excellent cooling ability
Durability – at least 8-10 years. 15-25 years is best.
Sleeping position – side, back, stomach or multi-position sleeper?
Split option? – ideal for couples where only one person is overweight
Warranty coverage period and specifics – sagging depth covered and fees when making a claim
Prorated or non-prorated warranty?
---
Where to Buy: Online or Retail?
Today, there are many benefits to buying a plus-sized mattress online.
There's a lot of variety online today, so you can easily compare among different brands and types of mattresses – and the prices are far lower than what you'll find in a retail store.
Many online mattress companies offer very friendly terms of sale including free shipping, 100+ nights of in-home trial and free returns.
---
FAQs
What mattress firmness is best for heavy sleepers?
Firm mattresses are the best for heavy sleepers. They provide the best support and duality. A medium firm or soft mattress will be too soft, causing you to bottom out and hurt your back.
What's the weight limit of mattresses?
It depends on the quality and construction of the mattress. Foam mattresses like Loom & Leaf typically have a weight limit of 300lbs per person.
Hybrid and latex mattresses often have a limit of around 500lbs per person.
So no matter your weight, there's a mattress that can provide the right amount of support.
Can a heavy sleeper sleep on a bed in a box?
Yes, they certainly can as long as you don't exceed the weight limit of the mattress and you have a sturdy frame or foundation.
Can being overweight cause sleep apnea?
Yes, it can. In fact, excess body weight is the biggest risk factor in the development of sleep apnea.
If you have sleep apnea, you need a firm and supportive mattress that keeps your head and neck at the right position. You should also consider buying an adjustable base.
Which is the best mattress for an overweight couple?
For overweight couples, we recommend a latex or hybrid pocket coil mattress. These mattresses can hold over 700lbs of combined weight without sagging.
Some good options include Purple Hybrid Premier, Big Fig and Helix Plus.
---
Affiliate Disclosure
Affiliate Disclosure: I may earn a small commission (at no cost to you) if you purchase a mattress after clicking a referral link or using a coupon code on this site. That said, all content and opinions on this site are my own and are NOT affected by these payments.
This site participates in the Amazon Services LLC Associates Program, an affiliate advertising program designed to provide a means for sites to earn advertising fees by advertising and linking to Amazon.com.
*Amazon and the Amazon logo are trademarks of Amazon.com, Inc, or its affiliates.
---