Nest Sparrow Signature Hybrid Mattress Review
Summary
A premium multi-layered hybrid mattress that sleeps cool and comes in 3 firmness choices plus split-bed configurations. As good as Tempurpedic – for far less coin.
Great Choice for: Tempurpedic shoppers who'd like to save a grand or two.
Avoid if: you just need a cheap foam mattress.
NOTE: We earn from qualifying purchases made via Amazon Associates and other affiliate programs. Learn more.
---
According to Nest, it is also their most popular mattress sold today.
Unlike the one-size-fits-all products from Casper, Tuft-and-Needle, Leesa, the Nest Sparrow Signature Hybrid is a premium hybrid foam mattress on-par with high-quality hybrid mattresses from Tempurpedic that cost $1,000 to $2,000 more.
As such, the Sparrow Signature Hybrid is made of high-quality materials (see below) that adhere to the organic/green manufacturing principles that all Nest Bedding products use.
---
What's In This Mattress Review
This page is a 10-minute read.
Use this table of contents to jump to the features you care about most.
To return here, click  ↑ Table of Contents
---
About Nest Bedding
Established in 2011, San Francisco-based Nest Bedding is known for their wide range of natural and organic certified bedding, all made in America.
They are best known for their organic/natural mattresses, although they also carry organic sheets, pillows, comforters and blankets.
Nest produces some of the highest-quality and most affordable certified organic mattresses in the United States. This is despite being a relatively small company in the mattress market.
If you ask any Nest bedding customer, they will likely tell you about Nest's excellent customer service, too.
To know more, check out our in-depth nest bedding review,  nest Sparrow hybrid review, and nest love bed review.
---
Social Impact
Nest Bedding's most important accomplishment is to offer their customers a range of great, certified organic bedding options at an affordable cost.
All Nest Bedding products adhere to stringent safety & material standards, from the farm fields to the packing, to ensure they are natural, healthy and comfortable.
Nest Bedding is not just about green bedding, however. They are also involved in community development. Currently, the company is collaborating with Carter's Kids to help build parks in neighborhoods across America.
---
Purchase Process
Nest Bedding has engineered their online buying experience to make it simple, quick and efficient.
The best place to buy the Sparrow Signature Hybrid mattress is the company's main website. You can also find the mattress on Amazon and a few other online retailers.
After you place your order, the mattress will be delivered to your doorstep in less than 7 days.
Delivery is free of charge within the United States.
If you live in California, you can visit one of their four showrooms:
San Francisco
367 9th St, San Francisco, CA
Mountain View
1049 El Monte Ave, Mountain View, CA
Studio City/Los Angeles
12319 Ventura Blvd., Studio City, CA
Albany/Berkley
835 San Pablo Ave., Albany, CA
There are several versions of the Sparrow mattress available for sale, varying with firmness and size.
In terms of comfort level, there is only one choice:  a flippable medium + luxury firm mattress.
---
Price
For a mattress-in-a-box, the Sparrow Signature Hybrid is a premium product, to be sure. Prices for the Sparrow Signature Hybrid range between $919 and $1,839.
I think the best way to view the Sparrow Signature Hybrid is to compare it against Tempurpedic or another big brand mattress.
Compared with them, the Sparrow is a bargain. It performs at least as well, for $1,000 to $2,000 less.
Here is the full price list before discounts are applied.
Shipping and delivery are free within the US.
You can also get a discount through the various promotion codes provided by Nest Bedding's partners.
If you have good credit, you can also take advantage of financing provided by the company. This is not something you will get with most other mattress brands. The financing works by letting you pay for the mattress in easy monthly installments over a 3, 6 or 12 month period.
Latest Coupons and Discounts
---
Shipping
Within the United States, the Sparrow Signature Hybrid is shipped free of charge via the UPS or FedEx.
The mattress usually arrives within seven days of ordering it. Fees may apply for White Glove delivery and for shipping outside the United States.
Contact Nest Bedding for more information and a quote.
---
Delivery
For basic delivery, the mattress will arrive at your doorstep in 2-3 business days after ordering. There are no shipping charges involved as long as you are in the United States.
You can keep track of your mattress shipment online using a tracking number.
If you need help with unpacking and setup of the mattress, use their white glove delivery service; or, if you need your mattress to ship faster, there is an expedited shipping option. Contact their customer care department for details and fees.
---
Unboxing and Setup
The Sparrow comes compressed in a box, but unlike other mattresses-in-a-box, it is not folded in order to retain its integrity.
Once out of the box, it quickly expands to its normal size.
For setting up the bed, the Sparrow does not come with a boxspring. But honestly you don't need one. Any of the following options will work:
a platform bed, which you can purchase from Nest
an existing rigid foundation
an adjustable base. Nest sells a few high-end options on their site.
---
Aesthetics/Styling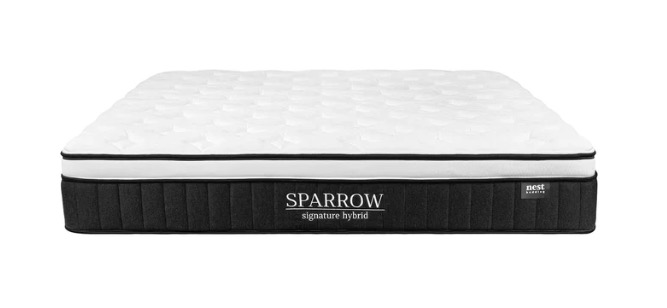 The stylish design of the Sparrow Signature Hybrid mattress is revealed once you unpack it from its rather nondescript box.
The zipped quilted cover is the most eye-catching part of the mattress. It has a beautiful classic style that shouts comfort.
On the sides, the mattress has a more modern look, consisting of a quilted pattern.
Overall, you get the feeling this is a very high quality product.  There is a serious attention to detail.
---
Construction
The type and placement of foam in a mattress is fundamental to how it functions and how long it lasts.
The Sparrow Signature uses a unique combination of foam layers to create the right mattress for each kind of sleeper.
The medium/firm Sparrow is topped with a thick quilted phase-change cover containing gel memory foam to ensure a cool sleeping experience.
Beneath the top layer is a layer of Energex Temperature-Responsive foam.
Below that is a firmer foam layer made of SmartFlow Foam.
At the bottom is a series of pocketed 16-gauge coils wrapped in a reinforced edge that all sits on top of a layer of base support foam.
The Sparrow medium is a good choice for side- and back-sleepers or people who regularly alternate positions, like me. Honestly, the vast majority of people should be happy with this one.
The firmer option is is the best choice for heavier people and for people who sleep on their stomachs. It's also the right choice for people who prefer Japanese-style flat beds & futons.
All foams used in Sparrow mattresses are CertiPUR certified. This ensures their safety.
---
Cover
Nest really did a great job on the cover of the Sparrow Signature Hybrid. It smacks of premium quality.
Once you have gotten past the beautiful floral handiwork on the quilted fabric, you have to lie down on the mattress to experience just how soft the cover is.
Beneath the top fabric, there is a layer of super soft foam (soft and medium only).
Another important role played by a mattress cover is heat dissipation. I found the Sparrow Signature Hybrid excellent at dissipating heat in my New Orleans home. I tested it in the early Fall, which is pretty dang hot and humid down here.
Nest Bedding does not offer alternative materials or designs other than the ones described here.
---
Smell/Off Gassing
Nest Bedding insists that their mattresses lack any chemical smell.
True to form, there is no new mattress smell once the Sparrow is unpacked.
Some mattresses also experience what is referred to as off-gassing (also called outgassing). For foam mattresses, this occurs when VOCs or volatile organic compounds are emitted from foam materials.
Though the Sparrow Signature Hybrid is technically not an organic mattress, it nevertheless undergoes extensive safety checks and measures to ensure its safety.
Because all foam used in the Sparrow is CertiPUR certified, you can be sure that no off gassing will occur throughout the life of the product.
According to Nest, there are no VOCs, (volatile organic compounds) emitted by the foams used in the Sparrow. The US Environment Protection Agency (EPA) says that VOCs can cause various health problems, including cancer.
---
Sleeping Experience
The sleeping experience is of course the most important feature of any mattress.
Sparrow's predecessor, the Love & Sleep Bed is a great mattress with perhaps one or two drawbacks.
According to many reviews online, both the medium and the firm were a bit too firm, while the soft was a bit lacking when it came to support.
The Sparrow seems to have corrected these problems
I have to say, the medium side achieves that delicate balance between firmness and softness.
While you will certainly feel the soft cover, the foam below holds firm. I experienced a mattress that is really comfy but firm enough to give me a great feeling of support.  No pain points noted (I sleep on my back and side, mainly).
Another important part of the sleeping experience is the cooling. I found that my body heat was transferred away from the surface of the mattress. Most nights I remained cool and comfy.
---
Firmness
My husband and I prefer the Sparrow medium.
Due to the gel foam used in the cover, this mattress is a bit softer on top than other mattresses of comparable firmness, but plenty supportive for both of us.
---
Sinkage
Sinkage refers to how much the mattress sinks under various conditions. The sinkage of a mattress is an important part of the overall sleeping experience. If it sinks too much, you feel as if you are stuck in mud.
In my testing, I found the Sparrow medium has a little more sinkage than comparable medium firm mattresses. This is probably due to the soft quilted/foam cover they use.
That said, I did not find the sinkage inhibited my movement in any way. It's nothing like that awful "body impression" issue you have to fight with cheap memory foam mattresses.
---
Motion Transfer
Motion transfer is another important aspect of a mattress, especially if you share a bed with someone.
There is nothing worse than being rudely woken up anytime your partner jerks, turns or gets out of bed. And my husband is really bad about that.
I found the Sparrow medium to be as good as any online mattress I've tried at inhibiting motion transfer. I never noticed my husband's twitching around, whether I was awake or asleep.
---
Hot/Cold Issues
If you need a mattress that keeps your body temperature regulated and even, the Sparrow Signature Hybrid is a great choice.
The combination of a breathable and convoluted foam throughout the construction really helped to keep my bed temperature cool and even.
I did not experience any hot or cold pockets, so I didn't need a mattress pad.
---
Warranty
The Sparrow mattress comes with an exceptional Lifetime warranty and a Lifetime comfort guarantee.
This warranty extends only to the original buyer for the length of time he or she owns the mattress. This means that transferring ownership to someone else voids the warranty.
The warranty covers sagging beyond one inch and unraveling of the seams.
It is important to note that poor care of your mattress may lead to voiding of the warranty. The company specifies that the mattress must be placed on a rigid, firm and smooth surface like a box spring or a slated platform.
Certain defects such as natural fading of the material, blemishes, soiling and burns are not covered by the warranty.
---
365-Night Trial
Nest Bedding has one of the best return policies you will find.
You are asked to spend a minimum of 30 days with your mattress to break it in and to judge its suitability. You cannot make a return before the thirty days are over.
The in-home trial period is 365 nights. This gives you more than enough time to be sure whether you have bought the right mattress.
Buying the Sparrow mattress is essentially a no-risk investment. If you find the mattress is too hard, too soft or just not to your liking, simply return it.
If you live near any of their stores in CA, the mattress will be picked up from your home. If you are further away, then the company will find a charity for you to donate the mattress to.
You do have to show proof of donation to receive your refund.
---
Pros/Cons
Pros
The same quality as Tempurpedic hybrids – but a whole lot cheaper.
No off-gassing or new mattress smell
Premium materials and design.
Three firmness choices + split-bed options
Lifetime warranty + comfort guarantee
1-year in-home trial
Financing is available
Complaints
For people who love the cradling feel of memory foam, the foam used in the Sparrow mattress may not be what you are looking for.
For those who want a fully certified organic mattress, this is not it.
---
The Sparrow Signature Hybrid Mattress is Perfect For You If…
You care about a premium hybrid mattress that is superior in quality, uses non-toxic components, is guaranteed to last for more than a decade and comes with great customer service.
You need a softer or firmer mattress than the one-size-fits-all brands like Casper, Bear and Leesa offer.
The Sparrow firm is best for heavier people who require a mattress that can withstand pressure without losing support or experiencing too much sinkage. You may also find this mattress ideal if you sleep on your stomach or move around a lot at night.
The Sparrow medium is ideal for 90% of us. If you are of average weight and are a side or back sleeper this is what you need.
---
Conclusion
The Sparrow Signature Hybrid is a quality, premium online mattress that performs as well or better than high-end brands like Tempurpedic. And it costs a LOT less.
For example, a queen-size Tempur Pro Hybrid costs $3,549, but the Sparrow Signature Hybrid costs $1,539.
If you're looking for a step-up from the bland one-size-fits-all mattresses that most bed-in-a-box companies offer, then the Sparrow Signature Hybrid might just be your ticket.
It's hard to go wrong with a 1-year in home trial and a Lifetime warranty, too.
---
Where To Get The Best Deal
---
Affiliate Disclosure
Affiliate Disclosure: I may earn a small commission (at no cost to you) if you purchase a mattress after clicking a referral link or using a coupon code on this site. That said, all content and opinions on this site are my own and are NOT affected by these payments.
This site participates in the Amazon Services LLC Associates Program, an affiliate advertising program designed to provide a means for sites to earn advertising fees by advertising and linking to Amazon.com.
*Amazon and the Amazon logo are trademarks of Amazon.com, Inc, or its affiliates.
---