Amore Beds Mattress Review
Summary
A unique hybrid mattress with great support, above-average temperature control and a crazy low price (for what you get).
Great Choice for: Anyone who likes an extra-supportive mattress and wants to save money. Big-bodied folks will love this one.
Avoid if: You want a softer, more traditional memory foam hug.
Price: $599 to $1,199
NOTE: We earn from qualifying purchases made via Amazon Associates and other affiliate programs. Learn more.
---
Amore is the only mattress sold online that uses graphite-infused memory foam, organic wool and a copper-ion cover in its construction.
These materials provide "therapeutic and health benefits", according to the company.
In fact, Amore calls their product a 'Luxury Therapeutic Mattress'.
I don't know about all of that, but I can tell you that the Amore is a heck of a good deal for a hybrid mattress that combines a top, memory foam and pocketed coils.
With that in mind, I set out to determine just how good of a value the Amore Mattress is.
As with every mattress we review, we'll focus this 10-minute deep-dive mostly on how well it sleeps and avoid the gimmicky parts.
That said, we will also take a look at the merit of Amore's claims about using graphite and copper – because, well, we just like to know the truth 😉
---
What's In This Mattress Review
This 10-minute in-depth review contains a lot of information.
Use this table of contents to skip to the features you care most about.
To return to this outline, touch ↑ Table of Contents.
---
About Amore
Founded in 2015, Amore Beds is one of the newer mattress brands sold exclusively online.
Amore Beds is a family-owned Chicago startup founded by Todd Summerville.
The company uses the same direct-to-home retail model used by Saatva, Lull and other leading direct-to-customer mattress companies.
Amore's experienced engineering team has decades of experience in the mattress industry.
By combining their passion for good sleep and a commitment to innovation, they've created a really unique hybrid mattress that, in our opinion, provides a nice sleeping experience at a very affordable price point.
The closest competitors to the Amore are Leesa's new Sapira and Nest's new Alexander Hybrid, both of which cost more.
---
Social Impact
Amore Beds' goals reach beyond their core mission of making and selling quality mattresses.
Their vision also involves making a positive impact on the society around them.
This begins by using safe environmental-friendly materials in the manufacturing process.
Furthermore, all manufacturing is done in the United States, which supports local jobs.
Occasionally, Amore Beds has been involved in various charity efforts. Through these initiatives, they help provide mattresses to less fortunate families and individuals.
One of their initiatives involves giving away returned mattresses to the Salvation Army.
---
Price
The Amore Hybrid is one of the least expensive mattresses of this quality you will find online – it's on par with memory foam mattresses Leesa, Tuft and Needle and Casper – but it contains more expensive materials and technology than they do.
Amore has graciously offered all SleepDelivered visitors 30% Off .   
Click here or on the price below to claim this offer.  
Listed below is Amore Bed's price after the 20% discount:
Coupons & Discounts
Amore has graciously offered all SleepDelivered visitors 20% Off + Free Pillows on any mattress purchase.   
Click here or on the price above to claim this offer.  
Financing Options
If you want to finance your purchase, Amore Beds has partnered with Bread Financing to provide qualifying customers with easy financing options.
You can choose from 3, 6 or 12 month repayment periods.
---
Purchase Process
The Amore mattress is available for sale only on the company's official website.
The website presents you with four choices to configure your mattress, as follows:
Choice 1:  Select Mattress Size
First you select the size, of which there are six:
Twin size
Twin XL
Full size
Queen size
King size
California King
After you choose your size, you need to select your preferred firmness level. (Note: for Queen size and larger, this will affect your price.)
Choice 2:  Select from Three Comfort Levels
There are three firmness options available: Amore Soft, Amore Medium and Amore Firm.
Back and stomach sleepers will probably find the medium or firm mattress to be ideal.
For side sleepers, the soft is better.
If you are confused about which firmness level to pick, the website offers a quick survey where you answer a few questions to determine your ideal choice.
For most people, we think the medium mattress is just right.
Choice 3:  Split Mattress?
You can also choose whether to get a customized split mattress ($100 upcharge). This is a great feature for couples with different comfort level preferences. One side of the mattress can be firm while the other is soft.
Choice 4:  Copper-Infused Cover?
For an additional $50, you can also get a copper-infused fabric cover. If you do not check this box, you will get just the normal organic cotton fabric cover.
Don't worry about picking the wrong mattress and being forced to stick with it. The company has a generous return policy which we are going to discuss later on.
Note: you can also find the mattress on Amazon, although you will not enjoy the same benefits you will get by buying from the official website.
---
Delivery & Setup
Each Amore mattress is made at the factory after you order it, a process that takes 2 to 3 business days before it is ready to ship. Delivery to your doorstep then takes around 2 to 4 business days.
From the time you order online, expect your mattress to arrive in 4-7 business days.
The mattress arrives in a compact box measuring 44 x 17 x 17 inches that weighs between 55 and 155 pounds, depending on the mattress size and comfort level ordered.
If you order a Queen, King or California King, consider having a friend or family member around to give you a hand.
Note that the company does not offer optional white-glove delivery or setup service.
---
Aesthetics and Styling
The Amore Hybrid mattress comes in a simple but classy black and white tuxedo styling.  I really like it.
The top half is ash-white with modern swoosh and groove raised patterns on its surface.
The bottom half is all-business black.
---
Technology
Technically speaking, Amore is a hybrid mattress, like the more expensive Sapira and Alexander Hybrid.
The mattress is made of layers of graphite-infused foam, poly-foam and independent pocketed coils.
Combined, these layers provide excellent support, minimal motion transfer and a very comfortable feel.
This mattress also has a bit of a bounce to it, which is helpful for amorous couples.
In addition to its construction, the Amore mattress incorporates two unique materials to improve health and comfort: graphite and copper.
1. Temperature Control
Temperature control is an essential component of the sleeping experience. A mattress that gets too hot or too cold makes for a terrible night.
With the Amore Mattress, temperature control begins with its standard organic cotton cover. Its breathable design allows air to flow freely and keep the surface cool.
Another key component critical to cooling is the open-cell foam layer, which lets air circulate more freely through the bed.
Further down, a layer of individually wrapped coils keeps the air moving, ensuring that any heat and moisture is carried away from the mattress.
2. Copper-Infused Cover (optional)
When buying the mattress, you are given the option of buying a copper-ion infused cover for $50.
The company claims that the addition of copper provides anti-bacterial and anti-microbial effects which help prevent bad odors from getting into the mattress, thus ensuring it stays fresh for longer. Science backs their claim up.
Amore also says that their copper-infused fabric helps with skin conditions including bruises and scaling.  There's less proof of that.
3. Graphite-Infused Memory Foam
The Amore mattress incorporates graphite into its top memory foam layer to disperse body heat.
According to researchers, graphite sheets are excellent heat spreaders, so there's some merit to that claim.
We found the mattress did sleep cool, without any hot spots, but it's not significantly cooler than other hybrid mattresses we've tried.
---
Construction
The Amore is an 11 inch thick mattress made of several different layers.
Here is a detailed look at the most important layers and how they contribute to a good night's sleep.
1. Comfort Layer:  FusionFlex Foam + graphite-infused memory foam
The top layer is designed for comfort and support. It supports your back while relieving pressure from areas like the shoulders and hips.
This perforated layer also carries away excess heat from the surface of the mattress, ensuring you remain cool and comfortable through the night.
foam is well-known for keeping a mattress cool. That is why you will find most hospitals using foam mattresses or toppers.
The top layer also provides a bit of a bouncy feel, unlike memory foam which conforms to your body.
2. Support Foam Layer: Open Cell foam + High Density foam
Four inches of open-cell and high-density foam comprise the second layer of the mattress.
Poly-foam is not the highest-grade material for a mattress, but in this case it's used correctly – as an internal support layer.
When combined with the the top foam layer, it also boosts the comfort level of the mattress.
While the top layer focuses on support, the second layer contours around the body a bit to create a great sleeping experience.
This contouring also minimizes pressure points – important for slim people and those who sleep on their side.
3. Support Coil Layer: Pocketed coils
While the Amore mattress is not an innerspring mattress, it integrates one major aspect of innerspring mattresses: individually wrapped coils.
These coils, of which there are dozens, improve support, comfort, and temperature control. It also adds more durability to the mattress.
4. Foundation Layer: High-Density foam (2 inches)
Rounding out the mattress, at the bottom is a high-density foam foundation layer. This layer is designed to provide overall support and stability to the mattress.
The Amore mattress should serve you well for at least a decade, without developing the dreaded middle crater.
---
Cover
The Amore mattress comes wrapped in an ultra-soft cotton cover, standard.
While it may seem like the cover is there just for the aesthetics, it plays a big role in comfort and overall sleeping experience.
For one, the soft texture makes for a nice feel when lying on the bed.
Second, it is made from organic cotton which is highly breathable which ensures no heat or moisture is trapped on the surface of the mattress.
If you care about increasing the anti-microbial properties of your Amore, upgrade to their copper-infused cover.
---
Complaints of Smell/Little Off-gassing
Amore Mattress uses CertiPUR-US certified foams, so what little off-gassing exists is completely harmless.
The foams used in this mattress are is not organic (except the cover), but they are totally safe for you and the environment.
When you buy an Amore mattress, you can expect a 'fresh-foam' smell for the first day or two after opening it.
If you are extra sensitive to this smell, I recommend leaving the mattress upright in an airy room for 24-48 hours. This will give it time to get rid of any new-mattress smells before you sleep on it.
---
Sleeping Experience
The sleeping experience is the most important feature of any mattress.
And contrary to what decades of marketing have taught us, a great sleeping experience has nothing to do with the price of a mattress.
Some expensive mattresses provide a terrible experience, while extremely affordable ones like the Amore often perform much better.
So how does the Amore mattress measure up?
Let's take a look at the 4 characteristics that make the most impact on a good night's sleep: firmness, sinkage, motion transfer and temperature control.
---
Firmness
The Amore mattress is available in three firmness levels: soft, medium and firm.
With a soft top layer, none of these mattresses feel much like a memory foam-topped mattress, so if you like the feel of a Tempurpedic, you probably shouldn't get this one.
Amore soft is ideal for side sleepers that need to avoid pressure points on the hip and shoulder. It is also great for slimmer individuals for whom sharper bones and joints might cause uncomfortable pressure points. I would rate the Amore Soft at 3-4 out of 10 with 1 being very soft and 10 being very firm.
The Amore medium mattress is the sweet spot for most people. At a firmness rating of around 5-6 out of 10, it balances perfectly between firm and soft. It is firm enough to support the back and soft enough to contour around pressure points.
On the higher end of the scale, the Amore firm mattress is for those who. The firmness rates a 7 out of 10. This mattress is perfect for heavier sleepers who need extra support and folks who sleep on their stomach.
---
Sinkage
Sinkage refers to how much a mattress depresses when you lie on it. This directly impacts the level of support you get.
For the Amore mattress, the sinkage varies quite a bit depending on the firmness level of the mattress.
The Amore soft gives up the greatest sinkage, almost 2″ in the middle of the bed. This allows for great pressure relief, but it can also reduce support for other sleepers.
Amore firm has the least sinkage, at a little more than 1″ in the center of the bed. This provides excellent support for back-sleepers and heavier people, but it will prove uncomfortable for most.
Amore medium has an average sinkage, about 1.5″ or so in the middle, which is about perfect for balancing between support and comfort.
Along the edges, Amore's rail system does a good, but not perfect, job minimizing edge sinkage when you lie near the edge. Noticeably better than most memory foam mattresses in this price range, however.
---
Motion Transfer
Another important aspect of the sleeping experience is motion transfer, which refers to the amount of movement transmitted from one side of the mattress to the other.
Too much motion transfer creates mid-night disturbances for couples who share the same bed.
Motion transfer is minimal to non-existent with the Amore, probably due to their use of a top layer plus pocketed coils that are individually wrapped.
---
Hot/Cold Issues
In my opinion, Amore does a good job keeping their mattress cool, especially when compared to memory foam-topped mattresses.
The pocketed coil layer no doubt keeps air flowing through the mattress.
---
Warranty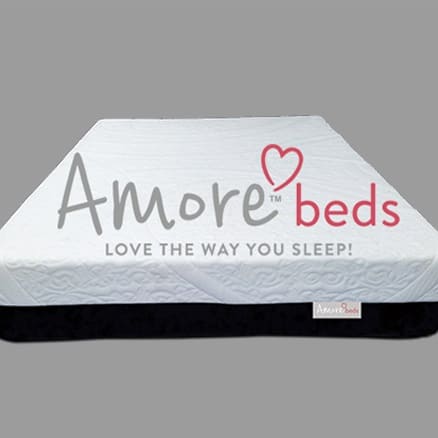 The Amore mattress comes with a better-than-average 15-year warranty that covers all the standard aspects: permanent depressions of 1-inch or more, faulty materials and issues with workmanship.
Their warranty covers the original buyer only, for mattresses bought through approved outlets only.
Make sure you go through the warranty in full before buying, to know exactly how you are covered.
Amore's 15-year warranty is longer than the 10 years that most online mattress companies provide. This is an indication of how long you can expect the mattress to last.
---
Return Policy
The company provides a very friendly return policy, on-par with other mattresses in this price range.
Once you purchase the mattress, you are given an industry-average 100 days to decide whether it is right for you.
For the first 30 days, you need to keep and use your Amore in your home. After the burn-in period, if you still do not like it, the company will provide a free no-hassle return.
The mattress will be picked up and donated to a local charity, so you do not have to worry about shipping it back to them.
You can then opt to get your money back or choose a different mattress.
---
Shipping
Order-to-receive shipping cycle takes an average of 4 to 7 business days. This includes 2-3 days for manufacturing and 2-4 for delivery.
Customers enjoy free shipping within the United States.
Currently, no special (e.g. expedited) shipping options or international deliveries are available.
But you can call the company to inquire about any special shipping and delivery requests that they can accommodate.
---
Pros and Cons
Pros
Outstanding value for a hybrid mattress with this much technology in it.
Lots of customization options. In addition to firmness levels, you can also opt for a customized split mattress.
Extra-long 20-year warranty.
Cons
Amore is a new company, meaning we cannot make a full assessment of the durability of their mattress. But the 20-year warranty is a good sign.
Not sure the copper and graphite make that much difference.
---
The Amore Mattress is Perfect for You If…
You want the best deal on a great-sleeping hybrid mattress.
You want a split-configuration mattress with lots of firmness options for both of you.
---
Conclusion
The Amore Mattress is an outstanding value for a hybrid mattress – or for anyone who likes the feel of sleeping on a top.
If you are looking at hybrids like the Sapira and the Nest Alexander Hybrid and you want to save some money by buying from a startup, then the Amore is a great choice.
---
Where to Get the Best Deal
The best deals are found on Amorebeds.com. In addition to price, the warranty, return policy and customer service will be generally better if you buy from their site vs. from a 3rd party like Amazon.
---
Affiliate Disclosure
Affiliate Disclosure: I may earn a small commission (at no cost to you) if you purchase a mattress after clicking a referral link or using a coupon code on this site. That said, all content and opinions on this site are my own and are NOT affected by these payments.
This site participates in the Amazon Services LLC Associates Program, an affiliate advertising program designed to provide a means for sites to earn advertising fees by advertising and linking to Amazon.com.
*Amazon and the Amazon logo are trademarks of Amazon.com, Inc, or its affiliates.
---