NOTE: We earn from qualifying purchases made via Amazon Associates and other affiliate programs. Learn more.
Your new mattress has arrived!
You've lugged that heavy box into your bedroom, unboxed it, unrolled it on your bed and watched it puff itself into a real, grown-up mattress. Cool!
Fortunately, because you bought your mattress online you now have 100 nights to test it in your home.
This means you can really get to know your new bed like never before – at zero financial risk.
But, um, exactly how do you really know if your new mattress is working for you and your partner?
In this quick guide, I'll walk you through the 9 things you should pay attention to after your mattress arrives, to ensure it's a keeper.
If your purchase does not meet your needs, then this guide will also help you identify specifically what's wrong so you can be more careful when selecting your next bed.
So, let's dive in.

Testing Your New Mattress
In this article, we'll show you how to test your new mattress for the top 9 things that will ruin a good night's sleep – or injure your back.
But before you start checking-off the items in this checklist, make sure you sleep on your new mattress for at least two weeks.  This gives your body time to acclimatize to the new mattress.
Also, some mattresses will feel uncomfortable at first but improve with time. For example, if you are used to sleeping on a soft mattress, a firmer mattress can make your back sore in the beginning even though it is the best choice for you.
That's why many online mattress companies require that you sleep on the mattress for at least 30 nights before initiating a return.
Two weeks is plenty long enough for most people, but you can wait up to 4 weeks if you want to get the true feel of the mattress.
Then you can get started testing the mattress using the following checklist.
---
In-Home Mattress Test Checklist
1. Does the Mattress Feel Comfortable in Your Preferred Sleeping Position?
The first thing to check is whether the mattress is right for your preferred sleeping position.
If you sleep on your back, make sure you are getting enough support and that your spine is not bent in an awkward shape.
The surface of the mattress should give more freely in your pressure point areas – your shoulders, hips and knees and not push-back too firmly causing discomfort.
A medium-firm or firm mattress is best for back sleepers.
If you sleep on your stomach, you'll want a firmer mattress to keep your back aligned properly.
Side sleepers usually prefer a softer mattress that contours around their shoulders, ribs and hips and holds them in place without much work on their part. You have a lot of vulnerable pressure points in this position. So watch out for them and make sure pressure relief is good.
If you don't have a particular sleeping position (combination sleeper), then test the mattress in all positions and make sure it feels comfortable in the positions you use most of the time.
If you feel persistent soreness, pain or just general discomfort even after a few weeks of sleeping on the mattress, then return it and look for an alternative.
2. Is the Mattress Working Well for Your Body Weight?  
Next, check that the mattress is a good fit for your weight range.
For average-weight people (120 – 200 lbs), a 10″ medium firm foam mattress will work 90% of the time. It is firm enough for the lumbar support and is thick enough and has enough sinkage to conform around pressure points.
But if you are heavier than that, you need to make sure the mattress can support your weight fully and properly.
If the mattress bottoms out, then you'll need a firmer and thicker mattress with better support.  You do NOT want to sleep long-term on a mattress that bottoms-out.
For lightweight sleepers, make sure your new mattress has enough pressure relief and "gives" enough for you to sleep comfortably. You may need a softer comfort option to give you the sinkage you need.  If the mattress feels too hard and some parts of your body are pressing into the mattress, then get a softer mattress.
3. Is the Mattress Firmness Just Right?
Most of the less expensive online foam mattresses like Casper, Leesa and Nectar are medium-firm – the sweet spot for most people.
Other companies like Nest let you choose from soft, medium and firm comfort options.
But these labels are just guidelines.
The actual feel of a mattress is very subjective. It depends on your weight, sleeping position and other factors.
So you need to actually sleep on the mattress for several weeks to determine its true level of firmness.
The best firmness level depends on your preferences.
Some people love floating on the mattress (firm) while others prefer sleeping 'in' (soft). Others love a balance between the two (medium-firm).
Generally, you'll find a firmer mattress to be more comfortable if you sleep on your stomach or if you are heavier.
A medium-firm mattress is great for back sleepers, some side sleepers, combination sleepers and average-weight persons. It's also great if you have back problems.
A plush mattress is ideal for some side sleepers, lighter people and lean athletes who need extra contouring around their muscles and joints.
Note: Some companies like Morphiis and Luxi let you change the firmness level of a mattress at any time, in your own home, by interchanging the foam layers. Others will send you a topper or a different layer to make the mattress softer or firmer.
See if any of these options are possible before you return the mattress.
4. Does the Mattress Support Your Body Weight Correctly?
By now, you should already have an idea of how supportive the mattress is for your weight range and sleeping position.
Some mattress shoppers assume that the firmer a mattress is, the more support it provides.
But as with the level of firmness, support is subjective. One person may find a certain mattress supportive while other bottoms out.
If you weigh less or sleep on your side, a softer mattress will feel adequately supportive. On the other hand, if you are overweight or sleep on your stomach or back, a firmer mattress will provide more support.
To test how supportive a mattress is, check how well it holds you up without sinking too much. If it craters, it doesn't have enough support.
5. Does the Mattress Provide Pressure Relief Where It Counts?
This goes hand in hand with mattress support. A good mattress should provide both support and pressure relief.
To test for pressure relief, feel how well the mattress contours around your pressure points such as your shoulders, hips and butt.
The foam should hug those areas to keep them from pressing uncomfortably into the mattress.
Note that some mattresses, especially memory foam mattresses and those with a pillow top, have instant pressure relief. You sink into the mattress the moment you lie on it.
But other mattresses, mostly latex and innerspring ones, have slower-setting pressure relief.
That's why you should sleep on the mattress for at least two weeks before making any conclusions.
6. How is the Edge Support?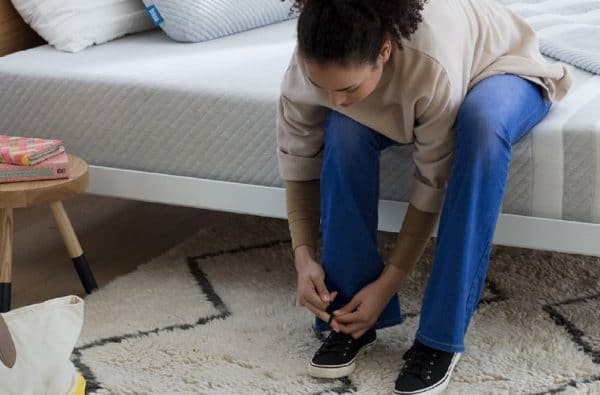 This is something many people forget to check but is really important when it comes to sleeping experience.
A mattress with good edge support maximizes the available sleeping surface. This is especially important for couples who need bigger personal space.
If edge support is poor, you can't sleep comfortably near the edge of the mattress. Getting up from the mattress or sitting on it is also a problem since the edge will collapse.
Inadequate edge support is not a deal breaker in all situations. If you don't sleep near the edge and the rest of the mattress is supportive enough, you can keep the mattress.
But if you are a couple looking for a comfortable and durable mattress, good edge support is a must.
To test edge support, sleep near the edge of the mattress. If you can't tell the difference between sleeping there and the center of the mattress, edge support is good.
Also, sit on the mattress and observe how much the edge sinks. A mattress with good edge support will collapse only a little.
7. Does the Mattress Sleep Cool Enough? Or Do You Sweat At Night?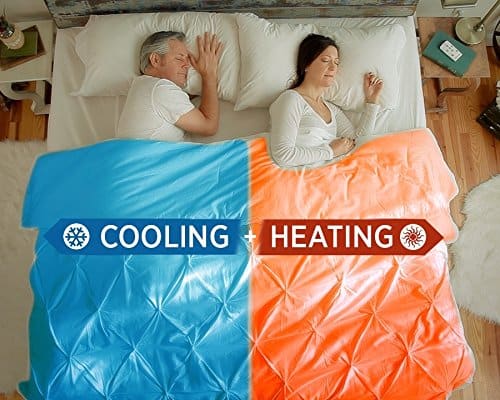 Does the mattress feel hot at night?
This is a common problem with memory foam mattresses. They can trap too much heat, which makes your body feel too warm and cause you to sweat.
Before drawing a conclusion, make sure you set your thermostat to the optimum temperature range (64-66 degrees Fahrenheit) so that you get an accurate temperature feel of the mattress.
Then, sleep on the bed for at least 2 weeks before drawing a conclusion.  This issue is usually really easy to tell.
8. Can You Move Around Freely on the Mattress?
Most people turn in bed several times at night.  If this describes you, then you will want a mattress that doesn't let you sink too far into it.
When you turn to a new position at night, make a not about whether you had to "work" to turn or if it was effortless to change positions.
If you feel like you are trying to turn over in a pit of sand, then your mattress is likely too soft and/or not responsive enough. This can be frustrating at night when you are trying to find a comfortable sleeping position and causes you to expend energy while you sleep, leading to less restful nights.
The heavier you are, the more likely you will experience this feeling.
Also check how easy it is to get up from the bed in the morning. If you have to use a lot of effort to get up, consider getting a more responsive mattress.
Memory foam mattresses are the worst when it comes to freedom of movement. They are not as responsive/bouncy as latex and innerspring mattresses, making movement more difficult.
Certain memory foam mattresses add other types of foam such as Latex, Avena or Poly foam to improve responsiveness.
Others formulate their own proprietary memory foam.
9. Do you Share the Bed with A Partner?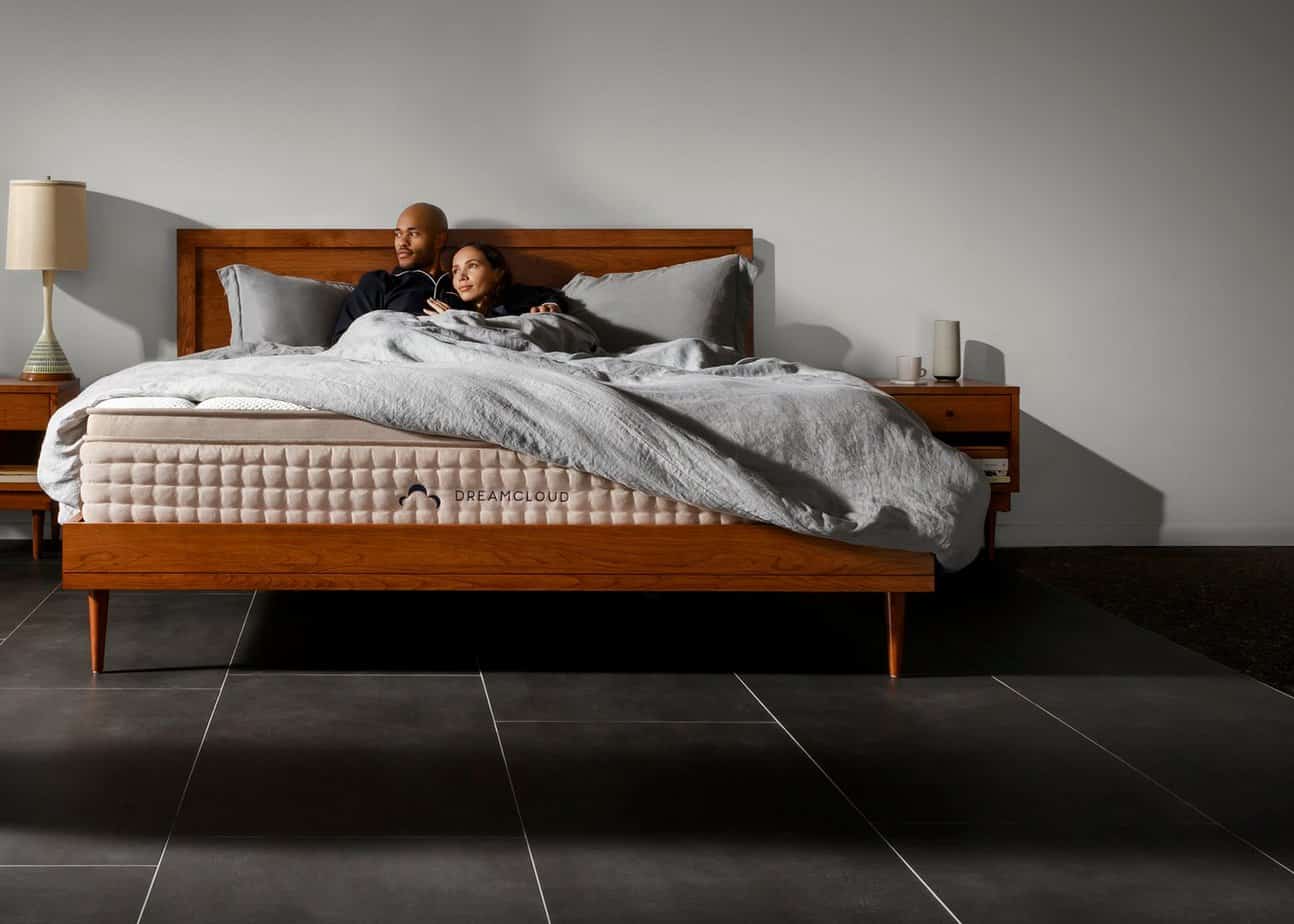 Finally, check how comfortable the mattress is when you are sleeping with your partner.
The most important areas to check include:
Support– It should have adequate support since you'll be putting more pressure on the mattress. If it bottoms out, find a more supportive mattress.
Edge support – This ensures you both have a large personal area with enough support.
Responsiveness – A responsive mattress is better for sex.
Cooling – You'll be generating more heat, so you need a mattress that dissipates heat quickly.
Motion transfer – If you can feel all your partners movements at night, get another mattress with less motion transfer.
Returning Your Mattress
A mattress can still be comfortable even if it fails some of these tests.
For instance, not everyone needs a mattress with excellent edge support or spring-like bounciness. Some people may not mind if they can feel their partner's movements since they sleep like a rock.
But some factors like support and pressure relief are extremely important for a healthy night's sleep.
If the mattress just doesn't feel right for you, don't stick with it. It's not worth it.
Many online mattress companies really do mean it when they promise free, no-hassle returns. Just call or email customer support and say you want to return the mattress.
They'll either pick it up from your home or arrange to have someone pick it up.
Others may require you to donate the mattress yourself to a charity nearby.
Returns are almost always free. You'll get a full refund minus shipping charges you had paid if there were any.
---
Affiliate Disclosure
Affiliate Disclosure: I may earn a small commission (at no cost to you) if you purchase a mattress after clicking a referral link or using a coupon code on this site. That said, all content and opinions on this site are my own and are NOT affected by these payments.
This site participates in the Amazon Services LLC Associates Program, an affiliate advertising program designed to provide a means for sites to earn advertising fees by advertising and linking to Amazon.com.
*Amazon and the Amazon logo are trademarks of Amazon.com, Inc, or its affiliates.
---