NOTE: We earn from qualifying purchases made via Amazon Associates and other affiliate programs. Learn more.
---
Shopping for a latex pillow? 
No? Perhaps we can interest you in getting one. Sure they don't have the same long-standing reputation as fiber pillows, but they do deliver excellent comfort and value. We also have a list of recommendations for you to check out. In this article, we have reviewed the top 7 best latex pillows of 2021.
---
What's In This Buying Guide 
When you work as hard as you play, you need a comfortable pillow to get some well-deserved rest. Wondering why we are using the words latex and comfort together? Let us explain. The use of latex is not just limited to fetish; the pillows made out of this rubber product offer many appealing features as unique as latex itself. 
In this buying guide, we review some of the best latex pillows currently available on the market. They promise superior support and comfort with a certain level of bounce. We also tell you about their strengths and weaknesses and how to choose a suitable one for yourself. 
---
Best Latex Pillows 
| Pillow | Award | Filling | Loft | Sleeping Positions | Warranty |
| --- | --- | --- | --- | --- | --- |
| Saatva Pillow | Editor's Choice | Microdenier fiber and shredded talalay latex foam | Slightly Adjustable | All | 45 day sleep trial and one year warranty |
| Organic Textiles Latex Pillow | Best Budget | Pure 100% Natural Latex | Multiple Options Available | All | 100 night sleep trial and 3 year warranty |
| Plushbeds Shredded Natural Latex Pillow | Best Shredded Latex Pillow | Organic, all natural shredded latex | Medium | All | Not Applicable |
| MALOUF Z Talalay Latex Pillow | Best Latex Pillow for Side Sleepers | 100% Natural Talalay Latex | Multiple Options Available | All | 5 years warranty |
| The Easy Breather Natural Pillow | Best for Neck Pain | OEKO-TEX® Certified Shredded Latex | Adjustable | All | 30-night sleep trial and longer-than-average warranty coverage |
| Elite Rest – Thin Natural Latex Foam Pillow | Best Hypoallergenic | Premium Memory Foam Filling | Low | stomach or back sleepers | 30 day, money back guarantee |
| Brooklyn Bedding PILLOW | Best Moisture-wicking and Antimicrobial | Solid Blended Latex | High or Low | All | 30 day Sleep Trial Return Policy and 3 year warranty |
---
Saatva Dreams Company is a renowned online luxury bedding company. It started back in 2010 and produces all American-made products. The Saatva Pillow is their flagship pillow model. With a removable inner pillow, it allows sleepers to adjust the loft to meet their needs. 
Pros 
Features a micro-denier fiber and shredded Talalay latex foam insert 

It comes with a 45-day sleep trial warranty 

Provides adjustability and comfort for a wide variety of sleepers

Uses a layering technology for variable sleep surface comforts 

Provides excellent spinal support and breathability 
Cons
Features a softer firmness level 

It has a somewhat lofty profile 
Our Review 
If you are looking for a pillow to cure the aches and pains in your neck, look no further than our editor's choice – the Saatva pillow. It is thoughtfully constructed with layering technology. At the core, there is shredded American-made Talalay Latex.
It is covered by a small, removable pillow that features a soft padding of micro-denier fibers. Being removable, you can choose to keep or remove the inner pillow for adjusting the loft.
The outermost layer is breathable organic cotton that keeps the pillow cool. 
Comparing the Saatva Pillow with other comparable models, we noticed that it is very reasonably priced. Moreover, they offer free shipping all over the US. And even after the purchase, if you are not satisfied with it, Saatva accepts returns of gently used products within 45 days of purchase. 
---
If you are looking for an all-around latex pillow available in various sizes and firmness levels, check out the Organic Textiles Natural Latex Pillow. It features a breathable design suitable for all types of sleepers. 
Pros 
Excellent all-round pillow for all types of sleepers

Designed to keep you cool

Hypoallergenic pillow is suitable for people with allergies

It comes with an organic cotton outer cover

Available in multiple sizes and firmness levels
Cons 
May lose its shape after several months 

It has a certain bounce that many won't find nice 
Our Review
We really like the Organic Textiles Latex pillow for its all-natural construction. Although it is a one-piece pillow, they have designed it to promote good airflow.
Regardless of the position you sleep in, this pillow will let you comfortably sink in. You will find it soft and squishy but supportive at the same time. 
It comes with an organic cotton cover that allows breathability. Since it is made with organic materials, it does not contain any harsh chemical smells.
It is also highly resistant to mold and dust mites, so people who suffer from allergies or other respiratory problems will find it a great choice. You can try it out, and if it fails to satisfy your needs, you can return it within 100 days. 
---
Plushbeds is the renowned mattress and sleep products manufacturer and seller. It's luxury products are known to promote good health and facilitate quality sleep. Their Shredded Natural Latex Pillow is fluffed and molded to facilitate every type of sleeper.
Pros
Made from organic, natural latex rubber

Shredded latex filling allows for the perfect balance of support and airflow

Not treated with any dyes or harsh chemicals

Loft and support are superb

It keeps you cool all night long
Cons
It may require some fluffing to maintain proper support and loft

It is heavy and difficult to move around during the night 
Our Review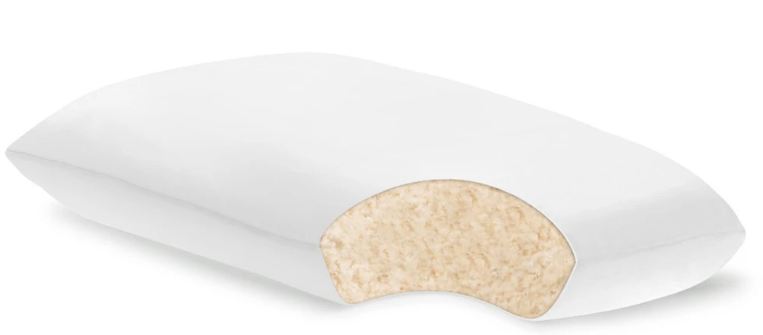 The best thing about the Plushbeds natural shredded pillow is that it is certified by Global Organic Latex Standard (GOLS) for the cleanest and safest materials.
It contains small pieces of latex that don't shift or move around while you lay your head over it. It is easy to mold and shift so you can mold it to achieve any shape you feel comfortable with. 
With this pillow heat retention is not an issue because it has an ultra-breathable design. Since it has a shredded latex filling, it compresses itself under weight and bounces back to original shape when the weight is removed. This way it delivers the same amount of support every time.
Moreover, it's 100% organic construction makes it supremely hypoallergenic and impervious to allergens like mold and mildew. So people who suffer from allergies can also use it without worry. 
---
This zoned latex pillow from Malouf offers excellent support and comfort. Available in a variety of sizes and lofts, this pillow takes the pressure away from your shoulders and neck. It is a durable and long-lasting option. 
Pros 
Lightweight and very easy to move around 

Ensures full ventilation and temperature regulation of the body

Zoned technology offers unrivaled comfort and support 

Available in a variety of sizes, loft, and firmness level

It comes with a breathable, soft, and easy-to-remove cotton pillow cover 
Cons 
The new pillow needs good airing for storage smell to go away 

 Being expensive, it is not affordable for all
Our Review 
Malouf Z 100% Natural Talalay Latex Zoned Pillow is one of the bouncier and more resilient types of pillows we have come across. It is 100% natural latex foam without any synthetic additives.
It is designed to cradle and support your neck and head, so you get a good night's sleep and wake up without any pain. The cotton it comes with is also very soft and breathable. It is easy to remove and machine-washable, too. 
It features strategically placed holes that improve air circulation and breathability. According to its Zoning technology, there are larger holes in the middle and smaller ones towards the edge.
The bigger holes work to cradle your head while the smaller ones take the pressure off your neck. Since it is available in various lofts, sizes, and firmness levels, you can choose a more suitable pillow for your sleeping style. 
---
Nest Bedding is a US-based family-owned company. It has been manufacturing pillows since 2011, but it also makes a wide variety of bedding products. All the materials they use are eco-friendly and have received multiple certifications and rewards for it. The Easy Breather Natural Pillow is one of their best-selling options. 
Pros 
It comes in three sizes to fit your bed size and comfort needs

Filled with a unique blend of OEKO-TEX® Certified Shredded Latex and poly fiber

Very easy to mold and shape according to your needs

You can adjust its loft by adding or removing the fill 

The plush pillow doesn't rise up around your head 
Cons 
Adding or removing the fill is a messy business 

The firmness level is limited to medium
Our Review
This pillow from Nest Bedding is one of the most durable models on this list. It features sturdy construction with high-quality materials. It has a medium firmness level, but you can adjust its loft.
Simply add or remove the fill to achieve your desired loft. It comes with a zipper to facilitate the process. 
Although it has only one firmness level – medium, it is suitable for all sleeping positions. It has a characteristic sinking-in quality of memory foam, which allows it to mold itself according to your sleeping position.
It takes the pressure off your neck and shoulders and helps align your spine for a restful sleeping experience. 
---
Elite Rest company created this pillow to fulfill your needs: the demand for a thin pillow that offers loft support but does not bottom out or create too high a loft. With its soft sink, it cradles your head without creating pressure points around your neck and shoulders. 
Pros 
Boasts a low 2.5-inch loft 

The dual-surface design increases its comfort and stability

Doubles as a back pillow 

Included premium cotton cover is machine washable 

The specific design is suitable for back and side sleepers
Cons 
Extra-thin loft is not appealing to many 

Off-gassing takes some time to dissipate
Our Review 
The penultimate entry on our list is this ultra-slim memory foam pillow from Elite Rest. At 2.5 inches high, this pillow offers the optimal loft height to align your spine and support your head and neck. It has specially designed curved edges that make it suitable for back and stomach sleepers and create a responsive feeling for an enhanced sleeping experience. 
It features a 100%, durable, safe, antifungal and premium memory foam filling that effectively wicks the moisture away. The flat bottom and rounded top increase its stability. This design element works well for its shape retention. Plus, the dual-surface design also works well for people who don't like to turn their pillow over.
---
Brooklyn Bedding's Talalay Latex pillow provides a great amount of support and pressure relief with its solid, ventilated, and blended latex design. Available in two sizes and two loft options, it is a good choice for any type of sleeper. 
Pros 
Hypoallergenic design is resistant to microbes and dust mites

Features a super responsive and pressure-relieving latex core

The ventilated design makes it highly breathable 

It comes with a 30-day return window 

Backed by a three–year warranty coverage 
Cons 
It's not the most natural latex pillow option 

The difference between high and low loft is only one inch
Our Review 
The Talalay latex from Brooklyn Bedding is constructed with material derived from the sap of a rubber tree. It comes with a breathable, moisture-wicking natural cotton cover; hence, it is one of the coolest options out there.
Moreover, it is resistant to allergens and microbial growth, making it a great choice for people with allergies. 
A good thing about this pillow is that it is very soft and responsive. It molds itself according to pressure and bounces back as soon as the weight is off.
It is reminiscent of soft and luxurious rubber. You don't need to fluff it, so it is very easy to maintain as well. 
---
What Are the Benefits of Latex Pillows?
Latex pillows originated back in the 1950s. Even now, most people don't know that they are a thing. Yet, latex pillows and mattresses continued to gain popularity, and as of now, people highly appreciate them for their comfort and durability. Since you will spend approximately one-third of your life sleeping, why not get a high-quality pillow that provides optimal neck support? Here are some benefits of latex pillows:
Supreme Comfort 
The biggest reason why latex sleep products are becoming popular is their amazing level of comfort. Being a dense material, latex holds its shape and softness for a long time. Unlike cotton, it does not become flat. Instead, its elasticity allows it to flex so you can enjoy an uninterrupted night's sleep.
Excellent Head and Neck Support
Latex pillows offer excellent head and neck support. They are fairly firm but adjust their shape according to your head movements. Hence, instead of hindering, they deliver optimal support to your body. They retain their shape and don't go flat for years. So whether you sleep on your sides or on your back, they ensure a restful sleep. 
Dust and Allergen-Free
Essentially being rubber, latex is antimicrobial and allergen-free. Not only is it mildew-proof, but it also inhibits dust mites and similar allergens from growing in them. So, they are perfect for people who suffer from allergies. Although, if they are sensitive to chemical smells, they should opt for a natural latex variation. 
Added Durability
Even though cotton sleep products are cheaper than their latex counterpart, it is not as long-lasting. Latex pillows are extremely durable and provide years of relaxing sleep. They have higher user satisfaction ratings because they can hold their shape for ten years, sometimes even more.
Easy to Maintain
Being a sterile material, caring for latex is very easy. Although you don't have to clean a latex pillow very often, there is no mess involved when you do. Simply spot-clean with a little soap and water, and let it dry completely. There is no need to soak, wash, dry, and fluff. Just clean the pillow and air-dry. Once it is completely dry, you can put the cover on. 
---
Latex Vs. Memory Foam Pillow 
When we talk about sleep products, foam is the recent buzzword. Latex pillows were introduced in the 50s, but memory foam pillows are the current innovation.
If you are thinking that a newcomer won't be leaving any space for an old standard, latex is still a preferable choice for many. So how should you choose between these two? Here's a comparison of latex and memory foam pillows to help you out. 
Differences
Composition
While latex can be derived from natural materials, memory foam is an entirely man-made product. Made from viscoelastic polyurethane, memory foam is initially hard to touch. On the other hand, Latex is either derived from the sap of the hevea-brasiliensis rubber tree or artificially made from styrene-butadiene rubber. 
Feel
Memory foam appears to be a slightly intensified variation of latex. However, latex is soft to touch and bounces back fairly quickly. Memory foam is initially hard to touch and does not bounce back as quickly as latex. 
Price Range
Being a recent fad, memory foam is available in a wide range of quality and price. Just name your budget, and you will find something that falls in that range. However, latex pillows don't offer such freedom. They are somewhat similar in quality and share a premium price tag.
Similarities 
Attractive Aesthetics
Both latex and memory foam pillows are aesthetically attractive because they cut down on bed-making time. They naturally return to their plumpness, so there is no need to fluff them after each use. 
Durability
Memory foam and latex are both more durable than any other pillows available on the market. They tend to last longer than polyester and feather while simultaneously providing both comfort and hygiene. In fact, latex can actually last longer than memory foam. 
Hypoallergenic
Unlike their cotton counterparts, both latex and memory foam are hypoallergenic. This means they don't allow microbes and other allergens to thrive on them. They are even resistant to dust mites. Hence, they are an excellent choice for people who suffer from allergies or asthma. 
---
Buying Guide: How to Choose a latex Pillow 
Unlike other pillow options, latex pillows aren't as readily available, but they are steadily gaining popularity. Many bedding companies have realized their potential and are using this material to produce comfortable and durable pillows. However, choosing a latex pillow for yourself is not easy. 
You will come across many confusing and misleading terms that can shake your decision to buy one. For instance, "latex" itself is more commonly associated with synthetic, artificial materials.
Yes, synthetic latex is very common, but for durable pillows, manufacturers use all-natural and organic material. 
You will also hear the label rubber for latex. Yes, they are similar as both come from rubber trees. Meanwhile, Dunlop and Talalay are latex manufacturing processes.
These are some terms to keep in mind while shopping for a latex pillow. And when comparing the shortlisted choices, make sure you consider the following features. 
Loft  
Loft means the height of the pillow. Most latex pillows are either low (three inches thick at maximum), medium (between 3 and 5 inches thick), or high (over five inches). Do remember that the loft changes as you lie on the pillow and your weight compresses it, so choose it accordingly.
Too high or too low doesn't guarantee more comfort, so think about your needs and choose a suitable pillow for yourself. 
Support 
A supportive pillow works to keep your spine aligned so there is no pressure on your neck and shoulders. Back sleepers lie completely on the mattress, while side sleepers have some space between the mattress and their neck.
So you need a pillow that is supportive to your unique needs. A firm latex pillow is more usually more supportive than a soft one.  
Pressure Relief 
A good-quality latex pillow provides more pressure relief to the neck and shoulder region. By cradling your head, it allows you to relax, making sure that you don't wake up with a stiff neck or shoulder pain. Firmer pillows are suitable not for this purpose. So, choose a softer latex pillow for more pressure relief. 
Firmness
Pillows are generally rated from soft to firm. The firmness level tells you how well a pillow can retain its shape. Firmer pillows don't go flat quickly. Be sure to choose a firmer latex pillow as soft pillows are not as comfortable and don't provide much support. 
Shape 
Although most latex pillows are rectangular in shape, some also come in offer distinct features for specific sleeping positions. There are some models that feature a curved side. This specific design element is useful for back and side sleepers. 
 Price 
Obviously, like all other organic products, natural latex pillows are also somewhat expensive. Some synthetic latex pillows may have lower prices but are not as featureful as an organic one. You can expect to pay upwards of $150 for a good-quality organic latex pillow. 
Temperature Regulation
If you sleep hot, your pillow should allow plenty of airflow for temperature regulation. Pillow materials like memory foam and cotton have a heat-retaining tendency that disturbs sleep. Latex pillows are a good choice because they stay cool, so they are more comfortable. 
Moldability 
If you are a restless sleeper who changes sleeping positions throughout the night and cling to the pillow for support, it's better to  choose a moldable pillow. Such a pillow adjusts itself according to your preferences and also provides support while you are reading or watching TV. Look for a moldable pillow that lacks proper form for optimal comfort. 
---
Final Verdict 
Out of these options, Plushbeds Shredded Natural Latex Pillow is our top pick for the best latex pillow. It is GOLS certified and features a very comfortable design.
MALOUF Z 100% Natural Talalay Latex Zoned Pillow also does not lag behind with its long warranty coverage.
Meanwhile, Organic Textiles All Natural Latex Pillow is the most affordable choice. 
---
Affiliate Disclosure
Affiliate Disclosure: I may earn a small commission (at no cost to you) if you purchase a mattress after clicking a referral link or using a coupon code on this site. That said, all content and opinions on this site are my own and are NOT affected by these payments.
This site participates in the Amazon Services LLC Associates Program, an affiliate advertising program designed to provide a means for sites to earn advertising fees by advertising and linking to Amazon.com.
*Amazon and the Amazon logo are trademarks of Amazon.com, Inc, or its affiliates.
---