Last Updated on
Avocado Green Review
Summary
A luxury all-natural mattress consisting of natural Dunlop latex foam, pocketed coils, a certified organic cotton cover and natural New Zealand wool. For 70% less than you'd pay at a store.
Great Choice for: Anyone who wants a truly organic, toxin-free luxury mattress. This is an excellent deal.
Avoid if: You like your mattresses extra-soft or need a split configuration.
Price: $959 to $2,199
Affiliate Disclosure: I may earn a small commission (at no cost to you) if you purchase a mattress after clicking a referral link or using a coupon code on this site. That said, all content and opinions on this site are my own and are NOT affected by these payments.
---
The Avocado Green Mattress may be the best organic luxury mattress sold online for less than $2,000.
It has all of the premium features you expect in a luxury organic mattress, but it costs 70% less than you would pay for anything like it in a store.
A Real Organic Mattress
The Avocado Green is technically a hybrid mattress made with two primary materials, natural Dunlop latex and pocketed coils.
It uses natural New Zealand Joma wool as a fire barrier and is wrapped in a soft organic cotton button-top cover.
There is no memory foam or polyurethane foam used in this bed, not even in the base.
All of this organic luxury carries a higher price tag than you'd pay for a budget foam mattress like Casper.  A queen Avocado mattress costs about $1,400.
The closest comparison to the Avocado Green Mattress is the PlushBeds Botanical Bliss, which is about the same price.
If you're in the market for a real organic mattress, then definitely take a look at the Avocado Green.
Like most other online mattresses, the Avocado comes with a no-risk in-home trial – so you have nothing to lose if you don't like it.  Try getting that buying an organic bed in a store 😉
Visit Avocado's website to learn more – or keep reading for my 10-minute review.
If you'd like to see more eco-friendly mattress options, then check out my comprehensive list of mattress reviews on this site – there's a table on that page that compares organic mattresses only.
---
What's In This Mattress Review
Use this table of contents to skip to the features you care most about.
To return to this outline, touch ↑ Table of Contents.
---
About Avocado Mattress
In 2016, Avocado Mattress founders Jeff and Alexandra D'Andrea wanted to purchase a mattress made from safe natural / organic materials – but one they could afford.
They were deeply dissatisfied with the options available in the market, because so many mattresses used petroleum-based polyurethane foam and other non-natural components.
Some of the mattresses claimed to be 100% natural but were anything but.
So, they developed the Avocado Green Mattress.
Jeff and Alexandra set out to create a mattress that is natural, environmentally responsible, safe for their customers' health and most importantly, affordable.
By all measures, they achieved their goal.
Today, Avocado makes all of its mattresses in sunny Southern California and is proud of its American-made heritage.
---
Social & Ecological Impact
The company's core mission – to create a green mattress – is of huge social impact on its own.
Specifically, the Avocado mattress is GREENGUARD Gold Certified, which means it has passed extra-stringent tests for VOCs emissions and other pollutants.
They also use only OEKO-TEK certified New Zealand wool and GOTS certified organic cotton.
Every mattress is handmade in the United States, providing much-needed local jobs.
Their social efforts don't stop there.
Avocado Green also works with 1% For the Planet to give one percent of their profits to environmental nonprofits.  
Other nonprofits Avocado support include:
---
Price
The Avocado Green mattress is more expensive than most online mattresses, which tend to be of the budget memory foam variety.
But you have to consider that this is a bona fide all-natural luxury hybrid mattress.
When you compare the Avocado Green with similar-quality mattresses in stores, you'll quickly see how much of a bargain it is.  It is 50-70% less expensive.
Here is the full price list:
| | | |
| --- | --- | --- |
| Bed Size | Standard | Pillow Top |
| Twin | $959 | $1,199 |
| Twin XL | $999 | $1,299 |
| Full | $1,199 | $1,499 |
| Queen | $1,399 | $1,799 |
| King | $1,699 | $2,199 |
| CA King | $1,699 | $2,199 |
Buying Tips
Don't buy this mattress on Amazon.  You won't get Avocado's 100-night return policy.
If you don't want to pay all at once, then check to see if you qualify for 0% financing by Affirm.
Check Avocado's website and our Coupons page for the latest deals.
---
Purchase Process
The purchase process is very straightforward.
BUYING TIP: buy this mattress on the official website.
The mattress is also sold on Amazon, but we don't recommend buying there because you will not get their generous return period.  Amazon limits their returns to 30 days – and you need to use this mattress that long to qualify for a return.
Before you buy the mattress, also take a quick look at their warranty and return policies. Nothing strange here, but as usual they are very specific about what qualifies, how long you need to try the mattress, etc.
The first step in ordering is to select your mattress size.
All standard options are available, from twin to Cal King. Unfortunately, they don't offer a split option.
Then decide if  you want your Avocado with a pillow top or not.
The standard mattress is 11 inches thick, doesn't use a pillow top and is a bit firm.
The pillow top mattress is 13 inches thick and has a medium firm comfort level, making it the best choice for most people.
Because of the added layer at the top, though, the pillow top is more expensive.
After selecting your size and pillow top option, you'll pay with your credit card – or in installments using Affirm if you qualify.
---
Delivery & Setup
Each Avocado Green mattress is made to order, and this takes 3 to 7 days.
Delivery to your home takes up to 9 days depending on where you live.
So, it will probably take 3 weeks to receive your Avocado.
Shipping is free within the United States – except for the King size mattress, which has a surcharge.
This mattress is really heavy. A queen size weighs 97 lbs (standard) or 132 lbs (pillow top).
You will not set this mattress up on your own.
For an extra $149, the company will provide in-home delivery & setup. The mattress will be delivered and set up in your bedroom by a crew who can take away your old mattress, if you like.
Because the King mattress is not shipped free, the in-home delivery fee for a King is only $99.
If you don't want to pay for in-home setup, then make sure there are at least two strong people around to help you lift the mattress and get it onto your bed frame.
---
Shipping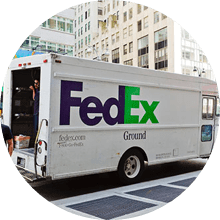 Avocado offers free shipping in the Continental US using Fed-Ex Ground – except for their King Pillow Top, which adds a small shipping fee.
---
Aesthetics and Styling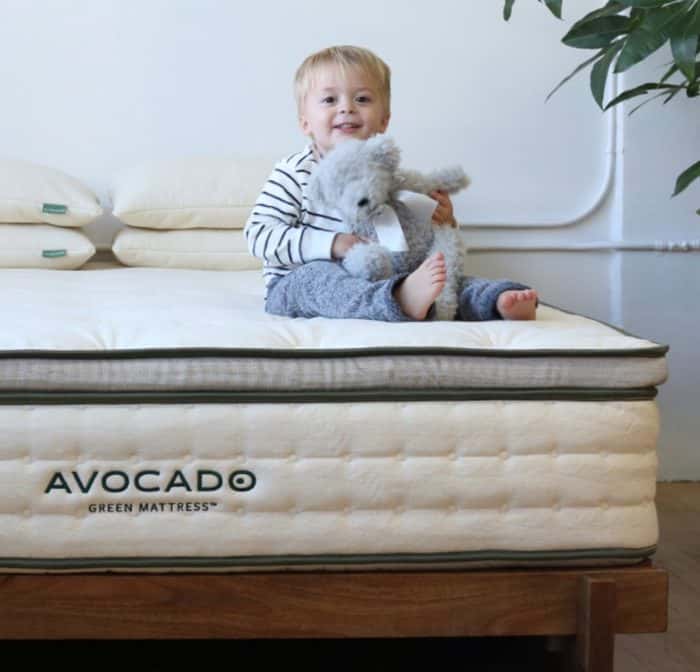 The Avocado Green is a luxury mattress, and it looks just like one – especially if you buy the pillow top version. The mattress is thick and white, with a green border around the edge.
The textured organic cotton cover is tufted with button rosettes made from Joma New Zealand wool.
The buttons are visible on top and the sides of the mattress. They give the mattress a certain crafted, handmade feel that is unique.
If you buy the pillow top mattress, the extra top layer has a grey textured siding. It also has a green border tape along the edges.
On the sides of the mattress, you'll find heavy-duty handles to help you move the mattress easily.
---
Technology
This mattress uses a couple of technologies to make sure that the Avocado Green is safe, comfortable, supportive and long-lasting.
Pocketed Coils With Three Support Zones
The most notable is the pocketed coil layer.
It is unlike the coil layers used in most hybrid mattresses. Instead of one continuous layer of coils, it is divided into three support zones. The zones align with various parts of your body.
The purpose of the support zones is to provide support and alignment where necessary (e.g., lower back) and pressure relief and contouring in high-pressure areas like the hips and shoulders.
Tufting
The Avocado mattress uses an old mattress-making technique, tufting, to make the mattress look more luxurious, to keep it healthy and toxin-free and to increase its longevity.
Tufting involves pulling lengths of tough yarn through the layers of the mattress to hold the layers together and to prevent shifting and bulging.  Buttons are attached to the yarn on both sides to maintain compression.
Tufting replaces the adhesives used in most foam mattresses that can be harmful to your health and contribute to overheating.
---
Mattress Construction
Before we dive into the layers and construction that make up the Avocado mattress, let's cover what is NOT in it. The Avocado Green contains:
no petroleum-based polyurethane foams
no toxic flame retardants
no chemical adhesives, and
no industrial chemicals.
This mattress is about as natural, non-toxic and eco-friendly as you can make one.
OK, so here is a breakdown of materials & construction that make up the Avocado Green Mattress:
Two Models
The Avocado Green comes in two all-natural versions, as follows:
Standard (11″ thick):    73% natural Dunlop latex, 21% natural wool fiber and 6% organic cotton.
Pillow top (13″ thick):  80% natural Dunlop latex, 14% natural wool fiber and 6% organic cotton.
Pillow Top: 2 inches of Dunlop Natural Latex Rubber  (Pillow Top model only)
Found only in the Pillow Top mattress, this topmost layer is made of 100% natural Dunlop latex rubber with a soft firmness rating of 14-19 ILD, making it very giving and plush.
Comfort Layer:  2 inches of Dunlop latex
This is the top layer of the standard version and the second layer of the pillow top version. This medium-firm (20-25 ILD) latex provides both comfort and support.
Support Layer: 8 inches of pocketed coils
Depending on the mattress size, there are up to 1,414 individually wrapped coils in this layer.
The coils provide core support, contouring (using a zoned design) and cooling. They also reduce motion transfer and ensure that the mattress lasts a long time.
Foundation Layer:  2 inches of dense Dunlop latex
Another layer of Dunlop latex underpins the mattress.
The natural rubber used in this layer is denser than that used in the comfort layer above it and provides a strong foundation and firm compression support.
---
Cover
The Avocado mattress comes with a luxuriously soft organic cotton cover. It is certified organic and includes handmade button tufting to keep it in place.
The cover is breathable to keep the surface of the mattress dry, fresh and cool.
For fire protection, natural Joma New Zealand wool is added to the cover. The wool works with naturally hydrated silica to form an effective and non-chemical fire barrier. The mattress passes all federal flammability standards.
The wool offers extra benefits, too. It is naturally antibacterial, it is excellent for moisture wicking and keeps your mattress smelling fresh – no matter how much you might sweat at night.
---
Smell/Off-Gassing
Being natural, the Avocado has minimal off-gassing. Any slight smell you might experience is from ordinary manufacturing processes and is completely harmless.
The mattress has several green and quality certifications. It does not contain any harmful chemicals or VOCs.
Also, since the mattress is made on order, you get a freshly-manufactured mattress with no warehouse smells.
But if you experience an uncomfortable smell, try airing the mattress in a well-ventilated room for a couple of days before you sleep on it.
---
Sleeping Experience & Customer Feedback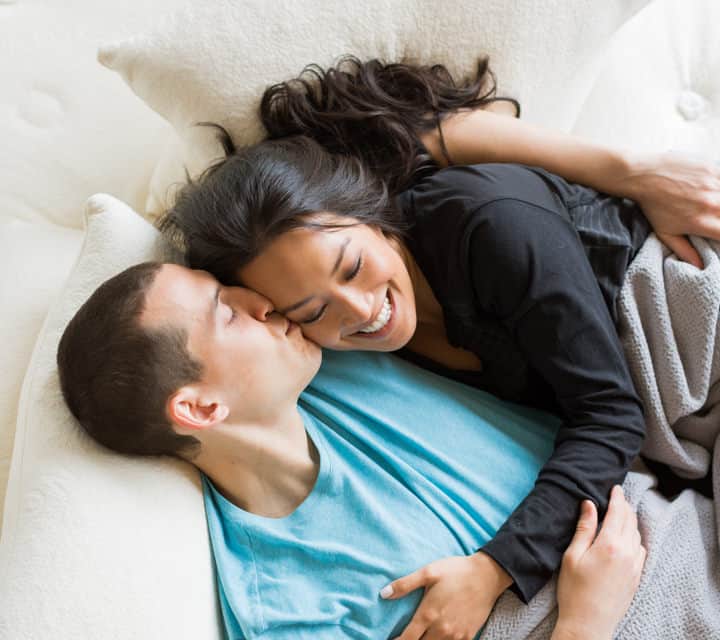 Here is one customer's description of his sleeping experience with the Avocado Green mattress;
"I have to say, from the first night I slept in this bed I've had some of the best nights sleep I've had in years!"
Most Avocado mattress reviews we found online are equally positive.
Many customers say the mattress is amazing. They sleep better and deeper. The mattress stays cool and does not creak like many spring mattresses.
Positive feedback from customers with back and neck problems as well as medical conditions such as arthritis are also common.
---
Firmness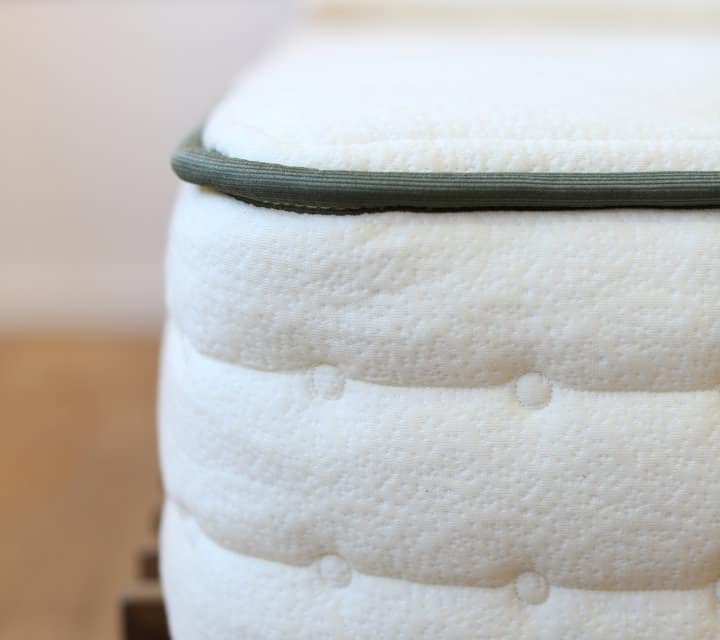 The firmness of your mattress will depend on which version you buy.
The standard mattress (without the pillow top) is rather firm.
We rate it a 7 out of 10 on the firmness scale, with ten being the firmest.
Only buy this one if you like a lot of freedom of movement. It's great for stomach sleepers, too.
The more expensive pillow top mattress is medium-firm because of the softer latex foam used in the pillow top. This is the mattress to buy for most people.
---
Sinkage
The level of sinkage will also depend on which of the two models you buy.
The standard mattress is firmer and naturally has less sinkage.
The pillow top mattress has more sinkage and definitely feels plusher. But it doesn't sink so much that you'll feel stuck.
---
Motion Transfer
Motion transfer is basically nonexistent in both models.  The pocketed coil layer makes sure of that.
A disturbance on the mattress will stay local, so even though the mattress has a nice bounce, you probably won't wake up when your partner turns over at night or gets up to use the bathroom.
---
Hot/Cold Issues
Avocado Green's use of latex foam ensures that it has no cooling issues.
On top of that, the pocketed coils allow free airflow and the mattress uses a breathable organic cotton cover and natural wool which further helps wick away moisture and dissipate heat.
---
Warranty
The mattress is covered by an exceptionally long 25-year warranty that has two parts.
The first ten years of the warranty period are non-prorated, which means the company will bear the full cost of repair or replacement.
During years 11 to 25, the warranty is prorated. You will be charged a percentage of the purchase cost to replace the mattress. The percentage depends on how long you've had the mattress. It starts at 50% and increases by 5% for each subsequent year.
---
Return Policy
Customers are given a full year to try the mattress in your home.
If you don't like your mattress, contact Avocado for a full refund or ask them to send you a softer or firmer version.
If you opt for a refund, they will pick the mattress at no cost to you and recycle it or donate it to charity.
---
Summary – Pros and Cons
Pros
All-natural materials and careful assembly keep toxins out of your bedroom.
Pillow top version is extremely comfortable and supportive.
Save $1,000+ vs. similar store-bought mattresses.
25 year warranty with a full refund for the first 10.
Cons
A bit expensive
Very heavy
There is no soft comfort option – only firm and medium firm.
---
The Avocado Green Mattress is Perfect For You If…
You want a luxury organic mattress for far less coin than most stores charge – and you don't need a split configuration or a soft comfort level.
If you need a split configuration or a softer mattress, then check out the top-rated organic mattress, PlushBeds Botanical Bliss.
---
How To Save $100 or More
Buying Tips
Don't buy this mattress on Amazon.  You won't get Avocado's 100-night return policy.
If you don't want to pay all at once, then check to see if you qualify for 0% financing by Affirm.
Visit Avocado's website and our Coupons page for the latest deals.
---
Save BIG On Your Next Mattress Purchase
Join our mailing list and get my LATEST COUPONS delivered immediately!
Send Me The Coupons
---
Learn More
Compare Mattresses Side-by-Side
---
Affiliate Disclosure
Affiliate Disclosure: I may earn a small commission (at no cost to you) if you purchase a mattress after clicking a referral link or using a coupon code on this site. That said, all content and opinions on this site are my own and are NOT affected by these payments.
This site participates in the Amazon Services LLC Associates Program, an affiliate advertising program designed to provide a means for sites to earn advertising fees by advertising and linking to Amazon.com.
*Amazon and the Amazon logo are trademarks of Amazon.com, Inc, or its affiliates.
---