NOTE: We earn from qualifying purchases made via Amazon Associates and other affiliate programs. Learn more.
---
Shopping for a down pillow? 
We recommend the following top 6 down pillows for you to look at. For people looking for luxury, value, comfort, or anything in between, our list has something for everyone. 
---
What's In This Buying Guide 
In this buying guide, we review the top six best down pillows currently available on the market. Unlike their foamy counterparts, down pillows are some of the softest and plushest pillows you can get your hands on.
They are very comfortable yet supportive, so you can enjoy a good night's rest.
However, when you are buying a down pillow for yourself, don't pick one at random. Instead, keep your personal needs and comfort in mind, and then choose a suitable one.
Better yet, take a look at the helpful pointers we have included towards the end of this guide to help you choose better. We have a list of recommendations for you to see as well.
---
What is a Down Pillow? 
Down here does not mean low or flat; rather, it means feathers. A down pillow is filled with clusters of small and fluffy goose or duck feathers. Typically found under the exterior of a bird, such as a belly or a chest region, these feathers are quill-less.
The difference in structure makes it fluffy and very soft, so when you use them as pillow filling, they make it very soft, cuddly, and moldable. A down pillow tends to be quiet, comfortably warm, lightweight, durable, and well-suited for all sleeping positions. 
---
Best Down Pillows 
Disclaimer: All links below go to Amazon.com
---
This down pillow from East Coast Bedding is designed to last long. It is one of their softest and fluffiest pillows yet. They offer it in three different sizes, so there is something for everyone. It ensures that you wake up after a restful, uninterrupted sleep. 
Pros 
Both the fabric and stuffing are high in quality 

One of the most durable and reliable pillows 

Features a European White Goose down filling 

It has a pure cotton satin shell 

Comfortable and fluffy yet very supportive 
Cons 
May flatten soon if not maintained properly 

Some users may find it too soft
Our Review 
This pillow option from East Coast Bedding is a premium option. It is filled with European White Goose down encased inside a 100% pure cotton satin shell.
It boasts a fill power of 800 and has a 400 thread count. All of these features combine together to make it one of the best down pillows. 
It is available in three different sizes to choose from. The expert craftsmanship of this pillow gives it a remarkable loft. It compresses under your weight, and as soon as the pressure is relieved, it springs back to its original shape. This is a sign of a high-quality pillow.
It cradles your head and relieves the pressure on your neck and shoulder area. With this pillow in use, you won't wake up with a sore neck ever again.
---
Looking to enjoy an uninterrupted night's sleep? Get the Royal Bedding Luxury Down Pillow. They are soft yet quite firm. In fact, they are so full that fluffing is not even required. They are available in three different sizes, so you can easily buy what you need. 
Pros 
Cotton shell is very soft and comfortable 

It comes as a set of two pillows 

Features double silk piping edges 

Offers immense support to neck and shoulders 

Boasts an excellent combination of down and small feather
Cons 
For a down pillow, some users may find it too firm 

You cannot purchase a single pillow
Our Review 
Royal Bedding Luxury Down Pillows are just what anyone can need for better sleep. It features a unique combination of goose down and small feathers on a ratio of 75% to 25%. It is heartily filled to the point that it is quite firm. You don't need to fluff it to retain its shape.
The down filling inside this pillow is hand-plucked and 100% purified. So, it's not just soft and comfortable, but it is also antibacterial and hypoallergenic. This makes it a good choice for sensitive sleepers as well.
Moreover, the fill is encased inside a 100% cotton shell, making it airy and breathable, so you won't get hot during sleep. The edges are also made comfortable, with silly double piping running around the edge. 
---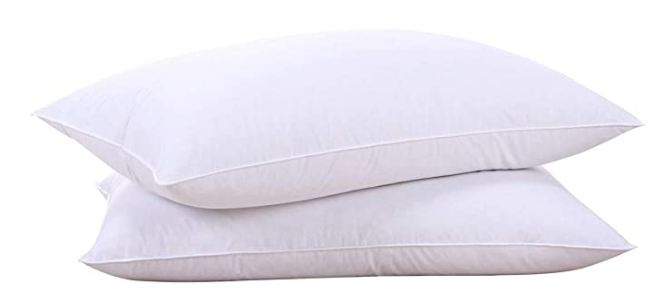 In a market filled with expensive down pillows, this one from Puredown comes as a breath of fresh air for those on tight budgets. It features an amazing fill ratio, combined with a soft and breathable cotton shell for a comfortable sleeping experience. 
Pros  
Features a double-layered cotton shell

It comes at a very affordable price 

Certified by Responsible Down Standard 

Soft yet very comfortable and supportive 

Double layered cotton shell and silky piping make it very durable 
Cons  
It needs more than a day to achieve full loft 

Requires regular fluffing to hold its shape 
Our Review 
If you suffer from neck pain and sore shoulders, you need a decent pillow that cradles your head and relieves pressure on your neck and shoulders. It should be soft and comfortable so that it offers support no matter what position you sleep in.
This is where the Puredown Natural Goose Down Feather White Pillow comes in. 
It is a comparatively cheaper model on the market, yet it delivers similar results in results in terms of performance. They've filled it with 85% goose feather and 15% goose down, making it soft yet somewhat firm.
It has a medium loft that keeps your head up and spine aligned. Although, even if you are a side or stomach sleeper, you will find it very useful. 
---
If there is something everybody loves, it's having a variety. In Continental Bedding 100% Premium White Goose Down Luxury Pillow, you get lots of variety to choose from. Whether you want a single or a set of two, they deliver it. You can also choose between three sizes, and in each size, they offer both soft and firm firmness levels.
Pros  
Filled with 100% white goose down

All cotton cover adds breathability 

Offers comfort without overheating with 550 fill power

It is a Responsible Down Standard-certified pillow 

The durable pillow is machine-washable 
Cons 
Some units carry a faint musky odor

May go flat quickly if not maintained regularly 
Our Review  
The Continental Bedding 100% Premium White Goose Down Luxury Pillow offers maximum softness, lightness, and moldability. You can choose between a soft and firm fill to find the right level of support for your neck. With 100% white goose down fill, it compresses to cradle your head and relieves pressure off the neck.
They've made it to be extremely breathable. The down is encased in a 100% pure Egyptian cotton shell with a 300 thread count.
Yes, it is somewhat expensive, but the pure goose down fill inside it justifies the price. It does not contain a mix of down and feathers or duck down. Instead, it is truly one of the best down pillows on our list with a true down filling. The best part? It is Reasonable Down Standard-certified. 
---
When you compare this pillow with others on the list, it may seem a bit expensive. But given that it is the most comfortable of them all, you will agree that the price is justified. It features a medium-firm loft that is suitable for all sleeping positions. 
Pros  
Features 90% goose down filling

Down is encased inside a luxury cotton shell 

The cotton cover features a 1200 thread count 

Malleable and easy to shape 

Reduces the development of pressure points 
Cons 
Firmer than other

pillows on this list

Available in fewer size options 
Our Review  
This comfortable pillow from Egyptian Bedding features a unique combination of 90% down and 10% feathers that make it soft yet quite firm.
You can easily shape it into a comfortable form for a peaceful sleep. Although the pillow is suitable for all sleeping positions, it is especially comfortable for side and stomach sleepers. It also helps ease hip and back pain. 
The pillow is designed to be durable. It features a luxury Egyptian cotton cover with a 1200 thread count. It holds well against rough usage with double-stitched seams for added durability.
The 750 fill power provides excellent support while keeping it soft enough for stomach and back sleepers. As for side sleepers, they can easily fold or shape it for their comfort. 
---
We really like this pillow for its 100% pure down filling. It does not contain any additives like small feathers or duck down within its fill. Instead, it's all goose down, making it extremely durable and comfortable. 
Pros  
The luxury pillow is plush and supportive

Soothes and supports the head, neck, or back

Made from high-quality goose down feathers

The fine cotton threads keep your body perfectly soothed

It comes in a beautiful packaging bag 
Cons 
Not available in all size options 

Heavy sleepers may find it too soft 
Our Review  
Whether you are looking to buy a down pillow for yourself, or are looking for one to gift someone special, the Lincove 100% Goose Down Luxury Sleeping Pillow is an option to check out.
It comes in beautiful packaging that's suitable for gifting purposes. It offers a wide variety of selections between sizes and firmness levels. You can choose one that best meets your needs. 
It is filled with 100% natural goose down, which makes it fluffy yet very supportive. The pillowcase material is also of high quality. The 100% sateen cotton material has a 600 thread count that makes it very breathable.
Lincove is so confident of its quality that it backs it up with a 100% satisfaction guarantee. If you are not happy with your purchase, you can have it refunded without any difficulty. 
---
The Benefits of Down Over Other Fills 
Other benefits aside, down pillows are and always have been a symbol of pure luxury. They are super comfortable, ultra fluffy, and very light. Every person's dreams of living extravagantly include down pillows in their luxurious bedroom.
Even at the priciest price, luxury lovers don't waste any time in getting numerous down pillows to cover half their beds. Simply put, they have no rivals when it comes to luxury, but do you know that they also have numerous health-related benefits? Have a look. 
Anti-Allergenic 
Unlike other traditional fills, down is naturally anti-allergenic. Being a natural product, it does not attract microbes or fungi. This feature alone makes down a preferred choice as people who suffer from allergies or respiratory issues like asthma can use down pillows without any worry of falling ill. 
Moldable 
Thanks to their quill-less structure, down feathers are very malleable. When filled, inside pillows are small clusters, so they tend to retain their structure. This ability directly transfers to the pillow itself, enabling it to hold its shape well. With their malleability, down pillows are suitable for all sleeping positions. 
Light and cuddly 
Since down can retain its fluffiness five times more than cotton, these pillows are very light and cuddly. All you need to do is keep fluffing them so they don't fall flat. The space between the feathers allows air to be trapped inside, making tiny air pockets that enable it to maintain its loft while staying lightweight. 
Better Temperature Control 
Down pillows have superb insulation properties. They neither get very warm nor very cold. Just like they protect birds from extreme weather conditions, they insulate the pillow from your body heat, making you feel very comfortable.
Similarly, they don't turn cold during winters, so you don't have to lie on a cold pillow as well. 
Sustainability 
Down is a completely natural and biodegradable source. It can be recycled and renewed, making it an ideal choice for pillow fill.
---
Buying Guide: How to Choose a Down Pillow
When you are buying something to improve your lifestyle, you just don't pick up any random products. It stands true, especially when you are purchasing something as luxurious as a down pillow.
You have to consider a few factors before choosing a unit that fulfills your needs. Below we have listed some of the features that tell you how to choose a down pillow.
Goose vs. Duck Down vs. Down Alternative 
Goose are mostly bigger than ducks, so their down clusters are also bigger. They tend to trap more air within their filaments, making them fluffier and insulated. Duck down has smaller clusters, yet it is equally warm and soft. However, it might need more scrunching to retain its shape. 
On the other hand, down-alternative fill is synthetic and man-made produced from polyester microfiber. While it is cheaper than natural down, it does not last as long. 
Goose down pillows 
Goose down is often considered inherently better than duck down, but the fact remains that both have equally efficient insulation abilities. However, the ages and oil and fat content of the birds do matter. With its bigger clusters, Goose down is fluffier and more cuddly, but cleaning it is an issue.
You cannot clean it with regular machine washing. It will smash the fluffy texture of the fabric, making it brittle and flat.
Thread count 
The thread count of the pillow shell is an important consideration in down pillows. A higher thread count doesn't mean the pillow is better. Instead, it significantly changes the way that the pillow responds to compression. Think of a balloon. When filled with more air, it has less compressibility and is more resilient.
Similarly, when down is encased in a high thread count fabric, it acts more like a balloon and does not give much room for compression. A down pillow needs to have a certain unique personality that allows for compression so that the material inside can move around to actually cradle your head.
It is better to go for a thread count of 300 or more to buy the best pillow with a high-quality shell. 
Fill Power 
Fill power in down pillows is the measurement of the volume in cubic inches that one ounce of down will fill. Pillows with higher fill power are softer, lighter, loftier, and are generally of better quality. The more the fill, the firmer the pillow.
Down pillows with fill powers of 700 and higher are of the best quality because they retain their shape the longest. Meanwhile, for medium pillows, 550 fill power is the most common. 
Maintenance 
Being a luxury item, down pillows require proper care and maintenance. You have to fluff them after every use, so they don't lose their fluffiness. Although down itself is anti-allergenic, the shell may need cleaning every now and then. So, it's better to look for a pillow that is easy to clean. Even down needs washing every now and then for hygienic purposes. It's best to look for a pillow you can wash and dry in the machine. 
Durability 
Since you are shelling out a good amount of money for a pillow, you have to know how long it will last. It's no use spending so much money on a product that won't last long. Look for a pillow that is long-lasting and can handle rough usage every now and then. Since every manufacturer claims that theirs is durable and sturdy, you have to be absolutely sure before giving away your money. 
Budget 
Down pillows are a luxurious purchase. Not everyone can afford the highest quality model available on the market. That's why you have to set an appropriate budget for yourself.
Having a price range in your mind will help you look from a specific range by saving your time.
Also, when you decide to stick with your budget, you are not carried away by instincts. Keep the amount you want to spend in mind, and it will stop you from making an instinctive purchase. 
---
Final Verdict 
Out of all these viable options, the Royal Bedding Luxury Down Pillow is the best down pillow. It features hand-plucked and purified down, which makes it very comfortable. 
Lincove 100% Goose Down Luxury Sleeping Pillow is also good for its fluffiness and support. 
Meanwhile, the Puredown Natural Goose Down Feather White Pillow is the most affordable down pillow for people on tight budgets. 
---
Affiliate Disclosure
Affiliate Disclosure: I may earn a small commission (at no cost to you) if you purchase a mattress after clicking a referral link or using a coupon code on this site. That said, all content and opinions on this site are my own and are NOT affected by these payments.
This site participates in the Amazon Services LLC Associates Program, an affiliate advertising program designed to provide a means for sites to earn advertising fees by advertising and linking to Amazon.com.
*Amazon and the Amazon logo are trademarks of Amazon.com, Inc, or its affiliates.
---