Leesa Hybrid (Sapira) Mattress Review
Summary
A luxury hybrid mattress with a great bounce, perfect motion control & exceptional temperature control – at an unbeatable price.
Great Choice for: anyone looking for medium-firm premium luxury innerspring mattress (80% of us)
Avoid if:  you need a firmer or softer comfort level because Leesa doesn't offer a choice
Price: $1,199-$1,899
NOTE: We earn from qualifying purchases made via Amazon Associates and other affiliate programs. Learn more.
---
The Leesa Hybrid Mattress provides a luxurious innerspring-like sleeping experience for a budget price.
By integrating the best foam layers and pocketed coil springs, Leesa has produced a mattress that provides great support, a nice bounce, insulation from your spouse's movements, and an exceptionally cool and dry night's sleep.
All of this comes at a higher price than its sister mattress, the Leesa original foam mattress – but it's far less than what you will pay in a store for this level of the quality hybrid bed.
In this deep dive review, you will learn if the Leesa Hybrid mattress is as good as some claim, whether it suits your needs and how it compares with other leading mattresses sold online on several important factors including construction, motion control, temperature control, price, discounts and more.
So let's get to it.
What's In This Mattress Review
This Leesa Hybrid mattress review is about a 10-minute read.
To save time, use the table of contents to jump to sections you care most about.
To return to the table of contents, click  ↑ Table of Contents
---
About Leesa
In the mattress-in-a-box industry, Leesa, is a relative newcomer.
But their brand has been rising quickly.
Today, Leesa is often compared with more established names like Casper, Amerisleep, Saatva and Nest.
The company's first online mattress, the Leesa, is a great-sleeping and highly-rated budget foam mattress made from Leesa and memory foam. I love it!
The Leesa Hybrid is Leesa's first move into the more expensive innerspring market that is currently dominated by Saatva, Nest Bedding and others.
With the launch of Leesa's Hybrid (originally called the Sapira) mattress in late 2016, Leesa offers a mattress for people who want the support and feel of a luxury innerspring mattress but prefer the convenience, in-home trial and lower prices afforded by buying their mattress online.
---
Social Impact
Leesa has always given back to their community and is the only online mattress company to earn B-corp status.
Most of their social investments are aimed at improving the community and environment around them. One of Leesa's largest initiatives involves donating one mattress for every ten sold.
They've also worked with several non-profits towards various causes. In their environmental program, they collaborate with Arbor Day Foundation towards planting a tree for every mattress sold.
Lastly, the Leesa Hybrid mattress is manufactured entirely in the United States. Leesa has a purpose-built factory in Mississippi, where all Leesa mattresses are produced. This helps create much-needed jobs and ensure the highest product quality.
---
Purchase Process
Leesa has created a separate website for Leesa Hybrid (Sapira) at https://Leesasleep.com/, where you can purchase their new mattress.
Unlike a lot of other online mattresses today, the Leesa Hybrid (Sapira) is not available for sale on Amazon or in retail stores.
Head over to the official website to read more about the mattress and how it is engineered.
Before buying, it is always a good idea to read through the return and warranty policies in full. And make sure you factor-in the latest deal.
Speaking of which, SleepDelivered readers can take 15% (up to $250) off of any Leesa mattress by clicking any link on this page and ordering on their website.
The Leesa Hybrid (Sapira) does not offer a choice of firmness or a split configuration, so the only choice you have before checkout is size.
There are six sizes available:
Twin
Twin XL
Full
Queen size
King size
California King
Before submitting your order, you have the option to finance your purchase over time through Affirm.
If you qualify, then you'll get your mattress immediately and can pay for it over several months, interest-free.
---
Price
Compared with budget foam mattresses, Leesa Hybrid carries a higher price tag. A Queen size lists for over $1,500.
But you need to remember this is a luxury hybrid mattress. Compared with store-bought mattresses that use similar technologies, it is far less expensive.
If the Leesa Hybrid's price tag is a shock, remember that you can take advantage of Affirm financing (subject to approval) to spread your payments out over several months.
Also, bear in mind that coupons and discounts really impact the price you pay.
For example, SleepDelivered readers can save up to $250 – click this link to claim.  
Here is Leesa Hybrid's price list w/ our discount applied:
Shipping and delivery are free within the 48 US states.  For shipping to AK or HI, call for a quote.
---
Shipping
Leesa offers free shipping to all US states, including Hawaii and Alaska.
The company does not ship to international destinations at the moment.
Because every Leesa Hybrid (Sapira) mattress is made to order, it takes 3-5 days after your order to ship from the factory.  Tack-on another 1-5 days for shipping, and you get a total order-to-delivery time of 4-10 days.
---
Delivery & Setup
Your Leesa Hybrid will arrive compressed and rolled-up in a very compact box. Twin, Twin XL, Full & Queen ship in a 16.5" x 16.5" x 43.5" box. King and Cal King ship in a 17.5" x 17.5" x 45" box.)
Delivery is via UPS and is free of charge to all 50 states in the US (includes Hawaii and Alaska).
For an extra $99, you can have White Glove delivery, where the company will deliver a team of 2 to help you set up the new mattress in your home.
For another $50, the Leesa team will remove your old mattress from your home.
Regardless of how you set it up, the mattress will be delivered in a surprisingly compact box whose size will depend on the mattress size you ordered.
Make sure you place it on the right surface. as the Leesa Hybrid is designed to be supported on a flat, firm surface like a boxspring, platform bed or strong slatted bed.
To unpack it, you'll want to free the mattress from the shipping box, then place the wrapped roll on your mattress support before cutting the wrapper. Once you do – POOF, the thing expands like crazy – faster than a memory foam mattress, so watch out.
It's kind of amazing to me that they can pack a coil spring mattress into something this small.
Also: this mattress is heavy – the lightest Twin weighs in at 75 lbs. The California King weighs a whopping 142 lbs (!). If you aren't using Leesa's White Glove delivery, then you will want an extra pair of strong hands around to help you set it up.
---
Aesthetics/Styling
The Leesa Hybrid (Sapira) mattress has a really nice, clean look to it.
It has a sharp, modern design consisting of an off-white color covering the entire mattress with four gray bars on one end providing the only contrast.
If you look closely the bars, you will notice that they have different geometric patterns, creating an interesting overall style.
The rest of the mattress is decked in quilted diamond patterns.
Overall, very pleasing to the eye and speaks of quality.
---
Technology
The technology in the Leesa Hybrid is not all that groundbreaking. There are plenty of other mattresses that use pocketed coils to boost up support and contouring.
What the company has accomplished here is two-fold:
they improved on the pocketed coil / hybrid design, and,
most importantly: they removed the ridiculously high price tag associated with luxury spring mattresses.
Leesa Hybrid's primary sleep technology is its pocketed coil layer.
Every Leesa Hybrid is made with a thousand steel coils. Each coil is encased in its own pocket, a feature that eliminates noise and reduces motion transfer to a bare minimum (read more about this below).
The company claims that it re-engineered the pocket spring itself to create a mattress with a "premium support system". The coils used in the mattress are made from recycled metal and are tested to ensure their durability, support and responsiveness.
Pocketed coils support every square inch of this mattress, too – all the way to the edges, for uniform support and excellent edge support.
The coils are sandwiched between two stabilizing foam layers for added stability and support.
Finally, the top foam comfort layer is perforated with holes to improve air flow and moisture wicking.
Combined with the naturally openness of a coil system, this ensures a cool and dry sleeping experience.
---
Construction
The Leesa Hybrid combines the benefits of memory foam and innersprings into one design.
This is a big difference from its sister mattress, the Leesa. The Leesa combines memory foam and Leesa foam, but has no innerspring component. It also explains the big price difference between the two: innerspring mattresses are considerably more costly to build and to ship.
The Leesa Hybrid mattress contains three primary layers: two foam upper layers on top of a pocketed coil support layer that is sandwiched in two thin foam stabilizers.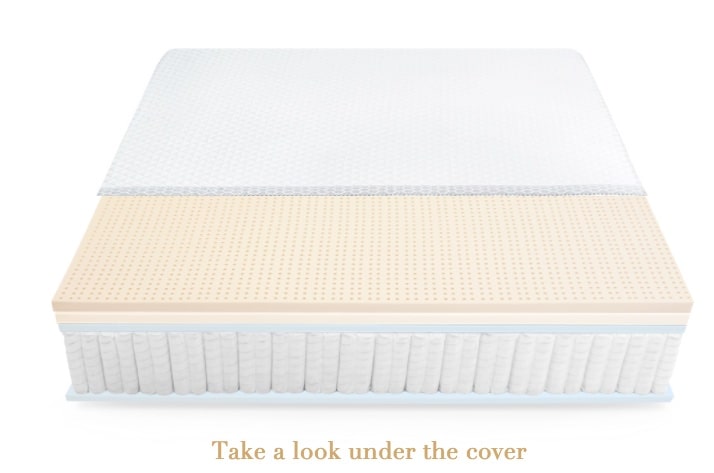 All foams used in the Leesa Hybrid are CertiPUR-US certified, which ensures that minimal volatile organic compounds are released and zero toxic chemicals are involved.
Let's open up the mattress and look at each layer in more detail.
1. Cover
Covering the entire mattress is a soft and stretchy piece of fabric designed to be comfortable and highly breathable.
The American-made cover consists of two thread materials: polyester, which makes it super soft, and Lycra, which gives it a stretchy feel.  The combination of these two materials form a poly-Lycra fabric that is soft, breathable and stretchy all at the same time.
Beautiful quilting and patterns are added to the cover to give it a unique feel.
The company does not recommend removing the cover to clean it. As a result, it does not have a zipper.
If the mattress cover gets dirty or stained, spot cleaning is the answer. Use cold water and mild detergent and be sure to rub gently to avoid damaging or wearing out the cover.
To avoid stains, consider buying a mattress protector.
2. Cooling layer (1.5 inches of performance foam )
The top layer is a 1.5 inch thick layer of 3.75 lb density performance foam.
This is a specially-engineered foam that keeps the mattress cool and comfortable, thanks to a series of holes punched into it.
It is also designed to be just as firm and responsive as latex foam.
So, you get that pleasurable bounce and firm top support that latex foam is known for.
3.  Pressure Relief layer (1.5 inches of memory foam)
The second layer is a 1.5 inch thick slab of 4 lb memory foam.
Memory foam is naturally great at relieving pressure. It also contours around the body, creating a comfortable 'hug' and eliminating painful pressure points.
Together with the first layer, it provides the comfort layer for this mattress.
On the downside, memory foam is not the best when it comes to cooling. It tends to retain too much heat.
But in the Leesa Hybrid (Sapira), the performance foam cooling layer above and the pocketed coils below ensure that the memory foam does not affect the mattress' temperature control capability.
4. Support layer (8 inches of pocketed coils with stabilizing foams)
On top of the coils, there is a 1-inch stabilizing foam layer acting as a transition from the comfort layer above to the support layer, below.
There is another 1-inch layer of stabilizing foam beneath the pocketed coils that acts as a base support.
The individually pocketed innerspring coils are designed to provide responsive support when you lay on the mattress. Every coil reacts individually to the pressure exerted on it.
This provides natural spine alignment and prevents problems such as back aches and sore neck. Whatever your sleeping position and whatever your weight, the springs will adapt to your needs.
---
Smell/Off Gassing
For good reasons, mattresses containing memory foam have been accused of emitting nasty-smelling off-gassing.
Off-gassing refers to the emission of unpleasant smells when the mattress is new.
In years past, these emissions could sometimes be harmful, even carcinogenic.
But with better standards and more eco-friendly manufacturing practices in recent years, off-gassing is not dangerous, today – it is at most, mildly unpleasant for a week or so before the gassing tapers-off.
The Leesa Hybrid has no off-gassing to speak of. This is perhaps due to the fact that it contains considerably less foam than other mattresses.
In case you are worried about harmful emissions, remember that the foams used are CertiPUR-US certified.
The fact that all manufacturing is done in the US should also give you some confidence as to the safety and quality of the mattress.
---
Sleeping Experience
So how does this new hybrid mattress stack up against other mattresses sold online?
Traditionally, luxury innerspring mattresses provide a more supportive and more luxurious sleeping experience, but they also cost a lot more to produce and to ship.
Overall, the Leesa Hybrid mattress cost considerably less than a luxury innerspring mattress, yet it feels more supportive than even the best all-foam mattress.
The Leesa Hybrid is also bouncier than even a latex mattress, and the body contouring is comparable to that of most memory foam mattresses, although the sinkage is not as deep.
By combining the strengths of memory foam (body contouring and pressure relief) with those of innersprings (coolness, responsiveness and support), Leesa Hybrid really does deliver a sleeping experience that performs well in almost all areas.
To learn more, let's take a look at the four key aspects of sleep experience: firmness, motion transfer, sinkage and temperature control.
---
Firmness
Given the price and quality of this mattress, it's a bit of a letdown to learn that the Leesa Hybrid comes in only one firmness/comfort level: medium-firm.
So does its closest competitor, the Nest Sparrow Hybrid.
So, if you have special comfort preferences, then you're out of luck with the Leesa Hybrid. In this case, I recommend you check out the Helix, which offers a hybrid construction and a similar feel but lets you customize your mattress for your own unique sleeping style.
Leesa's Hybrid bed is marketed as a medium-firm mattress, and that's exactly how it feels. When you lie on it, it feels slightly firm. I would rate it at 6.5-7 out of 10, where 10 is the highest firmness level.
At this firmness level, the Leesa Hybrid feels firm enough to be supportive but still soft enough to offer pressure relief and 'hug' your body just a little.
Other reviewers have said that Leesa's Hybrid mattress is firmer than expected when they first slept on it.
This is normal. As with any foam-top mattress, you should allow your body to acclimate to the new mattress, which can take a few nights to as long as two weeks.
By the second or third night, the mattress will feel softer.
If after several weeks of sleeping on it, you still don't like the feel, then you can always return it and try another brand.
Try doing that with a store-bought hybrid!
---
Sinkage
Leesa Hybrid has middle-of-the road amount of sinkage.
Lying on my stomach or back produced the least amount of sinkage, at around 1.5 inches.
Side sleepers will notice deeper sinkage at around 2 inches, because of added pressure around the hips and shoulders.
---
Edge Support
Sitting on the edge, you will notice that the Leesa Hybrid's edge support is excellent. Completely unlike pure memory foam mattresses, much more like an innerspring.
This is due to the excellent edge support provided by the pocketed coil support layer.
---
Motion Transfer
Another potential issue for any mattress is motion transfer, which is the amount of motion transmitted across the mattress' surface between two people (or objects).
As you might expect from its design, the Leesa Hybrid exhibits very little motion transfer.
This is largely attributable to the pocketed coil design. Because independent pocketed coils are not connected to each other, they can not transmit much lateral motion.
The minimal motion transfer of the Leesa Hybrid mattress is a major advantage for couples who want a peaceful night, no matter how much of a fidgeter one of them might be.
---
Hot/Cold Issues
Temperature control is a big priority for any mattress company these days, especially any mattress that uses foam near the body.
If you check out the other customer reviews online you'll quickly learn that the Leesa Hybrid gets mostly 5-star marks for its cooling ability.
The Leesa Hybrid relies on two main features to minimize heat retention:
The first is a perforated/ventilated foam cooling layer. The top layer contains small holes to enhance airflow and wicking-away of moisture.
The second feature is the pocketed coil support layer. Pocketed coils leave plenty of room for air to flow, so excess heat is promptly carried away from the mattress.
There is no need for mattress pads or other add-ons to combat temperature issues, because there are none.
Excellent airflow throughout the mattress also helps avoid a stale-smelling or moldy mattress.
---
10-Year Warranty
Leesa Hybrid offers a 10 year limited warranty for its mattress, which is similar to most other online hybrid mattresses – although we are starting to see newer companies offering 15 or even 20 year warranties.
The warranty guarantees that Leesa Hybrid will cover replacement or repair costs for 10 years after you buy the mattress.
Note that the warranty will be voided if ownership is transferred to another person or if the mattress goes outside the United States borders.
There are many other specifics detailed in the warranty, which you should read before making a purchase.
---
100-Night Trial
Leesa Hybrid's 100-night return policy takes the risk of buying your mattress online without testing it first.
You have up to a 100 nights to try out the mattress and decide whether to return it or keep it. Like most other online mattress companies, Leesa recommends you try it out for a minimum of 30 nights to allow your body to get used to the new mattress.
If you still decide to return it after the 30-day burn-in period, then the company will pick it up for free from your home and you will be given a full refund.
For buyers in Hawaii and Alaska, there is a $100 fee for returns.
---
Pros/Cons
Pros
One of the best cooling mattresses sold online.
Excellent support, thanks to the pocketed coil layer
Excellent edge support
Very little motion transfer = great for couples
Bouncy feel = great for sex
Complaints
No choice of firmness
Not cheap (but a lot cheaper than a store-bought equivalent)
---
Leesa Hybrid Mattress is Perfect For You If…
You are searching for a luxury innerspring or hybrid mattress with a great bounce that sleeps cool, and at a great price.
You hate sleeping hot at night.
You're cool with a medium-firm feel.
---
Conclusion
Buying a luxury innerspring or hybrid mattress is usually an expensive affair, involving several thousand dollars and lots of unnecessary sales pitches.
Leesa offers a far more convenient buying process, a much lower price and doesn't ask you to compromise on quality or technology.
In my opinion, the Leesa Hybrid is an excellent choice for anyone looking for an innerspring mattress online.
---
Alternatives
Two other highly-rated hybrid mattresses we've reviewed include the Helix mattress and the Alexander Hybrid mattress, by Nest Bedding.
Like the Leesa Hybrid, the Helix and Alexander use coils in their support layer with an foam comfort layer on top.
But, they differ greatly in the number of layers and technology used.
Like the Leesa Hybrid, the Nest Sparrow Hybrid offers one comfort level.  The Alexander Hybrid is slightly less expensive than Leesa's Hybrid mattress, too, but it differs in feel and uses very different technologies.
You may also want to take a look at Helix. This new budget hybrid mattress is considerably less expensive than the Leesa Hybrid or the Alexander Hybrid. In addition – unlike the other two – the Helix can be customized for your particular comfort preferences and sleeping style.  It sleeps great, too. But it's not as good at temperature control and the layering and technology in the Helix isn't at the same level of quality as Leesa or Nest.
---
Where To Buy
The best place to buy a Leesa Hybrid is on Leesa's main website. This is where you will find the best deal and be assured of getting the company's excellent Return and Warranty terms.
---
Affiliate Disclosure
Affiliate Disclosure: I may earn a small commission (at no cost to you) if you purchase a mattress after clicking a referral link or using a coupon code on this site. That said, all content and opinions on this site are my own and are NOT affected by these payments.
This site participates in the Amazon Services LLC Associates Program, an affiliate advertising program designed to provide a means for sites to earn advertising fees by advertising and linking to Amazon.com.
*Amazon and the Amazon logo are trademarks of Amazon.com, Inc, or its affiliates.
---