Sleepme Cube Mattress Cooling Pad Review
Summary
The Sleepme Cube Mattress Cooling Pad is the best bed-cooling solution for people suffering from night sweats and hot flashes.  This is because it relies on water-cooling, which provides much faster and longer-lasting cooling relief.
Great choice for: Anyone who experiences hot flashes or sweats.
Avoid if:  You want to cool the top of your body, too. This is a mattress pad, not a full-body cooling system like the BedJet.
NOTE: We earn from qualifying purchases made via Amazon Associates and other affiliate programs. Learn more.
If you get hot at night or suffer from hot flashes, then you will probably love Sleepme's Cube water-based bed cooling system.
Like Sleepme's more expensive OOLER & Dock Pro products, the Sleepme Cube cools your body by passing water through small tubes in a special mattress pad that lies under your bed's fitted sheet.
Water-based cooling is not just good for people who suffer from hot flashes at night, but also for those who reside in locations with cold climate.  This is because nothing cools or heats your body with more precision than water.
The temperature of the water in the Cube can be set anywhere between 55F and 115F to meet your particular comfort preferences. This is a wider temperature range than any other bed-cooling systems in its class.
My husband and I recently spent two weeks sleeping with a Sleepme Cube in our master bed.
So I can assure you, it works as promised.
But it wasn't perfect. We didn't like the wonky controls, and my husband could feel the water tubes under his back from time to time.
The Cube will save you a few bucks, but to be honest we recommend upgrading to the Dock Pro instead – it has fixed the remote control issue, has double the cooling power, and ditches the tubes for a membrane in the cooling pad.
The rest of this page summarizes our two-week test of the Sleepme Cube, in case it better suits your budget.
How Sleepme Cube Cools and Heats
Mattress pads warm the bed by using embedded wires.
Other cooling/heating systems like the BedJet use forced air to keep you comfortable.
In contrast, the Sleepme Cube uses water to cool and heat your body via direct contact with a mattress pad full of water tubes. The Cube warms or cools the water then pumps it through silicon micro-tubes in the pad.
Using buttons on the block or the wireless remote control, you set your desired temperature anywhere between 55-110F – and forget it.
Surprisingly, the unit doesn't include an adjustable timer, which is a significant feature in most heating or cooling pads.
---
Best Features of Sleepme Cube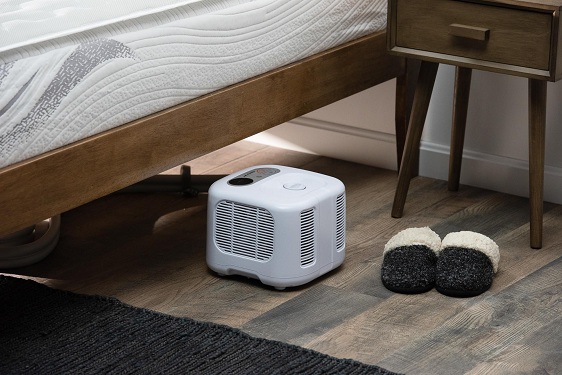 People who sleep hot understand how frustrating it is to find a cooling solution that is effective.
That's where the Cube sleep system comes into the picture.
Customers who experience hot flashes claim it keeps them cool and has improved their sleep experience tremendously.
The water flowing through the tubes can also get up to a toasty 110F warming your body and the bed.
Keep in mind that there's no zoned temperature control, so. if your legs get cold, you cannot warm up the lower portion of the pad.
You can choose the dual zone option for King and Queen sized beds only.  The package comes with a cube for each side of the mattress. Each Cube can be controlled individually, letting you set your temperature differently from your partner.
Pad Comfort
In our testing the pad did not change how the bed felt for the most part.
The tubes are soft and small to make sure that you don't feel them under the poly-cotton pad.
A couple of customers have said the tubes are noticeable on their backs – but it did not impact their sleep.  We never felt them most of the time.
Sleepme recommends setting up a pad under a fitted sheet to keep it in place and to make it more comfortable.
There's also a strap that is used around the mattress to keep the pad from shifting while you sleep on it.
Pad and Cube Maintenance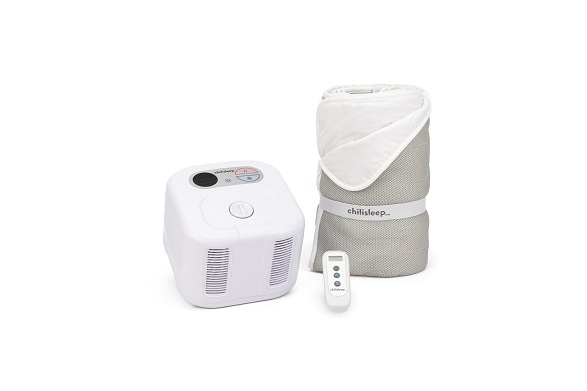 Sleepme recommends adding a 1/4 cup of hydrogen peroxide to your water to keep the machine clean.
This is a bit outdated, however, as other more modern units today like the Ooler use UV light to keep your water free from biologicals.
Check the user manual for specific cleaning procedures.
You also need to ensure that the exhaust and intake vents do not get clogged.
As for the mattress pad, you should wash it in a front loading machine only. Set a gentle cycle for washing and 'No Heat' setting for drying out the cube.
Setup
The Cube should be placed on the floor next to your bed. It must be on a flat firm surface.
Make sure there is a minimum of 24 inches of space around it to allow unrestricted air intake and exhaust. Do NOT place it under your bed.
Before turning on the Cube, you'll want to make sure you pour water into the reservoir and attach the hose to the Cube.
The company advises using distilled water. This is most likely to prevent biological and mineral buildup.
You will need to clean your Cube regularly if you are using tap water. The Cube can be damaged by too much buildup of mineral deposits which clog the tubes.
Mattress Pad
The Chilipad Cool Mesh mattress pad goes under your fitted sheet and on top of your mattress. Use the included strap to secure it around the mattress and keep it from shifting when you turn while sleeping.
You'll need to make sure you keep sharp objects away from the pad, though, because the tubes are soft and can be easily punctured.
So while the pad is safe for pets, you'll need to be careful that the tubes don't get damaged by their claws.
We also recommend placing a waterproof mattress protector under your pad in case of leakage.
Remote Control
You will get a wireless remote control included in the package. You have to sync it with the cube to use it.
After plugging in the cube, hold the ON button for 5 seconds until you hear a long beep and the little display reads 888.
Press the ON button, and it is going to pair with the cube automatically. Pairing is confirmed by a short beep.
The remote control contains three buttons: warm, cool and ON/OFF.
You can utilize the functions using the buttons on the remote; or, in case the remote control malfunctions or the battery dies, you can access the same functions using the buttons on the cube.
You can adjust the water temperature between 55F and 110F as mentioned above.
However, there isn't a timer function, which is a huge drawback. Some people prefer to warm the bed just for the first few hours to avoid waking up in a sweat in the middle of the night.
Others favor to turn off cooling as the night progresses and the temperature goes down.
The Cube is only going to turn off automatically after 10 hours.
Light and Sound
The Cube generates a mild fan sound that sounds like white noise. You won't hear or sense it most of the time.
You'll get used to it in no time. This device really isn't noisy and won't cause most people any trouble in falling asleep.
In this latest version of the Cube sleep system, Sleepme has removed the annoying lights that never turned off in the original unit.
They do light up in the beginning, but after a few moments, indicator lights go off in this one.
Adjusting Temperature
The Cube sleep system works best in a room with a moderate temperature. So don't turn your thermostat off completely.  This unit isn't a replacement for whole-room climate control.
Usually, the Cube will achieve your desired temperature within a few minutes after you set it. Air temperature, humidity and Cube positioning may affect the actual temperature achieved on your body, however.
The Cube reaches the preferred temperature faster compared to a conventional heating pad. But if you would like it to be perfect once you get into bed, turn it on and set your desired temperature 30 minutes before you sleep.
For the best results, when you're heating the bed, cover yourself using the blanket or comforter. This will provide insulation by trapping warmth in the bed and heating you up more effectively.
Due to temperature differences between the surrounding and pad atmosphere, you may see the wetness on the pad because of condensation.
Either lower the thermostat or raise the Cube temperature to eliminate it.
---
Overall Rating

The first-generation Sleepme Cube would have earned a lower score. However, the company has made many improvements in the latest Cube sleep system.
It works faster, is far easier to use, produces less noise and does not include those annoying lights.
The dual zone management is a superb solution for couples that have distinct sleeping preferences.
We like the setup process also. You might have difficulty in finding a place that is suitable for setting up the cube though.
Remember, you can't set up the Cube under your bed.
Overall, the Sleepme Cube sleep system is a fantastic solution for the sleepers who get too hot or too cold while sleeping.
That said, the new OOLER (click to see our review) is a better device and offers smartphone control plus variable temperature scheduling throughout the night.
---
Benefits
Effortless to install and use.
Quick temperature changes.
Safer than heating pads.
Can be machine-washed.
Low-water level indicator.
Concerns
No adjustable timer.
Cube placement can be challenging in tight bedrooms.
---
Warranty
The tubes and the mattress pad have a 90-day warranty.
The Cube and the control unit carry a 2-year warranty.
All products have a 30-day money-back return policy.
---
Customer Feedback
The latest-generation Sleepme Cube has more positive client feedback than their first model.
With the previous version, clients complained about loud beeping sounds, the bright lights, and an unreliable temperature controller.
Buyers of the new Cube system say it works fantastically. It can get things as warm or as cold as you want them to be.
It's particularly beneficial for users suffering from night sweats and hot flashes. Those who reside in hot areas say their sleeping experience has improved with it.
---
Affiliate Disclosure
Affiliate Disclosure: I may earn a small commission (at no cost to you) if you purchase a mattress after clicking a referral link or using a coupon code on this site. That said, all content and opinions on this site are my own and are NOT affected by these payments.
This site participates in the Amazon Services LLC Associates Program, an affiliate advertising program designed to provide a means for sites to earn advertising fees by advertising and linking to Amazon.com.
*Amazon and the Amazon logo are trademarks of Amazon.com, Inc, or its affiliates.
---