NOTE: We earn from qualifying purchases made via Amazon Associates and other affiliate programs. Learn more.
A trundle bed is a secondary bed that is usually stored below a standard bed that can be rolled out and used for guests.
Trundle beds are a great solution for serving guests while saving Space.
They are especially helpful to those who reside in smaller apartments like studios.
They can also be useful for big families with sleepover-age kids or even for roommates in high-priced cities.
The first trundle bed was created in the 16th century. Its suspension was made from leather and canvas straps, and the bed was made from oak.
Modern trundle beds are made in all shapes and sizes and designed for many different needs and ages.
For other cheap & affordable bed frames, read our guide for the Best bed frames under $200.
---
What's On This Page
---
Top 15 Trundle Beds for 2023
Disclaimer: All links below go to Amazon.com
| | Bed Frames | Best For | Feature | Price | Size |
| --- | --- | --- | --- | --- | --- |
| | Novogratz Daybed & Trundle | Best metal | Combined daybed and trundle bed | $ | Twin/Twin |
| | DHP Halle | Best upholstered | Faux leather upholstery | $$$ | Twin/Twin |
| | DHP Sophia | Best sofa bed with trundle | Contemporary sofa bed & trundle bed | $$ | Twin/Twin |
| | Little Seeds Ambrosia | Best tufted | Upholstered & tufted daybed & trundle | $$$ | Twin/Twin |
| | Zinus Suzanne | Best wood & metal | Stylish modern/industrial trundle bed | $ | Twin/Twin |
| | DHP Manila | Best white trundle bed frame | Victorian daybed & trundle | $ | Twin/Twin |
| | Zinus Eden | Best minimalist | Sturdy steel frame | $ | Twin/Twin |
| | DHP Bombay | Best wood | Solid wood bed with trundle | $$ | Full/Twin |
| | Max & Lily | Best full size | Vintage style metal frame | $$ | Full/Twin |
| | Storkcraft Marco | Best with storage | Wood frame with drawers | $$$ | Full/Twin |
| | Zinus Florence | Best contemporary | Modern white metal frame | $ | Twin/Twin |
| | Kings Brand Furniture | Best pop up trundle | Converts into a King size bed | $$$ | Twin/Twin |
| | Homelegance Adra | Easiest to clean | Wipe clean PU leather upholstery | $$$$ | Twin/Twin |
| | Coaster | Best standalone | Separate pop up trundle bed | $$ | Twin |
| | Coaster | Best bunk bed with trundle | Triple bunk bed for multiple kids | $$ | Twin/Twin/Twin |
---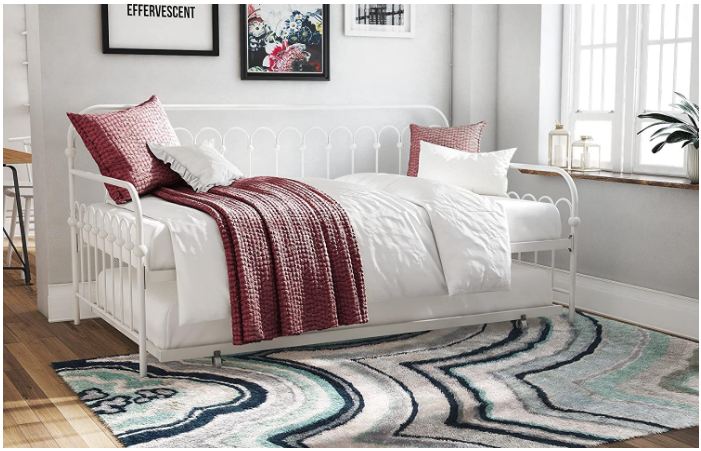 Design and Build
This trundle bed includes a design that features a diamond tufted backrest with a wing bunch and tapers brown legs. It is upholstered with premium linen and is made with a wooden frame.
This is available in multiple colors. The pull-out trundle is wrapped in and out. It can accommodate up to two standard twin mattresses. While the height of the mattress is 6 inches, these may be sold separately.
The daybed dimensions are 75.5″L"x 43.5″W x 33.5″H and trundle dimensions are 75″L"x 40″W x 11.5″H"
Uses and Capabilities
The weight limitation of this daybed is 400 pounds. The weight limit of the trundle bed is 250 pounds. It all can be sent in one box and is easy to assemble.
The shipping dimensions are 88 "L" x 32 "W x 6 "H". The manufacturing firm has existed for the past twenty-five years. It's a blend of their love for art and design too, which they have used to create furniture of superb taste.
The designs are so unique and edgy that they create a statement by creating the furniture piece a focal point, mainly because of the contemporary or vintage-inspired components. They care a lot about details, and through thoughtful construction, they help their beds stand out.
Additional Features
Each piece is designed with the customer in mind, and they come up with items geared towards the customer's needs. It adds a regal touch and elegance to any area with a diamond tufted linen upholstery.
It focuses on a streamlined and sleek silhouette that is inspired by midcentury modern designs. Without needing a base, the bentwood slat systems provide back support with pressure distribution.
The three-in-one piece can be used as a couch in addition to a guest bed. The combination helps bring flexibility, performance, and style into the home of one. The slats allow air to pass under the mattress which allows the bed to stay fresh and cool.
The pull-out trundle can also accommodate a twin-size mattress and be locked into place with casters so that it doesn't slide away.
Pros
•The slats are fabulous, and the beds are sturdy.
The instructions are clearly written.
It's made of quality materials.
•The service slat system is terrific.
•The appearance is extremely upscale.
Cons
•It's challenging to assemble.
There weren't any additional connectors supplied in the box.
•The fabric is stapled to the frame rather than finished that well.
---
Design and Build
This is a clean and simple design that suits all kinds of decors. The faux leather upholstery also incorporates lightly sleighed arms, and the quilted sides and back also have more exceptional comfort.
DHP is the maker that's well known for its innovative and trend-setting goods in the bike categories and has made its way to lithe lifestyles well.
This trundle bed is perfect if you want the furniture in your dorm or live in a small area. In any case, DHP is the best solution for everybody.
Uses and Capabilities
DHP is a small space living specialist, and their trundle bed speaks a lot for that claim. The daybed fits every kind of lifestyle. Whether you're trying to do your first home, child's room, condo, or DHP has you covered, mainly because it keeps up with the latest trends without compromising comfort.
Their materials are recognized as the best quality. Once it is matched with memory foam or also enclosed coil spring mattresses, you have everything you need for a space-saving, comfortable, dreamless night's sleep. The bed is tasteful, and the simple black décor goes what your home interiors look like.
Additional Features
It's quick and straightforward to assemble. The modern designs are available at affordable prices and have multifunctional uses. Whether you wish to use it in your dorm room, a spare room, or your child's room, the daybeds may be used in various spaces.
Its wrap-around has a look, comfort in addition to the functionality of a couch. The padded sides and back provide increased support, and the shapely design helps make it cozy yet stylish. The enhanced comfort and roomy seating give the best solution no matter what the location is.
Pros:
•It comes at an excellent price.
•All components come in one box, are well recognized in addition to well-protected.
•The upholstery looks lovely.
•It can fit into the most conservative of spaces.
Cons
•The documentation needs to be read line by line for the assembly to be accurate.
•The trundle will not stay pushed throughout.
The twin mattress on top is too small.
---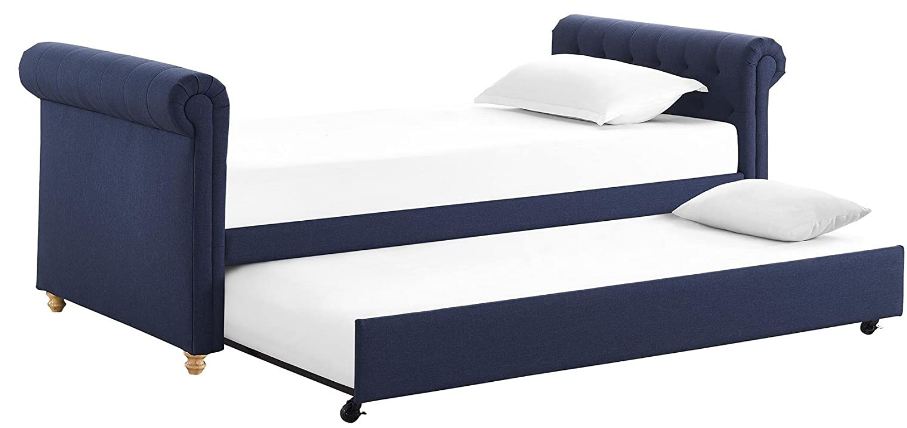 The DHP Sophia bed frame combines a stylish modern daybed with a roll-out twin size trundle. It's perfect for anyone looking for an upholstered bed frame with a modern chic look.
Pros
Beautiful modern chic design. 

Upholstered daybed and trundle.

Sturdy high-capacity frame. 

Easy to assemble. 
Cons 
Only fits a thin 6" mattress on the trundle. 
Our Review 
If you love the look of backless daybeds/sofa beds, DHP Sophia is a great pick. The lack of a backrest combined with the curved armrests gives it a contemporary chic look.
The linen fabric upholstery also looks great.
The DHP Sophia trundle bed is perfect for the living room, a home office, or a guest bedroom. You can dress it to look like a sofa or a bed. So it doesn't look out of place in any room.
The twin-size trundle bed rolls out easily from under the daybed. It is 40.5"W x 75"L x 11"H. 
The daybed above is also a twin size. Both beds have wooden slats. The daybed can support up to 400lbs while the trundle supports up to 225lbs.  
Issues & Limitations
There isn't much clearance between the trundle and the bottom of the daybed. You can only fit a 6-7 inch mattress on the trundle. 
If you already have a twin mattress that's 8" or thicker, you'll have to buy a new one. 
Note that there's no thickness limit on the upper daybed.
---
Design and Build
Little Seeds Bed is elegant, and it covered in a velvet diamond. The tufted design on arms and the back makes it an elegant addition to the home. The bed rests on plastic legs that have a wooden appearance.
The padded sides and back provide back support, and pressure is distributed for comfort. The piece is excellent for guests and for small spaces.
It includes a slat system and has excellent ventilation as the slats allow you to pass through one's bed. The slat foundations help keep the mattress cleaner for longer.
Uses and Capabilities
The slats can adapt to the weight of one and give the right amount of support to you, no matter how much pressure you exert. Casters that come with integrated breaks are also included by the trundle.
The maximum height for the trundle is 6 inches, but that's sold separately. The mattress dimensions are 43.5 x 82.5 x 38.5 inches, and the item weighs 119 lbs.
It provides your room glamor, and this midcentury-style is ideal for sleeping, reading, or lounging around. Its upholstery combines a fancy look to your décor while still keeping its functionality.
Additional Features
It's best for sleepovers and fits two twin mattresses with the addition of a pull-out trundle. The slat system makes this bed exceptional and the fact that it is available in numerous colors, so you pick and choose based on your personal preferences.
By buying a Seeds product, you are kind to the environment since they've partnered up with the Garden of the National Wildlife Federation to save the monarch butterfly. Who doesn't need to encourage?
Pros
•It's easy to assemble.
•The colors are vibrant.
•It's made of long-lasting materials.
•It's majestic looking.
Cons
•The directions are not entirely clear, which makes meeting time more.
•It gets dirty quickly and therefore requires upkeep.
---
Design and Build
This bed is functional yet trendy and save Space. It accommodates two twin size mattresses, which are around 5-6 inches thick and include premium steel slat support. They do not require any tools and are easy to assemble within minutes.
Additionally, it consists of a five-year warranty. Zinus is known as a superb manufacturer for bed frames as well as foundations, i.e., it supplies a mattress service system.
This is where the mattress is soft as a marshmallow, and even the bed frames are easy to snap into position within seconds.
Uses and Capabilities
This bed is ideal whether you are searching for somewhere to rest your feet or are wanting to sleep in peace. It provides seating with the Zinus iron line Twin frame collection and additional sleeping space to the user.
Wood frame and the trendy metal complement all kinds of décor. It's made of premium steel and offers the best support. The trundle is used to create extra sleeping space and can be rolled out during daytime under the daybed during daylight.
Since they are a fantastic comfort innovation, the twin mattresses are a terrific purchase.
Additional Features
Because the mattress does not come with the bed, you can decide on a mattress of any depth. The level of thickness to your mattress is 7 inches. The sound levels are minimal, no matter how much you toss and turn during the night.
The bed is sturdy and easy to assemble. The quality is top-notch. It gives a night of comfort and peaceful sleep. The comfort level is further enhanced by memory foam mattresses and can be adapted to fit the mattress by merely cutting at the edges.
Pros
•It's easy to assemble.
•The trundle bedrolls in and out without difficulty.
•It's packaged well.
•It's explicit instructions.
It's a contemporary design.
Cons
• The metal parts do not have the same black finish as the rest.
---
Design and Build
The DHP is designed with Victorian rounded finials that make any room stand out because of its style. The appearance is timeless and contemporary and especially fitting for children's sleepovers.
It's a terrific option for anybody who wishes to make an extra sleeping area and includes a convenient pull-out trundle. The sturdy metal frame includes metal slats that allow air to get circulated quickly to keep it fresh for many years. It's two lockings, four easy-glide casters, and two non-locking.
Uses and Capabilities
It is made to match one twin-size mattress on the daybed with a maximum thickness of 8 inches and one twin size mattress with a maximum of 6 inches. Both can be sold.
This multifunctional piece is ideal for living in small homes as well as for guests. All one needs can be seen as a box that is packaged. The assembled product measurements are 77.50 x 41.50 x 41.50 inches, and the day bed's weight limit is 400 lbs.
These beds work amazingly, whether you are a professional living in a small space, or a student looking to furnish his dorm room.
Additional Features
The bed is not only space-saving, but it's also trendy and inexpensive. The beds provide great functionality and leave room for extra storage options.
The integrated slat systems provide support without needing any additional foundation and keep the mattress clean. It's available in trendy colors finishes and materials that suit anybody's design needs.
The beds may be treated as centerpieces for the bedroom. Their contemporary style can complement any décor. Whether you use it or for your guests or as a relaxation area, this daybed wins in most situations.
Pros:
•It's a great matte texture.
•It's simple to assemble.
•It can accommodate a mattress up to 10 inches, more than most.
•It doesn't make any noise.
Cons
• Its structure is not durable, and the bed has to be well maintained.
---
Design and Build
The Zinus is stylish, functional, and saves space. Without needing any tools, it can be assembled in minutes. The premium slat service helps to keep the mattress clean and makes venting easy.
It can accommodate up to two twin dimensions less than 9.5 inches thick and accompanied by a five-year warranty. By buying a Zinus mattress, you improve the overall sleeping experience.
This is because they create mattresses for all sorts of sleepers, i.e., spread out, sweaty, and rolled into a ball; you name it.
Uses and Capabilities
The twin day bed can achieve a lot with a simple layout. The set helps to create extra area while the framework can complement any decor. The trundle can be rolled away under the daybed and may be used for additional sleeping space.
The mattresses aren't included in the purchase but should be bought to add to Zinus' relaxation. The measurements are 77 x 39 x 38 inches, and the item weighs 71 lbs.
Additional Features
The metal frame can complement any type of house, and the slats can help hold a mattress down if they don't have some base. This bed's design is functional yet fashionable and does not need much effort to put together.
Additionally, it includes a five-year warranty. A memory foam mattress is very likely to accentuate the experience of sleeping. The slats work well as they help air out your mattress without you making any effort, making it low-maintenance yet smart addition to your home.
Pros:
•This product has excellent value for money.
It's extremely well made.
•The nine steel mounts provide exceptional stability.
Cons
• The gap between the end of the bed and the upper part has to be shrunk.
---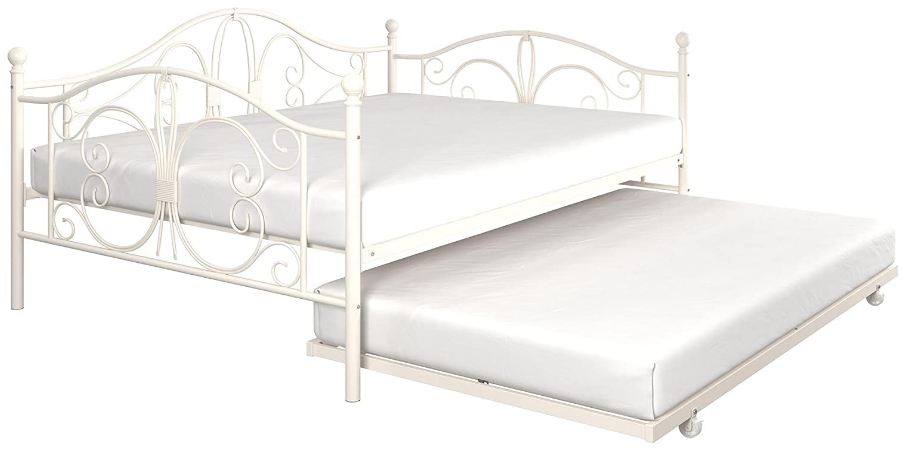 Instead of the usual twin/twin configuration, the DHP Bombay frame has a full size daybed on top and a twin size trundle bed underneath. 
It's a great choice if you need additional sleeping space. 
Pros 
Full size daybed provides a wider sleeping area. 

Victorian metal frame. 

Available in white or bronze. 

Easy to assemble. 
Cons 
Not suitable for heavy couples. 
Our Review 
DHP Bombay is a good choice if you want a trundle bed that can sleep more people. 
The full size daybed can fit a couple or two kids, while the twin size trundle adds space for one more person. 
The trundle slides out easily from under the bed and has two lockable casters to keep it in place. 
Both the daybed and trundle have a white metal frame that you can also get in a bronze finish. The frame features Victorian style ornate curves on the headboard, footboard and backrest. 
The metal frame and slats are sturdy and can support 400lbs on the daybed and 225lbs on the trundle. 
As for size, the full daybed measures 77.5″ L x 56″ W x 43″ H while the twin trundle measures 71″ L x 40.5″ W x 4″ H. 
Issues & Limitations
The full-size daybed on the DHP Bombay frame can sleep two adults. But we don't recommend it for heavy couples since its weight limit is 400lbs. 
Remember that includes the weight of the mattress. 
---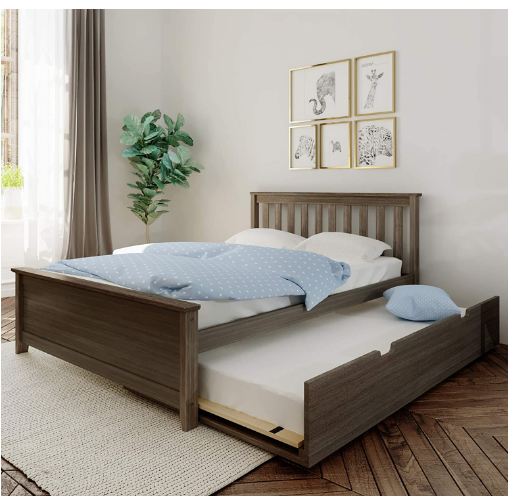 Love the warmth and coziness of wood beds? The Lily Pinewood trundle bed is for you. 
It's made with real solid pine and consists of a full-size bed on top and a twin-size trundle bed at the bottom. 
Pros 
Solid wood bed frame. 

High weight capacity. 

Trundle can accommodate an 8" mattress. 

Full-size bed provides additional sleeping space.
Cons
Costs more than a metal frame. 
Our Review
Unlike most trundle bed frames that combine a daybed and a trundle, the Max & Lily pine wood frame combines a traditional bed and a trundle. 
If you don't need a sofa bed or daybed, this is the right pick for you. 
The main bed is a full size, though you can also get it as a twin. The trundle bed is a twin. 
The clearance between the two is high enough that you can use an 8" thick mattress on the trundle. Most trundles cannot fit anything thicker than 6 inches. 
The solid wood construction not only looks good (you can even choose from multiple types of finishes), it's also sturdy and strong. 
Each of the beds can support up to 400lbs. 
Issues & Limitations
If you are shopping on a budget, you should probably consider a metal trundle bed instead. Wood trundle beds like Max & Lily tend to be a bit pricey. 
---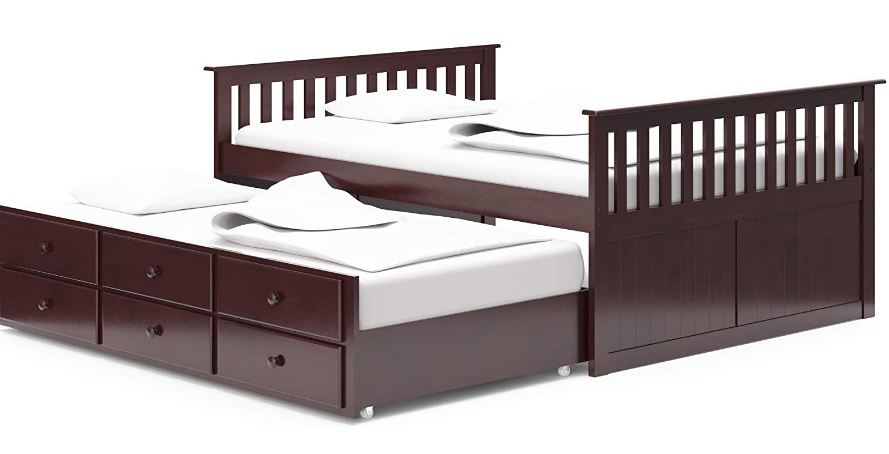 Design and Build
The Broyhill is made with style and function at its front and center. This bed has a pull-out twin trundle bed with three spacious drawers that are functional and serves as storage space for any bedroom.
It is constructed to withstand the test of time as it is made of composites and hardwood. Its weight limit per bed is 200 lbs.
Additionally, it is available in different finishes, which can help make it the best option for all sorts of bedrooms.
Uses and Capabilities
The extra twin bed helps create more space in the tightest of spaces, even to distance. This is useful if you're expecting company. The bed includes an additional bed, which creates more room and does it without sacrificing any square footage.
The product suits many different age groups. Be it babies, teens, children, the company has you all covered. Storkcroft has been making furniture for more than 70 years, and its line of items are similar to goods from Southshore, Zinus, DHP, Delta, and Dream on Me, Angel Line and Dorel.
Additional Features
This dream bed provides comfort, functionality, and style, all packed in one. It is made of composites and high-quality hardwood and constructed to provide pleasure for many years to come.
As the three working drawers can be wheeled in and out, which creates additional storage space, It wraps up neatly to look like a superb addition in the house of anyone and comes in many different finishes.
It's sturdy, and the trundle can be separated to roll into the other side of the room if need be.
Pros:
It seems great for the price it is.
It's compact and can be easily put away when not in use.
The setup is simple, and the usage is enjoyable for kids.
Cons
•The trundle is not on a rail and can not be directed back under the mattress.
The wood planks don't have holes for screws, so the meeting can get tricky.
The casters are small.
---
Design and Build
The Zinus Florence Twin bed is stylish yet also provides a space-saving design. It can accommodate up to twin-sized beds with mattresses up to 5, 6 or 7 inches thick (the mattresses are sold separately).
It's made of premium steel slat supports that make it easy for the mattress to stay fresh as a result of continuous airflow and ventilation. It can be assembled within minutes and does not require any tools.
Additionally, it will come with a hassle-free five-year warranty. Its dimensions are 77 x 29 x 36.7 inches, and the item weighs a total of 63 pounds.
Uses and Capabilities
The Zinus frameset and twin daybed make the additional Space and addition to the house of anyone. The frame is white and stylish and works to complement all kinds of homes.
Excellent support is provided by premium steel. The trundle can be utilized as an extra sleeping area and maybe rolled away under the daybed when not in use.
It can fit up to two mattresses. You need to look at picking up a Zinus mattress as it offers comfort.
Additional Features
The trundle comes entirely out and is entirely separate, but it cannot rise to the daybed itself. As a consequence of which it can not be made into a full king-size, but it could be rolled out on to the ground.
A box spring can be used with the mattress. It comes in one package, and without needing any tools, it all could be assembled quickly. Any tools which are required come with the bundle, e.g., the Allen wrench.
Additionally, it includes any parts that could be necessary, making it effortless to put together and use.
Pros
•It is easy to assemble.
It has the perfect number of bolts in addition to spares.
The bed is sturdy post assembly.
•It's comfy and leaves room for ventilation.
•The directions are simple to read and follow.
Cons
• The mattress on the floor framework slides off easily.
---
A pop-up trundle bed is a good choice if you want a trundle that sleeps at the same level as a normal bed. 
The Kings Brand platform bed comes with a twin-size pop-up trundle that combines with the main bed to form a King size bed. 
Pros 
Pop-up bed doubles the size of the bed – great for kids and couples.  

Ideal if you want a high trundle bed. 

Sturdy all-steel frame. 

A thick mattress (up to 10 inches) can fit on the trundle when it's under the bed.

Pre-assembled trundle. 
Cons 
Trundle bed is a bit difficult to pop up. 
Our Review 
The trundle bed that's included with the Kings Brand platform bed has wheels so it's easy to slide it in and out from under the bed. 
Once you slide it out, use the built-in spring lifts to pop it up. It pops to the same height as the main bed. 
This combines two twin-size beds to create a large king-size bed measuring 80 inches wide. This setup is perfect if you want a guest bed that can sleep a couple, while still saving space when it's not in use. 
Once you pop up the trundle it is sturdy and stable and can support plenty of weight (up to 250lbs) without collapsing. 
Both beds come with metal slats, so you don't need a box spring. 
Each bed accepts a twin-size mattress. When the trundle is under the bed, there's plenty of clearance left to fit a 10-inch mattress on the trundle bed. 
This is unlike most trundle beds that can only fit thin 6-inch mattresses.   
Setting up the Kings Brand bed is fairly easy. The trundle comes pre-assembled, saving you time. The main bed takes about an hour to assemble and everything you need is included. 
Issues & Limitations 
One of the complaints from customers is that the trundle bed can be a bit difficult to pop up with the weight of the mattress on it. 
If you have to do it daily, it can get tedious.
---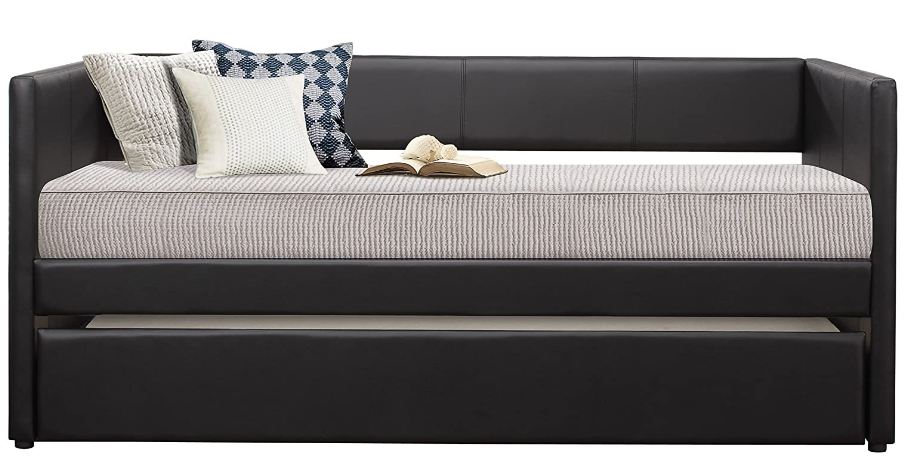 Design and Build
The Homelegance is a fully upholstered day bed and consists of bi-cast vinyl. The model has a track arm together with a plush framework. The day bed steps around 82 x 41 x 36.5H while the trundle measures 75.5 x 40.25 x 11.75H.
It may fit twin mattresses, although those aren't included with the purchase. The set requires assembly and comes in two boxes. The construction ought to be run indoors for ease of portability.
Uses and Capabilities
The Adra Collection is made of clean contemporary lines along with dark brown vinyl covering. When one ends up using it for relaxation or sleeping, the line trundle design helps create a place for itself in various configurations and room sizes.
The bed rundle could be pulled out to accommodate any additional space needs. It is also available in black.
Additional Features
The high-quality vinyl cover is dark brown. It's constructed of supportive slats that support any sort of twin mattresses. They are multifunctional and may be used for dorms, guest bedrooms, or even children. The bed was designed with function and form and offer a sturdy, comfortable construction.
Pros
•It's easy to assemble.
•It is easy to keep and accessorize.
•It's made of quality materials.
Cons
• The bottom slats are not cut appropriately and aren't easy to fasten.
---
They are hard to find but you can find a trundle bed that's sold separately, meaning you can place it under your existing bed. 
The best standalone trundle bed we found is the Coaster twin pop up trundle bed. 
Pros 
Standalone trundle that you can use with any bed. 

Pop up design. 

Includes caster wheels. 

Sturdy metal frame. 

No assembly is required.
Cons 
Pricey for a standalone trundle bed. 
Our Review 
Generally, trundle beds come as a set that includes the main bed and a trundle that goes under it. 
But if you only need a trundle, the Coaster trundle bed is the right pick. It's one of the few standalone trundle beds you'll find online. 
It's a popup design, so you can raise it to the same height as your bed or daybed to make it bigger. 
When not in use, collapse it back down and roll it under the bed. 
When collapsed, the trundle measures 38.5 inches wide (twin size), 70.25 inches long, and 6 inches high. It fits under most daybeds and normal beds. 
Check that your bed has adequate clearance to fit the trundle and a minimum 6-inch mattress on top of it. The max thickness of the mattress depends on how much space you have under the bed. 
When you pop up the Coaster trundle bed, it is 16 inches high. If you are planning to join it with an existing bed, make sure they'll be at the same height even with mattresses on. 
The Coaster trundle bed has a metal frame and can support up to 250lbs of weight. It has support bars across the top plus a mesh platform to directly support a mattress without using a box spring. 
Issues & Limitations
The Coaster trundle bed is a bit pricey, considering it's a standalone bed. It costs the same as some trundle bed sets that include a normal daybed.  
If you are shopping on a budget or want the best value for money, you may have to get a regular trundle bed set. 
---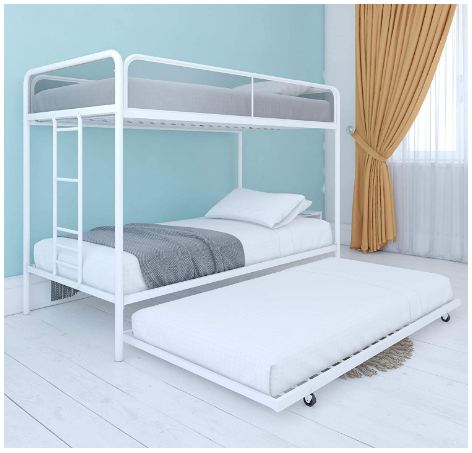 Need even more sleeping space? Consider getting a triple bunk bed. 
The DHP triple bunk bed includes a normal double bunk bed plus a trundle bed that rolls out from under the bunk bed, creating three separate beds. 
Pros 
Triple bunk bed – perfect for multiple kids and guests. 

 Upper bed includes safety rails. 

Sturdy metal frame. 

Built-in ladder. 
Cons 
Takes time to assemble. 

Trundle bed can only fit a 6 inch mattress.
Our Review 
The DHP Triple bunk bed includes three twin size beds. 
The trundle bed rolls in and out from under the lower bed. It is 40.5 inches wide, 71 inches long, and 4.5 inches high. 
Each of the two bunk beds are 41.5 inches wide and 77.5 inches long. 
The top bunk bed included 11.5-inch high safety rails. Make sure you don't completely cover them with a mattress. 
The DHP triple bunk bed has a metal frame that you can get in a white, black or gray finish. The top bunk can support up to 200lbs while the lower bunk and trundle bed can each support up to 250lbs. 
Issues & Limitations 
While assembling the DHP triple bunk bed is not that difficult, it takes time – at least 2 hours. You'll also need help assembling it. 
The other issue is that you can't use a thick mattress on the trundle. To ensure it fits under the bed, you are limited to a max 6-inch thick mattress. 
---
Who Should Buy A Trundle Bed?
Since trundle beds usually include thin mattresses, they work best for teens, children, and guests.
The beds are nearer to the ground so that they are not the best solution for those with mobility issues.
Trundle Beds: All Sorts of Uses
Before moving into a real bed
This is a great transitional bed before a child moves on to a regular bed after moving from their crib. This way, before making the final switch, they can be close to the parent.
Extra Space for the family
If you reside in a smaller apartment/flat, it can be tricky to host family for the holidays. A trundle bed can solve that problem.
Sleepovers
The perfect solution for kids who want to have their friends over and do not have space in their room.
Office Bed
If you happen to work and live in the same space, or if you live very far from your office, a trundle bed can be a useful solution because it can be used simultaneously for sitting and sleeping.
---
Difference between a "daybed" and a "trundle bed."
These two kinds of beds are often confused.
• They both have a mattress beneath; however, the part that supports the mattress above causes the most substantial difference.
• Day beds seem to be metal or wood-framed sofas enclosed on three sides, which contain arms on both sides and a back supported with cushions for seating.
• A trundle bed does not have a back while a daybed does, and is more like a regular bed with a headboard or footboard.
In some cases, the name trundle is applied to three different kinds of mattress support systems that serve the same functions.
---
What is the diff. between double and trundle beds?
A trundle bed accommodates two mattresses that are nestled within a framework. This framework is made of 3 pieces, i.e., two side panels and one back panel. The bed has a trundle frame or a drawer with wheels, making it easy to store underneath a day bed.
•Unlike a twin mattress, which needs a box spring and a steel frame for support, a trundle bed requires a platform and supporting slats.
•A standard twin size mattress dimensions 39 x by 75 inches. The trundle bed frame size is confined by the frame and the trundle unit. Although it's usually able to accommodate a double mattress, sometimes the size has to be adjusted. Twin mattresses are 6-18 inches in their construction, while most beds have 8-inch thick mattresses, and some are as low as five inches.
• As a result of technological improvements, now most trundle mattresses use materials geared for comfort. It follows that there is a difference in the comfort level in comparison to mattresses. Some options available to be used in beds are the high bed, latex foam, pillow-top beds, antimicrobial memory foam, and air-chamber mattresses.
---
How to select the ideal kind of trundle bed
When buying a trundle bed, a couple of essential things should be taken into account.
1. The Frame
It is advisable to try to find a bed which has a wooden or metal frame.
Wooden frames
These are the most frequently used, and the perfect wood in such conditions is mahogany or oak.
Wood is favored because it lasts for long periods of time.
For longevity, you should consider the wood type as various types provide different levels of durability.
Metal frames
Metal frames are lighter than wood frames and make it much easier to move furniture. They also add to a more modern aesthetic, if you're currently searching for industrial design.
They aren't as durable as wooden frames and do not have the storage drawers available with their wooden counterparts, although their lightweight design compensates for it.
Mixed Frames
Many modern trundle beds nowadays are using mixed materials. Products include wooden boards that enhance support and durability while the sides are made up of metal to provide a modern look. The combination of these two materials influences the cost and lowers it.
2. Quality of mattress
To make a reasonable choice, compare material quality and the costs.
Innerspring
These contain springs that are enclosed inside the foam, which add to relaxation, also, to provide the sleeper the best support.
Memory foam
These are the latest foam types and contour to the sleeper's body. It ends up adapting to the curve of a body also keeps its shape once the person steps away.
---
Key Benefits of a trundle bed
Many diverse sorts of trundle beds are being sold now, and they can be found in various different materials, e.g., wood, upholstered fabric, and even metal frames. This gives you the option types fitted to select what you're searching for.
Save Space: two-beds-in-one.
Stylish: They aren't only functional but can be quite fashionable.
Increased durability: Many trundle beds are constructed to be more durable than standard beds. The bed slats often incorporated into a trundle bed work well for both kids and adults and offer support equivalent to that of regular mattresses.
Extra sleeping area: These an excellent option for people who need more sleeping space and may be used for sleepovers or even by guests alike, based upon your lifestyle.
---
What's the Best Kind of Mattress to Get for a Trundle Bed?
Any kind of mattress may be used for a trundle bed, e.g., foam, hybrid, memory foam, as well as latex. Just make sure it is not too thick/tall, as most trundles have limited headroom for the mattress.
---
Best Trundle Bed: Frequently Asked Questions
What's the point of a trundle bed?
A trundle bed is designed to add sleeping space while saving on space. It's an extra bed that rolls under another bed when it's not in use. 
To sleep on it, you roll it out from under the bed. 
Trundle beds are great for small spaces such as kids bedrooms and studio apartments. They are also ideal for guest rooms 
How much do trundle beds cost?
It depends on the size, materials and construction of the bed. Basic metal frame trundle beds start at around $200. 
Wood trundle beds are more expensive and can cost well over $300. Upholstered trundle beds also cost $300-$400 or more. 
Can you sleep on a trundle bed every day? 
Trundle beds are just as comfortable as a normal bed. What matters is the kind of mattress you use on it. 
Get a mattress that offers adequate comfort and support. 
Can you use a regular mattress on a trundle bed?
Yes, you can use a normal mattress on a trundle bed. Just make sure it's the same size as the bed. For instance, most trundle beds are twin size and work with twin size mattresses. 
That said, double check how thick a mattress you can use on the trundle bed. If the mattress is too thick, you'll struggle to fit the trundle under the main bed. 
Most trundles accept mattresses between 6 and 8 inches thick. 
Can a trundle fit under any bed?
It depends on the amount of clearance available under the bed. If you are getting a standalone trundle bed, check how tall it is.
Add the height of the mattress to see how much total clearance you need under the bed. 
Can adults sleep on a trundle bed?
Yes, they can. Most trundle beds can support up to 225-250lbs of weight, including the weight of the mattress. 
That covers most adults. 
However, if it is a full size trundle that you want to use as a couple, check that your combined weight and that of the mattress doesn't exceed the bed's capacity. 
What's the weight limit of a trundle bed?
Most trundle beds have a weight limit of 225lbs or 250lbs, with some heavy duty trundle beds able to support up to 400lbs. 
The weight limit of the daybed above is usually 300-400lbs. 
Remember that the weight of the mattress counts towards this weight limit. 
Can you buy a trundle bed separately?
Yes, you can. However, standalone trundle beds are hard to find. Most trundle beds come as a set that includes a normal bed or a daybed. 
Are trundle beds connected to the main bed?
No, trundle beds are not connected to the bed. They simply roll under the bed but are not connected in any way. 
A trundle bed sits on wheels so you can easily roll it out from under the bed. Brake levers lock the wheels in place to keep the bed from moving once you position it where you want. 
If you have a pop up trundle bed, you can position it directly against the main bed to form a wider sleeping surface. 
What's the size of a trundle bed?
Most trundle beds are the same size as a twin bed. They measure between 38 and 42 inches wide. 
But you can also find full size trundle beds. We've yet to come across a queen size trundle bed. 
---
Affiliate Disclosure
Affiliate Disclosure: I may earn a small commission (at no cost to you) if you purchase a mattress after clicking a referral link or using a coupon code on this site. That said, all content and opinions on this site are my own and are NOT affected by these payments.
This site participates in the Amazon Services LLC Associates Program, an affiliate advertising program designed to provide a means for sites to earn advertising fees by advertising and linking to Amazon.com.
*Amazon and the Amazon logo are trademarks of Amazon.com, Inc, or its affiliates.
---