NOTE: We earn from qualifying purchases made via Amazon Associates and other affiliate programs. Learn more.
Did you know there are dozens of 16-inch mattresses for sale – including a few that are 18 inches thick or more?
These super-thick mattresses are not the norm, though; the vast majority of excellent-quality mattresses range between 9 and 14 inches thick.
Here at SleepDelivered, only 3 mattresses we've reviewed reach or surpass the 14-inch mark.
That said, it is absolutely true that people love thicker mattresses, in general. There is a perception that thicker beds are more comfortable, supportive, and longer-lasting.
In a physical store, most people are immediately drawn to the thickest brands displayed.  And eager salespeople are more than ready to leverage our bias to upsell us on more expensive – and thicker – beds than we actually need.
I mean, sure: thicker mattresses look more luxurious.
But does mattress thickness really have anything to do with how well your bed sleeps at night?  If so, what is the relationship?
What You'll Learn
In this article, we'll dive into this subject to help you make your own decision about whether a thicker mattress really is best for you.
Hopefully, this short read will make you better informed so you can save money and get exactly what you need.
So let's dive in!
---
What's The Connection Between Mattress Thickness and Sleep Quality?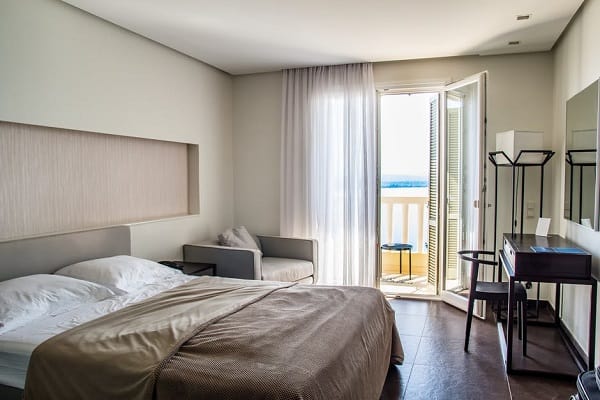 Many factors affect your sleeping experience:  your mattress' overall firmness level, cooling ability, bounce, support, body contouring and motion transfer all play a role. As do your body weight and preferred sleeping position.
In some cases and for some people, mattress thickness really does affect sleeping experience, while for others it is not an important factor.
So let's try to break-down this conundrum.
We cannot talk about thickness apart from the structure and construction of a mattress.
What matters more than thickness is how the mattress is made. What materials are used in the different layers? What's the thickness of each layer? How soft or firm are the layers? etc.
Within the normal thickness range of 9-12 inches, the difference in thickness really doesn't matter much as long as the mattress is well made.  A well-built 10-inch mattress is going to be as comfortable and supportive as a well-built 12-inch mattress, generally speaking.
That said, going beyond this range to 13 inches, 14 inches or more will have an increasing impact on the sleeping experience – good & bad.
There are distinct advantages to sleeping on a thicker mattress, however. For example, a 14 inch mattress will be better in general for heavier side-sleepers than a 10-inch mattress due to the level of support needed to boost sleep quality.
Below we look at all the benefits of sleeping on thicker mattresses – as well as the downsides of living with a thick mattress.
---
Mattress Structure
Mattresses usually have between two and five layers.  Most have 3 or 4.
These layers group together to perform specific functions.
For example, the top 1-2 layers form the comfort layer of your mattress. This is where most of a mattress' initial feel comes from. These layers are also responsible for cooling, responsiveness and reducing motion transfer.
The layers beneath that form the support and foundation layers.
The middle, or support layer, provides a balance of flexibility and rigidity to maintain proper spinal alignment.
The foundation layer plays a major role in compression support for heavier sleepers as well making the mattress durable.
Foundation/Base Layer
In high-quality mattresses, the foundation layer makes up at least 50% of the mattress thickness.
If you buy a mattress with a foundation layer of only 3 or 4 inches out of a total of 10 inches, then it's probably not going to last very long. Insufficient foundational support often leads to sagging within a couple of years.
So if the mattress is 10-12 inches thick, the foundation layer should be at least 5 inches thick.
Comfort & Support Layers
The top half of a mattress layer can be divided into two parts, the comfort layer (or layers) and the support layer (or layers).
The comfort layer often consists of the cover, pillow top and perhaps a layer of memory foam and is positioned on the top of the mattress to provide body contouring and pressure relief. This is the layer that gives the mattress a plush feeling.
The support layer is usually in the middle, where it provides resistance to force – or support – which is important for your back.
Sometimes, as is the case with the Saatva mattress, the comfort and support layers can be switched to give the mattress a softer and more luxurious feel.
The total thickness of the support + comfort layer is important.  If it is too thin, it won't provide adequate support, pressure relief or contouring.
If you have a heavier body, you'll quickly sink and your elbows and other pressure points will encounter the uncomfortably-firm foundation layer below.
Most experts recommend that each of the top two layers be at least 2 inches thick. This means that a good foam mattress should have a minimum of 4 inches on top and 6 inches at the bottom.
You can then see why the best mattresses sold online don't go below 10 inches in thickness. This is the sweet spot that provides good comfort, adequate support and at least a decade of usage.
---
When a Thicker Mattress is Better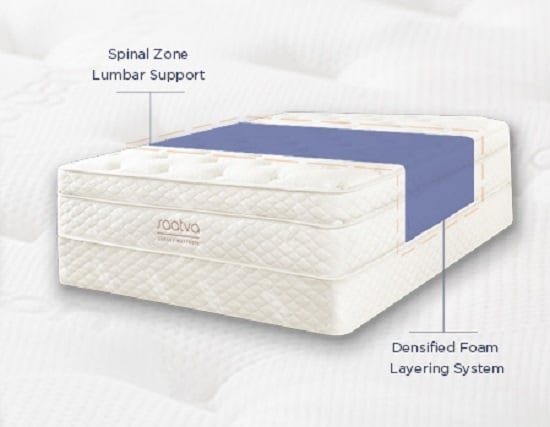 As we all know, 10 inches is not right for everyone  😉
Sometimes, a thicker mattress really does offer important advantages.
Below, we look at some of the benefits a 12-14 inch mattress provides and situations where they are recommended.
Is Your Mattress On The Floor?
Mattress companies provide warranty coverage with the requirement that you place the mattress on the right foundation. Usually, this would be a box spring, platform, or slatted base. Some are also ok with placing the mattress directly on the floor, as long as the floor is flat and even.
If you are going to place your mattress on the floor, make sure it is at least 12 inches thick. This is because most floors are much harder than a box spring or a platform bed, which tend to absorb some of the shocks when you lie on the mattress.
A thicker mattress, especially in the foundation layer, will ensure a floor-mounted mattress will take your weight without compressing/sagging. It goes a long way towards keeping your mattress functional for years.
Are You A Heavy Person?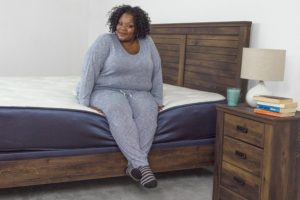 We all have different sleeping needs and preferences.
If you sleep on your side, for instance, a softer mattress is better because it ensures your hips and shoulder won't press painfully through the mattress and run into the foundation layer. If you have broad shoulders or wide hips, this is even more important.
So what if you weigh more than most – more than 250 pounds?
Bigger-boned folks should consider buying a mattress specifically designed for heavier people like the Big Fig (13″) or Helix Nightfall (12″) that can adequately support the added weight without compromising the level of support and comfort.
That said, you don't need to purchase a "big person" mattress to meet your needs.
For people weighing more than 250 pounds, I recommend buying a high-quality mattress that is at least 12 inches thick with a 6-inch or thicker comfort + support layer.  Also, make sure your mattress is firmer than average to boost support and reduce sinkage.
Two great "normal mattress" choices for larger folks include the DreamCloud (15″ hybrid, very luxurious with a medium-firm feel) and Saatva (14.5″ innerspring, very supportive).  Both of these are much thicker, super-high quality beds that cost about the same as those dedicated "big people" brands.
Finally, make sure you don't buy an extra soft mattress. If you are heavy and your mattress is too soft, you may sink in too far and the sleeping experience will be terrible.
Do You Share Your Bed (with a person)?
The same challenge facing heavier-bodied people is the one one couples encounter.
A thin mattress won't last as long under the combined weight of two people.
Within a couple of years, a sinkhole can begin appearing near the center. As it gets worse, support deteriorates and you are constantly fighting to avoid rolling towards the center of the mattress.
If you are going to be sharing a bed with a partner, then be careful about the thickness of the mattress.
Make sure it's at least 12 inches thick with a base of 6 or 7 inches and a comfort + support layer of 5-6 inches.
A 10-inch mattress may work for less-heavy couples who sleep on their backs, but a 12-inch one will be more supportive and longer lasting for most people. You may have to pay a little extra, but it's worth it.
Another advantage of a thicker mattress for couples is the reduction in motion transfer across the surface of your mattress. Thinner mattresses (10 inches or less) more easily transfer disturbance from one end of the mattress to the other. A thicker mattress has more material to absorb the motion and stop it in its tracks.
The last thing to consider when buying a couple's mattress is whether you need different comfort levels on each side of the bed.  If you do, then look for split-comfort options or adjustable-comfort mattresses.
Three mattresses we love for couples include:
Helix: a wide variety of comfort levels and customizations, most with a split-comfort option
Luxi:  a 10.25″ thick adjustable-comfort foam mattress with a split-comfort option
PlushBeds Botanical Bliss:  a 12″ super-luxurious organic mattress with a split-comfort option
Design / Aesthetics Reasons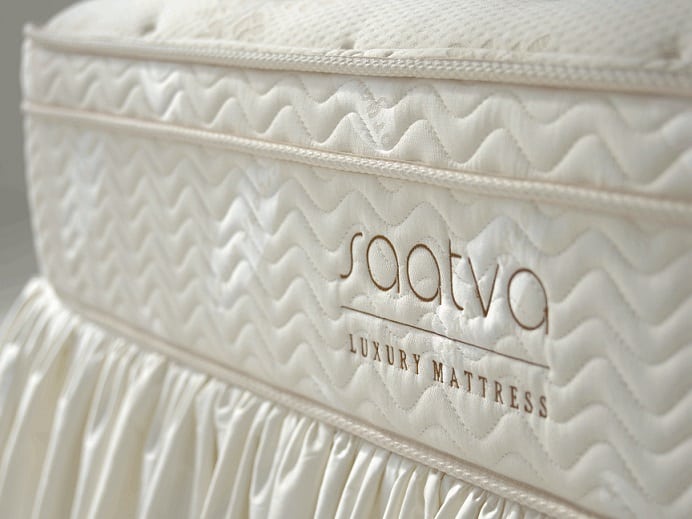 Is a thicker mattress always better looking? Well, that depends on your taste.
Most people see thicker mattresses as more luxurious, hence the common misconception that they are always better.
So if you're buying for a guest room to impress – thicker might indeed be better.
Some mattress manufacturers like Saatva understand this and offer a thicker 14-inch mattress at the same price as their ordinary 12-inch one.
Others like Amerisleep also offer more luxurious 14-inch options, though at a higher price tag.
The aesthetics of a thicker mattress is also beneficial if you place it on the floor because the mattress takes on the look of a more complete bed.
Durability
Finally, it's a good idea to buy a thicker mattress if you want it to last for more than a decade.
Most 10-inch mattresses come with a 10-year long warranty, giving you a rough idea of how long the mattress is likely to last.
Thicker mattresses, especially those with a thicker base (around 7 inches), tend to enjoy the longer life and have longer warranties.
The 12-inch and 14-inch thick Saatva mattress, for example, has a 15-year warranty.
The Ghostbed, with its 7.5-inch foundation layer, carries a 20-year warranty.
If you don't want to buy another mattress every 5-10 years, then don't go for anything less than 12 inches.
Pay special attention to the base layer – it should be at least 6 inches thick (7-8 is better) and made from a high-density foam that maintains shape and form even after years of use.
---
The Downsides of a Thick Mattress
A thicker mattress also carries a few disadvantages that you should know before making a purchase.
Most of these are not bad enough to create a terrible sleeping experience, but they can cause issues for some people.
It's Heavy
12 inch & 14-inch mattresses tend to be quite heavy.
A 12″ queen-size memory foam mattress can often weigh 100+ pounds and 150 pounds or more if there are springs inside the mattress.
Latex foam mattresses, because of their higher density, are often heavier than that.
The weight of the mattress doesn't affect the sleeping experience, but it is an inconvenience and can cause problems if your existing bed frame isn't up to the task.
Setting the mattress up can be a real headache as you try to maneuver it into the house, into the bedroom, and out of the box.  Cleaning and changing sheets can also be more of a chore, often requiring two people instead of one.
If your mattress retailer/supplier does not provide set up services (also called white-glove delivery), then make sure you have someone at home to help you move and set up your extra-thick mattress.
You'll also need help if you decide to turn the mattress around or move it to another room later.
Problems Getting Out Of Bed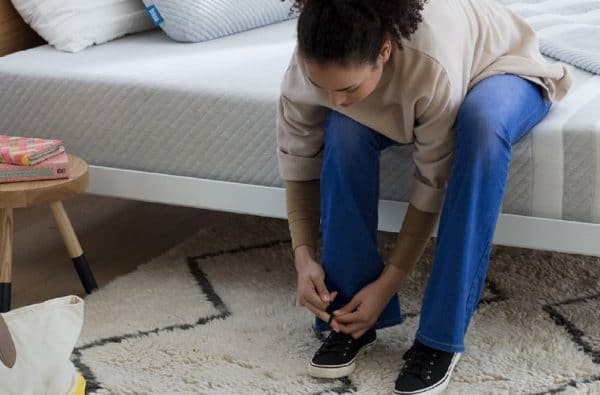 If your feet barely touch the ground when you sit on your bed right now, then buying a thicker mattress will make it even more challenging to get, or rather jump, out of bed. It's a small issue, but it can be annoying having to struggle to get out of bed every morning.
That said, a too-tall bed can be really problematic for people with mobility problems. I wouldn't recommend a 14-inch mattress on a box spring for an elderly person, for example.
Temperature Control
Thicker mattresses may trap more air and heat within them through the evening, depending on how they are made.  This is usually a problem limited to thick, cheap foam mattresses.
High-quality 12″-14″ mattresses like Puffy Lux and Nest Sparrow Hybrid use techniques such as open-cell foam, gel-infused foam, and egg crate-style design to boost cooling.
Innerspring mattresses generally speaking have no heating problems, regardless of their thickness.
So, if you are going to buy a thick mattress, check that the manufacturer has sufficiently addressed temperature control.
Price
Thicker mattresses tend to be pricier because they need more materials to make a bigger comfort layer and a thicker foundation.
"Thicker" is also a marketing gimmick used to get you to pay more than you should.
If you really need a thick mattress, but your budget is tight, then look for a seller that provides a financing option. You can then pay in easy monthly installments while still enjoying your mattress.
If you're looking for a low-price foam mattress that's thicker and more supportive than the typical 10″ foam product, then I recommend Nectar (11″) and Puffy Lux (12″).
Ill-Fitting Bedding
Finally, expect to have some trouble making your bed when you buy an extra thick mattress. It will take a bit more searching, and money, to find bedding that will adequately cover the top and sides of the mattress.
---
Choosing The Right Thickness For You
Consider your specific situation and needs when deciding whether a thicker mattress is better for you.
Will your bed be on the floor or on a boxspring?
Will you be sharing the bed with someone else?
Do you have a heavier body?
How long is an acceptable warranty?
Compare different brands to find out what kind of experience you can expect from each.
For example, in our Leesa vs. Casper comparison, we look at the construction & quality of each layer before looking at the thickness.
It is also worth reminding you that not all mattresses have to be extra thick to meet your needs.
For instance, when comparing a foam vs. spring mattress, the latter can be thinner while still providing great support and durability.
---
Affiliate Disclosure
Affiliate Disclosure: I may earn a small commission (at no cost to you) if you purchase a mattress after clicking a referral link or using a coupon code on this site. That said, all content and opinions on this site are my own and are NOT affected by these payments.
This site participates in the Amazon Services LLC Associates Program, an affiliate advertising program designed to provide a means for sites to earn advertising fees by advertising and linking to Amazon.com.
*Amazon and the Amazon logo are trademarks of Amazon.com, Inc, or its affiliates.
---