NOTE: We earn from qualifying purchases made via Amazon Associates and other affiliate programs. Learn more.
---
Are you looking for the best cooling mattress topper, mattress pad or cooling comforter?
You've come to the right place!
When it comes to getting a good night's sleep, cooler is better – a lot cooler than you might expect: according to science, the ideal temperature for sleeping at night is between 60 and 68 degrees Fahrenheit.
If you experience hot flashes or night sweats at night or if your mattress reflects too much heat, then you will not sleep properly.
This is because your body's cooling processes require your brain's attention, which prevents you from sleeping as deeply as you need to.
Cooling mattress pads, forced-air comforters and mattress toppers are all proven solutions for helping you sleep cooler in a warm room. But navigating this over-hyped and crowded field of products can be difficult.
That's why we spent the past month surveying the market and selecting what we believe are the very best cooling mattress pads, toppers and powered cooling solutions you can buy online – and reviewed them for you, below.
Keep reading to see our reviews and to find the right bed-cooling solution for your needs and budget.
Note: If your problem is a hot mattress, you may want to instead buy a new bed that sleeps cooler.  Mattress cooling technology has advanced quite a bit over the past 20 years! Check out our reviews of the best cooling mattresses for a short list.
We also discuss the cooling performance of every mattress we review in our guides to the best mattresses for side sleepers, best mattresses for back sleepers,  best mattresses for sex  and best hybrid mattresses.
---
What's In this Buying Guide
In this buying guide, we select and review the best cooling mattress toppers, cooling comforters, bed cooling systems and cooling mattress pads selling today in enough detail to help you make the right purchase decision for your needs and budget.
After we list our best picks & review them, we cover the features and options to consider when deciding what type of cooling solution is right for your bed.
Finally, we answer the most common questions related to bed cooling solutions.
All of the products on this page are highly-rated by verified owners, are proven and have our seal of approval.
This in-depth buying guide took us a lot of time to create and will probably take you about 10 minutes to read it all.
If you are short on time, use this table of contents to skip to the section that matters most to you.
So let's get started!
---
Who Really Needs a Cooling Mattress Topper, Pad or Cooling Comforter?
Not everyone needs a cooling add-on solution for their bed.
But a cooling mattress pad, mattress topper or cooling comforter is a probably good choice for you if you suffer from any of the following conditions:
You own a "hot" mattress that reflects heat and/or traps moisture.
Your only problem is sleeping too warm. You like your existing mattress and don't want to buy a new one.
You naturally sleep hot or sweat at night. Especially take a look at the leading forced-air and water-cooled solutions discussed below.
You experience hot flashes at night. Any of the products below can help.
You and your partner have different temperature preferences. Some cooling pads let you configure each side of the bed differently, which solves this common problem once and for all.
You live in a warm climate and don't want to turn your thermostat down to 65 degrees.
---
Best Cooling Mattress Toppers, Mattress Pads and Cooling Comforters
Note: some of the links below go to Amazon. We may receive a fee if you buy within the next 24 hours – but it doesn't affect the price you pay.
EDITOR'S CHOICE – Best Bed-Cooling System: BedJet Climate Comfort System
Best Dual-Zone Heating & Cooling Mattress Pad: ChiliPad™ Cube
Best Cooling Mattress Pad for Hot Flashes: Cool Buddy Classic
Best Cooling Memory Foam Topper: Nature's Sleep AirCool IQ 
Best Natural Bamboo Cooling Pad: ExceptionalSheets Bamboo Extra Plush Mattress Pad
Best Memory Foam Mattress Topper: SleepBetter Iso-Cool
Best-Cooling Travel Blanket: Cocoon CoolMax
Best Lightweight Cooling Comforter: Equinox All-Season
Best Cooling waterproof mattress protector: Zen Bamboo Fitted Cooling Mattress Pad
Best Cooling Mattress Pad: SlumberCloud Nacreous Mattress Pad
Best Luxury Gel Memory Foam Mattress Topper: PlushBeds Cooling Gel Memory Foam Topper
Best Cooling Topper for Aches and Pains: Tempur-PedicTEMPUR-Adapt + Cooling 3-Inch Mattress Topper 
Best Cooling Plush Mattress Topper: Columbia Cooling 3 Inch Mattress Topper
My Top Pick
Best For
Type
BedJet V3


EDITOR'S CHOICE: Best Bed Cooling Solution
Forced Air System
Equinox All Season



link goes to Amazon

Best Lightweight Cooling Comforter
Comforter
ChiliPad™ Cube



link goes to ChiliSleep

Best Dual Heating and Cooling Mattress Pad
Water-Cooled Mattress Pad
Cool Buddy Classic



link goes to Amazon

Best Cooling Mattress Pad for Hot Flashes
Air-Cooled Mattress Pad
SlumberCloud Nacreous

Best-Cooling Mattress Pad
Mattress Pad
ExceptionalSheets Bamboo Extra Plush



link goes to Amazon

Best Natural Bamboo Cooling Pad
Mattress Pad
Zen Bamboo Fitted Mattress Pad



link goes to Amazon

Best cooling waterproof mattress protector
Mattress Pad
Nature's Sleep AirCool IQ



link goes to Amazon

Best Cooling Memory Foam Topper
Foam Mattress Topper
SleepBetter Iso-Cool



link goes to Amazon

Best Memory Foam Mattress Topper
Foam Mattress Topper
Cocoon CoolMax



link goes to Amazon

Best-Cooling Travel Blanket
Blanket
PlushBeds Cooling Gel Memory Foam Topper


Best Luxury Gel Memory Foam Mattress Topper
Foam Mattress Topper
Tempur-Pedic TEMPUR-Adapt


Best cooling mattress topper for aches and pains
Memory foam with cooling cover
Columbia Cooling 3 Inch Mattress Topper


Best cooling plush mattress topper
Gel memory foam with cooling quilted cover
---
The BedJet climate comfort system is my favorite choice for anyone who lives in a hot climate and wants to remain cool and dry all night long.
The BedJet is technically a bed air conditioning system that works by forcing cooled (or heated) air underneath your sheet and covers.  The air flows directly over your body, carrying away excess heat or warming you up.
To adjust how hot or cold the air is, use the excellent included wireless remote control. You can also use the BedJet Smart Remote app on your phone to change settings – and access extra functions via Bluetooth.
The BedJet cooling system responds quickly to a change in settings. It takes about one minute to cool the bed down or to make it toasty warm.
This unit is also very quiet: you'll barely hear it, thanks to the patented acoustic damping technology.
In addition, the BedJet has a lifetime washable filter to ensure no dust or allergens are in the air coming into your bed.
The BedJet is designed to work with all bed sizes.  We use the dual-zone setup on our king sized master bed.
To set it up, you place the main unit under the bed and install the hose under your blanket using the included top sheet. It works with all kinds of beds including adjustable beds.
For couples with different sleeping preferences, there is a more expensive version designed for King Size beds that uses two BedJets, one on each side of the bed so that each person can control the temperature of their side.
For superior temperature control, this unit comes with BedJet's dual zone AirComforter Sheet. You plug each side's ventilation system into this special sheet and warm or cool air is directed into hollow cavities on that side.
If only one side of your bed has a temperature control problem, then you can buy an AirComforter sheet with the single-zone system. It provides a faster and more even distribution of air.
The BedJet costs $399 per heating/cooling zone (side of bed).
As a nice touch, the BedJet also comes with an integrated essential oil diffuser that disperses your favorite essential oils to improve the smell in your room, which can also help you sleep.
Another cool feature is the Biorhythm Sleep Technology that lets you program the unit to deliver different specific temperatures during different hours of the night, to match the needs of your body as you cycle in and out of REM sleep.
Or, if you tend to get warm at midnight and cold towards morning like a lot of us do, then you can program the V2 to slowly warm you up.
If you are looking for a comforter that can warm your bed and provide a split temperature configuration for you and your partner, then the BedJet is an excellent choice.
The BedJet comes with a 60-day money back guarantee, a 2-year warranty and excellent customer service.
This is my favorite bed cooling system, by far.  My husband and I still use our Bedjets (we have the dual-zone setup) most every night.
---
2. Best Dual-Zone Heating & Cooling Mattress Pad: ChiliPad™ Cube
The ChiliPad is as advanced as the BedJet, but it works in a different way to cool or heat your mattress surface precisely – no matter what environment it's placed in.
Instead of using forced air, ChiliPad uses water to maintain the surface of your mattress at a precise temperature.
As with the BedJet, you can cool or warm your bed using the ChiliPad, and there's a split-configuration version for couples.
But unlike the Bedjet, which heats and cools the top surface of your body, the ChiliPad heats and cools the underside of your body using heated or cooled circulating water pumped through a mattress pad.
The ChiliPad system consists of a central unit (the 'Cube') where you add water and control the temperature settings.
The cube is connected to a series of small tubes embedded inside a mattress pad which you place on your mattress underneath your sheets – and sleep on top of.
If you buy a single-zone ChiliPad, you'll get one Cube that serves the full ChiliPad.
If you buy a dual-zone ChiliPad, you will get two cubes, one for each side of the mattress.
The ChiliPad's temperature range is broad. You can cool your mattress down to as low as 55F or warm it to as high as 110F depending on how you like to sleep.
The expanded range provides other uses, as well – such as cooling yourself down after a strenuous workout or quickly warming a shivering-cold child.
You adjust the temperature manually using buttons on the Cube or via the included remote control.
The ChiliPad comes in all standard mattress sizes ranging from Full to California King. 
Prices start at $599 per side before discounts.  Now, that is pricey compared with many other bed-cooling options.
But many ChiliPad owners (including me) say the benefits are worth it, because unlike almost every other mattress cooling system, the water-powered ChiliPad can actually maintain your mattress at the precise temperature you want no matter what environment it's placed in.
It's also super-easy to use.
If you prefer warming or cooling on your backside or don't like the idea of air flow in your sheets, then the ChiliPad is the best bed cooling system for you.  
---
3. Best Cooling Mattress Pad for Hot Flashes: Cool Buddy Classic
If you want a budget-friendly forced air cooling pad, then the Cool Buddy Classic is an excellent choice.
The 55" by 63" pad is big enough to fit on most beds including King size, though it will not cover the entire mattress. It is designed to be placed beneath your body's core.
Cool Buddy also sells smaller pads if you want one that covers just your side of the bed or a small bed.
Like the ChiliPad, the Cool Buddy Classic uses water to cool the mattress which provides a lot of advantages over forced-air cooling. The main unit circulates cooled water via small tubes inserted into the pad. The water absorbs excess heat from your body.
The Cool Buddy Classic is an efficient and money-saving way to stay cool in bed.
Instead of turning the thermostat way down when you just need to cool the mattress, use this pad to consume less energy and cool your bed faster.
When it comes to features, however, the CoolBuddy Basic is, well, pretty basic – which is understandable, considering its price.
The biggest drawback is that, unlike a ChiliPad, the Cool Buddy Classis cannot be set to maintain a precise temperature. You can only change the cooling fan speed using a 'gear' button on the main cooling unit or via the included remote control.
Four fan speed levels correspond to increased levels of cooling.
The result is a unit that can cool your mattress by 7-12 degrees Fahrenheit below ambient temperature.
You can also set a timer for the unit to automatically turn off.
Unlike the ChiliPad, there is no heating function and no split configuration. And don't turn your thermostat off in the summer – this unit only cools by 7-12 degrees F.
But it comes with an ionizer, which helps clean the air for better sleep.
Overall, I think the Cool Buddy Classic is a great bargain. It's less expensive than almost any other climate-controlled cooling pad, and it cools really well. It's just not a precision-cooler – and it doesn't heat.
Overall, a great buy for hot-sleepers on a budget.
---
The Natures Sleep AirCool IQ mattress topper doesn't use water or air to keep you cool.
Instead, it uses gel memory foam to keep your mattress cool, dry and fresh.
Memory foam on its own is pretty inefficient at cooling. It absorbs heat and holds onto it, making it warm over time until it is uncomfortable.
To prevent that, Nature's Sleep cooling topper is infused with medical grade cooling gel. The gel not only absorbs excess body heat, it also dissipates it away which keeps the surface of the mattress cool.
Large open cells within the memory foam also enhance the cooling by ensuring that excess sweat and smells are not trapped in your mattress. This keeps the mattress dry and fresh.
Nature's Sleep gel memory foam pad is definitely not as effective as a water- or air-cooled sheet, comforter or pad.
But it's a great choice for someone who needs just a little bit of cooling and doesn't want to spend a lot of money on an advanced cooling comforter.
It's also better than climate-controlled pads in one important way: pressure-relief.  Memory foam is an excellent cradling material for improving overall body comfort.
The 3-inch gel-infused memory foam is indeed soft and super-plush.
When you lie on it, this topper instantly molds to your body and eliminates pressure points around areas like your shoulders, lower back, and hips.
So you not only get to sleep cooler, you also enjoy a more luxurious sleeping experience.
The AirCool comes in all common sizes from Twin to California King.
In addition to the topper, you'll get a soft microfiber cover that's big enough to cover the topper as well as your mattress. It keeps the topper in place and improves breathability.
---
With almost 5,000 reviews and exceptional ratings, this is one of the most popular mattress pads on Amazon – for a good reason.
It really does improve your sleeping experience and keeps you cooler at the same time – for an outstanding price.
So if your mattress has gotten a bit old, feels uncomfortably firm and traps heat, then definitely take a look at this all-natural bamboo plush mattress pad.
Aesthetically, this ExceptionalSheets mattress pad looks great. The quilted top looks like something you'd find in a 5-star hotel.
It has a fluffy, plush soft feel that cuddles your body without trapping heat. The top fabric is made from bamboo which is known for its heat-dissipating capabilities.
The material inside this topper – the one that gives the mattress its plush and fluffy feel – is a type of fiberfill called Revoloft. Unique stitching, which gives the topper that luxurious patterned top, prevents the filling from shifting around.  This material is also hypoallergenic and doesn't trap heat.
The pad comes with a stretchy polyester/nylon/spandex skirt that easily tucks under the mattress to keep the pad in place when you sleep.
You can get it in any size you want from Twin to California king. There is also an Olympic Queen size available.  
If you don't want to buy a memory or latex foam topper, this one is a great alternative. It's plush, it's cool and looks great too.
---
As much as you need a cool mattress, you also need some warmth to help you sleep properly. If the cooling pad makes the mattress too cold, it could actually make your sleep more uncomfortable.
If like most people you want a mattress topper that keeps the mattress cool without freezing your legs, the Iso-Cool memory foam pad by SleepBetter is a great choice.
It's filled with memory foam, so it retains a bit of heat compared to other types of foams and fillings. The cooling action happens in the cover.
The cover is 100% cotton and is integrated with Outlast Adaptive Comfort Technology, which contains PCMs or phase change materials that feel cool to the touch no matter how hot it is.
The memory foam filling ensures the mattress remains warm enough to help you sleep while the cover keeps it cool enough to avoid overheating and night sweats.
To be clear, this mattress pad is not ideal for everyone. If you are especially heat-sensitive, sweat at night or experience hot flashes, I would recommend one of the more advanced forced air or water-cooled products on this page.
The Iso-Cool pad is, however, perfect if you just need something to make your mattress feel a little bit cooler.
In addition to cooling, it also improves pressure relief. The memory foam hugs your body, ensuring that your shoulders, hips and lower back are not digging into the mattress.
The quilted cover contains a hypoallergenic RichLoft polyester fiber fill that makes the topper feel quite plush and comfortable.
This topper is available in Twin, Full, Queen, King and California King sizes.
---
7. Best-Cooling Travel Blanket: Cocoon CoolMax
If you commute a lot by plane, train or car the Cocoon travel blanket is handy to have around.
It is also great for camping, for relaxing at the park or even as a throw blanket for your sofa.
Wherever you need a soft, cool and breathable blanket that's easy to carry around, the Cocoon CoolMax is a perfect solution.
This is a cool-yet-warm blanket that is perfect for all situations. It's made from thin but soft polyester that keeps you toasty when it's cold and provides excellent cooling and breathability when it is warm.
It is fairly large, too, measuring 55 by 70 inches. So you can drape it on yourself comfortably when traveling.
This inexpensive blanket is surprisingly light. It doesn't add much weight or take much space in your luggage. When you reach your destination just roll it up and stuff it in the included sack.
The Cocoon travel blanket comes in 5 different colors including blue, chocolate, ocean, royal blue, and shadow green.
---
8. Best Lightweight Cooling Comforter: Equinox All-Season
Bamboo bedding is really good at keeping you cool at night. Bamboo is also hypoallergenic; making it ideal for folks with allergies or sensitive skin. Unfortunately, bamboo comforters also tend to be pricey.
Fortunately, you are in luck if you are looking for a cheaper bamboo cooling pad.
Verified owners on Amazon swear the Equinox quilted comforter is like having a soft cloud on top of you, it is so soft, plush and airy light.
The softness is because of the synthetic fiberfill which feels a lot like goose down. The brushed microfiber cover adds to the soft, smooth texture of the comforter.
Like bamboo, this Equinox is hypoallergenic, so you don't have to worry about any reactions if you have sensitive skin or allergies. The soft microfiber also doesn't feel scratchy or itchy against your skin.
This comforter works great all-year-round. When it's warm, it allows maximum breathability, keeping you cool and sweat-free. And because it's so light, you don't feel stuffy or weighed down.
When it's cold, the comforter retains heat and keeps you warm without getting you all hot and sweaty.
Square stitching keeps the filling from shifting while tabs at the four corners hold the comforter down on the bed to ensure it doesn't keep slipping off.
You can use this comforter as it is or with your own duvet cover. It's easy to clean, and if you want to travel with it, it comes with a plastic zippered case.
The Equinox comforter is available in 3 sizes: twin, queen and king.
---
The Zen bamboo fitted cooling mattress pad is really inexpensive for a bamboo set.
Of course, at this price it's not 100% bamboo. Only about 40% of it is. But that is enough to make it feel cool and cozy.
At night, this mattress pad dissipates excess body heat from the mattress and ensures that any perspiration dries quickly. So if you have a memory foam mattress that sleeps too hot, try this mattress pad.
The Zen feels soft and cozy and supports your back comfortably while also providing a bit of additional pressure relief for your shoulders and hips.
It also functions as a mattress protector. The material used is tough and durable, and you can even throw it in the washing machine when it gets dirty or stained.
The provided elastic skirt fits under your mattress to prevent the pad from shifting at night.
---
If you don't want to get a ventilated mattress pad, this is the next best alternative.
It performs just as well as a water or air-cooled pad without the need to plug it in. Instead of air or water, it uses a special fabric developed by Outlast.
The fabric contains PCMs or phase change materials. When you get hot, they absorb the excess body heat and store it.
When you get cold, the PCM releases the stored heat to make the bed warmer.
In other words, they provide perfect customized cooling. This is great if your body temperature fluctuates wildly through the night or you and your partner have different sleeping preferences.
The Outlast fabric creates a microclimate that is perfect for you and your partner.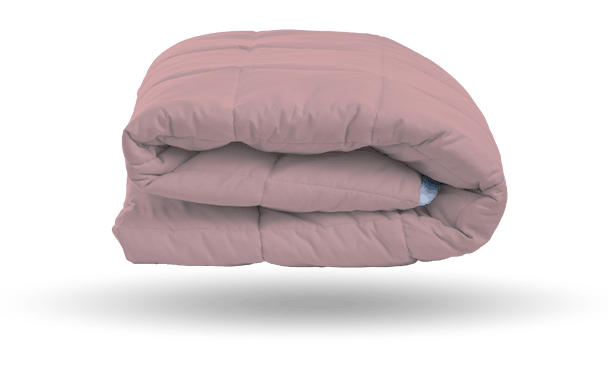 Cotton is also used alongside the PCM materials to enhance cooling and make the pad soft.
The pad is hypoallergenic, which is great for allergy sufferers. It's also easy to maintain. You can clean it in the washing machine.
It's available in all standard sizes from twin to Cal King and in four colors (white, blue, dewdrop and mauve).
It's designed to fit on all mattress heights up to a maximum of 20".
---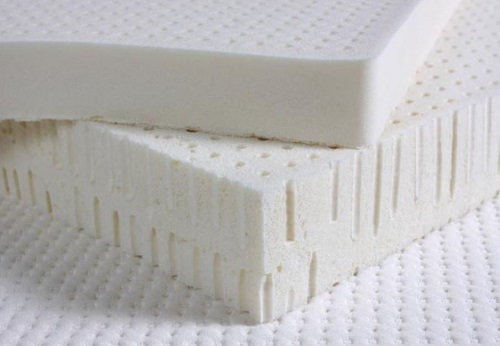 Memory foam feels pretty plush on its own. Add cooling gel to it and it becomes a luxurious upgrade for your bed.
The cooling gel in the PlushBeds memory foam topper does two important things. The most obvious one is cooling.
Gel beads embedded in the foam absorb heat from your skin, helping you sleep cooler. Gel cooling technology generally works best for mild to average hot sleepers.
If you are an extra-hot sleeper, the gel may not be enough to keep you cool. We recommend air or water-cooled systems like BedJet or ChiliPad instead.
In addition to cooling, the gel also improves pressure relief.
According to PlushBeds, the gel beads react to pressure by coalescing and molding around that area of your body.
This allows the memory foam topper to provide variable support. It feels firmer where you need support such as under your lower back but softens to relieve pressure around pressure points like your hips and shoulders.
The result is a luxurious sleeping experience, especially for a side sleeper. Using the PlushBeds gel memory foam topper essentially transforms your old mattress to feel like a 5-star hotel pillow top mattress.
The comfort and luxury don't come cheap. The PlushBeds costs more than other gel memory foam toppers.
For your money, you have also assured a safe and healthy product. The PlushBeds gel memory foam topper has two certifications: CertiPUR-US® and GreenGuard Gold.
These mean that the topper is certified for the absence of a bunch of dangerous stuff including VOCs, PBDEs, CFCs, and others.
Another reason the PlushBeds gel memory foam topper costs more is that it is designed to last. Cheaper memory foam toppers last about three years.
The PlushBeds gel memory foam topper has a 5-year warranty, guaranteeing you'll be using it for a long time.
You can choose from two thickness options: 2" and 3". The 2" topper is slightly firmer and feels less plush. We recommend it for back sleepers who don't want to risk compromising support from their mattress. The 2" topper is also ideal for use on medium firmness mattresses.
If you are struggling with back problems, the 2" topper is one of the best mattress toppers for back pain.
The 3" topper feels plusher and more luxurious. We recommend it for side sleepers and heavier sleepers who need more give and pressure relief. It also works great on a medium-firm or firm mattress.
The standard topper doesn't come with a cover. But you can add an organic cotton cover to your order when you buy the topper.
---
If you suffer from pain in your back, shoulders or hips, you have to be careful which mattress topper you buy.
A too-firm topper will press on the painful areas and worsen the pain. We recommend a soft memory foam topper that will hug your body, align your spine and relieve pressure points. The Tempur-Pedic Tempur-Adapt cooling topper does all these.
The 3" topper is pricey but it is one of the most comfortable upgrades you can give your bed. If you've heard great things about Tempur-Pedic mattresses (or experienced them), the Tempur-Adapt is just as good.
It's made with premium TEMPUR-ES memory foam that melts around your body, contouring to your curves and relieving pressure from your back, shoulders and hips.
If you sleep on your side, the Tempur-Adapt can reduce hip and shoulder pain. If you sleep on your back, the topper helps with back pain.
We do not recommend the Tempur-Adapt topper for stomach sleepers as it is too soft to provide proper support and alignment. We also don't recommend getting this topper if your mattress is already soft or is sagging in the middle. You'll sink too deep into the topper, which will only worsen your aches and pains.
The Tempur-Adapt topper is suitable for medium-firm and firm mattresses that are still in good shape.
As for cooling, the TEMPUR-ESmaterial does not retain as much heat as ordinary memory foam, despite being softer and hugging your body closer.
But the real cooling star is the cool-to-the-touch knit cover. By the way, the cover is removable and washable. Wash it in cold water without any bleach or harsh detergents.
The Tempur-Pedic Tempur-Adapt cooling mattress topper comes with a 10-year warranty.
---
There's soft and then there's plush. A soft mattress topper is great especially for side sleepers, but a plush mattress topper is what you should get if you want a five-star hotel sleeping experience.
With a plush topper like the Columbia 3" cooling topper, you sink into the bed, enveloped by a soft hug. It's great for relieving pain and aches as well as fatigue from a grueling workday.
To achieve its ultra-soft feel, the Columbia mattress topper uses two materials and has two layers.
The Ice Fiber quilted cover is like a pad on its own. It is 1-inch thick and filled with premium down alternatives. The cover itself is made with a coo-to-the-touch fabric.
Under the cover is 2" of soft gel-infused memory foam. The gel absorbs heat away from your body.
Fiber combined with memory foam creates a plush pillow top-like sleeping surface.
We recommend the Columbia cooling topper for those who want to sink into their bed. If your current mattress feels too firm and keeps pressing against your hips, back, shoulders and other pressure points, the Columbia topper will help.
Note that the quilted cover is washable.
---
How To Choose a Cooling Mattress Pad/Comforter For Your Bed
The best cooling mattress pad for you will depend on how much cooling you need, whether you also need the occasional warming, and your budget among other factors.
Here's what you should consider when choosing a cooling pad or comforter for your bed.
Cooling Capacity
Different types of cooling pads have varying cooling capacities. And by cooling capacity, I mean how far it can drop in temperature compared to ambient room temperature.
The bigger the drop, the higher the cooling capacity.
Climate-controlled cooling pads that you plug into an outlet have the highest cooling capacity. This is because the air or water is artificially cooled or warmed using electricity.
These are more expensive but are great if you get really hot or very cold at night or sleep in very hot or cold climates. You can set the precise temperature that you find most comfortable.
Some, like the BedJet V2, even allow you to vary the temperature at different times of the night. This is helpful if your body temperature fluctuates.
If you don't get very hot or you just need a bit more cooling and breathability, then traditional non-ventilated mattress pads are good enough. Some of them use highly breathable materials that dissipate heat away from your body while others use more advanced phase change materials to provide better cooling all year round.
Comfort & Feel
A mattress pad changes how your mattress feels, so it's important to get one that is comfortable and supportive.
Most people opt for plush cooling pads that contain either a soft down filling or memory foam. They provide good comfort and pressure relief but are thin enough that you won't feel 'stuck.'
If your mattress is already too soft, then you may want to consider buying a firmer pad made from polyester or latex foam.
You can also choose an extra-thin mattress pad that doesn't affect the feel of your mattress and focuses only on keeping you cool. Look for one that doubles as a mattress protector, such as the Therm-a-Sleep Snow Cooling Mattress Pad & Protector I reviewed above.
Fitted vs. Loose
When it comes to sheets, there is a lot of debate on whether flat or elastic/fitted sheets are best. Many people hate fitted sheets saying they are never large enough and keep slipping off.
But when it comes to mattress pads, fitted pads are best. In fact, most of the mattress pads you'll come across have an elastic skirt that you can tack under the mattress.
This ensures that the pad doesn't shift at night if you turn a lot.
But there are also pads with loose skirts that you fold under the mattress. In my opinion, they work just as well.
What I don't recommend is a flat mattress pad that you simply lay on top of your mattress. They are going to frustrate you because they'll keep shifting every time you turn or move.
Price
If you have never shopped for a mattress cooling pad before, you will be surprised at how much they vary in price. Prices are all over the map from cheap $30 mattress pads to water-cooled systems that can cost as much as a new mattress.
The first thing is to decide on  what budget you are comfortable with.
If you are on a low budget, there are plenty of good quality cooling pads for under $100. They provide moderate cooling and are comfortable enough.
But don't expect precision temperature control unless you are willing to pay up.
Most non-ventilated cooling pads are in the mid $100-$300 range. Here, you'll find things like phase change materials and plusher pads that almost feel like a complete mattress on their own.
These are the best mattress cooling pads for most people.
But if you need extra cooling power, be ready to spend more – and to plug your pad into a wall.
Forced-air or water-cooled cooling systems are the absolute best solutions for controlling your body temperature while you sleep. They are extremely precise, controllable and offer the greatest thermal gradient (difference from room temperature).
These start at around $200 for a twin size and can go as high as $1,000 for some Queen and King sizes.
If you get really hot at night or perspire frequently, however, air- and water-cooled systems are totally worth it. Many provide both warming and cooling, and you can set the temperature precisely. Some also provide split cooling/warming for finicky couples.
Cleaning and Care
Most mattress cooling pads are easy to maintain. Most are thin enough to throw in a washing machine.
Pricier ventilated pads may require special cleaning methods, but they are generally easy to maintain as well.
Remember to read cleaning instructions for the specific mattress pad you've bought. Some call for cold water while others specify low-heat drying.
Type of Cooling System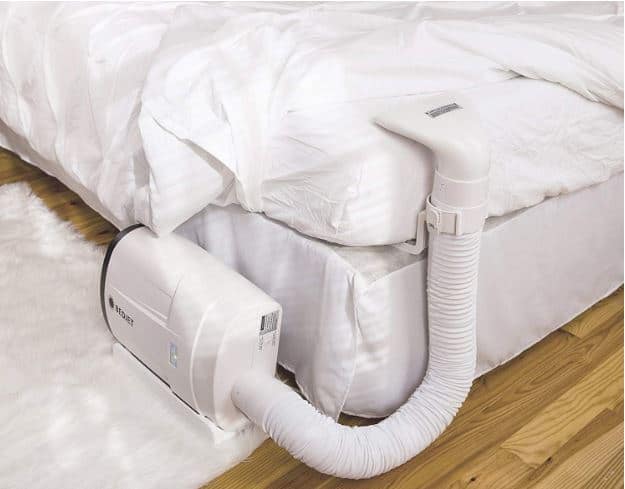 If you opt to go for a climate-controlled mattress pad, there are two types of cooling systems you need to know about.
Some mattress pads such as the BedJet V2 use air to either cool or warm the bed. Hot or cool air is forced into the bed using fans. This is a convection system.
The main advantage of a forced air system is that it's highly effective at cooling AND warming your bed. It also works very quickly. You'll feel a difference within a couple of minutes.
The disadvantage is that it can be noisy because of the fans. It also uses more electricity.
Other mattress pads use a radiant heating or cooling system. Instead of heat or cooling air, they cool or warm you directly by running cool or warm water through tubes that are physically close to your skin.  Water is delivered from a main pump unit after it is heated or cold and sent through small tubes integrated into the pad.
Cold water acts as a major heat sink, quickly drawing away excess heat from your body. For pads that provide warming, electrically-heated warm water passes through the tubes instead, delivering warmth directly to your body.
The main advantages of radiant systems are that they are quiet, easier to use and less expensive than forced air systems.
On the downside, they don't cool as quickly as forced air systems. They also have a smaller cooling capacity and require refilling.
If you are on a budget, get a radiant water-cooled mattress pad.
But if you can afford it, a convection pad is the best possible solution. A high quality one such as the BedJet V2 will barely make any noise.
Cover and Filling
Look for a mattress pad with a hypoallergenic cover and filling. This is especially important if you have sensitive skin or allergies.
Some good materials include bamboo rayon, cotton, microfiber, and wool.
Some mattress pads contain a synthetic down filling that is designed to mimic goose down or feather filling.
All these materials are not only soft and comfortable, but they are also great at cooling and wicking away moisture.
Type of Foam
If you decide to go for a foam cooling pad, be extra-careful when shopping.
Foam pads can easily make your mattress even hotter and may not be as plush as other pads that use wool or down filling.
Latex foam pads are the best for cooling, but they tend to be firming.
If you want something plush, opt for a memory foam pad. But not just any memory foam pad – look for one that is designed specifically for cooling. It will usually be infused with gel and have large cells to allow free airflow.
---
Benefits of Using a Mattress Pad/Cooling Comforter
Here are some of the benefits of getting a mattress pad or cooling comforter.
Personalized Comfort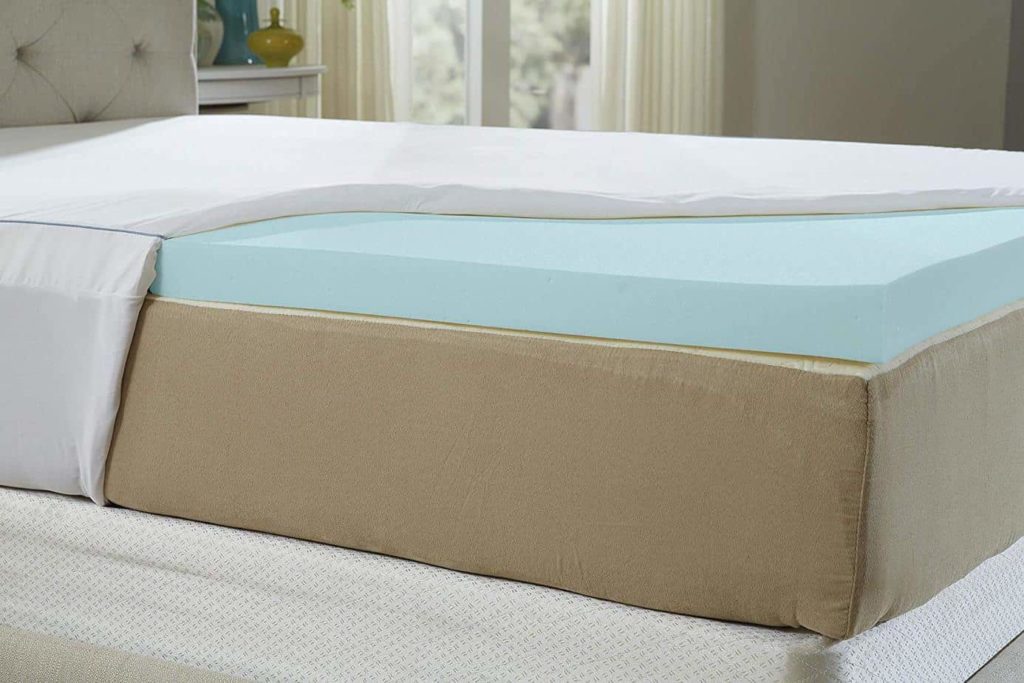 Air-conditioned comforters let you choose exactly what temperature you want the mattress to be. Most also provide a dual-zone configuration for couples with different sleeping preferences.
Even normal non-ventilated mattress pads can provide customized comfort by using phase change materials. The mattress pads cool or warms you up depending on your body temperature.
Lower Heating/Cooling Bills
Turning down the thermostat when you just need to cool the bed wastes a lot of energy.
With a cooling pad, you can keep the room warm while still enjoying a cool and comfortable bed.
You also don't have to keep arguing with your partner over the thermostat. Everyone can enjoy their own personalized comfort.
Better Sleep
To sleep better, sleep experts recommend turning down the temperature a degree or two. The ideal sleep temperature is 65F though it can vary slightly among different people.
A cooler bed allows you to fall asleep more quickly and enjoy deeper sleep.
If your current mattress sleeps hot, it will affect your sleep, and in turn, this will affect your health and productivity.
A cooling pad will help you sleep better, enjoy better health and be more productive at work.
It can also be helpful for those with sleep disorders such as insomnia or health conditions like hot flashes.
---
Frequently Asked Questions
What type of mattress cooling solution is right for me?
It will depend on several factors including how much cooling you need, whether you sleep alone or with your partner and of course your budget.
For help choosing the best mattress cooling solution for you, see our section above on factors to consider when buying a mattress cooling pad or comforter.
How do I keep my mattress cool during warm summer nights?
You could turn down the thermostat, but that will use up a lot of energy and drive up your bills. It will also interfere with your partner's sleep if they prefer sleeping warm.
The best solution is to get a cooling pad or comforter. It will provide personalized cooling, and for some, you can even set the exact sleeping temperature that is most comfortable for you.
If you are a couple, look for a dual zone cooling solution that lets each of you configure the temperature on your side of the bed.
How long will a cooling comforter last?
This varies depending on the type of comforter.
Some thin foam pads last 2-3 years while more advanced cooling systems can last for 5 or even ten years.
What are the best material types to keep me cool?
Cotton, wool, synthetic down filling, microfiber and bamboo rayon are some of the most commonly used materials in cooling pads. They are great at dissipating excess heat and moisture.
Gel-infused memory foam and latex foam are also great alternatives.
How long can a memory foam topper cool before it warms up?
It will depend on the quality and design of the memory foam.
Some memory foam toppers will keep you cool for half the night but then start warming up as they trap more heat.
That's why I recommend buying gel-infused memory foam toppers with an open-cell design. They don't trap a lot of heat and will keep you cool through the night.
What is Outlast technology?
It is a type of fabric that utilizes PCM or Phase Change Materials to provide customized comfort. The PCMs absorb and release heat depending on your body temperature.
When you are feeling warm, they absorb heat to cool you. When you are feeling cold, they release heat to keep you warm.
So regardless of the weather, you'll never be too cold or too warm.
A couple of cooling pads in our list above use Outlast Technology.
What type of solution is best for high-humidity/tropical environments?
Look for a forced air/convection mattress cooling system such as BedJet V2. It's best for humid climates.
Radiant systems that use water tend to perform better in drier and warmer climates. But they are not useless in humid rooms. This is because the system is restricted to just the bed and not the whole house. So it is not affected as much.
But I'd still recommend an air-based cooling system for best results.
Alternatively, get an ordinary foam or down filling mattress pad.
How do cooling pads work?
Simple cooling pads are consisting of foam or filling work by enhancing air flow. This allows heat and sweat from your body to be carried away from the mattress.
PCM (phase change material) cooling pads work by absorbing excess heat from your body when you are feeling warm and releasing it back when you are feeling cold.
Air-conditioned cooling systems work either by using forced air or water. Warm/cool air or water is introduced into the bed to either cool or warm it.
---
See My Favorite Products of 2021!
Select a list >
Mattresses
Toppers & Pads
Cooling/Heating
Pillows
Sheets
Touch a tab above to reveal my top picks for that category.
---
Learn More
Compare Mattresses Side-by-Side
---
Affiliate Disclosure
Affiliate Disclosure: I may earn a small commission (at no cost to you) if you purchase a mattress after clicking a referral link or using a coupon code on this site. That said, all content and opinions on this site are my own and are NOT affected by these payments.
This site participates in the Amazon Services LLC Associates Program, an affiliate advertising program designed to provide a means for sites to earn advertising fees by advertising and linking to Amazon.com.
*Amazon and the Amazon logo are trademarks of Amazon.com, Inc, or its affiliates.
---