NOTE: We earn from qualifying purchases made via Amazon Associates and other affiliate programs. Learn more.
---
Looking for a cheap & affordable bed frame?
You have come to the right place!
This in-depth guide enlists all the popular bed frames that you can buy just under in $200. We know that everyone wants to buy sturdy, stylish and durable bed frames, but one has to look into the pricing option as well.
Hence, this guide demonstrates  some of the unique and affordable bed frames you can buy today for just under  $200. All of the listed below bed frame products are good enough to give you a silky sleeping experience whenever you lay over them.
Let's have a brief look at all of them below:
---
What's In This Guide
---
Top 10 Best Bed Frames Under $200
---
Relax on a modern, stylish, and durable platform bed with the Zinus Deluxe leather upholstered platform bed. It has much to offer, from strong support to a beautiful finish. Built with top quality wood and leather, the number one platform bed comes with a solid frame and headboard.
It's available in 4 sizes, such as king, full, twin, and queen. You will love this bed not just for its cost, but also for its strong, tall height. And the best hybrid mattresses would look and feel good in this.
Zinus Platform bed includes ten wooden slats, a headboard, and a stable frame. The footboard is in a low-profile style, revealing the feet for additional support. The faux leather finish gives elegance and excellent mattress support.
It boasts a fantastic bargain for its price range and 5-years guarantee. The maximum capacity is 1200 lbs, which makes it stable for long-term usage. Legs and the corners are strong, sustaining any pressure, while the finishing resists dust mites and bedbugs, exactly how you want a bed to be. You may expect it to be quite comfortable as well, for it provides excellent support to the mattress. You can sleep well on it for long.
You will have no difficulty assembling the Zinus platform bed frame, for it is smartly shipped. It will be delivered to you preinstalled with metal brackets. The directions are clear, so you will quickly understand it. It will take up to an hour for you to set it and get it ready for use. The bed's height makes it comparable to beds that you see in hotels. The closed encasing is so impressive, particularly if you're using a full-size mattress.
If you need a sensibly priced platform bed frame, Zinus Deluxe is our top recommendation. It's well-designed, providing enough support for your body. As it comes with pre-assembled components, there is no need to call a professional for help. This bed will convert your room into a luxurious one for less than $200. It's undoubtedly not only aesthetically appealing, for it provides incredible support no matter what type of mattress you choose.
Pros:
Sturdy metal crossbars with additional legs for support
Holds mattresses smoothly and conveniently
Ample space under (1 foot) to keep things
Soft, pleasant-looking faux leather
Clear directions
Cons:
The bundle should have come in more than one box, for it's too heavy to lift.
---
This bed of Dorel Home Products deserves the 2nd place for the most trustworthy bed frames below $200. It appears comfortable for the cost, and with characteristics, you'll definitely love. Upholstered beds are beautiful. They appear to be convenient to use and provide that cozy feeling in a bedroom. With this item, it's not just the price, looks, and comfort that are impressive.
This bed's headboard is made with diamond button detailing, revealing a chic contemporary look. It infuses courtesy of the faux leather upholstery, comfort, and style. It's made using 24 wooden slats, which possess great support. It does not want box springs and comes in twin, full, and queen size. The frame is made of wood. It's built with metal side rails that guarantee stability and durability.
Additionally, it has a center metal railing and legs for extra support. As the finish is faux leather, it is simple to clean and maintain. Just wipe it with a wet cloth to remove dust. However, the weight capacity is only 450 pounds, unlike our top product that holds up to 1000 pounds.
DHP platform bed certainly provides the coziness and elegance you would like for your bed. If you want a fantastic night's sleep and relieve your body of aches and pressure, you can opt for a top-quality memory foam mattress to match this bed. If you're searching for an affordable, luxurious, and sturdy bed frame, this one from DHP is well worth considering. It's made of the right quality materials, so you can expect your bed to last a long time.
With the DHP Platform bed, using a lavish bed is within reach. You can select from its three colors, namely brown, black, and white. This means that regardless of what style of your room, there is a color to match it. It fits into almost any room size as it is available in three sizes. Get it for under $200, absolutely a fantastic value for the money.
Pros:
Elegant, simple to clean faux leather finish
24 Sturdy wooden slats
Constructed with metal side rails
Simple to assemble
Works with memory foam and coil mattresses
Cons:
Weight capacity is just 450 pounds
---
This is the more economical version of Zinus Deluxe. You heard it right! There's a more affordable version of an earlier reasonable bed from the Zinus line. It is only available in three sizes, unlike its equivalent. You can choose from the king, queen, and full sizes, whichever suits your needs. At a price that's appropriate for your budget, this platform bed frame is undoubtedly the best bang for your buck.
Like Zinus Deluxe, this bed frame features an upholstered headboard and is black in color. The cushioned leather finish boasts a contemporary style that suits every kind of bedroom. The material makes it easy to maintain and clean. Since it is stuffed, it doesn't just look comfortable; it is actually very pleasant. The whole frame is padded and faux leather upholstered, so you wouldn't think it costs less than $200. The footboard is a low profile, which makes it simple and sleek.
The slats are made from wood, but you won't need to worry about being sturdy. The item comes with a 5-year warranty, so you can be sure it's of durability and excellent quality. The frame and legs are also made to be durable; it provides excellent support for any sort of mattress. The enclosed casing assures that the bed securely stays in place.
If you have a tight budget and you're seeking a modern bed frame to work with your bedroom design, Zinus platform bed is perfect for you. You won't be regretful for its performance, for it is built to last.
Pros:
Stuffed upholstered faux leather coating for comfort and style
Affordable cost
Simple to assemble
Cons:
Available only in three sizes
---
If you have a tight budget and you want a very strong bed frame, Zinus has an excellent option for you. This contemporary metal bed frame is affordable, but it is only low in price, not in quality. It doesn't look as luxurious as the bed frames listed above due to their upholstered headboard. However, you'll not be disappointed with its modern and unique style. Pair it with beautiful bedding, and it will absolutely look very presentable in your room or apartment.
The best part is, the frame is formed of metal, making you sure it's stable and long-lasting. The design is simple, which makes it sleek and modern. Like the Zinus bed frames featured previously, it's constructed with quality wooden slats offering excellent mattress support. Whether you fancy spring, memory foam, or latex mattress, this frame provides unmatched comfort, underneath, there is a 12-inch room, which means you can store plenty of things under your bed.
When it is about buying furniture for our home, it's best to invest in something that's meant to last. In actuality, it was awarded a "Good Design" differentiation in 2016 by The Chicago Athenaeum. It's available in four sizes, twin, queen, full, and king. You won't have to bother about joining, for you can simply set it up quickly as it is smartly packed. Zinus metal bed frame has got excellent reviews from  actual users,  a suitable case that it is indeed a quality product. You would wish to get this bed not just for its award but for its performance. For its price, it  truly is a great deal, a hot pick for smart shoppers.
Pros
Unique, contemporary design
Sturdy metal frame
Low cost
5-year guarantee
Innovative design
Simple to assemble
Cons:
Available in four sizes only
---
This bed from DHP makes it on our listing of the most reliable bed frames under $200. This bed looks expensive and very elegant, but it is just a little more than a hundred dollars. That's such an incredible deal. The Tokyo metal bed is an exquisite addition to your bedroom. It's made of a polished bronze metal frame that you will not only love for the sturdiness but also for the looks. The tangled lines provide a timeless look, but you will be impressed at the way the corners are covered with spindles, for the latter to give a hot and expansive texture. And definitely, the Casper mattresses would fit this bed frame.
DHP Tokyo Metal bed frame includes a contemporary yet timeless design. Unlike the other items highlighted above, this one is built with metal slats, ensuring endurance and stability. It is not surprising that it holds up to 450 lbs of weight. It comes in two sizes, queen, and full. This is a perfect bed for the master's bedroom or for couples. The high profile headboard perfectly suits the low profile headboard.
If you need a traditional-looking bed that never goes out of style, the DHP Tokyo bed frame is appropriate for you. For features and its price, it provides you a smart investment and a great deal. Knowing that it's produced by a reputed firm such as Dorel Home Products, you can be sure of its quality. New homeowners that are beginning to build a family will get this mattress excellent for the master's bedroom. Pair it with lavish bedding and a comfortable mattress, and you'd want to remain in your room for longer.
You can be assured that this bed will last longer since it is made from metal slats. Wooden slats can be break cracks  but not metals. The bed frame provides support for your own body weight but also for your favorite mattress. Brushed bronze is a beautiful finish for this well-built bed.
Pros:
Metal frame and slats for durability and support
Vintage design
Box spring not required
450-pound weight capacity
Bundle includes a tool kit and illustrated instructions for easy assembly
Cons:
---
The Olee Sleep duty bed frame is a beautiful product because of price, durability, luxurious design, and sturdiness. It provides you a terrific deal as it covers everything you need. You don't require a box spring to use it, just the mattress of your choice. The steel slats assure you of excellent support, providing you with the freedom to utilize a heavier mattress without bothering about cracking. It's made from a solid steel frame for long-term use.
Many clients are particular  about slats while purchasing a bed, for they want to be sure that it will not break. You can comfortably sleep at night, knowing that slats and the steel frame can endure the heavyweight. Not just that, the construction offers exceptional support for your mattress. The mattress will be embedded firmly in it so that there could be no slipping or wobbling.
You will be fascinated by Olee Sleep T3000, for it appears with an upholstered faux leather headboard. This composes the bed comfy and luxurious. The headboard's unique design makes it ideal for a modern room. The excellent features do not end with that. It possesses 12 inches room below, which indicates there's enough storage under the bed, which makes it perfect for smaller spaces. It includes central leg support, which some mattresses require for the guarantee to work.
When it comes to joining, you won't have a difficulty setting up this. It includes all the components required and is self-foldable. What's even impressive is the fact that it will not scratch on hardwood flooring for the base of the legs come with plastic caps. So it's excellent for couples, and it's available in two sizes, full and queen. This one is highly recommendable if you've been looking for the right bed frame. The purchase price is too good to be true; however, you will not be disappointed by its looks and functionality.
Pros:
All metal frame and slats for supreme strength
Upholstered faux leather finish for luxury and comfort
Simple to assemble
Includes 5-year guarantee
Very reasonable price
Can support heavier users
Cons:
---
This is the only bed frame made by Pinnacle Home Furnishings to get it on our list, but it will surely not disappoint. For $200, you are going to have a great looking bed that is sturdy enough to last a long time. If this does not seem good enough for you to wait until you learn about what it provides. It's a queen-sized bed that's excellent for singles and co-sleepers who want a bed to sleep on. It's a platform in design, finished with gray linen that will suit every contemporary room.
San Francisco bed frame includes low profile footboard and high profile headboard that are both upholstered. That makes it lavish-looking yet easy to use. Unlike the other products we listed, it is varnished with gray cloth for that hot appeal. Even if the slats are built with wood, you won't have to bother about its sturdiness and the necessity for a box spring. You will love that the frame is stuffed, for it is soft and looks comfortable, making your bedroom very favorable for your much-needed rest. Since it is solely designed, assembly is also simple and  you can set it up in minutes without the help of a professional. The package arrives in one box for easy handling.
The time you see San Francisco bed, you will be overwhelmed by its sleek design, for you won't find it challenging to pair with a mattress, your preferred bedding, or room design. Some customers consider the appearance of the frame so that it matches their space and the beddings they would like to use. Since the frame is gray-colored, which is a neutral color, pairing it with your room is not going to be a problem. In this item, you won't even have to worry about your weight, for it can hold adults of various weights. With its appearance and functionality, it isn't surprising it's a well-reviewed product.
Pros:
Upholstered headboard for luxury and relaxation
Sturdy frame and slats
Simple to assemble
Cons:
Available in queen size only
Cloth may become dirty after prolonged use
---
If the steel frame is what you're searching for ; this bed frame might be precisely what you would like.
The frame is especially suitable for frequent movers. It features a bifold mechanism that makes it easy to disassemble and carry to another home.
For less than $200, you can get an all-in-one product so that you won't see for a separate headboard. With 100% steel for the slats, you can make sure you are getting a long-lasting bed that's worth the investment. What is significant is that you can pick from six different sizes, twin XL, full, queen, king, and California king.
With this Best Price bed frame, you sleep better and will save more. You can be sure of its durability and strength, for it is made from quality steel. The slat area is enough for excellent support. No requirement for a box spring, just pick the mattress of your choice, and you are ready to use this bed. What is even exciting is the fact that it is highly portable.
Setting up is fast, which means it's excellent for guest rooms, dorm, or temporary use. You just have to tighten, unfold, and complete the parts, and it's reliable to use. There are only ten parts to join, so it will take less than an hour to set it up. If you have a small room, there's enough storage space to keep your clutter. The variety of sizes to choose from makes it perfect for couples, singles, or families sharing a bed.
The best price mattress may not be composed of an upholstered headboard, but its durability makes up for its modest design. If you want your bed to be very durable than good looking, then this product is an excellent choice. It comes in black, so it satisfies any time or bedding style. No matter what kind of mattress you like, it will surely offer ample support.
Pros:
Made of 100% steel for ultimate strength
Comes in a variety of sizes
Simple to assemble
Reasonable cost
Includes 5-year guarantee
For heavy-duty use
Cons:
Headboard design is not very elaborate
---
The final one to get it on our list is this bed frame by InStyle Furnishings named Stella. Like the earlier one we listed, it doesn't have a headboard, but it sure offers strong support as a high-quality metal bed frame. For a little over $100, it gives a fantastic deal. Select from the available sizes, the king, queen, twin, and full. And you can decide from the best mattresses under 1000 that would go to your selected size.
Stella Metal Bed frame is built with steel, which boasts strength. The slats are made from good quality wood that supports your entire body and protects your mattress. You do not have to bother about the slats breaking, for they are wide and thick. Regardless of what type or weight of the mattress you need, the bed frame is created to offer maximum support. The modern finish features a stylish appeal to your room and makes it simple to blend with your chosen bed covers. It does look just great. It also resists stain, rust, and dust and does not simply scratch. You don't want box springs to use it.
For assembling, you will not have a hard time putting it together. It includes all of the required components and an easy to understand manual. With a room of 5.5 inches, you can store some things underneath and keep your space clutter-free. Even if it does not include a headboard, you can buy a separate one that suits your needs. The advantage is that you have a solid frame for support and can have a say on the headboard that you need. The bed can accommodate several weights, even if you are on the heavy side, so even if you are on the heavy side, it should not be an issue. It has the essential sizes, so your height is also not a big deal.
---
For just over a hundred bucks, you can have a very strong metal bed frame from Zinus. It comes in queen, king, twin and full sizes, and 5-year warranty. This is not like the third Zinus we have listed, for this one has no headboard and is lower in height. This is a base that is sure to support your mattress and body properly. It has wooden slats, which are somewhat identical to the Zinus line. Still, good reviews prove that it is durable. Regardless if you want to use spring, latex, or memory foam mattress, you will feel this bed frame is adequate.
The frame has a height of 10 inches, which is a bit lower than the other frames we reviewed. Even if you can't store as many things below, this is still beneficial if you have children or pets that are possible to use this bed. It includes ten wooden slats that are narrower in space, so there could be no sagging, and you may make sure the mattress is protected. Similar to the rest of the bed frames on the list, there is no requirement for a box spring to use this. Your floors will not be scrapped for feet have plastic.
The reason why this product comes only in the ninth place is that it doesn't come with any headboard. Although, if you can buy a separate headboard that is compatible with it, the frame is built in such a way that a headboard can be attached, as provided by the openings found in the legs. It's black in color, so it's easy to match with your bedding or your room style. Whether you're sleeping with someone or alone, there would be no problem for you to pick the size of your choice. Since Zinus is a trustworthy company that manufactures home furnishings, you can be sure of the product's quality, mainly because it comes with a 5-year warranty.
Pros:
Metal frame for strong support
Close slat area for mattress protection
Simple to assemble
The headboard can be attached
5-year guarantee
Different sizes available
Cons:
Doesn't come with a headboard
---
Types of Bed Frame by Design
The design of the bed represents the actual structure and form of the frame.
Standard: a standard bed frame typically includes a simple metal frame where the box spring and mattress will sit. Some made with heavy-duty material to last quite a long time and are built to be adjustable in size.
Platform: the oldest style of bed, which includes a base that's made with lifted, a level horizontal frame that typically contains a part of rows of elastic latticed structure or wood slats to support the mattress. It gives proper ventilation and reliable support, so a second or box spring mattress would not be necessary.
Folding: This kind comes with a hinged frame that allows the bed to be folded and kept in a smaller space. This is often utilized in smaller areas or guest rooms where the bed is not used daily.
Panel: a panel bed is built with a headboard and footboard made from horizontal wood panels. These panels are mounted with raised grooves or molding, like traditional wainscoting or paneling. Wooden rails join the headboard and the footboard.
Sleigh: this type is defined by curved or scrolled footboard and headboard, resembling a sleigh. This is usually made of dense wood. It came in the period of the American and French empire. Today, it's constructed using various materials, including steel.
Murphy: also known as fold-down, pull, or wall bed, this style bed is built to save space in a smart way. The frame could be connected, so the bed is tilted up and stored in a cabinet or against a wall.
Trundle: this is just another space-saving design as a second bed on the caster is stored beneath the main bed. You keep it stored without taking up space or may use it when necessary.
Daybed: Daybeds are intended for multiple uses. It can work as a sofa during the day and a bed at night.
Poster: commonly called four-poster bed, this type consists of four vertical columns in each corner, which occasionally supports an upper panel. Often, the posts are decorative as well as the bed has a headboard but no footboard.
Canopy: this is extremely much like four-poster beds but has crossbeams on top to join the posts. It's excellent for rooms with high ceilings.
Low-poster mattress: low-poster beds are very similar to a four-poster bed, but the posts are shorter and don't exceed the height of the headboard or footboard.
---
Styles of Bed Frame
Bed frames also vary in design, which defines the general theme or appearance of the bed. It will impact the bed's texture, tone, and feel.
Contemporary: modern styles are the current style of beds. It utilizes modern shapes or materials which weren't seen previously.
Traditional: if there is contemporary, there is the conventional manner of bed. These are timeworn models that mimic the past. Examples are canopy or four-poster beds.
Modern: the contemporary style of beds comprise new ideas that combine with contemporary rooms. They may be a cross between contemporary styles.
Mission: mission styles highlight horizontal or vertical lines, flat panels in a grain of the wood.
Cottage: Cottage beds usually have big, lavish headboards that reveal some carving and painted finish.
Country: country style is characterized by conventional shapes and rich textures.
Rustic: This style is described as old-fashioned and homespun.
Classic: the throwback kind of mattress that purposely aims to make a particularly fashionable look at a specific period.
Scandinavian: Scandinavian beds are compact, simple, and functional. They may come in a variety of shapes but lack fancy additions.
Mid century: Mid century form of beds takes back the '50s and '60s style of frame, usually with tapered wooden legs and compact headboards.
---
Materials Employed in Bed Frames 
Metal: metal frames are more contemporary choices. They're lighter and more flexible but are lacking in the warmth that timber frames offer. Metal frames vary from regular to more elaborate structures. Old models utilize bronze and copper, but newer ones use wrought iron and stainless steel.
Wood: Wood is the most common material used in beds and other furniture. It's been used for centuries and comes in a variety of forms, too, including softwood and hardwood. Oak, mahogany, maple, beech, and pine are the most common woods used in mattress frames.
Rattan or wicker: This material could be made from plastic or plant and woven into a hard surface. It's firm and lightweight.
Veneers and laminates: contemporary frames use laminates and veneers. These are layers made from wood or other material and applied over a wood frame then sealed. They're utilized to mimic more expensive choices and preferred for their flexibility and durability.
---
Bed Frame Characteristics to Consider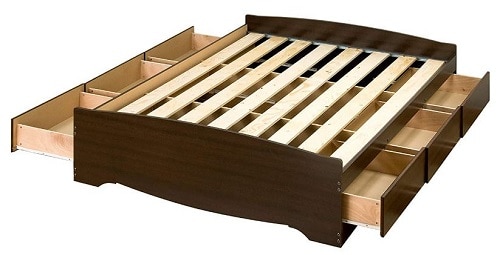 Upholstered headboard: it doesn't just provide comfort. Additionally, it also adds luxury and beauty to a bedroom.
Distressed finish: a few frames are polished to appear imperfect or older using sandpaper or paint stripper.
Storage: Modern beds have concealed storage underneath the mattress for storage.
Lighted headboard: Many headboards are fitted with a light source for clear reading.
---
Choosing the Right Bed Frame
As you may know, bed frames come in a wide selection of styles, but this shouldn't lead to confusion. Instead, consider it as valuable since it can cater to every need and taste. The key is to ascertain what you want and end up purchasing the best one for your bedroom. Below are some factors to take into account for that ideal bed frame:
Determine the perfect size. Think about the design of the room when picking the mattress size. The mattress will limit your choice for the most suitable bed frame. Measure the available space before looking for your new bed.
Consider performance. Do you want your bed for storage space also? It is possible to consider beds with drawers to store some of your things. It is possible to pick beds with lower height for your kids or multi-functional daybeds to conserve space.
Embrace your own style. Your bed frame will influence your room's overall appearance, so if you have the budget, select the best-looking one that matches your taste.
If your budget allows only bed frames under $200, here are our recommended ten products. There are lots of bed frames in the market, but after careful study, we've analyzed, reviewed, and rated the top 10 best bed frames for you.
---
Conclusion
Choosing the bed frame under $200 shouldn't be confusing even if there are many options to select from. The key is to determine the attributes and what you need and the features that are important to you. It's best to know the durability of the product because you'd wish to use the bed for quite a long time. It should offer the support you want for the mattress and your body. Finally, it encourages a lot to read reviews to find more about the product. In this post, we have caused things easier for you so that you can make an informed choice.
---
See My Favorite Products of 2022!
Select a list >
Mattresses
Toppers & Pads
Cooling/Heating
Pillows
Sheets
Touch a tab above to reveal my top picks for that category.
---
Learn More
Compare Mattresses Side-by-Side
---
Affiliate Disclosure
Affiliate Disclosure: I may earn a small commission (at no cost to you) if you purchase a mattress after clicking a referral link or using a coupon code on this site. That said, all content and opinions on this site are my own and are NOT affected by these payments.
This site participates in the Amazon Services LLC Associates Program, an affiliate advertising program designed to provide a means for sites to earn advertising fees by advertising and linking to Amazon.com.
*Amazon and the Amazon logo are trademarks of Amazon.com, Inc, or its affiliates.
---