NOTE: We earn from qualifying purchases made via Amazon Associates and other affiliate programs. Learn more.
Looking for a mattress whose firmness you can change at home?
You've come to the right place.
In this in-depth buying guide, I'll review and compare the best adjustable-comfort mattresses sold online: Spindle, Luxi and Morphiis.
If you're not sure what kind of mattress or firmness you need, then these three affordable beds are solid choices, because you can adjust the feel and firmness of each in your home, after it arrives.
Each mattress reviewed on this page is a great choice for couples with different sleeping preferences because they offer a split-mattress option. So the two of you can adjust each side to your liking, over time.
OK, so let's dive-in and see how these three flexible beds compare.
---
What's In This Adjustable-Comfort Mattress Guide?
In this 3-way mattress comparison, I'll walk you through each of the leading adjustable-comfort mattresses sold online, Spindle, Luxi and Morphiis.
I will also explain how these leading adjustable mattresses differ in price, feel, construction, warranty and half a dozen other important characteristics.
---
What is an Adjustable-Comfort Mattress?
An adjustable-comfort mattress is a bed whose configuration you can change in your own home to make it more comfortable for you.
All mattresses sold today are constructed using multiple layers. Some use memory foam layers only, others mix memory and latex foams, and others alternate foam and spring layers.
With most mattresses, you'd better love how the mattress feels after it arrives, or you'll need to return it or suck the cost up – because you can't adjust how it feels. 
Adjustable-comfort mattresses are different… in one important way:
Instead of being stuck with a mattress that feels overly firm or too soft, you can adjust the firmness and feel in your home. This is usually done by unzipping the cover and rearranging the layers of the mattress, flipping it over – or both.
Most of the adjustable-comfort mattresses reviewed in this guide also offer split options for couples. Each partner can adjust their half of the bed to their comfort preferences.
One more thing: adjustable-comfort mattresses are no more expensive than other mattresses of similar quality and materials. 
So what do you have to lose?
Best Adjustable-Comfort Mattresses
---
1. Best Adjustable Latex Mattress: Spindle
Spindle makes one of the least expensive natural latex mattresses you can buy today.
It's also the only 100% natural latex mattress that lets you adjust the firmness of the mattress in your home, to make it more comfortable.
About Spindle
Spindle launched in 2013 by Neal Van Patten. The company's main aim was to make affordable, high-quality latex mattresses and convince shoppers of the many benefits of latex foam.
Years later, the Spindle mattress is still one of the most affordable and highest rated foam mattresses in the market.
Shipping is free for the 48 contiguous states in the US.
There's no white glove delivery, but the mattress is pretty easy to set up. It comes in 3 compact boxes (2 for the twin and twin XL) that you'll have no trouble getting into the house.
Construction
Looking at the price of the Spindle mattress, it's hard to believe it's made from natural latex.
The entire mattress including the organic cotton cover and wool batting is 100% natural.
Most of the natural/organic mattresses we have reviewed cost over $1,800. The Spindle mattress starts at $899.
The mattress consists of 3 layers of continuous pour Dunlop latex.
Dunlop latex is one of the two types of latex foams. The other is Talalay latex.
Spindle decided to go with Dunlop latex because it is denser, has better support, lasts longer, is more responsive and costs less. Its manufacturing process is also better for the environment.
In addition to the three layers, there's a zippered cover made from 100% organic cotton. The cover contains natural wool batting underneath which improves breathability and acts as a natural fire retardant.
Sleeping Experience
Because it's made from latex, the Spindle mattress stays cool all the time. The organic cotton cover also helps with ventilation and moisture-wicking.
The dense Dunlop latex foam provides plenty of support even for heavier sleepers.
Contouring is also good as long as you choose the right firmness level.
Thankfully, you can adjust the mattress until it feels perfect for your comfort needs. Read on to learn how to modify the firmness of the Spindle mattress.
How to Adjust Firmness
When you are ordering the mattress on their website, you'll be asked to select a firmness level. There are four available: soft, medium, firm and extra firm.
There's also a quiz to help you determine your ideal firmness level.
Most people are usually comfortable with the firmness level they selected.
If you are not, it is incredibly easy to change the firmness of the Spindle mattress. Just unzip the cover and then switch the layers to your preferred configuration.
Here's how the layers are arranged depending on the firmness level you selected.
If you want to make the medium a bit firmer, bring the firm layer on top. If the firm is not firm enough for you, bring one or both firm layers on top.
If you have the soft configuration and you want to make it firmer, you'll have to order a firm layer from Spindle.
You can get it at a 30% discount. Same goes if you want to make the X Firm softer and need a medium layer.
Make sure you have someone to help you adjust the mattress. Latex tears easily if stretched from one side. Spindle recommends that two people lift each layer to avoid damage.
Trial Period and Warranty
The Spindle Mattress comes with a 1-year trial period or Comfort Guarantee as the company calls it.
From the day the mattress is delivered, you have 365 days to test the mattress and decide whether you want to keep it.
If it feels a bit too firm or too soft, they will work with you to make it more comfortable either by guiding you on how to adjust firmness or sending you a softer/firmer layer.
If you still don't like the mattress, they'll happily give you a refund and ask that you donate the mattress to charity.
But if you do decide to keep the mattress, as most customers do, your purchase is covered by a 10-year non-prorated warranty.
They also have something called a Comfort Life Program which is valid for 25 years.
At any time within this period, if your mattress gets too firm or sags, you can buy a replacement layer at a 30% discount.
---
2. Best Adjustable Memory Foam Mattress: Luxi
If you don't particularly like the solid feel of latex foam or the plushness and heat-retention of memory foam, I think you'll love the balanced feel of this latex + memory foam mattress.
Luxi combines both types of foam to create a cool mattress that has the perfect amount of support, contouring, and responsiveness.
But don't worry if it feels uncomfortable for you. Everyone has their own preferences.
With the Luxi mattress, you can adjust firmness until the mattress feels exactly the way you want it. Just by switching the layers, you can adjust it to a soft, medium or firm feel.
If you buy a Queen, King or Cal King you get a split mattress that allows you and your partner to adjust each half to your individual preferences.
About Luxi
Luxi was founded by a dad-daughter team who wanted to create a mattress that was comfortable for everyone and which can keep up with people's changing needs.
Combined with affordable pricing, they created a killer mattress that has become on the most popular bed-in-a-box mattresses.
The mattress ships free to Mainland US, Hawaii, Alaska as well as Canada. They currently don't have white glove delivery but can coordinate the removal and disposal of your old mattress for a small fee.
Construction
Even without the ability to adjust firmness, the Luxi mattress is designed to offer universal comfort.
The combination of latex and memory foam hits that sweet spot that most mattresses miss.
The mattress doesn't feel overly bouncy like some latex-only mattresses, and it doesn't feel too plush and swampy like some memory foam mattresses.
What you get is a balanced-feel mattress that has a good mix of support and contouring.
The Luxi mattress has four layers whose order you can change to make the mattress firmer or softer.
I've already mentioned two of the layers – memory foam and latex foam.
The memory foam layer provides pressure relief and reduces motion transfer. The latex foam provides support and responsiveness. It also helps keep the mattress cool.
The other layer, which Luxi calls the SBT (support balancing technology) layer, is the fascinating part of the mattress.
This layer has memory foam heads that react to your body weight and sleeping position to provide just the right amount of support and contouring exactly where you need them.
Here's a video from Luxi explaining how SBT works.
Finally, there's the base layer made from high-density polyurethane foam.
A cover quilted with memory foam for extra pressure relief wraps around the foam layers. It has a zip which allows you to access the layers underneath when you need to adjust firmness.
Sleeping Experience
Luxi is one of the most comfortable foam mattresses you'll ever sleep on.
The combination of latex and memory foam provides a nice balanced feel that feels comfortable for most types of sleepers.
The SBT layer also does a brilliant job conforming the mattress to your body regardless of sleeping position.
But what makes the mattress one of the most comfortable is the ability to choose your own firmness level.
If it feels too firm, just make it softer. If it sags too much, firm it up. And if you are neither in the firm or soft camp, set it into a medium-firm configuration.
Cooling is not a problem thanks to the foam heads in the SBT layer. They boost airflow, ensuring heat does not get trapped in the mattress.
The only area where the mattress could do better is edge support. But this is to be expected from a memory foam mattress.
How to Adjust Firmness
It only takes a few minutes to adjust the firmness of your Luxi mattress. Just unzip the cover, switch out the layers and zip the cover back on.
When the mattress arrives, it will be in a medium-firm configuration which is ideal for most people. Here's how the layers are arranged.
Latex foam
Memory foam
SBT layer
Base layer
If you order the Queen, King or Cal King sizes, the mattress will be split down the middle. So you can adjust each half individually.
If you want the mattress to be slightly softer and more conforming, you just need to flip the top section which consists of the latex foam, memory foam and SBT layers.
Here's how the layers are going to be arranged. This configuration is great for side sleepers.
SBT layer
Memory foam
Latex foam
Base layer
If you want the mattress firmer for extra support, you bring the base layer on top and then use the latex foam layer as the base. Here's how the layers will be arranged.
This configuration is ideal for stomach sleepers and heavier individuals.
Base layer
SBT layer
Memory foam
Latex foam
Trial Period and Warranty
Luxi offers an extremely generous trial period of 1,000 days. That's longer than even some of the longest trial periods I've come across (which are usually one year long).
This may seem a bit crazy, but it makes sense when you consider that the mattress is not a one-size-fits-all.
Most people make returns because the mattress is too firm or too soft. With the Luxi mattress, instead of making a return you adjust the firmness right at home.
It is unlikely that you'll need to return the mattress.
The warranty is a standard ten years. It covers indentations of more than 1.5" and any other manufacturing or material defects.
Read the full warranty on their website.
---
3. Best Value: Morphiis
You don't have to spend a lot of money to get an adjustable-comfort mattress.
All the mattresses in this guide are quite affordable.
Morphiis is the cheapest, making it a good choice for those who are looking for a budget adjustable-comfort mattress.
Morphiis approaches customization a bit differently than the other mattresses.
Instead of layers that you swap to adjust firmness, the Morphiis mattress uses inserts.
There are 36 of them in all: 12 soft, 12 medium-firm, and 12 firms.
Not only can you change the firmness level on the entire surface of the mattress, but you can also configure the mattress to be softer in some sections and firmer in others.
That's a whole lot more versatility than you get from other adjustable-comfort mattresses.
About Morphiis
Morphiis is one of the latest bed-in-a-box mattress brands.
The founder, Earl Takefman, was the CEO of the company that made Perfect Pressure which was a multi-zone mattress.
But Perfect Pressure did not meet everyone's needs. Some people felt it was too firm or too soft and many couples didn't like it.
Morphiis is designed to meet everyone's comfort needs regardless of weight and sleeping position.
If you think it is too firm or soft, just change the inserts to adjust the firmness of either the whole mattress or specific sections where you need extra contouring or support.
Even couples can configure their own half of the mattress as they like.
The mattress is shipped free to customers in the continental US. A freight charge is charged for shipping to Hawaii, Alaska, and Canada.
There's no white glove delivery, but it's super easy to set up the mattress yourself.
Construction
The Morphiis mattress has three layers, all made from ULTRAFOAM.
It's neither memory foam nor latex foam. It sleeps cooler than memory foam, lasts longer than latex foam and provides excellent support.
The customizable layer where the inserts are located is sandwiched between a soft pressure-relieving comfort layer on top and a dense base layer for durability and compression support.
Putting the customizable layer in the center ensures you don't feel the individual inserts.
This layer has 12 inserts in total, six on each side of the mattress. There are two other sets of inserts that are delivered in separate bags, 12 in each.
The ones in the mattress are medium-firm. But you can replace them with firm or soft inserts to adjust firmness.
The inserts are set within a foam ridge that prevents them from shifting when you are sleep. It also improves edge support.
The mattress is wrapped in a cotton and polyester cover. It is, of course, zippered to allow you to modify the mattress firmness whenever you want.
Sleeping Experience
I recommend experimenting with different configurations until you find the best one for your needs. Most people find the medium-firm configuration to be perfect for them.
But you can modify it to change how much support and pressure relief you are getting from the mattress.
The firmer inserts have more support while the softer inserts conform better to your joints and curves.
Edge support is relatively good for a foam mattress. Unless you are overweight, you won't feel like falling over when you sleep near the edge.
There's minimal motion transfer thanks to the individual inserts that prevent movement from spreading.
As for cooling, ULTRA FOAM doesn't retain heat like memory foam.
How to Adjust Firmness   
Adjusting firmness is slightly more involving than with other mattresses where you just flip the layers.
But it's still very easy. The secret is trying out different configurations until you find the one that works for you.
The mattress comes in three packages. There's the mattress itself plus two sets of soft and firm foam inserts.
The medium firm pieces come already inserted in the mattress. So you can sleep on it right away and see whether the default medium-firm configuration feels comfortable enough.
If you need to adjust firmness, unzip the cover, remove the top layer and then replace the inserts. To help you identify the different sets of inserts, each set is color-coded.
Yellow – soft inserts
Blue – medium-firm inserts
White – firm inserts
There are two ways you can adjust mattress comfort.
One, you can replace all the blue inserts with yellow inserts (for a softer feel) or white inserts (for a firmer feel).
Because the mattress is split, couples can modify each half of the bed to meet their individual needs.
Alternatively, and this is the method that Morphiis recommends, replace only some of the inserts such that you have varying firmness at different sections of the mattress.
Here's the configuration recommended by Morphiis for most people.
In this configuration, you get pressure relief and support exactly where you need them most.
But you can modify it to meet your specific sleeping needs.
If for instance, you are a stomach sleeper, you might find that using the all-medium firm or all-firm inserts provides better overall support and alignment.
If you sleep on your back, you might prefer a firm insert directly under your lower back and medium-firm under your hips.
Visit Morphiis' official website to see other recommended configurations for tall sleepers, those with back pain, pregnant women, and those with a shoulder injury.
Trial Period and Warranty
The trial period is 100 nights long, but Morphiis asks that you sleep on the mattress for at least 30 nights before making a return.
Try out different configurations before you decide to return the mattress. The chances are that you'll find one that is right for you.
If you need help deciding which configuration is best for your needs, call Morphiis customer support and they will advise you.
If you keep the mattress, the warranty is 25 years long.
This is longer than even most innerspring and hybrid mattresses
But they can afford to guarantee the mattress for this long because all they need to do if it begins to sag is simply replace the inserts and the mattress feels like new.
---
Benefits & Downsides of Adjustable Mattresses
Benefits
1. Adjustable
The most significant and most obvious benefit of having an adjustable mattress is the ability to…well, adjust it.
With most online mattresses you just have to hope the mattress feels comfortable. Otherwise, you have to return it and start all over from zero looking for another mattress.
Most brands sell one-size-fits-all medium-firm mattresses.
Many buyers do find the mattresses comfortable. There are also many who have to return the mattress or force themselves to get used to it.
With an adjustable mattress, you can modify the firmness level in just 2 minutes and get a completely different feel.
And if you don't like how it feels, you can still adjust it some more.
Most adjustable-comfort mattresses have at least three firmness options. With the Morphiis mattress, you have countless options.
Most of these adjustable mattresses are also split, allowing couples to adjust their half of the bed to meet their individual comfort needs.
2. Effortless Shopping
There are companies that recognize that not everyone likes a medium firm mattress. So they offer multiple options, usually soft, medium and firm.
That is good and all, but it makes the buying process more confusing.
Should I get the firm or medium mattress? Is the soft one too soft? Will the firm one support me properly?
In the end, most people go with the medium firm.
If you later realize it's not for you, you have to return the mattress and ask for an exchange or find another mattress altogether.
But what if you could get all three firmness options in one mattress?
All you need to do is select your preferred size and add it to cart. You don't have to worry whether it's the right one for your needs because you can adjust it however you want.
3. Keep Up With Changing Needs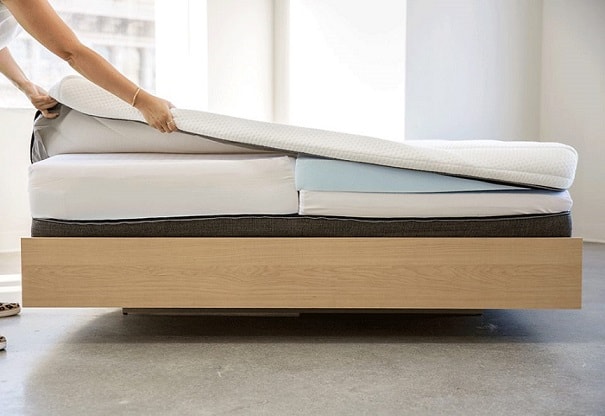 There's one thing many shoppers don't think about when shopping for a mattress.
Will it still feel comfortable a few years from now or if your body changes in some way?
Here are all the ways your comfort needs can change?
Pregnancy
Adding/losing weight
Change in preferred sleeping position
Back/shoulder/hip injury
A mattress may feel comfortable right now but hurt like hell when you get hip surgery.
Or it may feel supportive enough right now but realize it sags too much when you get pregnant or add a bit more weight.
Most likely you'll be far beyond the trial period, and warranties don't cover a change in comfort preference.
So your only option is to buy a new mattress and hope it meets your needs.
But if you'd bought an adjustable comfort mattress all you would need to do is switch out the layers (or inserts) to make it more supportive or more conforming.
Some companies even offer to send you a new replacement layer at a discount.
Instead of spending $$s on a new mattress, you simply adjust the one you have to meet your changing needs.
4. Longer Lasting
An adjustable-comfort mattress is likely to last longer than a comparable mattress.
It's not that the mattress uses some special materials. In fact, most are all-foam mattresses.
The secret to their longevity is that you can adjust the mattress as it gets older. If it begins to sag, you simply swap out the layers and put a firmer layer on top
You can also buy a replacement layer rather than a full mattress.
Some companies offer free replacement layers under their warranties while others offer them at a discount.
That's why a company like Morphiis can afford to have a super long warranty of 25 years.
Minor Downsides
The only downside of adjustable mattresses I can think of is the little bit of work involved in adjusting mattress firmness.
This is especially the case in the beginning when you are experimenting with different configurations. You might have to adjust the mattress every few days.
But it's really not a big deal. Most adjustable mattresses are designed to be modified in less than 3 minutes.
It's something you can usually do on your own.
---
Types of Adjustable Mattresses
Most adjustable mattresses are foam mattresses. I've not yet come across a hybrid or innerspring mattress whose firmness you can change.
Among adjustable foam mattresses, there are two main varieties: memory foam and latex.
Most use synthetic foam while others like Spindle use natural foam.
There are also some mattresses like Morphiis who use their own proprietary foam.
---
Comparison Table: Best Adjustable-Comfort Mattresses
Morphiis
Spindle

Luxi

Our Rating
4.6
*Best Value*
4.5
*Best Latex*
4.6
*Best Memory Foam*
Price
$295-$545
$1,149.99 – $1,999.99
$549-$1,099
Best Deal




Construction
High-density ultrafoam
100% Natural Latex
High-quality foams
Comfort Choices
64 settings
soft, medium, firm & extra firm
soft, medium & firm
Warranty
25 years
10 years
10 years
In-Home Trial
100 nights
365 nights
1,000 nights
Delivery
5-7 days
7 days
1-5 days
Heat Transfer
Good
Excellent
Excellent (Soft, Med)
Good (Firm)
Motion Transfer
Low
Medium
Low
Sinkage
Moderate
Moderate
Adjustable
Off-Gassing?
No
No
Yes
Eco-friendliness
CertiPUR-US foam
Natural Latex
CertiPUR-US foam
Customer Service
Good
Good
Excellent
Final verdict
An adjustable mattress is a great option for…well, everybody.
Even if you are sure which firmness level you find comfortable, you don't know how your comfort needs will change with time.
It's better to get a mattress that you can adjust to your specific needs at any time.
Of three mattresses we have reviewed, I think the best one is Morphiis.
It provides a wider range of comfort options than any other adjustable comfort mattress.
I love that you can vary how different firm sections are depending on your sleeping position, whether you have an injury and personal preferences.
Combine that with its affordable prices and it's easy to see why it is the best adjustable-comfort mattress.
---
Affiliate Disclosure
Affiliate Disclosure: I may earn a small commission (at no cost to you) if you purchase a mattress after clicking a referral link or using a coupon code on this site. That said, all content and opinions on this site are my own and are NOT affected by these payments.
This site participates in the Amazon Services LLC Associates Program, an affiliate advertising program designed to provide a means for sites to earn advertising fees by advertising and linking to Amazon.com.
*Amazon and the Amazon logo are trademarks of Amazon.com, Inc, or its affiliates.
---