Last Updated on
Casper Essential Mattress Review
Summary
The Casper Essential is a budget foam mattress that uses several different kinds of foam to achieve a nice blend of comfort, support and durability.
Great Choice for: Anyone looking for a good quality budget mattress for $1,000 or less.
Avoid If: You are fond of softer mattresses or if you are plus-sized.
Price: $295-$695
SleepDelivered.com is supported by our readers. When you buy through links on this page we may earn a commission. Learn more.
The Casper Essential is one of the best foam mattresses you can buy for less than $1,000.
The Essential is Casper's attempt to make a budget mattress without sacrificing comfort and support.
While it comes with a simpler design, the Casper Essential is still a comfortable mattress with good support for your back.
If you are looking for a good quality mattress but don't have the budget for a $1,000+ one, then the Essential is a good choice.
See the mattress on Casper's official website or read my 10-minute Casper Essential review below.
If you are not ready to settle for the Casper Essential and want to compare more options, see my collection of the best mattresses we've reviewed so far.
You can see our top pick in each category as well as our head to head comparisons of the best mattresses.
---
What's In This Mattress Review?
Use this table of contents to skip to the features you care most about.
To return to this outline, touch ↑ Table of Contents.
---
About Casper
Casper is one of the biggest names when it comes to online mattresses. They currently sell three mattresses: the budget Casper Essential, the mid-range Casper Mattress, and the luxury Casper Wave.
Across all their offerings, Casper focuses on creating quality products at affordable prices as well as delivering great customer experience. Each mattress comes with a long trial period and a generous warranty.
With the Casper Essential, they have introduced an even more affordable mattress without compromising the sleeping experience.
---
Social Impact
Casper takes care to protect the environment throughout the manufacturing process. They use Certi-PUR certified foams that are checked for volatile organic compounds emissions (VOCs) and ozone-depleting chemicals.
All manufacturing and assembly are done in the United States, providing much-needed local jobs. This also allows Casper to closely watch over the production process to ensure the quality and integrity of their mattresses.
Finally, Casper does their best to give returned mattresses to charity instead of restocking them.
To know more, check out our in-depth Casper wave review and Casper hybrid mattress review.
---
Price
One difference between the Casper Original and the Casper Essential is the price.
The Casper Essential is a budget mattress, with a Queen size priced at less than $800.  In contrast, the Casper Core mattress costs $1,050.
You are unlikely to find any other good quality online mattress priced this low.
If you are looking for a budget mattress, the Casper Essential is a great choice.  Here is the full price list after discount.
If you don't want to pay the full amount at once, check whether you qualify for financing through Affirm. You can pay as little as $100 per month at 0% interest (for the Queen size).
---
Purchase Process
Important buying tip: Only buy this mattress on Casper's official website to enjoy their 100-day return period.
The ordering process is easy and quick.
They have a comparison table where you can quickly compare their three mattresses before you place your order. That is the Casper Essential, the Casper mattress, and the Casper Wave.
If you are sure about getting the Essential, then go ahead and order it.
Remember first to take a look at their warranty and return policies before you place your order. You don't want any nasty surprises after buying the mattress. Their terms and conditions of returns and warranty are pretty standard.
If you are satisfied with the fine print, choose your preferred mattress size and add it to cart. You can pay using your credit card or check if you qualify for Affirm financing (takes just a couple of minutes).
Note that if you opt to use Affirm, you'll not be able to use discount codes with your purchase.
---
Delivery and Setup
Casper provides in-home mattress delivery throughout the United States at no cost. The mattress is delivered in 2-3 days though it can take slightly longer depending on your location. In a few locations in Los Angeles, San Francisco and New York City, same day delivery are available.
If you want the courier to deliver the mattress and help you set it up inside, Casper provides White Glove delivery services for an added fee. The fee includes removal of your current mattress if you want to get rid of it.
But you can also set up the mattress yourself if you don't want to pay for the extra delivery services. The box it comes in is smaller than you expect. You just need to get it inside, remove the mattress and let it puff up to its normal size.
---
Shipping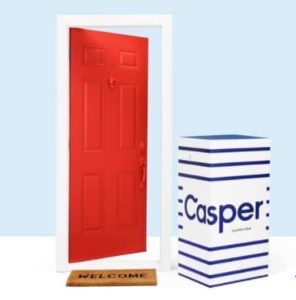 Casper delivers the Essential mattress via UPS free of charge to all 50 states in the United States. Immediately the mattress leaves their facilities; you will receive a confirmation email with a tracking number.
---
Aesthetics and Styling
There is nothing special about Casper Essential's styling.
It has a lower profile at just 8.5 inches in thickness. It's dark grey, almost black, of color throughout including the top and siding. While the knit cover is textured, there are no patterns on the surface.
The only thing that stands out is the blue Casper tag on the side. Otherwise, the mattress is quite bland, aesthetically speaking. But this doesn't matter much since you'll be covering the mattress anyway for most of the time.
---
Technology
The Casper Essential is a foam hybrid mattress. It combines different types of foam to achieve comfort, support, and durability. The first two layers are especially important for your sleep experience.
Casper designed them to be firm enough to support your weight while also being soft enough to provide contouring and pressure relief.
For cooling, the mattress uses breathable foam, also called open cell foam, in the top layer. This foam is better than standard foam at allowing air through it. Excess heat is quickly carried away from the mattress, ensuring you sleep cool.
It also prevents stale smells from accumulating inside the mattress, which keeps your mattress (and in extension your bedroom) feeling fresh.
---
Casper Essential Mattress Construction
The Casper Essential has a very simple and basic construction. Just three layers are providing cooling, support and pressure relief.
Before I mention the layers, let me point out a couple of things about the materials used inside the mattress.
The mattress is 100% designed and manufactured in the United States.
The foams are Certi-PUR certified while the cover and fire sock are OEKO-TEX certified.
Casper doesn't say how thick each layer is. They just say the mattress is 8.5 inches thick. But I wager each of the top two layers is 1.5 or 2 inches thick while the foundation takes up the rest of the height.
Comfort layer: Open cell foam
The top layer consists of open cell foam to enhance airflow and keep the surface of the mattress cool.
Support and contouring layer: Responsive memory foam
The second layer consists of responsive memory foam. The foam molds around your body especially areas like your hips and shoulders. It feels like getting a body hug. You won't ever feel like your bones or joints are pressing painfully into the mattress.
If you have back pain, this layer is good for you. It provides both support, which aligns your back in a natural shape, and comfort, which creates pressure relief.
Base support: High-density foundational foam
The base consists of traditional poly foam. It's denser than the other layers, which provides additional compression support (no sagging) and ensures the mattress lasts long.
---
Cover
The Casper Essential comes with a knit cover that is breathable and designed to last long. It doesn't tear easily and feels fairly stretchy.
The cover is removable and washable. But it's still a good idea to use a mattress protector especially considering that Casper may refuse to accept a return or approve a warranty claim if the mattress has stains.
---
Smell/Off-Gassing
One of the main sources of smells in new mattresses is the adhesive used to stick the different layers together. Chemicals in these adhesives start to give off unpleasant and sometimes harmful smells as soon as you unbox the mattress.
Casper uses water-based adhesives in all their mattresses. This eliminates the need to use many chemicals and as a result, results in less off-gassing.
But as with any foam mattress, there is a little smell to be expected. It's the smell of fresh foam. But it's not harmful at all (the mattress foams are CertiPUR-US certified). It should go away in a couple of days.
If you don't like the smell, I suggest leaving the mattress uncovered in a well-ventilated room. You can leave it in the guest bedroom or the garage until the smell wears off.
---
Sleeping Experience and Customer Feedback
The Casper Essential is still a new mattress hence there aren't many customer reviews yet. But we will update this section with additional customer feedback as more people try out the mattress.
The few Casper Essential mattress reviews rate their sleeping experience between fairly good and excellent.
To some, it's a bit too thin to properly support someone with a big body. For most, the mattress is surprisingly good for its low price tag.
---
Firmness
Casper essential is a medium firm mattress (there's only one comfort level available). It's a 5-6 out of 10 on the firmness scale with ten being very firm.
The top layer feels quite firm, but it's balanced out by the memory foam in the second layer. The result is a mattress that can hold up your weight well without sinking in too much. It also feels soft enough to be comfortable.
---
Sinkage
The sinkage will depend on your weight. For people between 90 and 120lbs, it has a medium sink. It'll sink in just enough to provide contouring but not too much that it feels 'swampy.'
For those with a heavier body, the sinkage is noticeably more than in most mattresses. This is because of the thinner profile and the lack of a transition layer to provide compression support.
If you weigh 200lbs or more, I wouldn't recommend the Casper Essential. The sinkage will be too much to the point of hurting your back. Buy a thicker mattress.
---
Motion Transfer
There is a bit of motion transfer in the Essential mattress. But the disturbance is not too much to wake your partner up when you turn at night or wake up to use the bathroom unless they sleep very lightly.
---
Hot/Cold Issues
Thanks to the open cell foam in the top layer and the breathable cover, the Essential mattress stays cool.
---
Warranty
Casper provides a 10-year limited warranty. It covers defects in the material and workmanship. It's only valid as long as the mattress is used properly on the right foundation.
The warranty is non-prorated.
Read The Warranty at Casper.com
---
Return Policy
You have 100 days to return your mattress if you don't like it. Returns are free, and Casper will give you a full refund.
Returned mattresses are given to charity or recycled.
Summary
The Casper Essential Mattress is perfect for you if you are looking for a good quality budget mattress. If you are not ready to spend $700 or more on a mattress, get the Casper Essential.
Pros
An unbeatable price without compromising quality.
Generous return period and warranty.
Free shipping to all US states.
White Glove delivery available.
Cons
The mattress is not ideal for plus-size customers.
Poor edge support.
No firm or soft comfort options – just medium firm.
---
Shop Now
The best deals are found on Casper.com.
How the Casper Mattress Compares
See how the Casper mattress compares to other top online mattresses in the following in-depth matchups.
---
Save BIG On Your Next Mattress Purchase
Join our mailing list and get my LATEST COUPONS delivered immediately!
Send Me The Coupons
---
Learn More
Compare Mattresses Side-by-Side
---
Affiliate Disclosure
Affiliate Disclosure: I may earn a small commission (at no cost to you) if you purchase a mattress after clicking a referral link or using a coupon code on this site. That said, all content and opinions on this site are my own and are NOT affected by these payments.
This site participates in the Amazon Services LLC Associates Program, an affiliate advertising program designed to provide a means for sites to earn advertising fees by advertising and linking to Amazon.com.
*Amazon and the Amazon logo are trademarks of Amazon.com, Inc, or its affiliates.
---