My Take
Summary
A unique 3-in-1 foam mattress that can be configured to anyone's comfort level. With great support and a really good price.
Great Choice for: Anyone who isn't sure what comfort level they or their partner needs.
Avoid if: You know your comfort level and need something extra.
Price: $799 to $1,599
Affiliate Disclosure: I may earn a small commission (at no cost to you) if you purchase a mattress after clicking a referral link or using a coupon code on this site. That said, all content and opinions on this site are my own and are NOT affected by these payments.
---
For most online mattresses, customization means one thing: a choice of firmness level. You can choose soft, medium or firm.
Luxi decided to give us more and offer three comfort levels in the same mattress.
There is only one Luxi mattress sold online, but within that single mattress you can choose various comfort levels and split configurations.
In addition, the Luxi mattress also has an innovative feature called Support Balancing Technology (SBT) which noticeably improves support and temperature control.
Sound interesting?
Let's unzip the Luxi mattress and give it a spin, to see how well it lives up to its promise.
---
What's in This Mattress Review
This page is about a ten minute read.
Use this table of contents to skip to the features you care most about.
To return to this outline, touch ↑ Table of Contents.
---
About Luxi
Luxi is a father-daughter venture and one of the latest entrants into the disruptive industry of online mattresses.
In addition to providing customers with an easy way to buy affordably-priced mattresses, the duo also wanted to offer customers more customization.
They understood that different people have different sleeping preferences and needs. Instead of making a one-fits-all product, they came up with a variety of customizations packaged in a single mattress.
The two founders – David Farley and Shannon Farley – bring with them an unparalleled depth of experience, skill and passion.
The result of their innovation is clear in the quality and uniqueness of the Luxi mattress.
---
Social Impact
While Luxi focuses on creating one of the best mattresses sold online, it also strives to make a positive impact on society.
One way they do this is through local manufacturing. The entire manufacturing process is done in the United States, which provides jobs locally as well as ensuring the highest quality product.
Additionally, the company has put every effort into ensuring that every Luxi mattress works for everyone. This minimizes the need for returns, which in turn reduces waste.
The end result is a cleaner and less polluted environment.
---
Purchase Process
You will not find the Luxi mattress in brick and mortar stores or in major retail centers.
Amazon doesn't sell the mattress, either.
The only place you will find it is on the official company website, https://luxisleep.com.
The purchase process is pretty straightforward.
Once you have read the warranty and return policies, just choose your preferred size.
There are six standard size options.
Twin size
Twin XL
Full size
Queen size
King size
California King
Because all three comfort levels are included in every mattress, the purchase process is really easy.
At checkout, you can apply for financing through Affirm (pending credit approval). This allows you to receive your mattress immediately but spread out the payments over 3, 6 or 12 months.
---
Delivery Options
Delivery is done free of charge via FedEx throughout the entire United States (including Hawaii and Alaska) and Canada.
No international deliveries are possible at the current time.
Once you make your order, it is prepared in a Southern California factory, a process that takes around 3 to 5 days.
The shipping itself takes between 1 and 5 days, depending on your location.
So you can expect a waiting period of between 4 and 10 working days before the mattress is delivered to you.
You can track your shipment through FedEx to know when it will be delivered though you don't need to be home to sign for it. The only exception is for Canadian residents who need to be available in person to sign on the delivery.
Additionally, Luxi offers the option of removing your old mattress but at an extra cost. The charge will depend on your specific location.
If you have any special delivery requests, be sure to contact the company before making a purchase to find out whether it is possible and if it will cost anything extra.
For example, you can ask for a specific delivery date and the company will try its best to accommodate your request.
---
Aesthetics and Styling
The styling is nothing too fancy.
A simple two-tone scheme defines the style of the Luxi mattress. The white part covers the top and a large portion of the sides. A gray strip along the bottom of each side provides some contrast to the gleaming white top.
An easy-to-use zipper separates the two parts and provides access to the individual foam layers, which easily slip apart.
One other thing you will notice is the gently curving edges. Most mattresses have sharp edges.
While this does not mean anything performance wise, it gives the mattress a slightly more comfortable look.
---
Technology
The innovation in the Luxi mattress is impressive.
I have researched and reviewed dozens of mattresses and I have yet to come across anything quite like this.
Here is a look at some of the notable features that make this mattress exceptional.
1. Support Balancing Technology (SBT)
This is the gem of the Luxi mattress and one which the company cannot stop boasting about.
Luxi's Support Balancing Technology works kind of like "pocketed foam coils". It consists of 100% memory foam columns, or heads, that look like overturned stools.
These individual columns are designed to provide better support and contouring than traditional block foam.
When you lie on the mattress, the columns push back depending on the weight and pressure applied on them. Essentially, the mattress responds to your body shape and weight, ensuring that you achieve perfect comfort.
If you are a side sleeper, the heads eliminate pressure points around the shoulders and hips. For back and stomach sleepers, they ensures proper spine alignment, thus preventing back pain.
Because the pillars are not connected to each other, the columnar design creates free airflow within the mattress.
This helps take any excess heat away from the mattress, ensuring you sleep cool and cozy. Moreover, it reduces motion transfer, a big advantage for couples.
2. Customization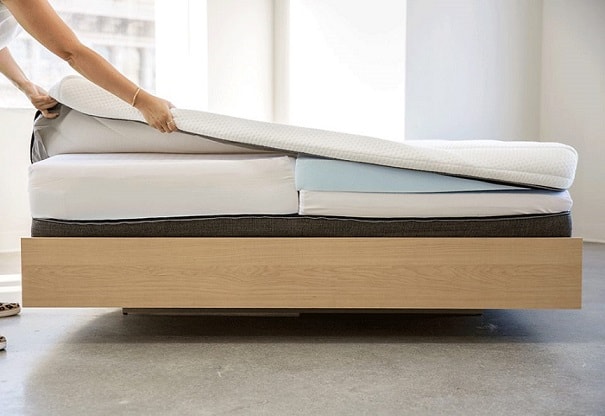 I have yet to come across an online mattress that offers the kind of personalization provided by the Luxi mattress.
For one, you can change your comfort level to soft, medium or firm simply by switching out a couple of layers.
Second, you can also order a split configuration for any Queen or larger mattress size. This is a plus for couples with different sleeping preferences.
In this way, Luxi offers one mattress that adequately addresses the comfort needs of a huge variety of buyers.
If you are not sure what your preferred comfort level is, buying a Luxi really simplifies your decision, without limiting your options.
---
Construction
Luxi uses CertiPUR-US certified foams to ensure the best product quality and safety standards.
The foams are arranged in different layers which can be interchanged to change the firmness level of the mattress.
Let's open up the mattress and look at each layer separately.
Note: The layers below have been listed in an order that provides a medium-firm comfort level. Read on further below under 'firmness' to find out how to interchange the layers to get a soft or firm feel.
1. Latex foam (1.5 inches)
1.5 inches of Dunlop latex foam gives a pleasant bounce to the mattress especially when it is configured as the top layer.
Latex is also good at temperature control, a feature that complements the cooling effort of the SBT layer.
If you love latex or simply want a bit more bounce to your mattress, put the latex layer at the top.
2. Memory foam (1 inch)
Memory foam is great when it comes to body contouring. It effectively eliminates uncomfortable and painful pressure points, thus providing better quality sleep.
In the medium-firm setup, the 1-inch memory foam layer helps add to the plushness of the mattress, which balances out the firm latex layer at the top.
This layer also acts as a transition between the latex layer and the SBT layer. Even in other setups (soft and firm), it remains a transitional layer between the top and third layers.
3. Support Balancing Technology layer (3.5 inches)
The SBT layer is where you will find Luxi's truly unique support columns.
At 3.5 inches, this is the thickest layer of the mattress.
This level consists of individual columns (or simply heads) made out of memory foam. The heads react to the sleeper's weight and positioning to ensure maximum comfort and support regardless of your weight or whether you are a back, side or stomach sleeper.
This layer also acts as the cooling center for the mattress. Air flowing between the columns keeps everything cool and dry.
4. Polyurethane foam (3.5 inches)
In the medium-firm configuration, 3.5 inches of polyurethane foam act as the foundational layer.
This foam is significantly denser and firmer than both latex and memory foam. It keeps the mattress in shape and ensures durability.
---
Cover
The cover has been designed for breathability and luxury comfort. It feels a bit elastic, which helps when you need to take it off and put it back on again.
There are three primary components used in the cover: 73% polyester, 23% viscose and 4% elastane. Elastane, better known as spandex, is the component responsible for the elastic feel of the cover.
The cover is quilted with an additional 0.5 inch layer of memory foam. This gives it some additional plushness and adds to the comfort of the mattress.
The cover is removable (using the side zipper) to allow you to interchange the layers. Just make sure to put it back on once you are through. Putting it back on is easy and quick, thanks to its elasticity which gives it a snug fit.
---
Smell/Off-gassing
Mattress off-gassing is a result of the foam manufacturing and packaging process and is completely harmless.
Luxi mattress uses CertiPUR-US certified foams, which ensures that no toxic chemicals are used at any instance in the production chain.
But becuse Luxi uses standard memory foams, some might detect a 'new foam' odor.
If it bothers you, consider airing out for 24-48 hours before using it.
For most people however, the off-gassing is so minimal they will not detect it, at all.
---
Sleeping Experience
Luxi laid-down the gauntlet of "endless personalization" when it landed in the market, to a lot of fanfare.
So does the mattress live up to its bold promise?
We have already talked about its comfort, support, temperature control and off-gassing. So far, the mattress ticks all the right boxes.
Now we are going to examine sleeping experience in four specific areas: firmness, sinkage, motion transfer and cooling.
---
Firmness
In a way, Luxi is like other mattress companies that have soft, medium and firm mattresses.
Except that you get all three firmness levels, in a single mattress.
You just need to remove the cover and move the different layers around to adjust your comfort level.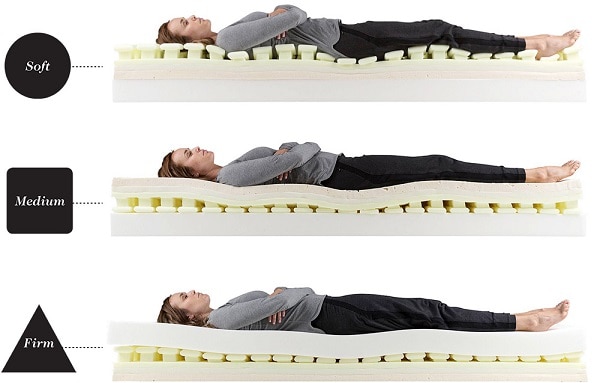 Here is a brief guide on how to do this:
Want a Soft Mattress? Place the SBT layer at the top such that you are sleeping directly on the memory foam heads. This creates a more pronounced hug and sinkage and is perfect for lean people and side sleepers. I would rate it at 3.5-4 out of 10 with 10 being very hard and 1 very soft. In this setting, the layout is SBT layer, memory foam, latex foam and lastly foundational foam.
For Medium-firm: Turn over the top half of the mattress such that the latex foam is now the first layer of the mattress. This creates a firmer feel and less sinkage. It is the ideal comfort level for most sleepers. I would rate it at around 5 out of 10. The layout here is latex foam, memory foam, SBT layer and lastly the foundational foam.
If you like it Firm: Unzip the cover and bring the base layer of polyurethane foam to the top. This creates a firmer surface that feels a bit like floating. It is ideal for stomach sleepers and heavier individuals. I would rate it at around 7 out of 10. In this arrangement there is polyurethane foam, SBT layer, memory foam and latex foam at the base.
So whatever your preference is, Luxi has you covered by their single mattress. If one configuration doesn't cut it, switch to another one.
For couples with a queen size or larger, you can also configure each half of the mattress to whatever firmness level that feels right for you.  Both sides are also customizable, as described above.
---
Sinkage and Motion Transfer
The sinkage level will depend on the kind of layout you have set the mattress in.
If the SBT layer is on top (soft), there will be pronounced sinkage. The firm configuration (polyurethane foam on top) has the least sinkage, hence the 'floating' feeling.
Motion transfer is another important issue that determines sleeping experience for couples. Ideally, when one person moves, the other should not be disturbed by the movement.
By using memory foam heads, the Luxi mattress effectively minimizes motion transfer to a point where it is barely noticeable.
This is because the individual foam heads do not transmit motion to each other. Any movement generated at a point stays there.
For couples with different waking times, or where one of you keeps turning at night, this is one of the best mattresses you can get. It will result in deeper and better sleep for both of you.
---
Hot/Cold Issues
I have already mentioned how the mattress is able to keep temperatures under control thanks to the SBT layer.
Individual columns allow air to flow among them and take away excess heat from the surface. In soft comfort configuration, this works really well. However, in the medium and firm configurations, the airflow is blocked and doesn't work as well.
The breathable cover and latex layer also help to keep this mattress cool.
In our medium configuration experience, the Luxi was able to stay cool all night. It did not get hot.
So there is no need to invest in additional temperature-control components like a gel topper, etc., to help you sleep.
---
Price
The Luxi mattress won us over with its endless personalization and a great sleeping experience.
The low price of this mattress makes it even more appealing.
For a mattress of this quality and flexibility, this mattress is a real bargain.
While you might pay $3,000 or more to get a similar quality mattress at a store, you can get a Luxi mattress for less than $1,300.
Here is the full price list:
| | |
| --- | --- |
| Twin size | $799 |
| Twin XL |  $849 |
| Full size |  $949 |
| Queen size |  $1,099 |
| King size |  $1,299 |
| California King |  $1,299 |
On top of this, Luxi offers a $125 discount plus two pillows, right now.  This makes it a better deal than leaders Casper, Tuft and Needle and many others.
If you don't want to pay the entire amount at once, Luxi offers Affirm financing (credit approval required) to spread your payments over several months.
---
Warranty
Luxi offers an industry-standard 10-year warranty that covers the usual – indentations greater than 1.5 inches and material or workmanship defects.
The warranty extends to the original buyer only, and it only covers the mattress under proper usage.
Make sure you have read the full warranty before making a purchase and understand all the terms and conditions involved.
---
Return Policy
Online mattress companies are known for their generous return policies, most offering 60-120 day trial periods.
Luxi is far more generous.  They offer an astounding 1,000 nights to try out your mattress and decide whether to keep it or send it back.
You'll need to sleep on the mattress for at least 30 days before initiating a return. This is to give your body time to adjust to the new mattress and help you make a sure decision on whether to return it or not.
With its interchangeable layer design, it is unlikely you will need to make a return.
But it is good to know that there is no pressure or rush to decide whether the mattress is right for you.
---
Shipping
Shipping is handled free of charge via FedEx to all points in the greater United States (including Hawaii and Alaska) and Canada.
The company does not offer international shipping at the moment.
Since each mattress is manufactured upon order, it will take slightly longer than usual (4-10 days) for your mattress to reach you.
The mattress is shipped in a box whose size depends on the size of mattress you ordered. It is a good idea to have someone nearby to help you with setting up.
You can also pay an extra fee for the company to do the setup for you including disposing your old mattress.
Luxi offers various special shipping options including expedited shipping and specific-date deliveries. Contact the company with your special request to find out how much more you have to pay.
---
Pros and Cons
Pros
One of the most customizable mattresses in the market.
The SBT layer results in better support, more comfort and superior cooling capability
Great customer service from the company.
Generous warranty and return policies.
Cons
Setting up the mattress requires a bit of work especially if you need to change the firmness level.
---
This Mattress is Perfect for You If…
You want a maximum of flexibility in your memory foam mattress, without paying an arm and a leg.
---
Conclusion
In a market with plenty of options, the Luxi mattress is a unique bargain choice for anyone who isn't sure what comfort level they prefer.
It's also an excellent memory foam sleeper, as good or better than Tuft and Needle in the medium configuration.
---
Shop Now
The best deal right now is found on Luxisleep.com.
As is true with most online mattresses, the warranty and return policies are better if you buy from their site vs. from a 3rd party like Amazon.
---
Save BIG On Your Next Mattress Purchase
Join our mailing list and get our LATEST COUPONS delivered immediately!
Send Me The Coupons
---
Learn More
Compare Mattresses Side-by-Side
---
Affiliate Disclosure
Affiliate Disclosure: I may earn a small commission (at no cost to you) if you purchase a mattress after clicking a referral link or using a coupon code on this site. That said, all content and opinions on this site are my own and are NOT affected by these payments.
This site participates in the Amazon Services LLC Associates Program, an affiliate advertising program designed to provide a means for sites to earn advertising fees by advertising and linking to Amazon.com.
*Amazon and the Amazon logo are trademarks of Amazon.com, Inc, or its affiliates.
---
SHARE THIS PAGE