Novosbed Review
Summary
One of the most durable and configurable foam mattresses sold online – especially at this price.
Great Choice for: Heavier people and anyone with a unique comfort preference. Novosbed's unique design can be tailored after the sale.
Avoid if: You don't like memory foam or you like your mattress bouncy. This one is more conforming.
Price: $799 to $1,199
NOTE: We earn from qualifying purchases made via Amazon Associates and other affiliate programs. Learn more.
---
Novosbed is one of the most durable, comfortable and advanced memory foam mattresses you can buy.
In a lot of ways, it is everything that traditional memory foam mattresses are not. It sleeps incredibly cool, provides really good back support and is designed to last longer than you would expect from a memory foam mattress (it comes with a 15-year warranty).
The best part is that it is just as affordable as other premium foam mattresses: a Queen size Novosbed sells for $999.
You get an extra-long 120-day trial period and a free service to fine-tune your mattress design so you can avoid making a return.
Shipping is free and white glove delivery is available.
Sound interesting?
Then keep reading this review, where I'll look at Novosbed's key features and evaluate how it compares with other leading foam mattresses.
If you are looking for something different, then check out my best mattress guide where I rank and compare more than 30 of the best foam, innerspring, latex and hybrid mattresses sold online.
What's In This Mattress Review?
If you don't have time to go through the full review, use this table of contents to navigate to the features you care most about quickly. ↑ Table of Contents
---
About Novosbed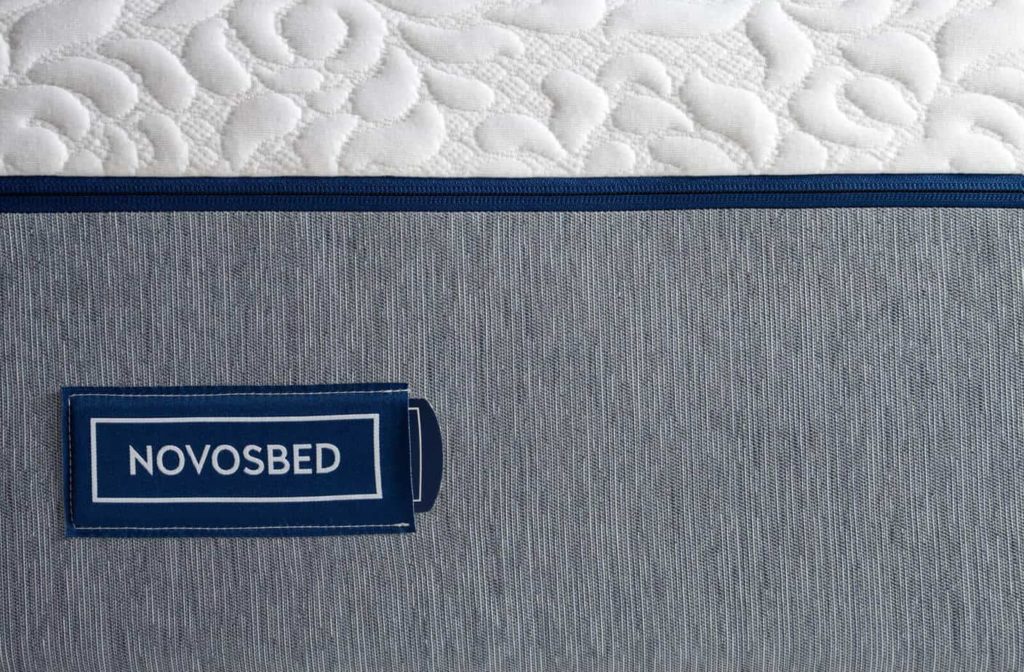 Novosbed, a Canadian company, is one of the earliest online-only mattress companies to launch. They unveiled their online storefront, Novosbed.com, in 2009.
Today Novosbed has operations in the US and Canada. Their flagship product is the premium Novosbed memory foam mattress.
Novosbed stands out for their lengthy warranty (15 years), longer trial period (120 days) and a fairly advanced mattress construction.
Also, their new Comfort+ program makes selecting/configuring the perfect mattress easier than ever.
---
Social Impact
In addition to giving returned mattresses to charity, Novosbed provides scholarships for college students.
The company also takes its social and environmental responsibilities seriously during the manufacturing process.
Since 2012, they have been manufacturing all of their mattresses in the United States. This provides more local jobs and ensures quality products.
They also work hard to reduce waste and recycle as much as possible. They manufacture long-lasting mattresses that won't go to a landfill in just a few years.
---
Purchase Process
Novosbed is sold online at Novosbed.com.
It is also available on Amazon, but I recommend you only buy at their official website. If you buy from Amazon or another retailer, you may not get the lengthy 120-day sleep trial nor the longer warranty.
Once you are ready to order, choose your size and then select the most right firmness level for you.
There are three comfort levels to choose from:
soft (previously Harmony)
medium (previously Aria) 
firm (previously Classic)
If you are not sure which is right for your needs, there is a short questionnaire you can answer online to help you make the best choice.
Novosbed also sells a foundation for their mattress and offers $99 white glove delivery. You can also choose to have your old mattress removed for $35.
Pay using your credit card – or see if you qualify for Affirm financing which lets you to pay in easy monthly installments.
Novosbed ships to both US and Canada. Shipping is free for most places, but they charge a fee for remote locations such as Alaska and Hawaii.
---
Price
Listed below are the retail prices on Novosbed.com. Prices are currently discounted by $100 for every size so shop soon before they go back up again.  Note: All comfort levels cost the same.
You can add a foundation ($179-$259), White Glove delivery ($99) and old mattress removal ($35).
---
120-Night Trial
Novosbed 120-night trial is one of the longest in the industry. Most mattresses offer a 100-day trial.
But that's not the only way their trial period is unique.
After a minimum of 30 days, if you still don't like your mattress you can take advantage of their free Comfort+ program. They'll send you a kit that will firm up or soften the mattress depending on your comfort needs.
Comfort+ is completely free. You don't have to pay any shipping charges.
The kit integrates perfectly with your mattress and is held securely in place under the removable cover.
If you still don't like your mattress, you can request a free return after a minimum of 60 nights sleeping on your Comfort+ enhanced mattress. Novosbed will arrange a pickup and give you a full refund.
---
15-Year Warranty
It's rare to find a memory foam mattress with a warranty longer than ten years. Usually, only innerspring and hybrid mattresses offer 15-25 year warranties – but they tend to cost a lot more than a Novosbed
Perhaps this is because Novosbed claims to use higher-quality foams which last longer than traditional memory foam.
Be aware, however, that this is not a 100% non-prorated warranty. Novosbed will cover all repair & replacement costs during the first ten years only.  During the final five years, you'll get a new mattress for 75% of the original purchase price.
---
Shipping
Novosbed provides free shipping to the continental United States and Canada.
Shipping to far-flung areas like Alaska & Hawaiiwillattract a shipping charge. Shipping fees, if any, will be shown at checkout.
Shipment will take  1-3 business days on the East Coast and Ontario and up to 6 business days for the West Coast and British Columbia among other regions. You can request expedited shipping, but for a fee.
Shipping is done via FedEx Ground. You'll be sent a tracking number when your order ships.
---
Delivery & Setup
Your Novosbed mattress will be delivered compressed in a compact box.
The medium firm mattress is the heaviest, with a queen size weighing 98 lbs. I recommend requesting white glove delivery or making sure there is someone nearby to help you carry a Queen or larger inside.
Unboxing is easy and quick. Just tip the box, slide the mattress out, cut the plastic covering and unroll the mattress on a bed foundation or frame.
While it's ready to sleep on immediately, your Novosbed will take up to 48 hours for it to completely expand to its normal size.
All this is done for you if you choose white glove delivery. They can even take away your old mattress for an extra $35.
---
Foundation & Frame
What type of bed frame/support does Novosbed require?
Novosbed can be used on a wide variety of foundations including a wood platform, a slatted foundation(minimum 2" slats and maximum 3" gaps) and non-flexing box springs. You can also use it on the floor, but beware of mold – a moldy mattress will void the warranty.
Do not use the Novosbed mattress on a metal wire foundation.
Does Novosbed work on an adjustable bed?
Yes, it does.
---
Care & Cleaning
Is a mattress protector needed for Novosbed?
You don't have to use a mattress protector, but it's a good idea to get one if you are concerned about staining from fluids or spills. If a child or pet will sleep on the mattress, get a waterproof mattress protector.
If you are not worried about spills, the removable and washable mattress cover is good enough.
Do you need to rotate the Novosbed mattress?
If you sleep alone and on one side of the mattress, it's a good idea to rotate it every few months to avoid uneven wearing.
But you cannot flip the mattress. The construction design allows for sleeping on one side only.
---
Aesthetics & Styling
The Novosbed mattress has a simple two-tone design: a white patterned top cover and grey siding with a zipper separating them.
---
Construction
All comfort levels are 11 inches thick, but they vary slightly in the thickness of the support layer and foam density.
2" Airflow Gel Foam
This is a special type of memory foam designed to provide instant relief when you lie on it. It contours around your curves and joints, creating a comforting hug that puts you to sleep quickly.
It is infused with gel to improve breathability and ensure heat quickly dissipates away from the mattress.
All comfort levels have this layer but in different densities.
2"/3" Premium Memory Foam
In the soft mattress, this layer is 3" thick and 2" thick in the medium and firm levels.
This layer uses ultra-dense foam to provide adequate support for your back and prevent you from sinking in too far.
6"/7" Support Foam
The foundation layer is 6" thick in the soft mattress and 7" in the other firm and medium-firm.
It consists of dense support foam to provide compression support and ensure the mattress lasts for years.
---
Mattress Cover
The mattress cover is made from Tencel®. This is a type of fabric often used a cotton alternative. Compared to cotton, it's softer, more durable, more airy and shrinks less when washed.
The cover keeps the surface of the mattress comfortably cool and dry. Whenever necessary, you can remove the cover and machine wash it.
Beneath the main cover is yet another cover. Novosbed calls it an InterLock Blue™ Core Cover. It adds to the coolness of the top cover and acts as a moisture guard for the foam layers beneath.
---
Smell/Off-gassing
Any mattress made with foam is going to have a 'new' smell. Most people don't notice it much while others will notice it immediately after unboxing. It typically dissipates in 2-3 days.
To make it fade faster, leave the mattress uncovered in a well-ventilated room.
---
Sleeping Experience
In sleep surveys, memory foam mattresses constantly get the highest owner satisfaction ranking.
The Novosbed has all the best qualities of memory foam and none of the worst.
This mattress provides excellent pressure relief and feels really comfortable.
Unlike most memory foam mattresses that collapse under heavier sleepers, Novosbed has adequate support for all body sizes. Just make sure you choose the medium firm or firm option if you are on the heavier side.
---
Firmness

The soft mattress is around a 4-5 out of 10 on a scale of increasing firmness. The medium firm lands at between 6-6.5 while the firm is a 7-8 out of 10.
If you get the Comfort+ kit, it will increase or decrease the firmness but roughly 1 point. So you can create a medium-firm mattress from a soft one by getting the firming kit or make a firm mattress medium-firm by getting the softening kit.
---
Sinkage
The level of sinkage will depend on what firmness level you ordered and whether you have a Comfort+ kit.
The soft mattress has the greatest sinkage especially on the sides while the firm one has the least sinkage. The medium firm is somewhere in between. It feels plush and firm at the same time.
If you want more sinkage to cradle your hips or broad shoulders, get the soft mattress or buy the softening kit. If you want to reduce sinkage for better support for your back or stomach, buy the medium-firm/firm mattress or get a firming kit.
---
Motion Transfer
Like many memory foam mattresses, Novosbed has little to no motion transfer.
If you sleep with your partner or large pet, you won't feel their movements at night. It's great for couples where one partner is fidgety at night or wakes up often.
---
Hot/Cold Issues
The Novosbed mattress is excellent for cooling. I have not seen any user complain that it's too hot.
The airflow gel foam layer and breathable cover do a great job of expelling heat and moisture.
---
Pros and Cons
Pros
Extra-durable design suitable for heavier sleepers.
Three comfort options.
Post-sale comfort-tweaking option (Comfort+).
Longer-than-usual in home trial and warranty periods.
Cons
A bit more expensive than simpler options.
No free shipping for Alaska, Hawaii and other remote areas.
---
This Mattress is Perfect for you if…
You want a durable, pressure-relieving memory foam mattress that doesn't get hot or compromise on support.
You or your partner weighs more than 250 lbs. This is an extra-durable mattress.
You have special comfort / firmness needs.  If you still don't get the experience you are looking for, you can order a Comfort+ kit.
As great as it is, not everyone will like the Novosbed mattress.
If you don't like memory foam mattresses, then this is not the mattress for you.
---
Conclusion
The Novosbed mattress is one of the most durable and configurable foam mattresses sold, especially at this price.
If you want to get value for your money on a quality memory foam mattress, you won't go wrong with Novosbed.
Memory foam mattresses may have a bad rap (especially from sellers of innerspring and hybrid mattresses), but Novosbed is in a class of its own. It's comfortable, supportive and airy. You can expect to use it for at least a decade and with good maintenance, even longer.
---
Where to Buy
The best place to buy is on the official Novosbed website. You'll enjoy the full 120-day trial period, a 15-year warranty and free shipping (to most places). You'll also get to use their Comfort+ program should you need to.
---
Affiliate Disclosure
Affiliate Disclosure: I may earn a small commission (at no cost to you) if you purchase a mattress after clicking a referral link or using a coupon code on this site. That said, all content and opinions on this site are my own and are NOT affected by these payments.
This site participates in the Amazon Services LLC Associates Program, an affiliate advertising program designed to provide a means for sites to earn advertising fees by advertising and linking to Amazon.com.
*Amazon and the Amazon logo are trademarks of Amazon.com, Inc, or its affiliates.
---