Metta Bed Mattress Review
NOTE: We earn from qualifying purchases made via Amazon Associates and other affiliate programs. Learn more.
The Metta Bed is the least expensive pure (95% organic) latex mattress you can buy online.
A comparable natural latex mattress sold in a local retail outlet starts typically sell for thousands more. In contrast, a Metta Bed Queen costs just $1,299 – about the same as most synthetic foam mattresses.
So… is there a catch?
Well, yes. There are a couple of sacrifices you make. For one, it's thinner than most other natural latex mattresses.
But the short story here is that the Metta Bed is a high-quality natural latex mattress with excellent support and pressure relief… for most people.
Keep reading this 10-minute review to see if Metta is the right mattress for you.
To learn about other top-rated natural latex mattresses sold online, check out my Ecoterra review, Plushbeds review and Avocado Green review.
What's In This Mattress Review?
This Metta Bed mattress review is a 10-minute read.
If you'd rather not go through it all, use this table of contents to skip to the features that are most important for you.
Just click on ↑ Table of Contents to return here.
---
About Metta Bed
Metta Bed is an affiliate brand of OMI (Organic Mattresses, Inc), one of the biggest manufacturers of organic mattresses in the United States.
Their other organic mattress brands include REST and OrganicPedic.
All OMI mattresses, including the Metta Bed, are made in the United States.
---
Social Impact
Metta Bed mattresses are extremely eco-friendly and GreenGuard certified.
The raw materials are sourced without damaging the environment, and the manufacturing process is environmentally-friendly as well.
This mattress contains no synthetic foams or chemicals commonly found in most foam mattresses. The Metta Bed is not just better for the environment, it is a healthier way to sleep.
All Metta mattresses are manufactured in the United States in OMI's California Eco-factory.
This provides quality local jobs and ensures high manufacturing standards.
---
Purchase Process
Visit Metta Bed's official website to order this mattress.
Take a moment to peruse their 120-day comfort guarantee policy (they don't have the usual return policy) and their 20-year warranty.
Once you are cool with the fine print, go to the main product page for the Metta Bed and select your preferred size. All six standard sizes from twin to Cal King are available.
Unfortunately, Metta does not sell a split-configuration option for theie larger sizes.  But they will make a custom size for you – just give them a call or send an email with your custom size specifications.
After choosing your size, select a comfort level. There are three to choose from: plush, medium and firm.
Then decide if you want to add any accessories to your order. Metta also sells a wool comforter, luxury cotton sheets and a spiraled wool pillow. All of these items are also certified organic.
Finally, checkout and pay with your credit card – or check to see if you qualify for a Bread loan.
Your mattress will arrive in 7-10 business days.
---
Price
Don't waste your time looking: you are not going to find another natural, certified organic latex mattress at this price.
There are a few reasons why the Metta Bed is less expensive than other natural latex mattresses, which I'll explain in a moment.
But overall, this mattress is a great bargain for anyone looking for a pure organic latex mattress. It's a very cool and comfortable mattress for most people and is likely to last a long time.
Listed below is their full retail price list.
Visit Metta Bed to see their latest prices and offers.
---
120-Night Comfort Guarantee
Metta Bed doesn't offer a traditional return policy for its mattress.
Of course, you can demand a replacement if the mattress arrives damaged as is standard with any consumer product.
But after you start using the mattress, you cannot return it.  Instead, the company provides a comfort guarantee. Here's how it works:
When you buy the mattress, you have 120 nights to test it out and decide whether you like it.
If you do, then keep it and enjoy an extended 20-year warranty.
On the other hand, if you feel that the mattress is too soft or too firm, you can ask the company to send you a replacement layer to fix the problem.
You will then remove the top layer of the mattress and replace it with the softer or firmer one sent to you. Then, you'll send the unwanted layer back to them.
This layer replacement process is totally free. You will not be charged a dime for the new layer, whether in shipping or purchase costs. Even sending back the older one is free of charge (they'll send you a prepaid freight label).
In this way, buying a Metta Bed mattress is almost as risk-free as other online mattresses with traditional return policies.
---
20-Year Warranty
A prorated 20-year warranty covers the Metta Bed.
In your first ten years, the company will replace or repair the mattress at no cost to you should you make a warranty claim.
If you make a claim starting from the 11th year, they will cover repair or replacement costs equal to 20% of the original purchase price. This percentage decreases by 2% every year after the 11th year.
---
Shipping
Shipping is free within the continental United States.
At the moment, Metta does not ship to Alaska, Hawaii or any destination outside the US.
Because each mattress is made to order, it takes about four business days to manufacture before it ships.
You can expect your mattress to arrive in 7-10 business days from the order date.
---
Delivery and Setup
There are two delivery options: curbside or white glove delivery.
With curbside, the mattress will be delivered to your door or entrance, then it's up to you to take it in and set it up.
If you want help setting up the mattress, choose the white glove delivery option during checkout. A delivery fee will be calculated depending on your location.
For another extra fee, you can request Metta's delivery team to remove your old mattress and dispose of it.
---
Foundation and Frame
What Type of Bed Frame/Support Does the Metta Bed Require?
Any kind of sturdy bed frame will do, as long as it is size-compatible with the mattress.
If you use a slatted frame, make sure the slats are no more than 3" apart.
Does the Metta Bed Mattress Work on an Adjustable Base?
Yes, it does. Just make sure it is sturdy and the same size as the mattress.
---
Care and Cleaning
Is a Mattress Protector Needed for Metta Bed?
It's not necessary – but highly recommended. Permanent stains can void the warranty or make you ineligible for the comfort guarantee.  That said, the cover is removable and washable.
Do You Need to Rotate the Metta Bed Mattress?
No, it's not necessary.
---
Aesthetics and Styling
The Metta Bed mattress has a simple toned-down design consisting of an all-white cover with some nice stitched patterns on top for the quilting.
At just 7" in thickness, it is unimposing and is perfect for a modern low-profile slat bed.
---
Construction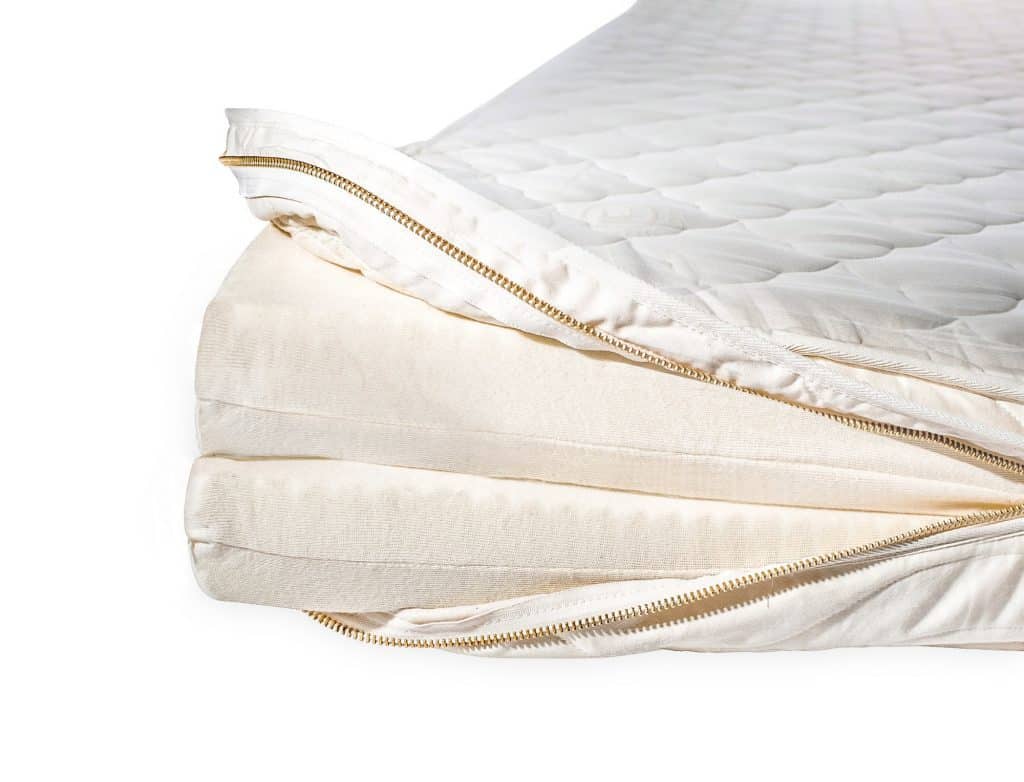 The Metta Bed uses a very simple construction. There are just two layers of latex foam plus the quilted cover.
The firmness of the top comfort layer will depend on the firmness level you choose. It can be soft, medium firm or firm.
The second layer acts as the support base.
The two layers total 7" of thickness. This is quite thin compared with other online mattresses, which tend to be between 9" and 14" thick.
The fact it has only two layers and measures just 7" thick are two reasons why Metta Bed costs less than other organic latex mattresses.
On the other hand, they don't compromise at all when it comes to the quality of materials.
The mattress is GREENGUARD Gold certified which means it has low emissions and VOCs.
The cotton and wool are also GOTS certified. GOTS stands for Global Organic Textile Standard and is a certification given only to organic products.
So you can be sure that you are getting a natural and organic mattress.
No synthetic foams and no chemical fire retardants are used in this mattress.
---
Organic Cotton Cover
The Metta Bed mattress comes with a very nice certified organic cotton cover. The cover is quilted with a natural wool filling to make it softer. It can be unzipped and removed for washing or for exchanging the comfort layer.
The wool acts as a natural fire barrier, eliminating the need to use chemical fire retardants.
Stitching on the cover prevents the filling from shifting around with time.
The cotton feels soft and is highly breathable, which helps with cooling.
---
Smell/Off-gassing
The off-gassing you experience with the Metta is very little compared with synthetic memory foam mattresses. It's just a mild smell that fades away quickly once you set up the mattress.
Remember that Metta Bed is certified organic, so the smell is free of pollutants, chemicals or VOCs. It is completely harmless.
If on the weird chance you find the smell uncomfortable, leave the mattress to air uncovered for a few hours before you sleep on it.
---
Sleeping Experience
So what does a 7" mattress feel like?
Well, it's honestly feels great…unless you weigh more than 220 lbs (like my husband).  The mattress tends to bottom-out beyond that weight, especially for side sleepers.
For this reason, I cannot recommend the Metta Bed for side sleepers who weigh more than 200 lbs.
For an average weight person, the two thin layers are enough to support your body and provide good pressure relief. In fact, two average-sized adults can comfortably sleep on it.
But for heavier sleepers, the thickness of this mattress is simply not enough to provide the level of support and pressure relief you need.
For plus-sized sleepers, I recommend buying a thicker natural latex mattress like the PlushBeds Botanical Bliss.
One other point: unlike memory foam, natural latex is much more resilient and responsive. This makes the Metta Bed feel firmer and bouncier than memory foam.
---
Firmness
As I mentioned, there are three firmness levels to choose from: plush, medium and firm.
For most people, plush is probably the best bet.
Latex foam is generally firmer than memory foam, and this is certainly true here. A plush Metta Bed is the equivalent of a medium-firm memory foam mattress.
If you want something a bit firmer and more bouncy, try the medium option. If you prefer sleeping on a firm mattress, go for the firm option.
Don't worry about picking the wrong firmness level too much, though. Remember, you have roughly four months to test the mattress and request a softer or firmer layer if you find it doesn't meet your needs.
---
Sinkage
Sinkage will depend on the comfort level. But it's generally much less than an equivalent-thickness memory foam mattress. This is because latex is firmer and more responsive.
---
Motion Transfer
There is very little motion transfer for couples sharing a Metta bed.  More than memory foam, but nothing like an innerspring.
---
Hot/Cold Issues
This is a latex mattress, so overheating at night is not a problem. The latex foam is great at dissipating excess heat away from the mattress.
The cotton and wool cover also helps with heat dissipation as well as moisture wicking.
---
Pros and Cons
Pros
Extremely affordable for a natural organic latex mattress.
Three comfort options.
White glove delivery available.
nearly 100% organic (95% to be precise)
Cons
Not suitable for heavier/plus-sized sleepers.
---
The Metta Bed is Perfect For You If…
You'd love a pure organic latex mattress, but don't have the budget to buy an expensive one.
You are looking for an affordable safe, healthy and chemical-free mattress for yourself or your kid.
You and your partner weigh less than 220 lbs.
---
Conclusion
A 7" mattress may not seem thick enough, but the Metta Bed mattress is actually quite comfortable for average-sized sleepers. And there is no risk to buying it. If you think it is too firm, they'll work with you to make it more comfortable.
So if you've always wanted a natural organic latex mattress but thought they were too pricey – here's your chance!
---
Where To Get The Best Deal
Definitely buy this mattress on the manufacturer's website if you want to be assured of getting their 20-year comfort guarantee. Online retailers like Amazon may override this with their own 30-day warranty – which kind of defeats the purpose of buying a mattress online.
---
Affiliate Disclosure
Affiliate Disclosure: I may earn a small commission (at no cost to you) if you purchase a mattress after clicking a referral link or using a coupon code on this site. That said, all content and opinions on this site are my own and are NOT affected by these payments.
This site participates in the Amazon Services LLC Associates Program, an affiliate advertising program designed to provide a means for sites to earn advertising fees by advertising and linking to Amazon.com.
*Amazon and the Amazon logo are trademarks of Amazon.com, Inc, or its affiliates.
---