Nest Bedding Organic Hybrid Latex Review
Summary
A luxury latex and pocket coil hybrid mattress with plush wool & cotton pillowtop. Offers a 5-star hotel sleeping experience at half the cost of mattresses from legacy brands.  
Great choice for: Anyone shopping for a luxury hybrid mattress. 
Avoid if: You are looking for a budget mattress or you prefer the deep hug of memory foam.
Price: $1,492- $2,666
NOTE: We earn from qualifying purchases made via Amazon Associates and other affiliate programs. Learn more.
The Nest Bedding Owl mattress is one of three hybrid mattresses Nest Bedding sells, and also one of three Nest Bedding mattresses that contain natural latex. 
The Owl mattress combines the benefits of foam, pocket coils, and latex in one relatively affordable mattress. 
That means it offers excellent pressure relief, great support, responsiveness, and a cool sleeping experience for hot sleepers.
---
What's In This Mattress Review? 
In this review, we review the Nest Bedding Owl natural latex hybrid mattress. 
We look in detail at its constructions, materials used, and most importantly, how comfortable it is. We'll rate it on support, pressure point relief, and cooling capability. 
If you are shopping for a hybrid mattress or want a mattress that's eco-friendly without being outrageously expensive, keep reading. 
If it's not the mattress you were looking for, we have a roundup of the best hybrid mattresses with other great recommendations.  
Or, if you prefer an all-latex mattress, pick one from our reviews of the best latex mattresses. 
---
About Nest Bedding
Nest Bedding is an online-only direct-to-consumer bedding company.  
They manufacture mattresses right here in the USA and ship them directly to customers instead of sending them to stores where they get marked up. 
Instead, you get high-quality and affordable mattresses right at home. 
Nest Bedding has been in the business for longer than most other online mattress companies. It's a proven and trusted brand. 
Currently, the company offers six mattresses plus a wide selection of bedding and furniture.
---
Social Impact
If you like buying from ethical companies, Nest Bedding is one of the best especially when it comes to making safe and eco-friendly products. 
They use materials manufactured in the USA (ensures strict quality control) and which have various quality certifications including GreenGuard Gold, GOTS, GOLS, and CertiPUR-US. 
Recently, Nest Bedding has introduced Lifetime Renewal Exchange in an effort to reduce waste. We explain what it's all about shortly. 
---
Price
Compared to other luxury hybrid mattresses, the Nest Bedding Owl offers good value for money. 
It's more expensive than online foam and memory foam mattresses. You can also probably get a basic memory foam hybrid mattress for a few hundred dollars cheaper. 
But the Owl mattress is a proper luxury mattress with a surprisingly low price tag. 
It contains natural latex, has a plush pillowtop (with wool), and offers 12" of luxury support and pressure relief.
Here are the prices for different sizes. Pop over to the Nest Bedding official website to see the latest prices and offers. 
---
Purchase Process
Ordering the Owl mattress from the Nest Bedding website is quick and easy. 
You only need to select your preferred mattress size and feel. 
All the usual sizes are available plus a split Cal King option for couples. As for feel, you can select plush, medium or firm. 
If you are ordering a split Cal King mattress, you can have a different firmness level for each half. This is great if you and your partner have different firmness preferences. 
Nest Bedding works with Affirm and Shop Pay to offer third-party financing. If you qualify, you can pay for your new mattress in installments. 
---
Shipping & Delivery
Nest Bedding mattresses are made to order. So your order will take some time (typically 12-16 business days) to ship. 
Once it ships, delivery takes 3-8 business days. 
In most places, Nest Bedding offers free curbside delivery. It's up to you to take the mattress inside and set it up. 
Shipping is free within the continental USA, while delivery to Alaska, Hawaii, and Canada attracts freight charges.
---
Mattress Construction 
The Nest Bedding Owl combines five different materials in its construction. Here's the breakdown of different layers and how they contribute to the sleeping experience. 
Nest Bedding offers a lifetime warranty on all its mattresses including the Hybrid Latex.
The warranty covers indentations greater than 1" and other defects not caused by improper use of the mattress.
1.5" Pillow Top Cover
The Owl mattress comes with a plush pillow top cover that provides instant pressure relief when you lie on the bed. 
Sleepers describe it as sleeping on a cloud. 
The cover consists of stretch knit cotton fabric quilted with Eco-Flex foam and Joma wool. The combination of wool and cotton provides excellent breathability and temperature regulation. 
3" Natural Dunlop Latex 
Instead of Energex foam like in some of their other mattresses, Nest Bedding uses natural Dunlop latex as the comfort layer in the Owl mattress. 
This gives the mattress a very different feel from memory foam mattresses, with a firmer feel and more bounciness. 
The latex layer also keeps the mattress feeling cool. 
By the way, this is the exchangeable layer. If you want to adjust the firmness of your mattress, you simply request a new softer or firmer layer instead of returning the entire mattress. 
1" Transitional Foam 
An inch thick layer of polyfoam provides transitional support, ensuring your weight is distributed evenly over the pocket coil core. 
6" Pocket Coils
American-made pocket coils provide deep compression support, add to the Owl's responsiveness, and maintain good airflow to keep the mattress cool. 
The coils also shore up edge support. 
1" Base Support Foam
Provides overall support and stability. 
---
Manufacturing and Certifications
The Nest Bedding Owl mattress, including the latex and foam, is made in the USA. 
The Natural Dunlop latex has OEKO-TEX Standard 100 certification, meaning it's been tested for the absence of more than 100 harmful substances. 
The polyfoam has been tested and approved by CertiPUR-US, which tests foam for chemicals, emissions, quality, and durability. 
Note: The latex in the Owl mattress is labeled as Natural, not organic. It doesn't have any organic certification. If you want a certified organic latex mattress get the Piper or Dove mattress from Nest Bedding.
---
Comfort & Firmness
All kinds of sleepers, regardless of weight and sleeping position, will find a Nest Bedding Owl mattress that suits them. 
There are three firmness options to choose from plush, medium, and firm. 
The plush option is the softest, making it ideal for side sleepers and those who weigh under 130lbs. 
The medium option is the best choice for most people, especially those weighing between 130 and 230lbs. It balances between a firm and soft. 
Heavier folks (over 230lbs) and stomach sleepers should try the firm Owl mattress. It offers less sinkage and firmer support. 
Overall, the Owl mattress generally has a firm, on-the-mattress feel. Even the plush option doesn't have the deep hug of memory foam. 
If you like how your body sinks into memory foam, the Nest Bedding Owl mattress is probably not the right choice for you.
---
Sleeping Experience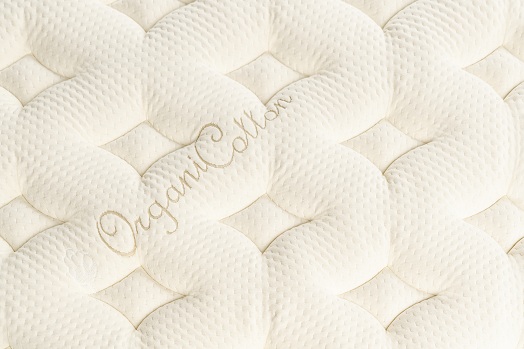 The Nest Bedding Owl mattress scores highly across all aspects of the sleeping experience. Here's a look at different areas. 
Support 
All three firmness levels of the Owl mattress provide excellent support. 
The combination of latex and pocket coils delivers better support compared to all-foam mattresses. You also get better support than a foam hybrid mattress.
This makes the Owl mattress especially ideal for bigger-bodied sleepers who weigh more than average. It's also a good choice for couples, stomach sleepers, and anyone who needs plenty of support when sleeping.
This support extends right up to the edges of the mattress. You can sleep near the edge of the mattress without a roll-off feeling. 
Pressure Relief
All three firmness levels offer good pressure relief thanks to the plush pillow top. 
For side sleepers who need deeper pressure relief, we recommend the plush option as it has the deepest sinkage. 
Keep in mind that the latex comfort layer in the Owl mattress doesn't have the same extra-deep contouring of memory foam. 
If you need an extra-soft mattress (e.g. for hip or shoulder pain) get a memory foam mattress instead. 
Responsiveness 
The Owl mattress has quite a bit of bounce because of the latex layer and the pocket coils. If you love a springy mattress, the Owl mattress is a good choice. 
Temperature Regulation 
The Nest Bedding Owl mattress is one of the coolest-sleeping hybrid mattresses. 
Cooling starts from the quilted cover where cotton and wool keep the surface of the mattress feeling cool. These materials also wick away sweat from your skin. 
The latex layer provides additional cooling while the pocket coil layer improves ventilation and heat dissipation. 
The Owl mattress is an excellent choice for hot sleepers, including those who are extra sensitive to heat. 
Motion Transfer
Because of its springiness, the Owl mattress does have a bit more transfer compared to a foam or foam hybrid mattress. 
It's not enough to wake up most people, but if you or your partner are light sleepers, consider getting another mattress like the Sparrow foam hybrid. 
Sex
The Nest Bedding Owl mattress is a great mattress for sex. 
It's quiet (pocket coils are individually wrapped, so they don't squeak at all), it's bouncy, it has great support, and it stays cool and breathable (no stuffiness). 
The sturdy edge support also means you can take advantage of the entire surface of the mattress. 
Off-gassing
The Nest Bedding Owl mattress has very little off-gassing. You'll notice just a mild odor (that goes away in a day) or none at all. 
Nest Bedding lets their mattresses off-gas before they are packed. 
It also helps that the Owl mattress doesn't contain as much polyfoam as most other mattresses. Foam is usually the cause of the 'new-mattress' smell.
---
365-Night Trial & Lifetime Renewal Exchange
Nest Bedding offers one of the most generous trial periods in the industry – a full year or 365 nights. 
If, after at least 30 nights, you don't like the mattress you can initiate a return or redeem your LRE (lifetime renewal exchange) to get a new comfort layer. 
The LRE is a one-time offer that you can redeem even after the trial period. 
If after a few years you feel that your mattress needs a refresh, it's cheaper and less wasteful to swap the comfort layer instead of tossing the entire mattress and buying a new one. 
---
Lifetime Warranty 
Nest Bedding's warranty coverage is also generous. The limited warranty covers your Owl mattress for as long as you own it.
---
Nest Bedding Owl Mattress Cleaning & Care 
Although Nest Bedding doesn't require that customers use a mattress protector for the warranty to be valid, we highly recommend getting one for the Owl mattress.   
Stains and water damage on the mattress can make it hard, if not impossible, to return your mattress or file a successful warranty claim. 
And since you cannot remove and wash the cover on the Owl mattress, a waterproof mattress protector is the best way to keep it clean.
---
Nest Bedding Owl Mattress Setup & Foundation
Using an improper base or foundation can void your warranty. So it's important that you set up the Owl mattress on a sturdy foundation. 
Most types of foundations and bases, including adjustable bases, are okay to use. 
Because of the weight of the Owl mattress, avoid using a traditional box spring.
---
Owl Mattress Pros and Cons
Pros 
Excellent support for all types of sleepers.

Good pressure relief from the pillowtop cover. 

Great for hot sleepers and night sweats. 

Good value for money. 
Cons 
Not suitable for those shopping for a budget mattress. 

Not ideal for those who want deep pressure relief. 
---
Conclusion 
The Nest Bedding Owl natural latex hybrid mattress is a great choice for anyone looking for a luxury hybrid mattress that's eco-friendly and guaranteed to last a long time. 
---
Affiliate Disclosure
Affiliate Disclosure: I may earn a small commission (at no cost to you) if you purchase a mattress after clicking a referral link or using a coupon code on this site. That said, all content and opinions on this site are my own and are NOT affected by these payments.
This site participates in the Amazon Services LLC Associates Program, an affiliate advertising program designed to provide a means for sites to earn advertising fees by advertising and linking to Amazon.com.
*Amazon and the Amazon logo are trademarks of Amazon.com, Inc, or its affiliates.
---