NOTE: We earn from qualifying purchases made via Amazon Associates and other affiliate programs. Learn more.
Shopping for a mattress?
You've come to the right place.

The Best Mattress Reviews, Comparisons and Coupons
Over the past few years, my husband and I have reviewed over 60 of the leading mattresses sold online and shipped to your home. These are sometimes called a 'bed-in-a-box' or an 'online mattress'.
Along the way, we learned a lot about the differences between brands like Casper, Saatva, Nectar, Puffy, Leesa, Purple, PlushBeds and Nest.
Everything we've learned is documented in our in-depth mattress reviews and mattress comparisons on this site.
We score & rate every mattress we review on the 13 features you should care about most.  Our review process is explained at the end of this page.
My goal with this website is to help you make a rational, fact-based decision when buying a bed online – in 10 minutes or less.
What's On This Site
Not ready to buy?  Then get our coupons by email and use them later:
Send Me The Coupons
---
The Benefits Of Buying a Mattress Online
The #1 benefit is that you'll save a LOT of money.
I'm talking 30-50% less than a comparable store-bought brand.
Tuft And Needle put together the following comparison chart explaining why online mattresses cost so much less.
As you can see, selling mattresses direct from the factory eliminates a lot of markup and middle men, which cuts a lot of cost out of a mattress: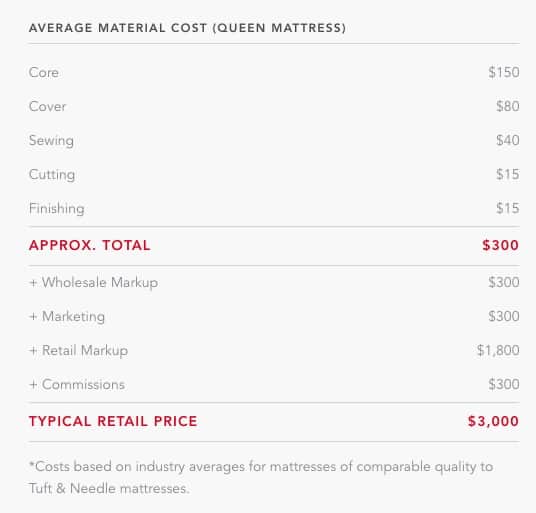 This is why mattresses sold online typically sell for 30-50% less than comparable store-bought mattresses.
Other benefits of buying a mattress online include:
The online mattress movement is also having a huge impact on the traditional mattress industry, driving prices down and quality up across the board.
Even Sealy and Tempurpedic now sell mattresses online.
The Downside (Kinda)
The main downside to buying a mattress online is that you can't sit on it before placing your order.
To eliminate this concern, almost every online mattress company offers a 100-night no-risk free trial. If you decide you don't want the mattress, most companies will pick the mattress up from your home – and you pay nothing.
Think about it: 100 nights is more than enough time to decide if a mattress works for you.  It's also 99.8 days longer than you'll spend on a mattress before you buy it from a store… just sayin'.
Buying A Mattress Online Isn't As Easy As It Used To Be
Four years ago, buying an online mattress was an easy choice because there were only a few brands to choose from.  But those days are long gone.
Today, more than 140 manufacturers sell mattresses online.  Most offer several products. That's a lot of beds to compare!
This is why shopping for a mattress online is a time-consuming process.
The goal of my website is to help you find the right mattress and other sleep/bedding products for your unique needs and budget – in 10 minutes or less.
And, of course, I want to save you beaucoup bucks.
---
What's On This Site – Details
You'll find three useful kinds of information on this site:
1. Mattress Comparisons
On this site, you'll find Mattress Comparison Tables for different sleeping styles, special needs & types of mattress.
In each table, I rate and compare the best mattresses on the 13 features to consider before buying a mattress online.
See My Mattress Comparison Tables 
2. In-Depth Reviews
Each mattress review on this site is a 10-minute deep-dive into one best-selling mattress.
In each review, I cover the following points in some depth:
sleep experience
firmness
sinkage and motion transfer
technology, materials and construction
social impact
organic & VOC certifications
off-gassing
shipping options
delivery, unboxing and setup
platform suggestions
return policy
warranty
price
coupons
and more
If you have a question about a mattress or how it compares to another, please leave me a comment at the bottom of its review.
In addition to mattresses, we review sheets, pillows, mattress pads and other bedroom products.
Read My Mattress Reviews 
3. Mattress Coupons
Finally, we provide exclusive mattress coupons on this site for many of the products we've reviewed.  
Use them.  They'll save you an extra $50-$1,000 on your next purchase.
Use My Mattress Coupons!
---
What Is an Online Mattress?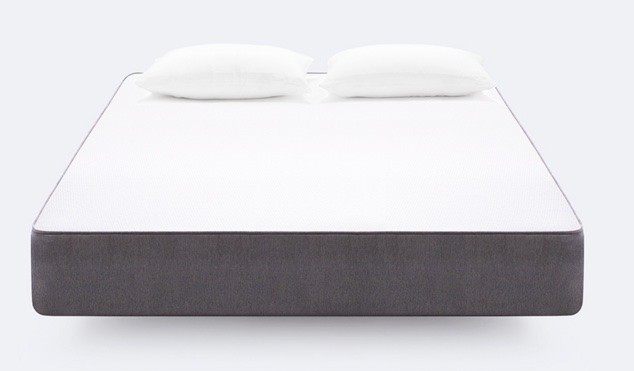 An "online mattress" is a memory foam mattress, hybrid mattress, latex mattress or innerspring mattress that is:
sold mostly or exclusively online
shipped direct from the manufacturer to your home, and
not usually available in stores.
Millions of people buy mattresses direct from manufacturers today. Over $8 billion were sold online in 2018.
As a result, there are many more direct-to-consumer mattress companies today than only a few years ago: more than 140 mattress companies sell online today.
---
Buying Tips
Now that you have a short list of mattresses, let's talk about some of the things to you should consider before you place that order.
First Tip: Don't Worry About Buying A Bed Sight Unseen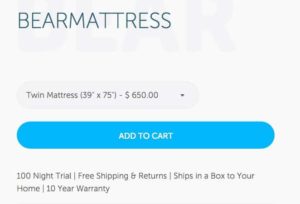 Trust me: you have nothing to fear when buying a mattress online.
In fact, I've learned that shopping online is the smartest way to buy a mattress – because you will probably save a lot of money and be happier with your final purchase, in the end.
I mean let's face it: you can't learn much about a mattress by sitting on it for 10 minutes in a busy store, with some high-pressure sales guy pushing you to buy.
In contrast, when you sleep on a mattress in your own bedroom for 100 nights, you learn everything you need to know. Enough to write a mattress review, even 😉
The Company Behind The Mattress
This is one of those important but silent choices you may end up kicking yourself over, a few years down the line.
The reality of the online mattress market today is that most of the companies that sell them are startups, with a very short history.  Some of them have failed already, and more will fail.  Often, their products have only been on the market for 5 years.
That's not enough time to know whether a mattress will stand the test of time – or if the company that makes it will survive.
I'm NOT saying startups can't make a high-quality, durable mattress.  They most certainly DO.
Just that until more time passes, you really can't know.
So if you're down to a choice between two companies, go with the more established one. Just to be safe.
Return Policies: The Finer Details
In general, all of the companies selling mattresses online DO stand behind their return policies.
There are very few complaints online about people getting a bait-and-switch from any of the companies profiled on this site.
That said, manufacturer return policies differ in ways that might be important to you. The most important differences include:
minimum trial period: several manufacturers require you to test their mattress for a minimum of 30 days before attempting to return it.
mattress return pickup: if you decide to return your mattress, some companies offer white glove service where one of their employees will remove the mattress from your home without you lifting a finger; others ask that you do some of the work.
return of accessories: be careful when ordering mattress platforms, bedding and accessories with your mattress, because these items may not be returnable with your mattress under the same generous 100-night policy.
Warranties
In general, most online mattress companies offer at least a 10-year workmanship/defect warranty. Some offer lifetime policies.
That said, mattress warranties differ in terms of the financial protection they provide you over the life of your mattress.
For example, make sure you understand where your manufacturer stands on the following key warranty features:
transferable warranty: is the warranty transferrable to a new owner?
pro-rated replacement cost:  does the value of the warranty decline over time? what % of the replacement cost does the manufacturer require you to pay after 3, 5 or 7 years?
sinkage: some mattress manufacturers warranty that their mattress will not permanently deform or sink more than 1″ or 2″, or you get a replacement or your money back.  Others are silent on this issue.  You know which one to choose.
stains and damage: some warranties only cover you if the mattress is returned undamaged or even unstained.  This is especially true on low-cost budget foam mattresses.
Shipping Charges
Be aware that a mattress delivered to your home can incur three (3) potential shipping charges:
 the original shipment to your home.  This charge is usually very clear. Most companies don't charge for shipping to your home, and the ones that do tell you what that charge is before you place your order.
the return shipment: Make sure you understand whether or not the company will charge you for shipping a returned mattress back to the factory
the replacement: If you decide to replace your mattress due to a defect or the wrong comfort level, then the replacement mattress has to be shipped to your home, too.  This also costs money.
Shipping costs are typically $40-100 each way, depending on the size and construction of your mattress.
It makes sense to understand where you stand on all of the above before placing that order. Read the terms to understand who pays.
---
Get Another Opinion
Hopefully, you'll find enough information on this site to make a confident mattress selection.
But in case you don't, check out these other excellent mattress review sites for more opinions:
Tuft
SleepLikeTheDead
Sleepopolis
Mattress Nerd
Sleep Sherpa
Mattress Clarity
---
---
Learn More
Compare Mattresses Side-by-Side
---
Affiliate Disclosure
Affiliate Disclosure: I may earn a small commission (at no cost to you) if you purchase a mattress after clicking a referral link or using a coupon code on this site. That said, all content and opinions on this site are my own and are NOT affected by these payments.
This site participates in the Amazon Services LLC Associates Program, an affiliate advertising program designed to provide a means for sites to earn advertising fees by advertising and linking to Amazon.com.
*Amazon and the Amazon logo are trademarks of Amazon.com, Inc, or its affiliates.
---