Affiliate Disclosure: I may earn a small commission (at no cost to you) if you purchase a mattress after clicking a referral link or using a coupon code on this site. That said, all content and opinions on this site are my own and are NOT affected by these payments.
The Best Online Mattress Reviews
Shopping online for a mattress used to be easy.
A couple of years ago, there were only a few companies selling mattresses online, so your choices were limited.
But that's all changed, now.
Today, we are in the midst of a genuine revolution in how mattresses are manufactured and sold. There are more than 50 companies selling mattresses online. Even store brands like Sealy and Tempurpedic sell online.
With so many websites to visit and so many coupons and discounts around, shopping online for a mattress can eat up a lot of your time.
It can get downright frustrating just to build a short list!
And, while it is true that online competition has driven the price of a great mattress down by 30-50% (yay!), you still can't ignore the fact that,
Buying a mattress is a significant investment.
That's why my husband and I created SleepDelivered.com, a site dedicated to reviewing the best mattresses sold online.
The goal of this site is to help you quickly:
create your short list
understand the major differences between the most popular mattresses sold online; and,
make a final selection based on facts, not a sales pitch.
OK, enough of all the explaining – let's get to the reviews!
---
The Best Online Mattresses We've Reviewed
Listed below are all of the online mattresses my husband and I have reviewed, ranked by our overall quality score.
Just click a name to read my review.
Every mattress we review is assigned an overall 5-star quality rating which ranges from 1.0 (I can't sleep on it) to 5.0 (best of the best).  To do this, we look at 16 different criteria that are explained at the bottom of this page.
We only publish reviews of mattresses that rate a 4.0 or higher on this scale.
How To Use Our Comparison Tables
Touch
to see more details
Touch a Mattress name to read my 10-minute review
Touch a Price to visit the manufacturer's website and see their latest deal.
Turn your phone to see more columns.
Mattress
Rating
Price
Description
Our Take
Comfort Choices
Warranty
In-Home Trial
Delivery
Avoid If
Great Choice If
Shop Now
Saatva

4.9
$599-$1399
Luxury innerspring mattress.
A luxury innerspring mattress that compares with the finest retail products.
Firm
Med. Firm
Soft
15 years
120 nights
7-15 days
you don't like the feel of a spring mattress
you're considering a Simmons Beautyrest, Kingsdown Ashley, Sterns & Foster Ashley or Serta iSeries
SaatvaMattress.com
Plushbeds Botanical Bliss

4.8
$1,099-$2,598
Luxury organic latex mattress
The best-sleeping, highest-quality 100% latex mattress sold online. All-natural materials, lots of options, and a super-long warranty.
Firm,
Med. Firm,
Soft
25 years
100 nights
2 weeks
you're bargain-shopping. Not cheap! Still costs far less than a comparable store-bought brand, though.
you are a no-compromise, environmentally-sensitive shopper. This one has it all.
Plushbeds.com
Nest Alexander Hybrid


4.8
$799-$1499
Luxury hybrid foam + pocket coil mattress
A super-comfy, cool-sleeping hybrid mattress that's just about perfect for loving couples. One of the best we've tested.
Medium Soft
Medium Firm
20 years
100 nights
7 days
you want to customize it - this is a one-size-fits-all sleeper.
you - if you're partner moves around a lot at night; zero motion transfer!
NestBedding.com

Sapira by Leesa

4.7
$975-$1,775
Luxury hybrid foam + pocket coil mattress
A luxury hybrid mattress with a great bounce & excellent support - at a great price.
Med Firm
10 years
100 nights
4-10 days
you need a firmer or softer comfort level; Sapira doesn't offer a choice
you want the comfort of foam and the support & durability of pocketed coils
Sapira
Nest Alexander Signature Series

4.7
$899-$1399
Luxury organic memory foam mattress
A premium, natural gel-over-latex foam mattress that sleeps cool and can be customized to your comfort level.
Firm
Med. Firm
Soft
20 years
100 nights
7 days
you're all about the lowest price
you're shopping for Tempurpedic - you'll save at least $1,000
NestBedding.com
Helix

4.7
$600-$1,195
High-quality hybrid mattress. Custom-fit to sleep style & body.
An excellent memory foam mattress that is custom-fit to your unique sleeping habits, body and preferences.
Custom-fit
10 years
100 nights
6-13 days
a cheap foam mattress will do
you want or need a custom-fit mattress; and couples who need different comfort levels
HelixSleep.com
Purple Mattress

4.7
$699-$1299
High-quality proprietary foam mattress
An incredibly comfortable and affordable foam mattress that adapts itself to your body like no other.
Soft+Firm Combination
10 years
100 nights
7-14 days
you need a Twin or Full size mattress (they don't sell them)
you're OK trying something new - their technology is truly unique
Amazon.com
Nest Love Bed

4.7
$399-$749
High-quality latex mattress.
With a recently-updated design, The Love Bed remains one of the best mattresses you can buy for sex.
Firm
Med. Firm
Soft
10 years
100 nights
7 days
you don't like latex or a lot of bounce
you plan to give your bed a workout, and don't want to pay too much
NestBedding.com
Dr̦omma

4.7
$524-$1,049
High quality latex-memory foam mattress
If you're considering Casper, Leesa or Endy, then Dr̦omma should be on your short list. Arguably the best value in its class.
Med Soft.
Med Firm
12 years
200 nights
3-5 days
you don't like a lot of bounce or you're allergic to latex
you care about the environment, love a great deal and want a choice of firmness
Dr̦ommaBed.com
Loom and Leaf

4.7
$699-$1499
Luxury memory foam mattress
A luxury organic memory foam mattress that easily matches the sleep experience of premium store brands, for far less money.
Firm
Med. Firm
15 years
120 nights
7-15 days
you need a soft mattress - this one's a bit firm
you want a luxurious organic foam mattress - without the high price
LoomAndLeaf.com
Leesa

4.6
$525-$1,070
High-quality foam mattress
The best one-size-fits-all memory foam mattress sold online. Sleeps noticeably better than Casper, for the same price.
Medium
10 years
100 nights
7-10 days
you prefer a softer or firmer feel than normal.
you want the best high quality memory foam mattress you can buy, at a bargain price
Leesa.com
Nectar

4.6
$500-$900
High-quality foam mattress
Great mattress; best warranty in the biz.
Med. Firm
Lifetime
365 nights
3-5 days
you prefer a softer or firmer feel than normal.
you want to protect your investment.
Nectar
Bear Mattress

4.6
$500-$950
High-quality memory foam mattress made for athletes
Designed for active athletes, this may be the coolest-sleeping memory foam mattress sold online
Med. Firm
10 years
100 nights
4-7 days
you prefer a comfort level other than medium-firm. This mattress is one-size-fits-all.
you need a memory foam mattress that sleeps exceptionally dry and cool.
BearMattress.com
Luxi

4.6
$799-$1299
High-quality foam w/ SBT
A unique foam mattress that can be configured for 3 comfort levels.
Soft
Med
Firm
10 years
1,000 nights
1-5 days
you know what comfort level you need - there are less expensive options
you want maximum choice of comfort, or want to change it later
Amazon
Endy Beds

4.6
$500-$700
High quality memory foam mattress made in Canada
An excellent Canadian-made memory foam mattress that's better, cheaper and a bit softer than Casper.
Med. Soft
10 years
100 nights
3-7 days
you prefer a firm mattress or need a less-common size (they only offer 4).
you like your foam mattress a little on the soft side.
EndySleep.com
GhostBed

4.6
$495-$925
High-quality hybrid foam mattress
Awesome deal, slightly firm, great support
Med. Firm
20 years (first 10 non-prorated)
101 nights
3-5 days
you like a memory foam feel
you like a little bounce in your life
GhostBed
Amore

4.6
$475-$1,025
High-quality hybrid mattress
Outstanding value for a hybrid latex + coils design
Soft,
Med.,
Firm
20 years
100 nights
4-7 days
you like that Tempurpedic soft feel
you like the feel of latex or innersprings - without the cost
Amore Beds
YogaBed

4.6
$599-$949 on Amazon
Quality memory foam mattress
review coming soon!
Med. Firm
10 years
101 nights
7-10 days
review coming soon!
review coming soon!
Amazon.com
Amerisleep

4.5
$749-$3,398 on Amazon
Eco-friendly memory foam mattresses
Great support, a choice of 5 comfort levels, the latest bio-friendly foams and a cool+dry night's sleep. What more could you want from a memory foam mattress?
Soft
Med. Soft
Medium
Med. Firm
Firm
20 years
100 nights
5-10 days
you're shopping for a medium-firm foam mattress; Leesa is the better/cheaper choice
you're an eco-minded buyer who needs a firmer or softer mattress than most.
Amazon.com
Tuft & Needle

4.5
$350-$750 on Amazon
Budget foam mattress
The cheapest memory foam mattress sold online - that doesn't sacrifice on quality or comfort. Excellent customer service, too.
Med. Firm
10 years
non-prorated
100 nights
1-5 days
you need a firmer or softer mattress; everyone gets the same (medium firm).
you are looking for a bargain memory foam mattress.
Amazon.com
Layla

4.5
$499-$999
Quality 2-in-1 memory foam mattress
An affordable all-foam mattress with great support, cooling and a unique 2-in-1 comfort choice.
Med. Soft
Med. Firm
Unlimited, non-prorated
120 nights
3-5 days
you need extra-soft, extra-firm or a split/custom mattress.
you are looking for a high quality memory foam mattress, but you're not sure what firmness you need
$499-$999
4Sleep

4.5
$549-$999 on Amazon
Quality memory foam mattress
review coming soon!
Med. Firm
10 years
100 nights
7 days
review coming soon!
review coming soon!
Amazon.com
Live & Sleep

4.5
$599-899 on Amazon
Quality memory foam mattress
review coming soon!
Med. Firm
10 years
100 nights
7-10 days
review coming soon!
review coming soon!
Amazon.com
Keetsa Pillow Plus

4.5
$576-$996
Quality organic hybrid mattress
Top-quality organic luxury for a discount price. You'll have a hard time finding a better organic mattress at this price anywhere.
Med. Firm
12 years
90 nights
10% restock fee
5-7 days
you aren't really sure (Keetsa's return policy isn't the best)
you want a real organic mattress, but also a good deal
Keetsa.com
Brooklyn Bedding

4.5
$450-$1050 on Amazon
High quality latex mattress made by industry veterans
review coming soon!
Firm
Med. Firm
Soft
10 years
120 nights
6-9 days
review coming soon!
review coming soon!
Amazon.com
WinkBeds

4.4
$749-$1,698
Luxury hybrid foam + spring mattress.
review coming soon!
Med. Firm
10 years
101 nights
7-10 days
review coming soon!
review coming soon!
WinkBeds.com
Cocoon by Sealy

4.4
$399-$999 on Amazon
Budget foam mattress
A surprisingly affordable memory foam mattress from Sealy.
Med. Soft
Firm
10 years
100 nights
4-7 days
you want a soft mattress, or you're looking for special features.
you need a firm & affordable memory foam mattress.
Cocoon by Sealy
Casper

4.2
$550-$1,150
High-quality foam mattress. All synthetic.
The original one-size-fits-all memory foam mattress. Still a great bargain, but Leesa, Dromma and Bear are better choices at this price.
Med. Firm
10 years
100 nights
2-5 days
you don't like all-synthetic foam or need choice in comfort level.
you want a simple, cheap medium-firm mattress - from a company that's been around more than a few months
Casper
Considering a mattress we haven't reviewed?  Leave me a message on our contact form.
---
Best Picks In 9 Categories
Looking for a short list of the absolute best mattresses of a particular type, for your sleeping style, or for some other specific need?
We've got you covered.
Click the tab below that interests you to reveal a hand-picked short list of mattresses in a mobile-friendly table.
For each mattress listed, we provide details on the features you should consider when buying a mattress online.
---
How We Review A Mattress (Without Selling Our Soul)
My team and I have researched and reviewed more than 30 mattresses sold online, so far.
Like most other review websites, we use affiliate links to pay the bills.  That's it.
To preserve our objectivity, we don't "sell access" to retailers and manufacturers, the way other review sites do.
For example:
We don't accept free merchandise. We buy our mattresses online using our own money, just like you would. We do this under another person's name, so they don't know that it's us.
We never contact a manufacturer until

after

 we've published our review. After we go to press, we send them a link & ask them to check our facts – but not our opinions.
We don't "sell access" to our readers. We don't sell ad space, guest posts, paid email promotions, or any other form of access or "influencer marketing"
In contrast, most review sites accept free merchandise in exchange for their review. This turns the website into a pay-for-review business, because the reviewer is free to sell the mattresses off on eBay or Amazon, when they're done.
How We Select A Mattress To Review
First off: we're not trying to document the world!
I have but one husband to donate to science, and this isn't my full time job.
So, I'll keep buying and testing the mattresses that interest me the most.
That aside, I do look at existing ratings and verified customer reviews before selecting a mattress to review. It has to look like a winner before I'll waste my time reviewing it.
Like you, I only want to review – and sleep on – the best of the best.
I Don't Work Alone
Like every good website these days, I rely on a few good people to help me pull this thing off.
I employ fact-checkers, researchers, draft writers, web designers and graphics experts to make this site do what it does.
Our Mattress Review Process
On my team, I focus on writing and editing reviews.
I like to think that my reviews are the most thorough and the most accurate mattress reviews online.
I write every my 10-minute mattress reviews like I'm writing a letter to my best friend to explain everything anyone could ever want to know about this mattress.
In each, I cover everything you could want to know about that mattress: the company, the sleeping experience, how it compares with its closest alternatives – plus the features that matter most when buying a mattress online.
To keep things fair and balanced, I also scrub the internet for other people's impressions.
On top of this, I hire a fact-checker (yes, a real job) to check my reviews periodically against the manufacturer's website, to make sure we don't miss any important changes. For example, Nest recently updated its Love Bed, and other mattresses change their materials from time to time.
But to be honest, all I can document is what I learned and experienced.
Your experience WILL differ.
That's why…
I Consider Other Reviews
To give you the fairest picture of how a mattress performs for most people, I look at more than just my experience when assigning an overall score.
In fact, I have to, if I want to be 'fair and balanced', to you.
That's because most mattresses are sold in a variety of firmness levels, configurations and versions.
Like most mattress reviewers, I only test one comfort level and one version of a given mattress in my home
I don't test every possible combination. No one does that, to my knowledge.
In order to broaden my review to cover all variations, we research and factor-in what other reviewers have said about the mattress.
I even sometimes adjust my overall rating of a mattress based on the general consensus of other reviewers.
Finally, the ratings and reviews on this site are updated periodically, whenever new information comes in from the manufacturer or we receive important input from other reviewers and our readers.
---
My Mattress Rating Criteria
My team and I score every mattress I review with an overall 5-star rating, from 1 star (unusable) to 5 stars (perfect every night). To assign that rating, we consider the following features and criteria:
The Company Behind the Mattress
Social Commitment
Online Order Process
Price
Shipping, Delivery & Setup
Firmness & Comfort Choices
Technology & Materials
Mattress Construction
Cooling Performance
Motion Transfer
Sinkage
Edge Support
Off-Gassing
In-Home Trial
Returns & Refund Policy
Warranty
Continue reading to learn about each of these factors and how it contributes to my overall 5-star quality rating.
1. The Company Behind the Mattress
All things equal, we'll score an established brand higher than new startup, because:
Their products have been tested in the real world, longer
Their warranties have been tested, too
They likely have more cash on hand to weather market downturns, which will matter to you a lot if you ever need that warranty!
We also take into account the reputation of the company with its current customers.
2. Social Commitment
Another thing we look at is the company's commitment to their community and to the environment.
Most mattress-in-a-box companies today have some sort of social program or work with charities to donate returned mattresses and/or provide new mattresses to their community. Some go beyond that, however, to donate a portion of their revenues to people in need.
In addition, we consider the company's commitment to maintaining a safe and clean environment. We look at whether they use clean manufacturing processes, we look at the materials they use in their mattresses, and we look at whether they adhere to the latest environmental standards.
3. Online Order Process
It's important to us that the company is easy to do business with. If their order process or related customer service isn't top-notch, then we will take points off.
This is rarely the case with online mattress companies, today, except in a few instances where the website was down, prices/discounts didn't match their marketing, and people were hard to get hold of when we needed them.
We really haven't seen that many issues, so far.
4. Price
We believe our readers care as much about value-for-money as anything else, so this criteria carries a very heavy weighting in our 5-star scoring system.
We try to be as fair as possible by comparing a mattress against its closest rivals to determine "relative value".
But straight-up price is the biggest factor.
5. Shipping, Delivery & Setup
This category carries a moderate weighting, but it can be important for some mattresses due to their weight / difficulty in setting up – and if shipping costs are extra.
Some of the questions we ask here include:
Did the company deliver on time, as promised?
Is there an option to arrange for help when setting up / unpacking the mattress, especially if it is heavy?
Do extra shipping charges apply? In what situations / geographies?
Can we change shipping location or date, after we order?
Will the company remove our old mattress? For what fee?
6. Firmness & Comfort Choices
This is more of a characteristic of a particular mattress than a comparison feature. So we don't give it too much weight in our scores.
That said, it does matter if the company offers comfort choices that meet everyone's needs.
And, it matters a LOT to me if the comfort level I ordered feels like it should – or doesn't.
7. Technology & Materials
The materials and technology of a mattress can't be separated from how well the mattress performs. Performance always trumps technology.
That said, when we consider value-for-money, the choice of materials and technology does come into play.
In general, we assign higher scores for mattresses that incorporate new, high-performance technologies that actually make a difference in cooling, support, comfort, motion control, bounce, etc.
Re-marketing a memory foam under a fancy new name won't get points from us.
8. Mattress Construction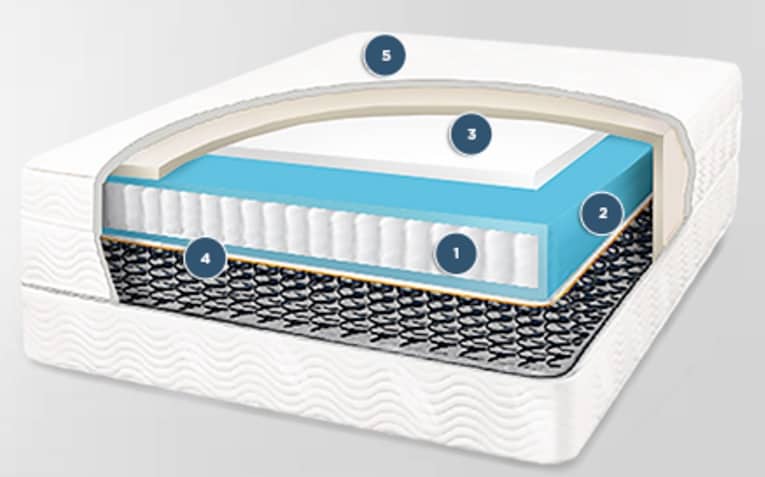 How a mattress is constructed literally defines its support, comfort and sleeping experience – and its useful life.
This is important – but not as important as the sleeping experience it delivers – so, it carries a medium weighting in our scoring system.
We look at the materials used, the number and function of different layers, and any unique technologies used that actually make a difference in performance.
In general, we rate thicker mattresses (>12") higher – for two reasons:
a thicker mattress will usually last longer than a thin one; this is especially true for foam mattresses (because: physics)
thicker mattresses can accommodate more layers and more complex support systems that can be tweaked/engineered with more precision. This is probably why thicker mattresses usually sleep better, in our experience.
We also give credit for more complex layering – when it's done with a purpose.
9. Cooling Performance
We'll ding a mattress if it sleeps too hot or too cold, at night.
Most online mattresses we test don't have a cooling performance problem, but a few have been flagged.
Now, I live in the Deep South (US), where it's brutally hot 6-7 months of the year. And, my husband hates a hot mattress. So if a mattress sleeps hot, we WILL find out.
10. Motion Transfer
Motion transfer is important for anyone who sleeps with another creature, whether that happens to be a husband, a wife… or a dog.
A mattress gets high marks if no little-to-no motion is transferred from one point on the mattress to another. It gets a low score if all it takes is a cough to wake my husband.
11. Sinkage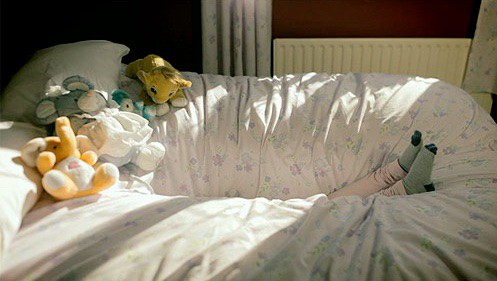 Sinkage is a measure of how deeply your body sinks into a mattress when you lie on it or press on it.
The amount of sinkage you want in your mattress depends on the type of sleeper you are. If you sleep on your side, then a little more sinkage is preferable. If you sleep on your back, then you probably want less.
On this criteria, we'll remove points if the sinkage of a mattress is excessive, if it doesn't give at least an inch, or doesn't match the company's claims.
12. Edge Support
Edge Support is how well the mattress holds its position under pressure, along its edges.
No one wants a soft, overly-compliant edge on their bed, so we deduct points if a mattress folds under pressure too easily.
13. Smell / Off-Gassing
Most all-foam mattresses and mattresses made with foam layers will emit volatile organic compound (VOC) vapors when new. This process is called off-gassing.
These days, the gases emitted by foam aren't toxic or dangerous. But the smell annoys some people.
The two questions we ask here include:
how noticeable and unpleasant is the "new mattress" smell? and,
how long does the smell last?
14. In-Home Trial
Most online mattress companies offer a free, no-risk in home trial lasting between 30 and 220 nights.
In truth, though, you shouldn't ever need more than 30 to 60 days to try a mattress in your home.
For this reason, we don't give this criteria that much weight.
If the return window falls within a 60-day window or if a company offers an extraordinarily long trial period that might change your mattress-owning strategy completely, then we'll change its score.
15. Returns & Refunds
Related to the in-home trial is the mattress company's refund and return policy. This category carries a heavy weighting in our scoring system, and for good reason.
Mattress return/refund policies differ in the conditions under which they will refund your purchase price and/or accept a returned mattress.
For example, some manufacturers will only provide a refund if the mattress isn't abused or "used improperly".
Others require that you provide the right sort of support/foundation under your mattress throughout your use of it.
Both of these situations can be hard to prove, if you are challenged on it. Not that we've heard that many return horror stories – but a few of our readers have complained.
Finally, while most companies refund your entire purchase price, a few of them also charge a restocking and/or pickup fee.
So make sure you read their policy completely.
16. Warranty
The quality of a company's product warranty is the strongest sign a mattress company has faith in its own product, so we give it a lot of weight.
Most online mattress warranties last 10 years, but some companies offer 15, 20 or even 25-year warranties.
And, contrary to what you might think, the price of a mattress doesn't necessarily correspond to its warranty length. Some inexpensive startups carry extremely long warranties.
So, shop carefully.
Of course, comparing warranties can be tricky. They usually differ in the types of damage they cover and whether the warranty is prorated (refund amount declines with time) or not (far better)
Read the fine print on the warranty, before buying.
---
Learn More!
If the reviews listed above don't solve your problem, then we do offer a few more resources on this site that should help:
---
Save BIG On Your Next Mattress Purchase
Join our mailing list and get our LATEST COUPONS delivered immediately!
Send Me The Coupons
---
Learn More
Compare Mattresses Side-by-Side
---
Affiliate Disclosure
Affiliate Disclosure: I may earn a small commission (at no cost to you) if you purchase a mattress after clicking a referral link or using a coupon code on this site. That said, all content and opinions on this site are my own and are NOT affected by these payments.
This site participates in the Amazon Services LLC Associates Program, an affiliate advertising program designed to provide a means for sites to earn advertising fees by advertising and linking to Amazon.com.
*Amazon and the Amazon logo are trademarks of Amazon.com, Inc, or its affiliates.
---