NOTE: We earn from qualifying purchases made via Amazon Associates and other affiliate programs. Learn more.
---
Yes – we're gonna go there.
So turn off your lights – and turn on your laptop…
In this guide, I'm about to get down and tell you all about the best mattresses for sex, all of which you can buy online.
As adventurous as people can be, the bedroom is still where most of us have sex.
This is why amorous couples of any pairing need to consider what makes a mattress great for sex, before they buy.
In this Mattress Buying Guide, we'll discuss the 6 most important features to look for in a sex-friendly mattress.
Then, we'll review the best mattresses I've reviewed to date that have them all.
Hopefully, this guide will help make your sexy-time, well, a bit sexier.
---
What's In This Guide?
Use the table of contents above to jump to the product or section that interests you most.
---
Best Mattresses for Sex in 2023 (List)
Best Mattresses for Sex (Comparison Table)
The table below compares our top picks for amorous couples.
All of these picks are excellent choices that share the following characteristics:
Medium firmness and minimal sinkage to better support & distribute the weight of two bodies in motion.  Without this the two of you can get stuck in a rut, making it difficult to change positions easily.
A great bounce to reduce the exertion needed to enjoy & to prolong that special moment with your partner.
Excellent heat transfer and the ability to wick-away moisture, so you can cool-off quickly after an amorous jaunt.
Mattress
Rating
Price w/ discount
Description
Sinkage
Comfort Choices
Warranty
In-Home Trial
Delivery
Construction
Heat Transfer
Motion Transfer
Off-Gassing?
Eco-friendliness
Customer Service
Purple
4.9
$799-$1,998
Foam (Hyper-Elastic Polymer + Poly foam)
Minimal
Med. Firm
Soft
10 years
100 nights
7-15 days
Gel Grid + dual layer foam
Excellent
Medium
No
CertiPUR-US­ foam
White-glove
TEMPUR-Adapt
4.8
$1,749-$2,949
Hybrid memory foam (memory foam + springs)
Minimal
Med. Firm

10 years
90 nights
7-15 days
premium memory foam
Excellent
Medium
No
CertiPUR-US­ foam
White-glove
Nectar
4.7
$399-$1,099
Memory foam
Moderate
Med. Firm

10 years
365 nights
7-15 days
5-Layer Gel memory foam
Excellent
Medium
No
CertiPUR-US­ foam
White-glove
Zenhaven
4.8
$1,526 -$3,141
Natural latex
Minimal
Med. Firm

20 years
180 nights
7-15 days
Natural Latex + Organic Wool Layer
Excellent
Medium
No
GOTS certified­ foam
White-glove
WinkBed Plus
4.7
$849 – $1,749
Hybrid gel foam (gel foam + pocket coils)
Minimal
Firm

Lifetime
120 nights
7-15 days
Euro-pillow top+Gel Infused Foam
Excellent
Medium
No
CertiPUR-US­ foam
White-glove
Saatva Classic
4.9
$995-$2,304
Luxury hybrid
(foam and innerspring) mattress
Minimal
Firm
Med. Firm
Soft
15 years
120 nights
7-15 days
Innerpring + foam
Excellent
Medium
No
CertiPUR-US foam
White-glove
Sparrow Signature Hybrid
4.8
$926 – $2,152.00
Luxury hybrid foam + pocket coil mattress
Minimal
Soft
Medium
Firm
Lifetime
100 nights
7 days
Gel-infused memory foam, pocket coils
Excellent
Very Low
No
CertiPUR-US foam
Excellent
Helix
4.7
$699 - $1,399
High-quality hybrid mattress. Custom-fit to sleep style & body.
Minimal
Custom-fit
10 years
100 nights
6-13 days
Proprietary foam + pocketed coils
Good
Low
Yes
CertiPUR-US foam
Excellent
Nest Love & Sleep
4.7
$749-$1,399
High-quality foam mattress.
Moderate
Firm,
Medium
10 years + lifetime comfort guarantee
100 nights
7 days
Energex foam
Excellent
Medium
Yes
CertiPUR-US foam
Excellent
Keetsa Pillow Plus
4.5
$690- $1,290
Quality organic hybrid mattress
Moderate
Med. Firm
12 years
90 nights, 10% restocking fee
5-7 days
Memory foam + innerspring
Good
Low
Yes
CertiPUR-US foam
Good
DreamCloud
4.7
$599-1,299
15-inch luxury hybrid mattress
Minimal
Med Firm
Lifetime
365-night
5 days via FedEx
6 layers of foam
+ pocketed coils
Good
Low
No
CertiPUR-US foam
Excellent
---
What Features Make a Mattress Great For Lovemaking?
There are 13 key features you should consider when buying a mattress online (see the complete list).
Of these, 6 are really important when it comes to making a mattress great for lovemaking: support, firmness, bounce, cooling, durability… and silence.
1. Strong, Firm Support (Enough for Two)
A strong mattress with good, firm support is by far the most important feature that sexually-active couples should look for.
The reasons are kinda obvious, but just for fun, let's go through them:
If your mattress sags too much, then you can't move around very easily.
The weight of 2 (or more) people will be concentrated in a small area.  Without a strong support system, you're going to sink and get stuck.
Or worse, someone will "bottom-out", just when the going gets good 😉
Edge support is another really important factor in a lovemaking bed, so make sure your mattress has strong edge support.
Poor edge support causes a mattress to sag around the edges, which means you can't lean on or lie over an edge, which limits your options.
With a solid, firm edge support system in place, you'll get all the freedom and space you need for whatever floats your boat.
2. Firmer is Better
That wasn't a joke 😉  I'm serious!
A great mattress for sex evenly distributes the weight of two people with a minimum of sagging, no matter how active the couple may get.
Broad weight distribution also ensures that no uncomfortable pressure points are created while you're sexually active.
All things equal, a firmer mattress provides this better than a softer one.
For most sexually active couples, a medium-firm mattress is just perfect for sex. It's not too soft as to create a quicksand effect and not so firm that it creates pressure points.
For sleeping, however, each partner may desire a different firmness than medium-firm.
If one partner likes to sleep on a firm mattress and the other on a soft one, then take a look at the split-mattress options from Helix. Think of it this way: everyone will get a good night's  sleep, and you'll have even more surface choices when things get busy!
3. A Bouncy Mattress for better romance
I'm sure you'll understand this one.
"A good bounce" means that the mattress returns to its normal state quickly even after a deep compression.
Some of the best mattresses for sex make use of innerspring coils and latex top layers, because these two materials provide a nice responsive bounce that is awesome for good sex.
A good bounce also means you'll spend less energy fighting the bed, and more energy enjoying your partner.
4. Cool & Breezy
When it's really good, sex gets you hot and sweaty.
While you may not notice it during the 'heat' of the moment (you're welcome), all that excess thermal energy becomes apparent when it's time to rest and sleep, afterwards.
A low-quality mattress will retain heat and moisture along the surface, which kind of ruins the 'moment after'.
A great mattress for sex will have excellent breathability and will incorporate features to wick-away moisture and transfer heat away from the surface of the mattress.
Gel-infused foams, perforated layers and breathable fabrics all make a difference here.  So do coil-based mattresses.
5. Silence!
If you're a parent or live in a noisy apartment building, then you understand this one.
For most people, nothing ruins the moment more than a squeaky bed broadcasting your adventures to your neighbors and to your kids.
Foam mattresses (memory foam or latex) are the quietest you can buy, for obvious reasons. Just don't make the mistake and buy a squeaky box spring or bed frame to place it on.
For the few of you who are exhibitionists, you can ignore this one. But, if you do, then please: don't have kids. You will freak them out!
6. Durability
The rhythmic forces created by the weight of two people engaged in frequent sexual activity wear on a mattress faster than anything else.
A poorly-constructed mattress will not last long, before it sags.
A well-built mattress will last for a decade or more, while still retaining its comfort, bounce and support.
When looking for a durable mattress, the most important part to pay attention to is the foundation layer. Check that the foundation is thick enough and the materials are strong and resilient enough to handle the repeated downforce that lovemaking delivers.
Ideally, you want a foundation made of 6″ (or more) of high-density foam or high-strength spring coils.
---
1. Best Overall Mattress for Sex: Purple Mattress
We love the Purple mattress for many reasons. It's responsive, it sleeps cool, has great support and relieves pressure points in a way most mattresses cannot match.
These are the same reasons it is hands down the best mattress for sex.
The special gel grid layer at the top of the mattress delivers all the magic. This grid is made with a material called Hyper-Elastic Polymer.
The grid delivers targeted pressure relief to different parts of your body. So as you bounce up and down and move about, you don't end up with a sore back. People with back or hip problems will especially appreciate the pain-reduce pressure relief the Purple mattress offers.
Because of the top layer's hyper-elasticity, it has a spring-like responsiveness. So while the Purple mattress doesn't have pocket coils, it's almost as bouncy as a pocket coil mattress.
The grid design of the top layer contains numerous air channels that quickly carry away heat and sweat from the surface of the mattress. Combined with the breathable cover, the Purple mattress stays cool to the touch, no matter how steamy things get.
Two layers of poly foam support the Hyper-Elastic Polymer layer, providing additional support and body contouring.
Because the Purple mattress contains no springs or coils, it makes for a quiet sex life, something parents will appreciate.
Currently, a Queen size Purple mattress costs $1,049, which is not too bad for a semi-luxury mattress. It comes with a 100-night free trial and a 10-year warranty.
If you want the benefits of Hyper-Elastic Polymer layer but with coil support, get the Purple Hybrid or Purple Hybrid Premier.
---
Tempur-Pedic makes some of the most luxurious mattresses in the market. If you want to take your romance to the next level – comfort-wise – Tempur-Pedic is the way to go.
One of the best Tempur-Pedic mattresses for intimacy is the TEMPUR-Adapt memory foam and spring coils mattress.
The hybrid design of the TEMPUR-Adapt balances perfectly between pressure-relieving plushness and firm support, with a nice bounce added to make those intimate moments more fun. You don't get that too-plush feel many luxury mattresses have.
The 11" mattress consists of three layers: a TEMPUR-ES memory foam layer that contours to your body, a foam transition layer and a spring coil base.
It has a medium feel that's great for both sleep and sex. The knit cover has a cool-to-the-touch feel and quickly wicks away sweat.
One of the downsides of the TEMPUR-Adapt is the price. If you are on the hunt for a budget or even a mid-range mattress, this is not it.
The TEMPUR-Adapt hybrid mattress comes with a 10-year warranty.
---
Avoid those awkward moments when your bed is louder than you by getting a mattress that stays quiet.
We recommend an all-foam mattress.
Many coil mattresses today are pretty quiet. But if you don't want to take any chance with even a little bit of squeaking, all-foam is the way to go.
One of the best and most comfortable all-foam mattresses is the Nectar memory foam mattress.
The Nectar mattress has four layers that deliver a medium-firm feel.
At the top is a quilted Tencel cover that provides breathability and softens the surface of the mattress for instant pressure relief.
A gel memory foam layer below the cover provides deep contouring, eliminating pressure on your shoulders, back and hips.
A foam transition layer adds some responsiveness and firmness to the mattress, so you don't get that unsexy mushy feel that many memory foam mattresses have. A high-density base layer firms up the mattress' support.
Overall, the Nectar mattress doesn't have the bounce of a hybrid mattress. But it's not mushy either.
Since foam doesn't creak or make any kind of noise, parents and those living with roommates will appreciate how quiet the Nectar mattress is.
Currently, the Nectar mattress is one of the best value memory foam mattresses you can order online. A queen size costs $799 on the official website and comes with $399 worth of extras free. They include two pillows, a sheet set and a mattress protector.
The Nectar mattress comes with a 1-year trial period and a forever warranty.
---
Latex mattresses are great for sex for three reasons: they offer excellent support to keep you from sinking too deep, they are bouncy and they stay cool.
Our favorite latex mattress for sexually active people is the Saatva Zenhaven natural Talalay latex mattress.
Zenhaven is all-natural from top to bottom, making it a good choice for those shopping for natural and eco-friendly bedding.
The first layer is a quilted organic cotton cover. It feels soft against your (bare) skin, is super breathable and does a great job wicking away sweat.
An organic wool layer below the cover provides natural temperature control, keeping you cool when things heat up and warming you up when it's chilly. The wool also absorbs moisture and acts as a natural fire retardant.
A comfort latex layer with five comfort zones provides targeted support and pressure relief. It is softer where you need pressure relief such as under your shoulders and firmer when you need support such as under your lower back.
A high-density latex core provides deep support and responsiveness.
The Zenhaven has a two-in-one firmness design. One side has a medium feel (Luxury Plush) while the other has a firm feel (Gentle Firm). You can flip the mattress over if one side doesn't feel comfortable.
Similar to other natural latex mattresses, the Zenhaven mattress is expensive. A queen size currently costs $2,199 on the official Saatva website.
The Zenhaven mattress comes with a 180-night trial period, free white glove delivery and a 20-year warranty.
---
5. Best for Heavier People: WinkBeds Plus
A mattress with poor support and no bounce can be even worse for heavier people. You end up sinking too deep in the mattress with no responsiveness. Over time, you might hurt your back.
For the best intimate experience, look for a mattress designed specifically for heavier sleepers. One of the best ones is the WinkBed Plus mattress. It combines gel foam with individually wrapped coils to provide the best pressure relief, support and responsiveness.
The first layer is a Euro pillow top consisting of gel-infused foam. The gel foam provides instant pressure relief, contouring around your shoulders, back and other pressure points.
Below it is a thick layer of steel pocket coils. These ensure the mattress holds up well to plenty of weight and vigorous activity.
They also provide plenty of bounce and additional body contouring (the coils adapt to your body shape and sleeping position). Because the coils are individually wrapped, they are not noisy. So don't worry about awkward creaking sounds.
The gel foam and pocket coils work together to keep the mattress breathable. Cooling gel absorbs heat from your skin while the coils allow air to flow in and out and take away excess heat trapped in the mattress.
A dedicated edge support system allows you to take full advantage of the entire surface of the mattress. You can comfortably sleep (or do whatever) at the center or edge of the mattress.
The WinkBed currently costs $1,499 for a Queen, which we think is fair. It comes with a 120-night trial period and a lifetime warranty. This is assurance that the mattress will not sag after just a couple of years.
---
Memory foam does not have the best reputation when it comes to sex.
If not properly constructed, a memory foam mattress sinks too much and has poor temperature control.
But the Sparrow Signature Hybrid mattress has none of those issues, thanks to advanced technology and superb construction.
The top layer is made from 1″ of gel infused memory to improve cooling. A Thermic Phase Change material fabric covers this 2-inch layer to keep the surface of the mattress cool.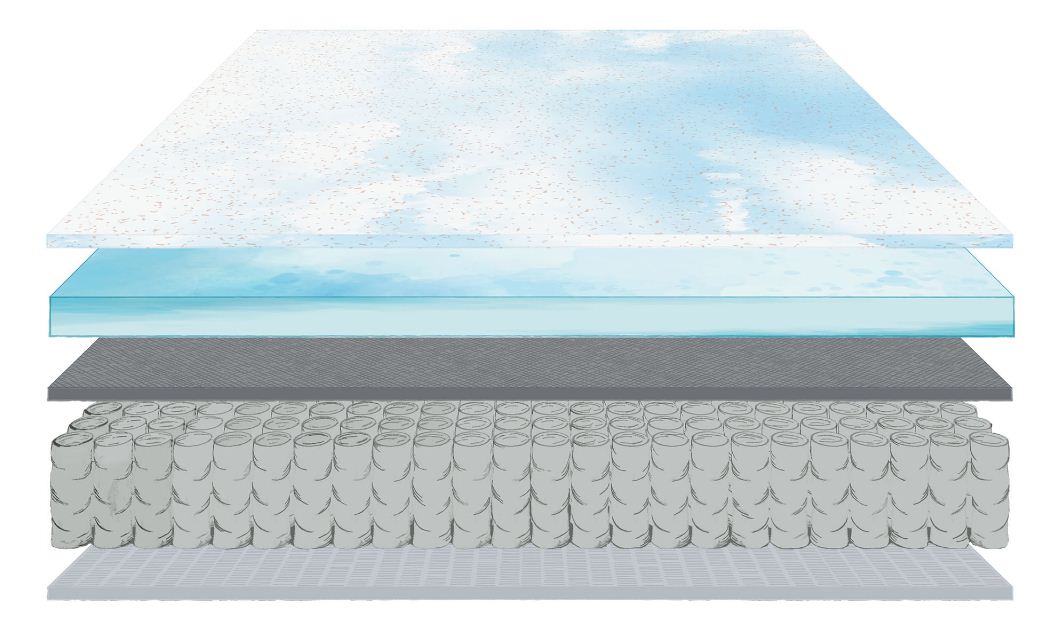 The second 3-inch layer is made from and 3″ of Energex™ Temperature Responsive Foam, which gives the Sparrow Hybrid even better cooling capability.
The third 1-inch Smartfoam support layer further boosts the Sparrow Hybrid's airflow, making it one of the top mattresses in terms of cooling and breathability.
Foundation support is excellent, ensuring that the mattress will withstand the roughest of activities for years. This base layer consists of an 8″ layer of Reinforced Edge Pocketed Coils and a coiled edge support system for exceptional overall support.
Beneath that is 1″ of high density support foam.
In terms of comfort level, the Sparrow Signature Hybrid  offers three firmness level-Plush, Medium, Luxury Firm.
Medium firm rates a 5 out of 10 on a scale of increasing firmness. Medium-firm level that works perfectly for most couples.
If you need a softer experience for sleeping, consider getting the optional 2-inch plush topper from the company's website.
All of the usual mattress sizes are available, with prices ranging from $949 – $1799.
On the King and Cal King sizes, you can also opt for a split mattress configuration.
At checkout, you have the option to use Affirm Financing to pay for the mattress in monthly installments, without incurring additional fees.
---
7. Best Budget Mattress for Sex: Nest Quail
It is unusual to find a mattress designed specifically for sex, but that is exactly what the experts at Nest Bedding set out to do with this one.
The Nest Quail was specifically designed for two purposes: Good sex, and great sleep.
To do this, the Quail uses a unique foam construction that duplicates the bouncy feel of latex with the right comfort level, exceptional support and  durable foundation to ensure the best experience for couples.
The top 3 inch layer is made from Energex Gel Foam, which provides a pleasurable bounce and a cool sleeping surface, much like latex foam provides.
The 2 inch poly foam middle layer provides support and prevents sagging, especially over time.
The bottom foundation layer is made of 5 inches of medium-density poly foam to provide overall support and durability to the mattress.
The Nest Quail mattress uses a cover made from a phase change material (PCM) fabric that stays cool and airy.
There are two firmness levels to choose from, medium (6/10 firmness rating) and firm (7/10 firmness rating).
The medium will work just fine for most people. But if you both love a firm surface, then the firm might be what you are looking for.
All the usual sizes are available – from Twin to California King.  Prices range from $499 – $949.
---
8. Best Hybrid Mattress for Sex: DreamCloud
Hybrid mattresses make some of the best beds for sex.
They use a combination of coils and foam to provide a balanced sleeping experience. You get that innerspring bounce that is great for sex but without too much motion transfer and with more pressure relief.
Our top recommendation for the best hybrid mattress for sex is the DreamCloud.
This is a super luxurious (but surprisingly affordable) mattress with 6 foam and spring layers that measures 15 inches thick.
The luxury begins at the very top with an extra-soft quilted Euro pillow top layer, made of  two layers of foam wrapped in a soft polyester cover, quilted into a soft and plush unit.
Below the top layer are a gel memory foam layer for cooling, soft foam for pressure relief, and a pocketed coil layer that forms the core of the mattress. But it's not a standard coil layer.
The micro-coils are separated into zones with varying densities. Some areas have more give than others. The zones align to various sections of your body.
Where there is more pressure on the mattress, such as under your hips, the coils sink more to prevent an uncomfortable pressure point. Where you need more support, like your back, the coils are firmer to ensure you stay properly aligned.
This improves contouring and support.
The final layer is a slice of firm foam that complements the support from the innerspring core.
Only a medium firm option is available, but it's comfortable enough for most people.
Cooling is not a problem even though there are several memory foam layers. The cover, gel foam and pocketed coils do a great job of keeping the mattress cool and fresh.
The coil layer provides a pleasant bounce. So you don't have to worry about getting stuck in the mattress when having sex.
The DreamCloud mattress comes with a 365-night trial period and lifetime warranty. Shipping is free, and there is an option for white glove delivery (for an extra fee).
Prices range from $599 for a twin XL size to $1,299 for a Cal King.
---
9. Best Innerspring Mattress for Sex: Saatva Classic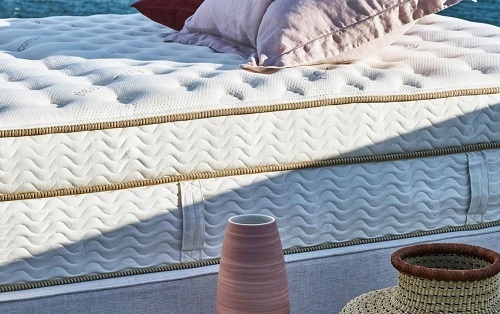 Innerspring mattresses are a perennial favorite  for sexually-active couples, because they check so many boxes.
First off, they provide the best bounce of any mattress types – even better than latex.
And, innerspring mattresses are super-strong and durable.
Finally, innerspring mattresses provide excellent support, especially edge support.
Our innerspring mattress recommendation for sexually active couples is Saatva Classic.
One of the first online mattress brands, Saatva uses an advanced coil-on-coil system that provides outstanding support and durability.
The lower, hourglass-shaped, coil unit is for foundational support.
The upper coil unit features individually wrapped steel coils. Steel coils provide excellent durability and bounce, two features important for sexually active couples.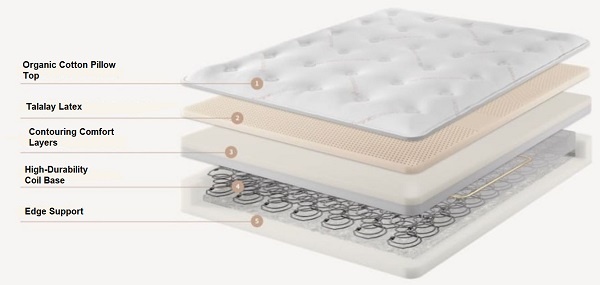 Saatva also excels at edge support due to their use of a dual-edge support system.
Saatva offers three firmness levels for its innerspring mattress: plush soft, luxury firm and firm.
For sexually active couples, we recommend the luxury firm or firm comfort levels. If you need something extra soft, then try the Plush Soft, but it will probably inhibit your movement quite a bit.
Saatva offers a wide range of sizes including custom sizes.
Their mattresses come with a better-than-average 15-year warranty and a no-risk trial period of 75 nights.
Saatva doesn't normally offer discounts or coupons on its products. You'll usually find the best prices on their website, however.
Prices range from $912 to $2,171.
---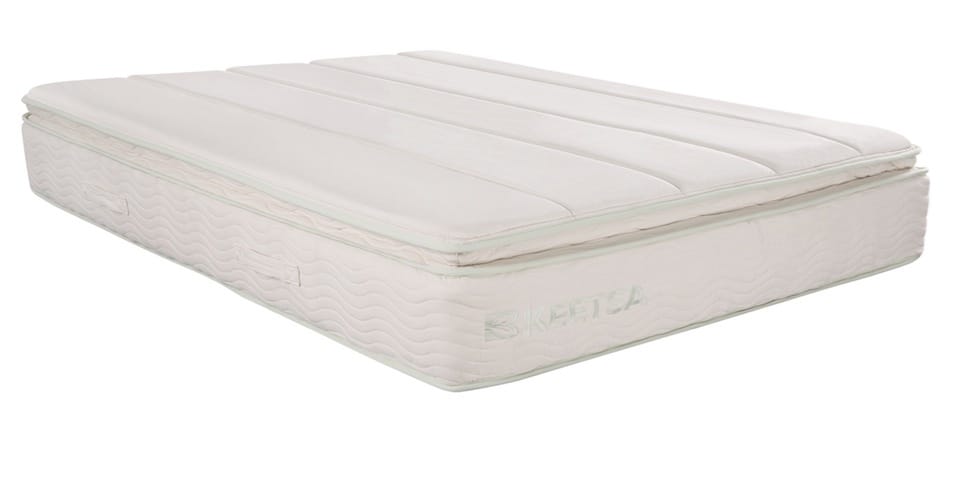 The Keetsa Pillow Plus mattress combines the bounciness of an innerspring mattress with eco-friendly foams to create one of the best mattresses for sex.
At the very top, you will find an organic pillow top cover with PBDE-free fire retardants. The plus cotton cover is mixed with natural fiber to increase comfort and breathability.
Below the pillow top, a soft memory foam layer provides just the right amount of hug for maximum comfort.
The mattress core is a 7-inch inner coil layer, which gives the mattress exceptional capabilities in comfort and support.
Additional edge support is provided by the side and corner stabilization systems.
One of the unique characteristics of this mattress is the green tea-infused memory foam, ensuring that the mattress keeps its freshness. That's a real bonus, when it comes to sex.
There is only one firmness level available for the Keetsa Pillow Plus, medium firm. It is a 5-6 out of 10, with 10 being very firm. This is ideal for most couples.
Prices are reasonable, too. They range from $576.45 for the twin to $996.45 for the California King.
---
11. Best Custom/Split Mattress for Sex: Helix Mattress
For those who need a custom, made-to-order mattress, Helix Mattress is your best online option.
Couples with different mattress preferences often order split or custom mattresses, because the mattress can be split with one side being firmer or softer than the other.
Helix takes mattress customization to the next level with its unique online ordering process.
Customers complete a quick online questionnaire that provides key inputs including height, weight, sleeping position and sleeping preferences, which include the following 4 factors:
feel (soft to firm)
support (light to strong)
temperature regulation (mild to cool) and
contouring or elasticity (low to high).
These responses are used to create a unique sleeping profile for each sleeping surface, which is then used to manufacture a custom mattress.
Helix made-to-order mattresses are delivered 7 to 10 business days after ordering – which is remarkable when you consider that many online mattress companies who don't offer customization take about the same amount of time.
As far as mattress construction goes, Helix uses Dunlop latex for extra bounce and airflow, micro coils for weight distribution and contouring, and high-density foam for premium base support.
Available for sale only on their website, Helix offers all standard mattress sizes, from Twin to California King.
Prices range from $600-$1,195, in the mid-range of online mattresses.
Every Helix mattress comes with an industry-standard 10-year warranty and a 100-day no-risk-return trial.
---
How We Rate Mattresses for Sex
Here are the 13 factors will look for in mattresses when rating them:
1. Brand
A mattress is only as good as the brand behind it.
Generally, we are looking for companies with a great reputation for producing quality products and providing  exceptional customer service.
While brands that have been around longer, such as Saatva and Casper, will get the nod over young startups, we also appreciate niche products produced by smaller players like Nest Bedding, Helix and Bear.
2. Price
Aside from sleep quality, price is the most important feature for most online shoppers.
A pricey mattress needs incredible or unique features to justify a high price point. We score mattresses high for price when they represent the best overall value, relative to their peers.
3. Firmness and comfort choices
The firmness of a mattress is a crucial factor in the overall sleeping experience. We look at two things here: how many comfort choices do they offer? or, if a single-firmness is all they offer, how well does it meet the needs of most people?
4. Mattress construction
We look at the materials used in construction and how the structure (layering) of the mattress affects sleeping experience.
5. Heat transfer
We consider the cooling technologies used in the mattress and how effective it is at preventing a buildup of heat and moisture near the surface of the mattress.
6. Motion transfer
Motion transfer is an important issue for many couples who sleep together. For most couples, the best mattress is one with the least amount of motion transfer. It ensures that everyone has a restful night without any disruptive movements.
7. Sinkage
This refers to the level of depression a mattress exhibits when a given weight is placed on it. Different sleepers prefer different levels of sinkage, but generally speaking, too much sinkage is not desirable.
8. Eco-friendliness
Most manufacturers today are sensitive to the eco friendliness of the materials they use. Today, it is easy to find eco friendly mattresses ranging from partially natural to 100% organic. That said, truly 100% organic mattresses are hard to find online – and they are very expensive.
9. Off-gassing
Box-packed mattresses often have an issue with off-gassing after they are unpacked at home. Though it is usually not harmful, it can bother some people. Our highest-ranked mattresses have little to no off-gassing..
10. In-home trial
This is not that much of an issue these days, since almost all online mattress sellers offer in-home trial periods ranging from 75 to 120 days. Longer the better.
11. Return policy
Most online mattress companies have adopted easy and friendly return policies that eliminate costs and frustrations of the traditional mattress return process. That said, there are important differences when you read the return policies. We prefer companies that accept mattresses with no preconditions and no return fees.
12. Warranty
The longer the warranty, the more trust a company has in the durability of its mattress. The industry standard is 10 years though some companies offer warranties as long as 15 or even 25 years. Another key thing we look at are the restrictions – can I sell my mattress with the warranty intact? is the warranty prorated? are certain kinds of stains/damage restricted?
13. Delivery and setup
The delivery of the mattress matters a lot in a good customer experience. Factors that we look at include shipping costs, shipping period and delivery options. If a company sets up your mattress for you for free, we'll give them a higher score.
FAQs
Do bedframes matter for sex?
Yes they do. A sturdy bed frame will provide extra support, especially for heavier people. It's also important to get a bed frame that stays quiet during sex.
Do you need a mattress topper for a better sex experience?
It depends on how comfortable your current mattress is. If you love how it feels, you don't need a topper.
But if you think the mattress is too firm, too mushy or too hot, the right mattress topper can help. You can even add a latex topper on top of your mattress to make it bouncier.
---
Affiliate Disclosure
Affiliate Disclosure: I may earn a small commission (at no cost to you) if you purchase a mattress after clicking a referral link or using a coupon code on this site. That said, all content and opinions on this site are my own and are NOT affected by these payments.
This site participates in the Amazon Services LLC Associates Program, an affiliate advertising program designed to provide a means for sites to earn advertising fees by advertising and linking to Amazon.com.
*Amazon and the Amazon logo are trademarks of Amazon.com, Inc, or its affiliates.
---