Purple Hybrid Premiere Review
Summary
The new Purple Hybrid Premier mattress adds durable coil support… and a more comfortable choice to Purple's unique Comfort grid elastic topped beds. The result is a heavenly night's sleep.
Great Choice for:  Pretty much everyone. There's a model that will meet your needs.
Avoid if: You need a twin bed – they don't offer that size yet. Also not ideal if you are looking for a budget mattress. The Purple Hybrid Premier is more expensive than most foam and hybrid mattresses.
Price: $1,599-$6,098
NOTE: We earn from qualifying purchases made via Amazon Associates and other affiliate programs. Learn more.
---
The original Purple mattress remains very different from all the other mattresses we've tried.
Instead of using foam to provide contouring and support, Purple uses what they call their Smart Comfort Grid. This is an elastic polymer grid used in the top layer of all Purple mattresses.
The cells in the Smart Comfort Grid matrix grid individually collapse or stay upright depending on the amount of vertical force placed on them. This firm-yet-flexible feature helps Purple adapts itself to every person as no other mattress can.
Other than that, however, the rest of the original Purple mattress was quite ordinary.  Mostly just polyfoam.  And it only came in one firmness.
Purple's new Hybrid Premier mattress, however, is a thicker and more supportive hybrid mattress.
It is available in two size options: a medium-firm mattress with a 3" Purple grid (the Purple 3) and a luxury soft mattress with a 4" Purple Grid (the Purple 4).
Purple also sells a more affordable hybrid mattress – the Purple Hybrid – with a 2" layer of Purple Grid.
All of Purple's new mattresses – the Purple Hybrid and the Purple Hybrid Premier – also use a base layer of pocketed coils to increase longevity, add a little bounce, and increase support.
So… how does Purple's newest mattress compare with the Purple original and with other popular hybrids selling today, including Sapira, Nest, and Avocado Green?
Keep reading for my in-depth review of the Purple Hybrid Premier, below.
For a list of my other favorite hybrid mattresses, read my recently-updated hybrid mattress buying guide.
---
What's In This Mattress Review
This review will take you about 10 minutes to get through.
If you are in a hurry, use this table of contents to jump to those features you care most about.
Just click ↑ Table of Contents to jump back to this point.
---
Which One Is Right For You?
Buy the NEW Purple 3 Mattress if:
You switch positions at night.
Your comfort preference differs from your partner.
You have back problems.
Buy the NEW Purple 4 Mattress if:
You sleep on your side most of the time.
You want a luxuriously plush mattress.
You have a heavier body (>200 lbs).
---
About Purple
Purple launched in 2015 and immediately made a splash with its creative marketing campaign and its truly unique mattress design.
They raised more than $170,000 on Kickstarter for their mattress.
Since then, the company has been on a tear, growing to hundreds of employees and into one of the most popular online mattress brands. They experienced a 271% growth in revenue in 2017.
The same comfort grid polymer that made the classic Purple mattress iconic is used in the New Purple Hybrid Premier mattress, too.
But this time, you also get more durable coil support and can choose from a 3-inch or 4-inch comfort grid layer on top.
---
Social Impact
As Purple has continued raking in more revenue, they've provided a lot of job opportunities.
In 2017, Purple was ranked as one of the fastest-growing companies in the state, which means it's also one of the biggest job creators (they manufacturer all their products locally).
---
Purchase Process
Unlike the original Purple mattress, which is available on Amazon (though I don't recommend buying there – get it from their official website), the new Purple is only available at Purple.com.
Head over to the main product page and select your comfort level.
There's the medium-firm Purple 3 with a 3" comfort grid layer and the soft Purple 4 with a 4" comfort grid layer.
Unlike other mattress brands where different comfort options cost the same, the price goes up as the mattress gets thicker.
The Purple 3 Queen costs $2,299 while the Purple 4 Queen costs $2,999. These are not exactly the cheapest mattresses online.
But at least they have a financing option via Affirm if you'd prefer paying in small chunks.
After selecting your comfort level, choose your preferred mattress size and then checkout.
There are six mattress sizes available: Twin XL, Full, Queen, King, Cal King, and Split King.
Note: Currently, Purple is giving away free sheets and a sleep mask with every purchase of a Purple Hybrid Premier mattress.
---
Detailed Comparison
| Mattress | Comfort Layer | Mattress Thickness | Comfort & Feel | Best For | Price (Queen Size) |
| --- | --- | --- | --- | --- | --- |
| Purple 3 | 3" smart comfort grid | 12" | Medium (6/10) | Back and combined sleepers | $2,699 |
| Purple 4 | 4" smart comfort grid | 13" | Soft (4.5/10) | Side sleepers as well as heavier sleepers | $3,499 |
---
Price Comparison
The New Purple mattress is quite a bit better than the original one – but it is also more expensive.
The cheapest Queen Purple 3 costs $2,199, whereas an original Queen Purple sells for $1,099.
But it's understandable when you consider this is a thicker hybrid mattress with an improved comfort grid layer and a pocket coil base.
Listed below is the full price list for the New Purple mattress.
NOTE: Visit Purple's official website to see current prices, discounts, and offers.
| | | | |
| --- | --- | --- | --- |
| | Purple 2 | Purple 3 | Purple 4 |
| Twin XL | $1,599 | $2,199 | $2,899 |
| Full | $1,849 | $2,399 | $3,199 |
| Queen | $2,099 | $2,699 | $3,499 |
| King | $2,599 | $3,299 | $4,099 |
| Cal King | $2,599 | $3,299 | $4,099 |
| Split King | $3,498 | $4,698 | $6,098 |
NOTE: You may qualify for financing with Affirm – Purple will tell if you do, during checkout.
---
100-Night Trial
You get the same 100-night trial period as the original Purple mattress. But you have to sleep on the mattress for at least 30 days before making a return.
After that, you can return the mattress free of charge (as long as it's clean and undamaged) and get a full refund.
You can also request an exchange. You'll first get a full refund on your returned mattress, after which you can place an order on another mattress. The second mattress will not come with a trial period.
---
Purple Mattress 10-Year Warranty
The warranty is also the same as the original Purple mattress, which I don't think is a good thing.
For a mattress costing over $2,000 and for some sizes more than $3,000, they should have provided, ideally, a 15 or 20-year warranty.
It's after all an inner-coil mattress, and I'm sure it can easily last more than ten years.
---
Shipping
Shipping is free for customers to the continental US, but shipping times are unpredictable because of high demand.
Purple says home delivery will take 1-2 weeks. You'll get a tracking number as soon as the mattress ships so you can prepare for its arrival.
For now, they only ship to the US. If you are ordering from Alaska and Hawaii, there will be a shipping charge added at checkout.
---
Delivery and Setup
Purple provides free white glove delivery to the 48 contiguous states (Alaska and Hawaii pay extra).
They deliver the bed, set it up for you, and even get rid of your old mattress if you want.
This is good because these mattresses are heavy! For example, the medium-firm queen weighs 145 lbs.
After the mattress is unrolled on your frame, it takes very little time for the bed to expand to full size.  It's ready to sleep on almost immediately.
---
Foundation and Frame
What type of bed frame/support does Purple require?
The mattress is heavy, so you must use sturdy support, whether it's a box spring, foundation, or slatted frame.
You can void the warranty if the support is not adequate.
The warranty specifically states that if you buy a Queen size mattress, the frame must have at least five legs, including a center support.
Does Purple work on an adjustable bed?
Yes, it does.
---
Care and Cleaning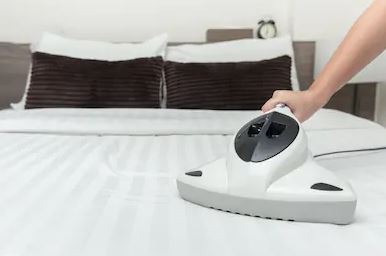 Is a mattress protector needed for Purple?
It's not mandatory, but Purple highly recommends it to avoid damage to the mattress, which could void the warranty.
If you use a mattress protector, make sure it is stretchy and breathable.
Do you need to rotate the Purple mattress?
No, it's not necessary.
---
Aesthetics and Styling
The New Purple sticks with the simple, minimalist styling of the original mattress though there are a few differences.
The cover is white on top and gray on the sides. Some patterns on the surface create a nice texture.
At the center of the mattress surface, the patterns form the word 'Purple' in large letterings.
Overall it's a very simple design.
---
Construction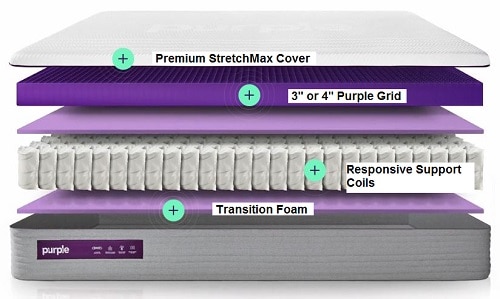 As I mentioned, the New Purple mattress is a hybrid mattress. It uses a polymer comfort grid at the top and fabric-encased coils in the base.
The only difference between the Purple 3 and 4 is the thickness of the comfort grid. It's 3" and 4" respectively. The thicker the grid, the softer the mattress.
When you lie on the mattress, the grid walls react selectively to the amount of pressure on them.
They'll collapse under your shoulders where there is more pressure and remain flat under your lower back. This ensures you get support and contouring exactly where you need them.
You can read more about how the Smart Comfort Grid works in our original Purple review.
Below the comfort grid, there is a thin layer of poly foam, which acts as a transition between the comfort layer and the coil layer. It ensures you don't feel the coils underneath.
The base consists of fabric-enchased coils made from recycled steel. Because the coils are pocketed, they provide very good contouring and motion control. They also don't trap any heat or moisture within the mattress.
All New Purple mattresses have a 7.5" coil base.
Finally, the whole mattress is encased in polyurethane foam on the sides. This not only holds the layers together, but it also boosts edge support.
---
Mattress Cover
The top part of the cover is a knit fabric consisting of 98% polyester and 2% spandex. This makes it soft, breathable, and stretchy.
The sides consist of woven fabric made from 99% polyester and 1% spandex. The bottom is 100% polyester.
The cover is removable but not machine washable. You should only spot clean it using cold water and mild detergent
---
Smell/Off-gassing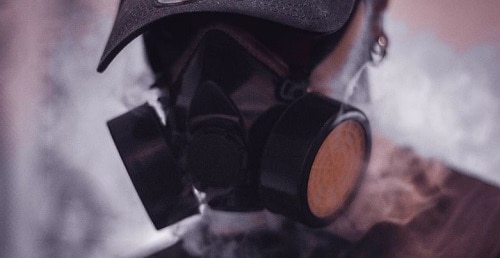 Unlike foam mattresses, the Purple mattress emits very little off-gassing. You only get a faint 'new mattress' smell that fades away in a day or two.
---
Sleeping Experience
One of the biggest selling points for the Purple mattress has always been its ability to provide a custom sleeping experience for every user. It's like the mattress knows what you need.
The comfort grid layer responds uniquely to your body physique and sleeping
position.
The contouring is just right, support is excellent, and the bounciness provided by the polymer grid and coil layer is an absolute pleasure.
Of course, the sleeping experience will vary among the three mattresses. The Purple 2 will feel more solid while the Purple four will feel plush.
So you must buy the right one that you'll feel most comfortable on.
---
Firmness Options
These three mattresses deliver three different firmness levels, mostly by altering the thickness of the comfort grid on top. The rest of each mattress remains mostly the same.
Purple 3 is a medium-firm (6/10), and the Purple four is the softest (4-5/10).
Purple 3 is the best option for most people, including back sleepers, couples, and people with back issues.
The Purple 4 mattress is perfect for side sleepers or anyone who loves sleeping "in" a plush, highly-conforming mattress.
---
Sinkage
Sinkage will depend on your body weight and the Purple mattress model you select.
The Purple 4 has by far the most sinkage, and that's why it feels softer – while Purple 3 has the least sinkage hence feels firmer.
One thing I like is that sinkage is not too much at the edges of these three models. The edge support system holds you well when you sit or sleep near the edge.
---
Motion Transfer
There is virtually no motion transfer in the Purple Hybrid Premier mattress – thanks to the motion-killing grid layer and pocketed coils.
---
Hot/Cold Issues
All Purple mattresses are temperature-neutral, meaning they neither get too hot nor too cold.
The grids in the top layer and the spaces within the pocketed coils do the heavy lifting here – by allowing excess heat to dissipate out of the mattress.
---
Frequently Asked Questions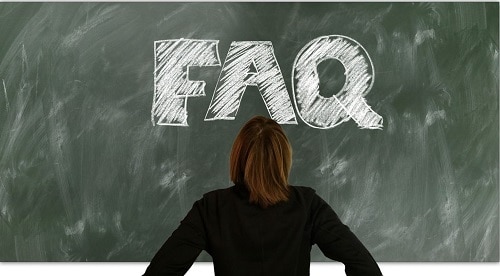 Is the Purple mattress toxic?
No. The Purple mattress is completely safe.
The foam used is CertiPUR-US certified, guaranteeing that it is free of hazardous chemicals.
The Purple Hybrid Premier mattress also has Intertek's Clean Air Certification, which means the mattress has been checked for the lack of VOC emissions and has passed.
The new Purple mattress, despite having foam, does not off-gas, only a slight new mattress smell that goes away in a day or two.
You may have heard about a supposedly dangerous white powder found in Purple mattresses.
It's not dangerous. Purple addressed those concerns in a blog post.
The powder is non-toxic polyethylene copolymer powder or simply plastic powder. It's not talc powder.
It is food-grade, chemically inert, and completely harmless.
Purple adds it to their mattresses to prevent the special stretchy material in the top layer, the Hyper-Elastic Polymer, from sticking together.
Which Purple mattress is best for side sleepers?
We recommend the Purple 4, the softest of the three mattress variations.
It has a 4" thick hyper-Elastic Polymer layer, which makes the mattress soft and plush. This allows the Smart Comfort Grid to conform easily around your hips and shoulders and prevent pressure points.
Is the Purple mattress soft?
Only the Purple 4 mattress feels soft. The thicker top layer gives it a plusher feel and more sinkage.
The Purple 3 balances between soft and firm for a medium feel, which most people find the most comfortable.
The Purple 2 (Purple Hybrid) falls on the firmer end. But it still feels a bit soft under pressure points like your shoulders. This ensures that you still get adequate pressure relief even when sleeping on the firm mattress.
How is the firm Purple mattress?
On a scale of 1 to 10 where ten is the firmest, here's how the three mattresses rank.
Purple 3: 6/10
Purple 4: 4.5/10
Note that these are general ratings. Depending on your physique, body weight, and sleeping position, your mattress might feel softer or firmer than indicated.
But generally,  Purple 3 is medium-firm, and Purple 4 is soft.
---
Pros/Cons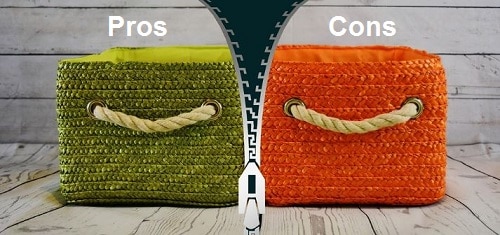 Pros
Very comfortable!
A unique soft+firm feels that adapts to everyone's body like no other.  Perfect for couples.
Almost zero motion transfer.
Excellent edge support.
Sleeps cool & dry.
Cons
This mattress is heavy. While this is a sign of quality, you'll need help moving it.
No Twin size.
It's not cheap.
---
Buy the Purple 3 Mattress If:
You sleep in all positions. The Purple 3 feels comfortable for the stomach, back, and side sleepers.
You have different comfort preferences from your partner. Purple 3 is the perfect compromise. It's neither too soft nor too firm.
You have back problems. The Purple 3 provides pressure relief, good support, and proper spinal alignment.
Buy the Purple 4 Mattress If:
You sleep on your side most of the time. The Purple 4 mattress conforms best to your body, relieving pressure from your hips and shoulders.
You want a luxurious plush mattress. Because of the thicker Smart Comfort Grid, the Purple 4 mattress sleeps softer than the other mattresses but without feeling swampy.
You have a heavier body. The Purple 4 mattress can take on more weight and provide great contouring without compromising support.
---
The Purple 3 Mattress is Perfect For You If…
You constantly switch sleeping positions at night. The Purple 3 feels great in all sleeping positions.
You are looking for a cool mattress.
You sleep with your partner. The Purple 3 has excellent motion control and feels comfortable even for couples with varying comfort needs.
You want a mattress that's neither too firm nor too soft.
The Purple 4 Mattress is Perfect For You If…
You want a luxurious mattress and don't mind paying more for it.
You prefer sleeping on a super soft but supportive mattress.
You are a side sleeper, meaning you need more contouring from your mattress.
You sleep hot and need a cool mattress.
---
Conclusion
A great mattress has become even better.
Now you can enjoy the combined benefits of the famous Smart Comfort Grid and pocketed coils.
The new design may have doubled the price, but I think it's still a great bargain.
And unique!
---
Where To Buy The New Purple Mattress
Visit the official Purple website to order the new Purple Hybrid Premier mattress.
TIP: Be careful when buying from Amazon, eBay, and other retail outlets: you may not get the full money-back return and warranty policies offered by Purple when ordering on their site.
---
Other Purple Mattresses
In addition to the Purple Hybrid Premier, Purple sells two other mattresses: the original Purple and the Purple Hybrid.
The original Purple mattress is what started it all. It is an all-foam mattress with a 2" comfort grid layer. It's a great choice for anyone looking for a cheaper Purple mattress.
Purple Hybrid was originally called the Purple 2 mattress. It is the cheapest hybrid mattress Purple sells. It has a 2" Comfort Grid layer and a pocket coil base.
---
How the Purple Mattress Compares
See how the Purple mattress compares to other top online mattresses in the following in-depth matchups.
---
Affiliate Disclosure
Affiliate Disclosure: I may earn a small commission (at no cost to you) if you purchase a mattress after clicking a referral link or using a coupon code on this site. That said, all content and opinions on this site are my own and are NOT affected by these payments.
This site participates in the Amazon Services LLC Associates Program, an affiliate advertising program designed to provide a means for sites to earn advertising fees by advertising and linking to Amazon.com.
*Amazon and the Amazon logo are trademarks of Amazon.com, Inc, or its affiliates.
---