NOTE: We earn from qualifying purchases made via Amazon Associates and other affiliate programs. Learn more.
---
Shopping for the Best Feather Mattress? Then Look No Further, for You Have Come to the Right Place!
Feather mattresses are soft and comfortable to sleep or lie down on. They provide support to the posture and pressure points of the body, making the body relax. There are numerous options available on the market for you to choose the right feather mattress for yourself.
They vary in design, material, and longevity of use. With so many choices, the task of choosing the right mattress might get confusing and daunting.
But worry not! This is where we come in and help you. We have formulated a detailed guide in this article about the best feather mattresses to ease the process for you.
---
What's in This Buying Guide
This buying guide has everything you need to know about feather mattresses. We start by explaining the need for a feather mattress and the circumstances under which you might need one.
Afterward, we introduce the top six options that we dug out based on the presence of quality features. Next, we give a detailed review of all of the six types and what they are best for.
Lastly, we explain the main features that you should look for when buying a feather mattress so that you can make your own choices easily.
---
Who Should Buy a Feather Mattress Topper?
Anyone looking for a mattress topper that is lightweight and breathable as well as soft would like a feather mattress topper. People widely use it for neck and back pains that may arise from sleeping on firm mattresses.
Not only that, but you can also put these over a firm mattress and enjoy the benefits of both. 
People who do not like the heat retention in memory, or other hard mattresses will find a feather mattress topper an affordable alternative, which does not catch and retain much body heat.
For small apartment holders who need to move the mattress often, a feather mattress topper is again a good choice for it is lightweight and easy to relocate.
---
Best Feather Mattress Toppers
---
We believe that a feather mattress should have a high percentage of authentic feather fill and give a comfortable experience. Our first pick exceeds expectations in both these criteria.
It is one of the most comfortable mattresses available on the market and is filled with a soft fluffy material.
Pros:
Contains 95% goose feather and 5% goose down fill.

High fill weight of 21.6 pounds for a plush and soft feel.

550 fill power gives maximum loft and easy breathability.

Baffled design prevents shifting of feathers and maintains comfort.

5" side gusset maintains the structure of the mattress and prevents stress on the body.
Cons:
Feathers might occasionally stick out of the surface, so constant use is required to set the form of the mattress.
Our Review:
This mattress is from Millsave, a brand that has been releasing quality products for quite some time. The company is known for upholding quality and providing exceptional service to its customers.
The Millsave Premium Goose Down is made with 95% goose feather and 5% goose down fill. This, combined with the baffled design gives the mattress a fill power of 550, and a fill weight of 21.6 pounds.
To hold the structure and prevent the shifting of feathers, the baffle design is further reinforced with a 5" gusset. This gusset not only maintains the shape of the mattress but also acts as a cushion between the body and the edges of the mattress.
A nice soft plush is experienced when you sit or lie over the mattress. After opening the vacuum-sealed packaging, the mattress might need some fluffing and airing.
This would help bring all the feathers in place and provide even softness throughout the mattress.
We do not recommend this mattress for those who might have allergies to goose feathers. The feather mattress might also give a light odor initially. So, those who have a sensitive nose and experience odor sensitivity should not use this mattress either.
You can use this feather mattress over a firm mattress to add more softness to your bed or use it to rejuvenate old mattresses.
In either case, the mattress is bound to make you feel relaxed. With good fill power and weight, you won't experience the mattress weighing down too quickly. Under constant use, the mattress can last for a couple of years easily.
Moreover, you don't have to worry about absorption of spills or leakage in the mattress either. The mattress features a thread count of 233. It forms a closely knitted meshwork of thread, making it hard for liquids to squeeze through.
---
Many people require a firm mattress that can maintain the back posture, but it is difficult to sleep on firm mattresses used for this purpose. Feather mattress toppers like the Puredown White Goose Feather Topper are an ideal way to add some softness to such arrangements.
This way, you get not only extra support for your back but also soft bedding for your muscles to relax.
Pros:
Two types of stuffing; polyester and white goose feather.

Outer cover is made of 100% cotton to give a smooth and gentle surface.

Made with expertly selected, cleaned, and disinfected material.

Baffle box construction is reinforced with elastic bands for maintaining structure and easy setup.

Double-needle stitching keeps the feather in place, preventing mattress deformation.
Cons:
Needs to be fluffed daily for optimal structure and comfort.
Our Review:
Several things make this feather mattress topper an excellent choice for using over a firm mattress. It has two layers. An upper layer is filled with 75% goose feathers and polyester, while the lower layer has natural white goose feathers.
The use of two layers in the design keeps the feathers in place and prevents them from poking out. As a result, the users get a nice and soft mattress to sit or lie on.
Moreover, the baffle box construction keeps the mattress from shifting. This mattress has smaller-sized stitched squares on its shell that further aid in preventing poking and shifting of feathers.
At the underside of the mattress, there are elastic bands that you can use to fit the topper over the harder mattress. With the elastic bands in place, the mattress topper does not move or slip out of place as your turn during your sleep.
You would hear no crunching or cracking sounds from the topper, thanks to the expertly selected material that it is composed of. All the material used in this mattress is diligently selected, and cleaned to ensure maximum customer satisfaction.
To make things as comfortable as possible, the topper is covered in a cotton cover. The 100% cotton cover is gentle on the skin and breathable. These features prove especially helpful for people who get allergies to other types of fabric material.
The breathability ensures that even though the topper is soft and plush, it does not make the user sweat.
We would not recommend this mattress for those who want a low-maintenance mattress that does not need regular fluffing. For optimal comfort, you will need to fluff this mattress almost every day. People with a busy lifestyle might find this task time-consuming.
If not fluffed, the mattress does not hold structure for a very long time.
---
Buying a good mattress topper does not need to empty your pocket. You can find comfort at a reasonable price in options like the Parachute Down Mattress Topper. This topper is made with authentic material to give you a five-star feel but at a contained price.
Pros:
Features premium, all-natural European white down fill for a luxurious feel.

Made with 85% down and 15% down and goose feather fibers.

Outer cover is made with 100% sateen cotton to enhance the breathability of the mattress.

3D baffle box construction prevents feathers from shifting.

Comes with a three-year warranty.
Cons:
Has a gusset height of three inches, which might not provide enough softness for using over a firm mattress for some users.
Our review:
Suitable for all age and weight groups, the Parachute Down Mattress Topper gives great value for the money. A dual-chamber design supports two layers for enhanced comfort.
These layers contain 85% down feather and 15% of goose feather fiber. The European fill is authentic and of premium quality, so there is no compromise on softness.
To prevent feather shifting and keep them evenly distributed, the mattress topper features a three-dimensional baffled design that ensures support for the fill from all sides to maintain its structure for the longest time possible.
With a fill power of 550, you get a luxurious five-star feel from the mattress that is bound to leave your body well-rested and energized.
The mattress is suitable for all sleeping styles, including the side and stomach. It also provides good support to those who suffer from back pain.
However, we would not recommend this option for people looking for a topper for putting over a firm mattress. With a three-inch gusset height, the Parachute mattress topper might not provide enough plush and softness for many users.
Moreover, this mattress needs dry cleaning and is not compatible with wet wash.
All things considered, this mattress ensures a comfortable experience at a reasonable price. It gives a good deal for the money as it comes with a three-year warranty as well.
---
For good support to the posture, often, a thinner mattress topper is preferred. Such a topper should have a significant filling of goose feathers to ensure softness and comfort to the body along with good support. The Sweet Jojo White Goose Feather Topper is designed to provide good support to the various pressure points in the body.
Pros:
95% goose feather and 5% white goose down filling gives a soft feel.

The 240-thread count prevents poking of feathers as well as seepage of leakage.

Sewn 10-inch baffle box construction to maintain the structure.

100% cotton cover is gentle to the skin and very breathable.

Lightweight and easy to fluff and move around.
Cons:
The 10-inch baffle box is not the best size to keep the feathers from poking out.
Our review:
For use with firm mattresses like a memory mattress, the Sweet Jojo White Goose Feather Topper is an excellent option. This is because it provides good support to the body without compromising on the softness of the mattress.
Our body has pressure points in the muscles that are stressed after a day's work. They need to relax with proper pressure application. Many people use memory foam for this purpose, but such options can be a bit too firm to relax.
You can use feather toppers like the Sweet Jojo White Goose Feather Topper under such circumstances so that your body gets the right support as well as the appropriate softness for a good night's rest.
Made with a high concentration, i.e., 95% of goose feather, this mattress topper has a comfortable and plush feel to it. The rest of the 5% is white goose down filling that further reinforces the softness. Covering all the soft fill is a 100% cotton cover.
The cotton cover has the added benefit that it does not trap a lot of body heat. This helps with breathability and prevents sweating when sleeping.
To keep the feathers from moving, the mattress features ten-inch sewn squares. The cotton cover has a thread count of 240 that keeps the feathers from poking out.
If you want a feather mattress that feels like a soft cloud, then this option might not be the one for you. This mattress topper is better used for strengthening the overall support to the body. Hence, it is not the softest option on the market.
It should be thin so that the firm mattress underneath it could provide support and pressure to relax the body muscles.
---
A good mattress topper can help enhance sleep and make the user feel more rested. Our next pick, the Allied Essentials White Down and Goose Featherbed, is widely celebrated as one of the mattress toppers that ensure a restful sleep.
Pros:
Dual-layer design with a soft and fluffy upper layer and a supportive bottom layer.

550 fill power provides extreme comfort and cradles the body.

The fill is Responsible Down Standard certified to ensure customer's safety.

Hypoallergenic 100% cotton cover is gentle against the skin and prevents respiratory issues.

300 thread cotton design prevents poking of feathers and seepage of liquid into the mattress.
Cons:
Prone to slipping off the bed with excessive tossing and turning.
Our review:
Filled with certified feathers, the plush and soft Allied Essentials White Down and Goose Featherbed makes it feel like you are sleeping among the clouds. The pillow-like surface relaxes the tense body, inviting a blissful sleep.
Featuring a dual-layered design, the mattress topper consists of ultra-soft white down and goose feathers. The top layer has a down fill that makes it plush and soft. The upper layer's turtle top construction makes it fluffy, allowing the body to comfortably sink in it.
The layer at the bottom is filled with goose feathers for extra support. Together, a fill power of 550 is achieved in this mattress.
To ensure that users are not subjected to unhygienic or dirty fill, the company gets its fill certified for Responsible Down Standard. Furthermore, the cover surrounding the two layers is hypoallergenic and made completely with cotton.
This ensures that users do not get any rashes or hypersensitive reactions from the mattress.
The 300-thread count forms a close-knit network so that the feathers do not poke out and irritate the sleeper. If you are not satisfied with your purchase, you can get a full refund or replacement from the company without any questions asked.
Combining all these factors together forms a very soft and durable mattress topper that helps enhance sleep for its users. Those who have trouble relaxing their body at night and lose sleep in the process will find this mattress topper very beneficial.
---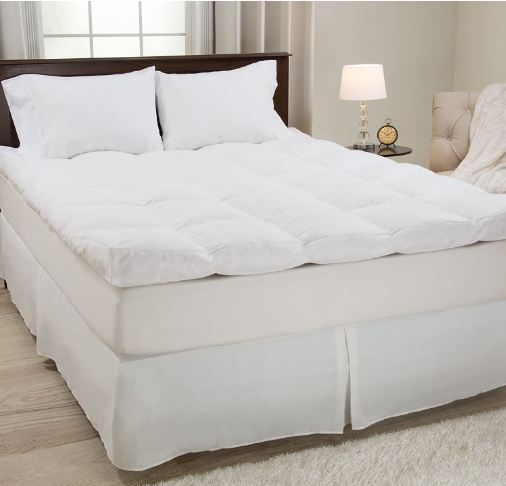 A good mattress topper should provide the perfect balance of heat retention and breathability. Balanced temperature retention makes the mattress usable throughout the year during different seasons. Our last pick, the Bluestone Duck Feather Topper, is one such option.
Pros:
Filled entirely with duck feathers.

Cover is made entirely out of cotton and has a thread count of 233.

95% duck feather and 5% down feather give a soft and breathable fill.

Very lightweight and easy to fluff.

Four inches of height cushions the body and relaxes the muscles.
Cons:
Needs proper fluffing every day.
Our Review:
A lightweight mattress also means that it is quite breathable. The Bluestone Duck Feather Topper weighs only nine pounds, which shows that it has a fluffy and airy interior. However, that does not mean that the mattress does not get warm at all. A cold mattress is uncomfortable to sleep on.
For optimal sleep during summers, the mattress should match the body temperature. In winters, layering with a duvet or blanket helps retain heat inside the mattress, making it warm and cozy.
However, the Bluestone Duck Feather Topper gives the same perfect balance of breathability and warmth. As a result, it is deemed suitable for use under all weathers.
The filling of the mattress is sourced entirely from duck feathers. It consists of 95% duck feather and 5% down feather. This proportion gives a soft feeling to the body and, at the same time, provides support to it as well. This topper too, features a cotton cover with a thread count of 233.
The high thread count prevents the feathers from falling out and maintains structural integrity. This also ensures that the feathers do not stick out and trigger sneezes.
A height of four inches makes it usable over firm mattresses as well. However, for optimal conditions, it needs refluffing every day. All in all, this mattress topper is a great option for those looking for something that could be used year-round and maintain its softness.
---
Buying Guide: What to Look for in a Feather Mattress Topper
We now know that a feather mattress topper could really affect our sleep. Therefore, you need to choose one carefully. In addition to your preferences and needs, there are some other factors that you must consider. Careful consideration of these factors will help you make the right choice.
Construction design:
One of the very important things to consider is the construction design of the mattress topper. In this regard, you should see if the topper is single-layered or multi-layered, as well as how it is sewn. Usually, multilayer toppers are plusher and deemed softer than single-layered mattresses. 
The baffle box design is a popular construction design because it ensures an equal distribution of fill throughout. This design features feathers packed in small 3D squares throughout the mattress and sealed with stitches. This way, the feathers do not have room to move and stay evenly distributed.
Moreover, you should buy a mattress with more quantity of downside feathers if you are looking for a softer option.
Durability:
Feather toppers lack stiff fills. They are made entirely from the plumage of birds. This is why they settle down under the weight of the human body. A nice and fully packed mattress is more durable than a thinly packed one.
The more the feather, the plusher and softer the mattress topper. However, all toppers will need regular fluffing to maintain their structural integrity.
Another thing that affects the durability and longevity of the mattress topper is the thread count. The thread count measures how tightly bound the threads of the cover surrounding the topper are. A high thread count is preferred because it prevents the feathers from poking out and irritating the user as well as from falling out.
Fill power and fill weight:
Depending upon the amount of feather and down present inside the mattress, the mattress's fill power and weight vary. Fill power measures the loft and amount of feather used in the mattress. The higher the fill power, the better the loft, and the more comfortable the mattress topper.
Usually, mattress toppers hold a fill power of 400-450 that provides midrange comfort and is more widely affordable. Higher-end toppers have a fill power of around 450 to 550. These are much softer with a better loft and provide more comfort.
The fill weight determines the weight of the fill in a mattress. This factor determines how moveable a certain topper is. A fill weight of less than 20 is easier to handle and move.
People who cannot exert much strength, like the elderly, use mattresses within this range. Heavier fill weight is difficult to move, but it offers more comfort and softness.
Size:
The size of a feather mattress topper includes its length, breadth, and height. The first two dimensions need to match the size of your bed; otherwise, the topper won't fit the bed. Sellers provide size charts for the purpose.
The height of the mattress topper is directly linked to the softness and support it provides. Usually, the thickness ranges from 2" to 5". Toppers with an elevation of 2" are thinner.
They are often used to add some level of softness to an otherwise firm bed for people experiencing back pain or stomach issues. 
People who want to feel the support of a firmer surface underneath the topper but also want a degree of softness to relax muscles usually use toppers with a height of 2-3".
The higher heights of four and five inches provide a greater cushioning effect. They are softer to sleep on and provide lesser contact with the hard surface underneath. Such mattresses are especially useful for side sleepers.
Type of feather:
Usually, goose and duck feathers are used as a fill inside a mattress topper. There is a further variation of top or downside feather among these options. The down feather is covered by top feathers and is much softer from among the two.
Goose feathers are considered to give higher fill power and hence offer more comfort. Meanwhile, duck feathers are larger and more evenly distributed. They provide a firmer surface compared to goose feathers. Goose feathers are also more expensive than duck feathers.
Final Verdict:
We believe that the Puredown White Goose Feather Topper is the best feather mattress topper from amongst our discussed options. It used disinfected material and has a 100% cotton cover and a baffle box design for maximum comfort and customer care. However, the best topper also depends on your personal preferences, so make sure you shop wisely. 
---
Affiliate Disclosure
Affiliate Disclosure: I may earn a small commission (at no cost to you) if you purchase a mattress after clicking a referral link or using a coupon code on this site. That said, all content and opinions on this site are my own and are NOT affected by these payments.
This site participates in the Amazon Services LLC Associates Program, an affiliate advertising program designed to provide a means for sites to earn advertising fees by advertising and linking to Amazon.com.
*Amazon and the Amazon logo are trademarks of Amazon.com, Inc, or its affiliates.
---