Loom and Leaf Review
Summary
A luxury organic memory foam mattress that easily matches the sleep experience of premium store brands, for far less money.
Great Choice for: people who want a luxury organic foam mattress without the high price; and, couples who need different firmness levels in the same mattress.
Avoid if: you prefer a softer mattress.
Price: $1,095 -$2,595
NOTE: We earn from qualifying purchases made via Amazon Associates and other affiliate programs. Learn more.
---
Loom and Leaf's luxury foam mattress offers the same quality as luxury brands iComfort and Tempur-Pedic®,  but for a LOT lower price.
Loom and Leaf is a luxury memory foam mattress sold by a subsidiary of Saatva, one of the largest and best-rated direct-to-home mattress manufacturers in the US.
Price-wise, L&L is closer to other online mattress companies like Nest Bedding, Keetsa, Tuft and Needle and Leesa.
So how does it compare?
As you will see in this 10-minute review, Loom and Leaf performs at the same level as Tempur-Pedic.
Most notably, the Loom and Leaf mattress excels at temperature control; it is one of the coolest memory foam mattresses sold today, at any price.
Even better, the Loom and Leaf is a steal when compared to leading store-bought memory foam brands.
For a queen memory foam bed of this quality, you might pay $2,500 in a store – but a queen-size Loom and Leaf sells for just $1,599.
So let's take a 10-minute deep dive into the Loom & Leaf, to see what it has to offer – and whether it is worth your hard-earned money.
---
What's In This Mattress Review
This page will take about 1- minutes to get through.
Use this table of contents to skip to the features you care most about.
To return to this outline, touch ↑ Table of Contents.
---
About Loom and Leaf
Loom and Leaf is owned by Saatva but operates as an independent company.
Both companies share Saatva's 14 factories and 44 fulfillment centers in the US, but the Loom and Leaf team is responsible for the entire customer-facing process, from inquiries to delivery and service after the sale.
Despite being relatively new in the factory-to-consumer mattress market, Loom and Leaf has experienced rapid growth as word about their product quality and excellent customer service has spread.
The company claims their customer service is much better than you will find with other direct-to-consumer mattress companies.
---
Social Impact
For Loom and Leaf, life is not just about making and selling mattresses; they also care about the environment and giving back to their community.
To this end, the company has made a commitment to use only environmentally sustainable materials in their mattresses.
For example, the Loom and Leaf mattress uses the following materials:
plant-based foams
100% organic cotton cover
for their flame retardant, the company avoided using harmful chemicals and instead opted for natural thistle, a natural material that is safe for your health and very effective.
Loom and Leaf is also committed to minimizing their carbon footprint as much as possible.
They are a member of the Sustainable Furnishings Council (SFC), something that no other online mattress company claims as far as I am aware.
Loom and Leaf's parent company, Saatva, has partnered with numerous charitable organizations to give away hundreds of mattresses to the less fortunate in our society.
---
Price
For a high-quality mattress that does not compromise on anything, the Loom and Leaf's price is hard to beat.
And all orders come with FREE White-Glove delivery and FREE old mattress take-away – a savings of $200 vs. most other mattress manufacturers, who charge extra.
Here is their full retail price list:
These prices are far lower than better-known memory foam mattresses, but Loom and Leaf perform equally well, if not better (certainly cooler).
---
Purchase Process
The only place you can order a Loom and Leaf is on their website.
The purchase process is simple and straightforward.
There are two comfort levels available for sale: the Loom and Leaf Relaxed Firm is for those who want a medium-firm feel, and the Loom and Leaf Firm for sleepers who prefer a much firmer surface.
As for sizes, the following are available:
Price varies based on the size of the mattress, ranging between $699 and $1,399.
This is about the same as a Nest Bedding mattress, but more expensive than a comparable Leesa mattress.
That said, the Loom and Leaf is a higher-quality mattress and offers a choice in comfort level, which Leesa does not.
Add a Frame
On their website, Loom and Leaf also sells foundations and frames that fit your mattress:
A simple frame costs $99, while the cost of a foundation ranges from $250 to $285.
The company does not collect sales tax for online orders.
---
Shipping
Once you complete your order, your mattress will be delivered within 7 to 15 days, anywhere within the contiguous United States.
Unlike other online foam mattress companies, Loom and Leaf does charge for shipping.
Shipping fees depend on your location, but they typically add about $99 to your price.
---
Delivery & Setup
In-home White Glove Delivery and setup is complimentary for Loom and Leaf customers. Most other foam mattress companies expect you to do everything yourself.
To ensure your delivery goes well, you will receive a call one day before the delivery date. You will be asked to set aside a 4-hour window for delivery.
If the driver is late, you will be notified and you can reschedule delivery at no cost to you, or you can cancel the order with a full refund, including the cost of delivery.
If you are not home when the driver gets there, then you can reschedule delivery for an extra fee, or cancel the order for a full refund minus the delivery fee.
After your mattress is set up, Loom and Leaf will also haul away your old mattress and old foundation – for FREE.  Almost no one else hauls away for free, any more.
---
Smell/Off-Gassing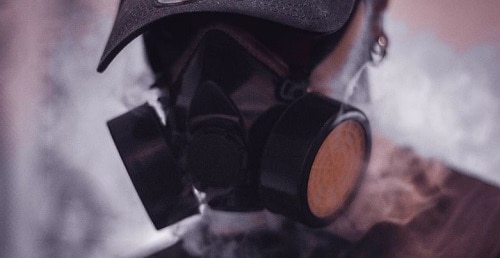 Most direct-to-home foam mattresses are shipped compressed, which makes shipping easier and cheaper.  This means that when the mattress arrives in your home, it has to go through a period of expansion that often involves off-gassing of chemical vapors.
But if you are expecting a "new foam smell" with a Loom and Leaf, you will be pleasantly disappointed.
Loom and Leaf ships their mattresses stable and uncompressed, so when you receive your mattress there is zero off-gassing.
---
Styling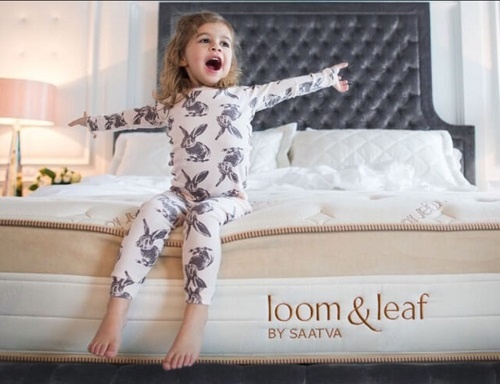 The first thing that strikes you when you see the Loom and Leaf mattress out of the box is: this thing is a luxury product.
This is a mattress that looks, feels and is luxurious.
Everything about the looks, from the cover to the stitching, smacks of a fine attention to detail.
The top quilted organic cotton cover has a beautiful texture. Along the edge of the mattress is a fine gold trim that adds to the luxe look.
The stitching looks straight and tight and adds to the premium feel.
On the sides, you will also find handles that make moving the mattress much easier.
---
Cooling Technology
The most notable technology used in the Loom and Leaf mattress is the medical-grade gel layer embedded in the memory foam along the spinal zone.
This cooling gel is the same used in hospitals and burn units. Its purpose is to keep the mattress cool when you are asleep.
This gel is a big reason why Loom and Leaf is the market leader when it comes to temperature control, out-performing the much more expensive Tempur-Pedic.
---
Mattress Construction
The Loom and Leaf mattress is comprised of four layers of foam, each designed for a specific use and benefit.
While the foam layers are not certified organic, they are all plant-based and CertiPUR-US certified.
In addition, there are no harmful volatile organic compounds (VOCs) given off by the mattress.
1. 100% Organic Cotton Cover
On top of the foam layers is a beautiful 100% organic cotton cover. The cover incorporates a 5/8 inch layer of soft foam which makes the mattress super-comfortable, giving it a nice plush feel. It also contains natural thistle flame retardant instead of chemical retardants.
The high quality cotton feels soft and is breathable, which helps to keep you cool.
The organic cotton and stitching used in the cover is of high quality, with beautiful contours and patterns stitched into the fabric.
Like its competitors, Loom and Leaf does not offer custom cover designs.
2. Conforming Gel Foam
The very top layer of the mattress is a layer of conforming gel foam, which is made by combining a 4 lb memory foam with medical-grade cooling gel and phase change material.
In addition, the top layer uses a gel-only laminated panel that contributes to the outstanding cooling effect that Loom and Leaf is known for.
3. Memory Foam
The second layer consists of 2.5 inches of 5 lb bio-based memory foam. The purpose of this layer is to provide body support and contouring.
4. Transition Foam 
A 2″ thick transition pad allows the top comfort layers and the much firmer base to work together to provide the best support and body contouring.
5. Foundation Foam
The final layer is a 6 inch support base. It is made of a high-density foundation foam meant to provide adequate support to the whole mattress.
---
Sleeping Experience
The Loom and Leaf mattress sleeping experience varies slightly, depending on which level of firmness you opt for.
The Loom and Leaf Relaxed Firm is the most popular option. This is my favorite.
The Relaxed Firm perfectly balances being comfortable with the right level of firmness that most sleepers prefer.
Most customers and reviewers give it a firmness level of 5 or 6 out of 10, and I agree.  This make it a notch softer than the Leesa (6 or 7) and about the same as a Nest Alexander Medium.
The Loom and Leaf Firm is only a tad firmer (7 or 8) than the Relaxed Firm, but it is still very comfortable.
---
Sinkage
A mattress' sinkage is an essential part of the sleeping experience.
If a mattress – even one meant to be soft – sinks too much, it compromises support and causes uneven weight distribution. You can end up waking to various aches caused by a lack of even body support.
The Loom and Leaf mattress performs impressively when it comes to sinkage.
When lying flat on the mattress, the maximum sinkage I saw was 1-1.5 inches. This is just enough for the mattress to contour and mold around your body, but not so much that it inhibits your body's motion.
---
Motion Transfer
How well does the Loom and Leaf absorb motion, preventing it from spreading and disturbing a sleeping partner?
As I observed during my trial, there is essentially no motion transfer. This makes the Loom and Leaf mattress ideal for sleeping with a partner.
If you or your partner tend to move around a lot during sleep, the Loom and Leaf is a good choice.
---
Hot/Cold Issues
When it comes to temperature control, the Loom and Leaf mattress is one of the best sold online today.
I found during my trial that the mattress remained pleasantly cool at all times, with no uneven pockets of warmth or cold occurring.
Thanks to the medical grade gel layer discussed above, body temperature remains constant. The phase change material, breathable foam and the organic cotton top also play a role in Leaf and Loom's success at staying cool.
---
120 Night Trial
With Loom and Leaf, you are allowed to test the mattress in your home for 120 days, risk free. This is 20 nights longer than most of L&L's competitors offer and is plenty enough time to give you an idea of whether this is the mattress for you.
If you find that the mattress does not suit your needs, you can call Loom and Leaf to pick up the mattress for a full refund – no penalty or pickup fees involved.
There are essentially no risks involved here.
Returned mattresses are never restocked, since the seal has been broken and the mattress has been used. Loom and Leaf donates all usable returned mattresses to charities.
---
Warranty
Loom and Leaf offers an exceptionally long 15-year warranty on their mattresses. This is considerably more than the standard 10 years. It speaks to the faith Loom and Leaf have in the quality and life of their mattresses.
This pro-rated warranty covers structural and workmanship defects and the value declines over time.
If a defect occurs within two years, the mattress will be replaced free of charge.
If it occurs within 3-5 years, you pay 25 percent of the original price to replace it
If the return occurs during years 6-10, you pay half the original price
During years 11-15, the mattress will be replaced for 75% of its original price.
Abuse, poor placement of the mattress, burns or soiling of the mattress voids the warranty.
---
Pros and Cons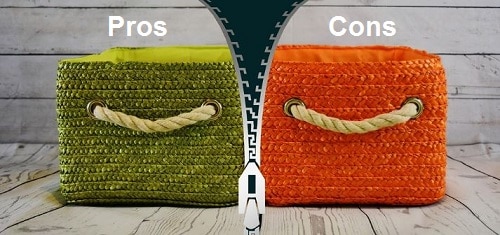 Pros
About as organic as a foam mattress can be
No new-mattress smell / off-gassing
Two types of firmness levels to suit different sleepers
Excellent support
Very little motion transfer
Excellent cooling performance
White-glove delivery and setup in your home
Cons
There is no truly soft version available
More expensive than budget foam mattresses like Casper and Leesa
---
This Mattress is Perfect For You If…
You love a medium-firm mattress that sleeps exceptionally cool.
You want Tempur-Pedic quality without the huge price tag.
You care about organic materials.
You sleep with a partner. The limited motion transfer makes the Loom and Leaf ideal for partners who move around at night.
---
Conclusion
If you were on the fence regarding which luxury memory foam mattress to buy, I hope this review helps to clear things up.
By purchasing a Loom and Leaf mattress, you'll save up to $2,000 compared to similar Tempur-Pedic mattresses. You get the same quality, the same great features and even a few new features (like cooling gel) that you will not find elsewhere.
In addition to saving all that money, the Loom and Leaf mattress looks fantastic, sleeps great and has no new mattress smell.
I love Loom and Leaf's white glove delivery and setup, too.
That said, the Loom and Leaf is for people who like their mattress at least somewhat firm.
If you need a softer luxury mattress that has more sinkage and/or hugs your body, then this is not the right mattress for you. At this level of quality, a softer alternative is the Alexander Signature Select mattress (Soft or Medium Firm comfort level).
If you need to customize your sleeping experience further, then take a look at Helix. They sell a truly unique product that can be tailored to your body type, weight and sleeping style. The Helix is not as luxurious as the Loom and Leaf mattress, but if you're really particular about a custom fit, they're worth looking into.
Finally, if you care a lot about organic materials in your foam mattress, then check out Keetsa, instead.
---
Where To Buy
The best place to buy a Loom And Leaf mattress is on their main website.  You'll be assured of getting the best / latest price as well as their full warranty.
---
How the Loom and Leaf Mattress Compares
See how the Loom and Leaf mattress compares to other top online mattresses in the following in-depth matchups.
---
Affiliate Disclosure
Affiliate Disclosure: I may earn a small commission (at no cost to you) if you purchase a mattress after clicking a referral link or using a coupon code on this site. That said, all content and opinions on this site are my own and are NOT affected by these payments.
This site participates in the Amazon Services LLC Associates Program, an affiliate advertising program designed to provide a means for sites to earn advertising fees by advertising and linking to Amazon.com.
*Amazon and the Amazon logo are trademarks of Amazon.com, Inc, or its affiliates.
---