NOTE: We earn from qualifying purchases made via Amazon Associates and other affiliate programs. Learn more.
Light gray is one of those trendy colors that is classic and timeless, yet edgy and contemporary. As transitional bedrooms are a seamless blend of traditional and modern; this color scheme makes a perfect decor choice.
Being a neutral color, light gray is naturally calming. Light gray evokes a tranquil and serene look. Whether added through paint, furniture, or fabrics, gray works wonderfully to make a space warm and inviting.
Many people hesitate to incorporate this into their spaces as it is often considered dull and boring.
Check out these ten beautiful transitional bedrooms in light gray that help you know how fun and interesting gray bedrooms can be:
1.) Striped Pillows
A warm and cozy bedroom with comfortable bedding and pillows in striped patterns.
2.) A Warm Comforter Set
Check out this transitional bedroom in white with a warm and cozy comforter set in light gray.
3.) An Upholstered Bed
An upholstered bed in light gray is a perfect thing to uplift the overall aesthetics of the bedroom.
4.) Gray Furniture
Light and bright bedroom with a comfy bed with a gray headboard, gray sofa, and comfortable fabrics!
5.) Light Gray Walls
A transitional bedroom with light gray walls, a comfy bed with gray headboard, and gray curtains.
6.) A Fabric Bed
Check out this fabric bed in light gray-making an elegant addition for your transitional bedroom.
7.) Pick Through Comforter & Pillow
You can easily get a light gray color scheme into your bedroom through a warm comforter and pillow.
8.) White & Light Gray Makes a Great Style Statement
Check out this bedroom in white with gray accents on the bedding and mock-up frames on the wall.
9.) Purple Accents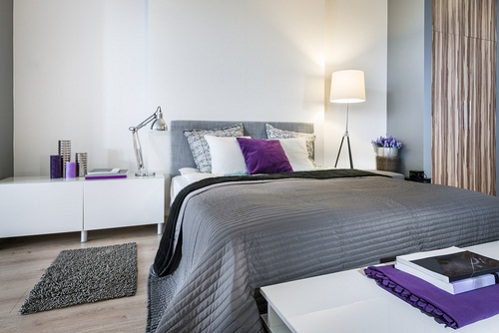 A lovely bedroom with white walls and a gray bed liven up with purple accents.
10.) Accent Chair
Bring an accent chair in light gray for comfortable seating and complement the bedroom's overall color scheme.
Light gray will change the way your overall bedroom looks. It helps you get the desired look and feel of the bedroom. Overall, light shade is one of the most customizable color options.
I hope you got some inspiration from our picks! Happy Decorating!
---
Affiliate Disclosure
Affiliate Disclosure: I may earn a small commission (at no cost to you) if you purchase a mattress after clicking a referral link or using a coupon code on this site. That said, all content and opinions on this site are my own and are NOT affected by these payments.
This site participates in the Amazon Services LLC Associates Program, an affiliate advertising program designed to provide a means for sites to earn advertising fees by advertising and linking to Amazon.com.
*Amazon and the Amazon logo are trademarks of Amazon.com, Inc, or its affiliates.
---