NOTE: We earn from qualifying purchases made via Amazon Associates and other affiliate programs. Learn more.
Hollywood regency bedrooms are full of glamour, luxury, and high style. When designed in grey, a Hollywood regency bedroom becomes an extravagant cocoon of luxury.
Whether you want a highly dramatic look or an unabashed air of refinement, there is every shade of grey to make your bedroom stand apart from the standard theme.
As Hollywood regency bedrooms are all about drama, glitz, and glamour, be explorative with accessories and decorative elements for a rich, unique aesthetic.
Here are ten bold, new Hollywood regency bedrooms in grey that will help you style your space:
1.) Ornamental Headboard
A dark grey bedroom interior with a comfortable bed with ornamental headboard, decorative furniture, and table lamps.
2.) Art Deco Setting
A luxurious art deco bedroom. Exclusive canopy bed with white headboard and curtains, pillows, table lamps, and soft cream bench on the cotton carpet.
3.) A Classic Setting
A luxurious and classic bedroom set with white furniture, gray moldings, and walls.
4.) Decorative Silver
A decorative bedroom reveals a royal look with a silver bed, striped black and beige bedding, an antique candle stand, and the vintage clock on two bedside desks.
5.) Purple Accents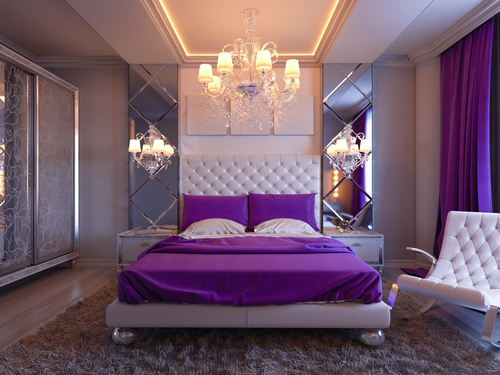 A luxurious grey bedroom with purple bedding and pillows on a white upholstered bed, a hanging chandelier, a tufted chair, and a fur rug!
6.) Grey & Black
A grey-black white color tones of the luxurious bedroom! The decorative walls, high gloss fabrics, bedside desk, and a tufted chair is making a highly luxurious and elegant setting!
7.) Molded Walls
A Neoclassical bedroom with frame molding on walls!
8.) Timeless Appeal
Check out this bedroom with timeless appeal-a large upholstered bed, a hanging chandelier, and grey molded walls.
9.) Silver Detailing
Though golden accents are a hallmark to a Hollywood regency bedroom for a grey theme, silver detailing makes a perfect choice.
10.) High Gloss Fabrics
High gloss fabrics are an excellent way to make your Hollywood regency bedroom elegant and gorgeous.
Hence Hollywood regency bedrooms embrace everything rich, opulent, luxurious, decorative, and revealing high class. The fabrics choices can be silk, plush, velvet, satin, fur, and leather in a range of shades from bold to subtle.
The high-end accessories may come in crystal, marble, stone, and other high shine materials.
Hope you like our post! Happy Decorating!
---
Affiliate Disclosure
Affiliate Disclosure: I may earn a small commission (at no cost to you) if you purchase a mattress after clicking a referral link or using a coupon code on this site. That said, all content and opinions on this site are my own and are NOT affected by these payments.
This site participates in the Amazon Services LLC Associates Program, an affiliate advertising program designed to provide a means for sites to earn advertising fees by advertising and linking to Amazon.com.
*Amazon and the Amazon logo are trademarks of Amazon.com, Inc, or its affiliates.
---