NOTE: We earn from qualifying purchases made via Amazon Associates and other affiliate programs. Learn more.
When creating a moody vibe in your bedroom, there is nothing like soft black statements. It is that classic color that complements a variety of furniture and décor.
Wondering if soft black is the right choice for a Bohemian bedroom? Of course, yes!
If you think black is too dark for a boho bedroom, punctuate it with décor or accessories. Luckily, black is so versatile, and it works well with almost every other shade.
You can paint your one wall in soft black to create a backdrop for other items or bring it through bedding or pillows. You can even bring your furniture pieces in soft black. The choices are endless.
Check out these ten eclectic and interesting boho chic bedrooms in soft black to get some inspiration for your bedroom.
1.) Set the Backdrop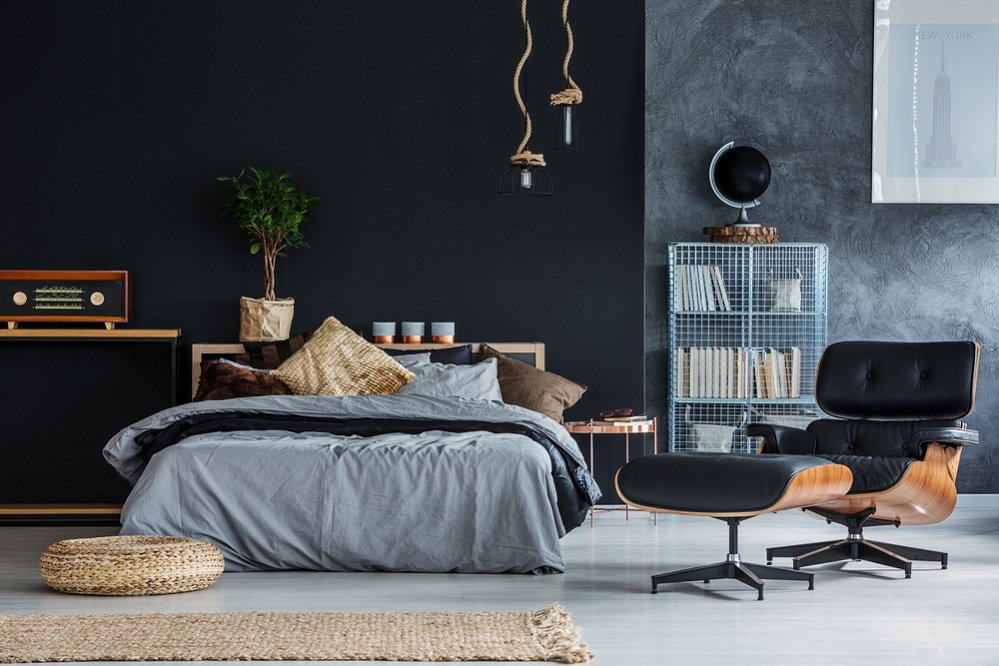 Check out this bedroom with a wall painted in soft black serving as a perfect backdrop for furniture and accessories.
2.) DIY Decor
An eco-friendly bedroom in white and black with DIY décor, a jute rug, and a wooden bed decorated with colorful cotton balls.
3.) Bed Linen
A bohemian bedroom in white with black linen and pillows, a mustard comforter, and a wooden cupboard.
4.) Black Walls
Black walls embrace the night and offer a long and peaceful sleep. Check out this bedroom with black walls against a white bed with comfortable bedding and pillows, rattan lamps, a wooden table, and tropical plants.
5.) Make it an Accent
Light and bright bedroom in white with black accents on the painting, a patterned pouf, and accessories.
6.) Subtle Prints
A bohemian bedroom highlighting a comfy bed draped in linen with subtle prints, pillows, a tent house decorated with cotton balls, and a cotton rug.
7.) Rattan Furniture
A perfectly styled boho bedroom with a dark black wall, rattan furniture, a pouf, and a big plant in a basket.
8.) Black Comforter
Add soft black as an accent in your light and bright bedroom with this style of soft comforter, and a hanging lamp.
9.) Warm & Cozy
A warm and cozy boho bedroom in white and soft black with a comfortable bed with pillows, plaid, blankets, a wooden bench, and dried plants.
10.) Arabic Style
An Arabic-style bedroom highlights artistic details, making a beautiful and warm set up for a quality rest.
Along with the right color scheme, bohemian bedrooms embrace ethnic décor, mandala patterns, recycled furniture, and natural elements. So, go ahead and mix and match everything while maintaining the harmony of the bedroom.
Happy Decorating!
---
Affiliate Disclosure
Affiliate Disclosure: I may earn a small commission (at no cost to you) if you purchase a mattress after clicking a referral link or using a coupon code on this site. That said, all content and opinions on this site are my own and are NOT affected by these payments.
This site participates in the Amazon Services LLC Associates Program, an affiliate advertising program designed to provide a means for sites to earn advertising fees by advertising and linking to Amazon.com.
*Amazon and the Amazon logo are trademarks of Amazon.com, Inc, or its affiliates.
---