NOTE: We earn from qualifying purchases made via Amazon Associates and other affiliate programs. Learn more.
If you're looking to give your bedroom a fresh new look, then cobalt blue is the way to go! This color will make any room feel more vibrant and uplifting.
And if that's not enough for you, it also has an amazing calming effect on people with insomnia. So, whether or not this shade suits your style, there are plenty of reasons why we recommend adding some Cobalt Blue accents into your home decorating job today!
Breathtaking and modern, the colors of cobalt blue are pretty captivating, to say the least! It's not only an aesthetically pleasing color, but it also commands a sense of dignity that can't be matched by any other hue in your paint swatch book.
For these reasons, many designers have included this majestic shade on their palette lately when designing contemporary bedrooms.
If you're looking to make your bedroom feel like a luxurious retreat, check out these ten gorgeous contemporary bedrooms in cobalt blue:
1.) Contrast with White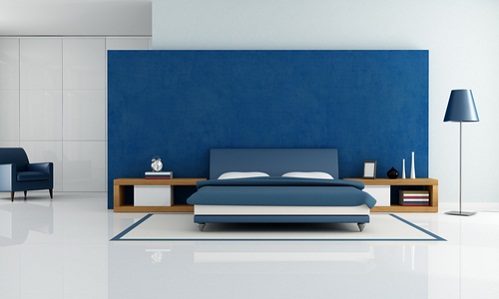 The contrasting color scheme of cobalt blue and white creates an atmosphere that's comfortable, serene, and soothing for your mind after a long day or before bedtime.
2.) Accent Wall
The accent wall with cobalt blue paint is a great way to set the tone of your bedroom.
3.) Monochromatic Setting
A stylish bedroom setting with monochromatic décor in cobalt blue with blue walls, a closet, and a stylish bed.
4.) Accent It
A white bedroom with cobalt blue accent on the white wall against a stylish bed with soft linen and pillows and a graphic rug.
5.) Light Cobalt Blue
A contemporary bedroom with light cobalt blue wall with a circular window against a sleek and stylish bed and artwork on the wall.
6.) PVC Panels
Check out this bedroom in cobalt blue and white with a PVC panel wall in blue against a sleek bed with desks and comfortable blue bedding, and off-white pillows.
7.) A Dark Bedroom
The dark cobalt blue of the paint on the walls makes you feel as though it's nighttime, even if it isn't outside, which lets you get into a peaceful slumber quickly.
8.) Blue Upholstery on Wall
Blue upholstery on the wall is a great way to add new life and style to your bedroom.
9.) Bed Linen & Pillows
The cobalt blue bed linens provide an elegant backdrop to your most stylish bedroom. And yes, don't forget about complementing pillows.
10.) A Kids' Bedroom
A kid's bedroom with striped blue-white walls, a white bunk bed with pillows, lockers, and shelves with toys and books.
Ideally, Contemporary Bedrooms should be a place that is not only well-organized but also comfortable. Vivid colors and furniture patterns are perfect for your bedroom if you want to feel relaxed in the morning when waking up or before going to sleep at night.
I hope you got some inspiration from these picks. Happy Decorating!
---
Affiliate Disclosure
Affiliate Disclosure: I may earn a small commission (at no cost to you) if you purchase a mattress after clicking a referral link or using a coupon code on this site. That said, all content and opinions on this site are my own and are NOT affected by these payments.
This site participates in the Amazon Services LLC Associates Program, an affiliate advertising program designed to provide a means for sites to earn advertising fees by advertising and linking to Amazon.com.
*Amazon and the Amazon logo are trademarks of Amazon.com, Inc, or its affiliates.
---