NOTE: We earn from qualifying purchases made via Amazon Associates and other affiliate programs. Learn more.
Calming hues captivated by sunshine days spent seaside will fill a space with beachside feeling-even if your thousands of miles away from the beach. Though designing a beach house bedroom is always in blue or aqua is seems quite boring nowadays. How about trying khaki green?
Beach house bedrooms are nature-inspired spaces decorated with natural and seashell elements, and a khaki green color will definitely enhance the natural feel of the space.
Here are ten splashy and fun beach house bedrooms in khaki green that help you create a space filled with natural and refreshing vibes.
1.) A Patterned Bedding Set
If you want just little accents of khaki green, bring this kind of patterned bedding and pillow set for your beach house bedroom.
2.) Green Fabrics
Another idea to bring green into your fabrics! A lovely beach house bedroom with a wooden bed, white bedding, and a green coverlet, and pillows.
3.) Accent Pillows
You can add a little tint of khaki green into your coastal bedroom with accent pillows.
4.) Monochromatic Decor
Check out this bedroom with monochromatic décor with a plant, comfy bed, pillows, and walls, all in khaki green.
5.) Add Contrast
Check out this lovely bedroom revealing a lovely contrast of green and white!
6.) Floral Patterns
Floral patterns are a welcoming addition to a beach house bedroom! Check out this bedroom in pink and green with a floral pattern bedding and pillows.
7.) Plant Patterns
Again, nature-inspired patterns are a wonderful addition! And like we said earlier, beddings and other fabrics are a great option to infuse any color scheme into a bedroom.
8.) Patterned Wallpaper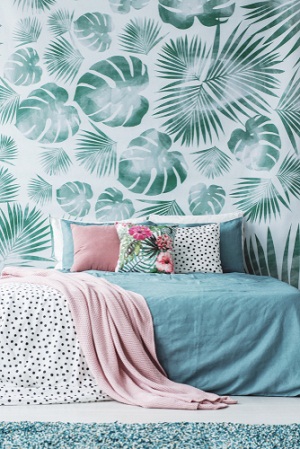 A tropical wallpaper design is the best thing you can add to elevate your beach house bedroom. Check out this beautiful bedroom with a patterned wallpaper against a comfy bed with decorative cushions.
9.) Add Tropical Plants
Well, how can a beach house bedroom complete without a lovely tropical plant. Consider adding one or more tropical palm into your bedroom space. And compliment them with more than a few accent pillows.
10.) Modern Beach House
Check out this modern beach house bedroom in khaki green with a comfortable bed, night lamp, mock-up frame, cabinet, and a big plant.
I hope you got some inspiration from these picks! Whether adding a little or a lot of khaki green to your bedroom, your space will definitely speak up. Decorating is fun and creating a space representing yourself, a room filled with lots of memories and laughter.
Happy Decorating!
---
Affiliate Disclosure
Affiliate Disclosure: I may earn a small commission (at no cost to you) if you purchase a mattress after clicking a referral link or using a coupon code on this site. That said, all content and opinions on this site are my own and are NOT affected by these payments.
This site participates in the Amazon Services LLC Associates Program, an affiliate advertising program designed to provide a means for sites to earn advertising fees by advertising and linking to Amazon.com.
*Amazon and the Amazon logo are trademarks of Amazon.com, Inc, or its affiliates.
---