NOTE: We earn from qualifying purchases made via Amazon Associates and other affiliate programs. Learn more.
Bunk beds are a fun and interesting addition to a children's bedroom. A bunk bed is a space-saving furniture item and makes your small room look bigger.
A bunk bed is an ideal choice for children's bedrooms as it creates more space to accommodate more things into the space like bean bags, toys, computer tables, chairs, and all that your kids love.
As a beach house bedroom is filled with fun, excitement, and referencing vibes, it is important to choose a bunk bed representing that cool coastal vibe.
Here are ten splashy and fun beach house bunk beds that will surely inspire you to get one for your beloved children.
1.) Pops of Colors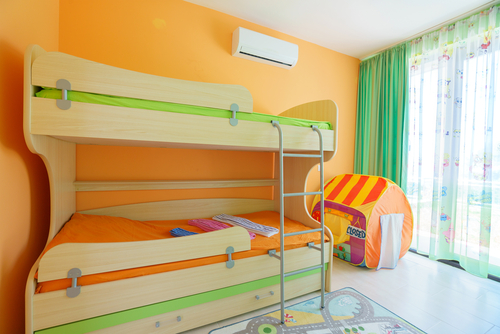 Beach house bedrooms embrace pops of colors beautifully!
Check out this colorful bedroom with a lovely wooden bunk bed against an orange wall, a creative rug, lovely curtains, and a small tent house.
2.) Coastal Theme
Add coastal vibes to your children's bedroom with a bunk bed in white against a blue wall revealing clouds, white closets, and windows.
3.) A Bunk Double Bed
This kind of bunk bed is perfect for a family bedroom when you want to share your room with your kids while maintaining your privacy.
4.) Blue Bunk Bed Against White Walls
Again a coastal setting with a blue bunk bed against white walls! Also, note the white and blue curtains, light blue bedding, a desk, and a study chair.
5.) A Hut Shape Design
A fun and creative bunk bed here for the children's bedroom.
6.) Pink One for the Girls
Looking for a girl's bedroom? Check out this lovely bunk bed in all-pink paired up with blue bedding and pillows in checked patterns.
7.) Earthy tones
Here's a wooden bunk double bed draped in soft bedding in an earthy tone!
8.) Mix White & Pink
Check out this gorgeous and lovely beach house in its immaculate bedroom setting!
9.) A Wooden Bunk Bed
A green and blue kids' bedroom with a brown bunk bed, featured with drawers and a built-in ladder.
10.) Blue Hues
A modern minimalist children's bedroom in blue pastel tones, bunk bed, cabinets with toys, puppets and decors, herringbone parquet floor, soft carpet, tepee.
There are many ways to enhance your bunk beds. Think of bed hangings in the flower of fruits patterns, seashell elements, a few pillows in different colors or patterns, and lots more.
Children always look for something new and exciting, and a bunk bed is a perfect thing to enhance their experience.
Hope you like our posts! Happy Decorating!!
---
Affiliate Disclosure
Affiliate Disclosure: I may earn a small commission (at no cost to you) if you purchase a mattress after clicking a referral link or using a coupon code on this site. That said, all content and opinions on this site are my own and are NOT affected by these payments.
This site participates in the Amazon Services LLC Associates Program, an affiliate advertising program designed to provide a means for sites to earn advertising fees by advertising and linking to Amazon.com.
*Amazon and the Amazon logo are trademarks of Amazon.com, Inc, or its affiliates.
---