NOTE: We earn from qualifying purchases made via Amazon Associates and other affiliate programs. Learn more.
---
For those on a budget, it might look impossible to pay for a king-size mattress without spending too much.
But the truth is, if you're looking for a king-size mattress under $1000, there are many options available online.
That said, if you can increase your budget just a bit more, you will find a much better quality mattress.
Here are some great king mattress options if you need something affordable that doesn't sacrifice on quality and sleep comfort.
---
What's on This Page
---
Our Picks for King Mattress Under $1,000
---
Tuft and Needle recognize that heat can be trapped in by old materials and make it tough to stay cool and get a fantastic sleep.
That is why they use adaptive foam in their mattresses that improve airflow and keeps you fresh. This material is ideal for people who need pressure point relief and don't want to disturb their spouse while getting in and out of bed.
The limited motion of the T&N mattress also makes it easy to sleep comfortably in any position – with anyone else.
You also get 100 nights trial and a ten-year warranty.
Great product – and a great price.
Pros:
• Made from newly poured T&N elastic foam
• Generous 100 night trial period
• 10-year guarantee
Cons:
• Can take up to 72 hours to ultimately expand the mattress
---
Nectar gives two free pillows when you purchase from them and a 180 day trial period to test everything out in your home.
More importantly, Nectar provides a lifetime warranty. This is virtually nonexistent in the mattress industry.
Nectar's Gel Foam mattress is beloved for its excellent level of just-right firmness, comfort, and breathability and contouring to your body shape.
Pros:
• Comes with two free pillows
• 180 night trial period
• Lifetime guarantee – and industry first
Cons
---
If a hybrid mattress is on your mind, Lucid offers one built from steel coils and memory foam.
The memory foam Lucid uses natural materials, including bamboo charcoal, and the transition foam includes aloe vera for freshness.
The steel innerspring is at the bottom of this mattress, so there's no poking or prodding.
With its medium-plush support, you will enjoy a comfortable sleep with just the right firmness level.
This is a great choice if you live in a small apartment with narrow hallways because Lucid has made their mattress so that it will fit through narrow staircases and hallways easily.
Additionally, there is a 100-night trial to check it out risk-free and a ten-year warranty.
Pros:
• Hybrid mattress
• Infused with charcoal, bamboo, and aloe vera
• A well rounded, medium plush support
Cons:
•Not entirely memory foam; may bottom-out for heavier people.
---
Casper is becoming a significant name in the mattress industry. Their award-winning design features three different layers of memory foam, including an open-cell surface.
Casper's Element mattress allows air to flow smoothly, and the cover is easy to remove and clean.
Casper put thought into this design – they use a softer foam for your shoulder area and a firmer, more supportive foam to your hip and core area.
The Element is CertiPur, and OEKO-TEX certified.
You also get a 100-night trial period and a ten-year warranty.
Pros:
• Three layers of memory foam
• Combo of different foam to your shoulder and core areas
• The layout is multi-award winning.
Cons:
• Has a slight chemical odor when you first open it
---
Leesa's Mattress is made of three layers of memory foam.
The top layer is a microcell design to keep air flowing through and preventing heat from building up.
The next layer contours to your body, cradle it, and alleviate pressure.
The bottom layer is made of solid-core foam to provide support.
With this combination, you enjoy a nice balance of support and stability.
Every Leesa mattress has the signature Leesa 4 stripe seamless and their extremely breathable and soft mattress cover.
Pros:
• Three layers of memory foam
• Signature Leesa 4 stripe mattress cover
• Made in the United States
Cons:
• Very near the maximum $1000 budget
---
With three separate layers of high-quality memory foam, the Lull mattress is excellent for the back, stomach, and side sleepers.
The top layer of memory foam is infused with gel to help keep you cool and protect against overheating.
If you're seeking something for back pain, Lull is a great choice. This mattress does a great job keeping your spine in alignment, giving you solid support to get a fantastic night's sleep.
The Lull mattress ships directly to your door in a compact package, and you'll have 100 nights to try out this mattress to be sure it is ideal for your needs. This one comes with a ten-year warranty.
Pros:
• Three layers of memory foam
• Cozy for all sleeping positions
• The top layer gel-infused for a cooling effect
Cons:
• Some of our team thought it was too hard for their liking.
---
The Chime Elite Mattress by Ashley Furniture combines nature and technology to provide you an excellent hybrid mattress.
High-quality memory foam is infused with charcoal and gel to provide excellent mattress support and to prevent smells.
This top layer also makes sleep feels more refreshing and makes you feel more energized.
The bottom of the mattress includes 2 inches of green tea aerated foam for pressure point alleviation and enhanced breathability.
Under that is an extra nine inches of green tea support foam.
Pros:
• Gel and charcoal-infused memory foam
• Green tea ventilation and cool micro cover
• Firm support for your spine while still being overall soft and plush
Cons:
• Does not come with the box spring
---
Buying Guide: King Mattresses For Under $1,000
If you want a king mattress costing less than $1000, you may have to make a trade-off on a few things.
Durability
You want your king mattress to stay durable for a long time.
A mattress that begins to fail in two years is not a good investment.
Durable beds are made with long-lasting materials. If a mattress is made using memory foam, make sure it uses higher density foam. High-density foam mattresses keep their shape longer.
Your Sleeping Position
Your sleeping position determines the kind and firmness of mattress you're searching for.
For example, back sleepers need a mattress with medium firmness for overall support and comfort.
Stomach sleepers need a firmer mattress.
Side sleepers may want a softer bed for a higher level of pressure relief around their shoulders and hips.
Warranty
These days, there's no need to pay for a king mattress that doesn't come with a long warranty.
There are a few sub-$1,000 king mattresses sold online that come with lifetime guarantees, too.
In any case, don't settle for a warranty be of at least 10 years.
Materials Used
Top layers should be made of memory foam, latex foam, or suitably compliant polyfoam.
Innerspring and hybrid mattresses should be constructed using pocketed coils that are long-lasting and offer a high level of support.
Low Motion Transfer
If you sleep with a partner, then you may need a mattress with a low level of motion transfer so that you do not disturb them (or they, you) when you change positions during sleep.
In general, foam mattresses are a great option because they decrease the amount of motion you feel.
Innerspring mattresses tend to provide more bounce, but also transfer more motion.
---
Advantages and Disadvantages of King Mattresses Under $1000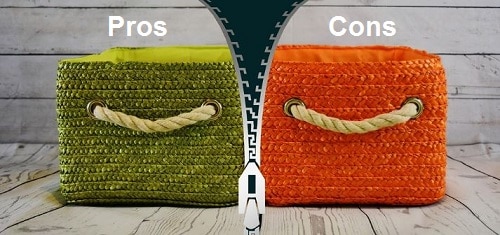 Nowadays, you can get almost everything you want in a king bed for less than a $1000 price point.
It is not a difficult task to find a one with a high level of support, comfort, and durability.
If you think if you go beyond this budget and need to spend more, check out this list of pros and cons to drive your decision:
Pros
• Lower price point
• Great materials
• An adequate level of support and comfort
• You will still enjoy long warranties and sleep trials.
• Many types available at this price range
• Great support for your neck and spine
• Many models available for all sleeping places
• Most are still very durable and will last beyond a decade.
Cons
• May not provide enough support for heavier individuals.
• May not have the finest, premium materials.
• Some affordable mattresses emit an odor to start with
• Not as luxurious as the more costly mattresses
---
Sleepers Best Suited for a King Mattress Under $1000
King mattresses under $1,000 are a great investment for most people who need a long-term sleeping solution.
That said, some types of sleepers have needs that require more investment.
Sleepers who deal with constant pains may need a king mattress that provides an exceptionally high level of both support and comfort. Less expensive mattresses can leave them in pain.
If you need to look for mattresses that specialize in back and neck pain relief, check out our guide here.
Young couples who are attempting to furnish a new house will benefit from investing in a $1000 king mattress.
Concerning sleeping positions, different kinds of mattresses match different requirements.
Stomach sleepers need their bed to provide a lot of support and be as flat as possible so that they won't experience pain in their sleep.
Side sleepers need a firm and supportive mattress, as they tend to change positions many times during the night.
Support and firmness are essential for back sleepers to maintain their spinal alignment.
---
Conclusion
Despite the drawbacks that a king mattress under $1,000 can have, it is up to you to weigh the pros and cons of your situation.
If you stick with beds made for your sleeping style, weight, and choice of materials, you'll be able to find the right king mattress for your budget.
There are over 100 companies selling mattresses online, after all.
---
Affiliate Disclosure
Affiliate Disclosure: I may earn a small commission (at no cost to you) if you purchase a mattress after clicking a referral link or using a coupon code on this site. That said, all content and opinions on this site are my own and are NOT affected by these payments.
This site participates in the Amazon Services LLC Associates Program, an affiliate advertising program designed to provide a means for sites to earn advertising fees by advertising and linking to Amazon.com.
*Amazon and the Amazon logo are trademarks of Amazon.com, Inc, or its affiliates.
---