NOTE: We earn from qualifying purchases made via Amazon Associates and other affiliate programs. Learn more.
---
The transitional style is defined by a seamless combination of classic and contemporary.
It is all about creating a timeless appeal that never looks out of style. Hence you can easily mix and match furniture from a different era to create that timeless yet elegant look.
When it comes to bedroom furniture, people mostly focus on bed and storage and often overlook chairs.
But picking the right bedroom chair can make all the difference in creating an interesting, functional, and stylish room.
Here are ten beautiful transitional bedroom chairs ideas to help you create a simple yet sophisticated look for your bedroom:
1. Light Blue Wingback
A beautiful wingback chair with a retro wooden leg – this is a great example of the blend of traditional and contemporary.
2. Modern Colorado Style
A traditional style armchair with retro legs and gold accents. This gorgeous chair would look great in any transitional bedroom.
3. Cream White Armchair
A stylish armchair with tufted back cushion and retro legs. Another beautiful and timeless design.
4. Vintage Grey Accent Chair
Make your transitional bedroom look more appealing with this vintage accent chair in light grey.
5. Modern Chair With Orange pillow
Check out this bedroom set with a modern bedside chair with an orange pillow. Note how the color provides so much contrast with the wooden desk and white nightstand.
6. Light Blue Modern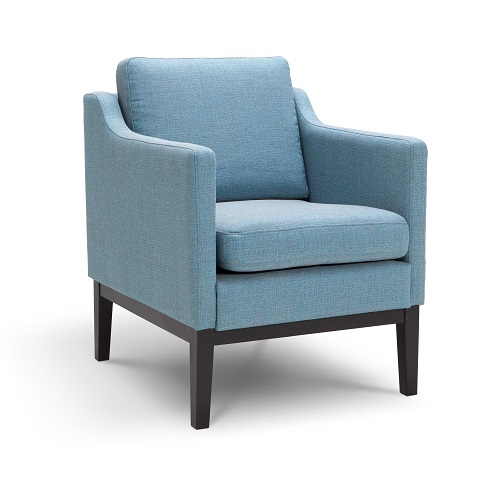 Another classic modern upholstered chair piece to grace up your transitional bedroom.
7. Classic Armchair Elegance
Add this comfortable and beautiful chair into your transitional bedroom and see how this will enhance your space.
8. Clean Look
A beautiful piece in light shades with a clean and elegant look.
9. Classic Tufted Chair 
Another classic piece with tufted back cushion and carved legs.
10. Round Shape
A classic yet elegant piece with a tufted seat and back-a perfect transitional-style chair.
The good thing about a transitional motif is that you do not have to stick with a single theme.
Instead, you can mix different styles to create the bedroom space of your dreams.
Choose the items that suit you but keep in mind your selections must blend in well with the rest of the décor.
Happy Shopping!
---
Affiliate Disclosure
Affiliate Disclosure: I may earn a small commission (at no cost to you) if you purchase a mattress after clicking a referral link or using a coupon code on this site. That said, all content and opinions on this site are my own and are NOT affected by these payments.
This site participates in the Amazon Services LLC Associates Program, an affiliate advertising program designed to provide a means for sites to earn advertising fees by advertising and linking to Amazon.com.
*Amazon and the Amazon logo are trademarks of Amazon.com, Inc, or its affiliates.
---